Televisions
New Site Gives GIF Addicts Their Fix in a Jiffy
Quotacle is helping to bring movie magic to message boards and comment sections everywhere.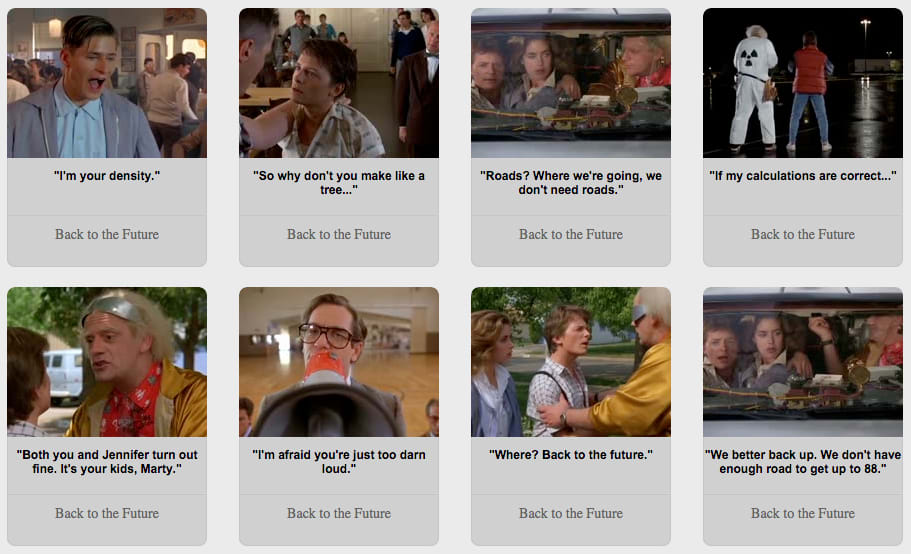 Credit:
If you're like me, you struggle to find good GIFs to troll your friends. This is 2014! How am I supposed to mock my nearest and dearest if I can't find the right funny movie quote? Well, the internet has heard our frustration and created a solution: Meet Quotacle.
The site is the creation of Bill MacDonald, a fellow netizen who wanted to make it easy to find movie references online. MacDonald says his original idea was to create an encyclopedia of movie quotes, since a lot of the references that his friends made used to go over his head.
But when he realized there was no good source for quotes and their accompanying video clips, he decided to build Quotacle. Working as the main developer, MacDonald built the site in his spare time, along with the help of his colleague, Dale King. But the duo didn't stop at mere video clips. No—they pushed forward and brought the magic of the movies to animated GIFs.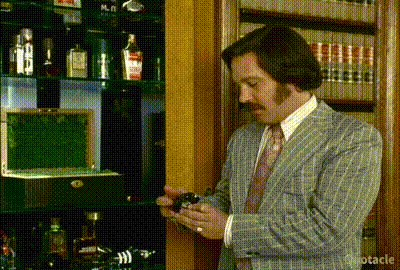 Users can search for a specific line of dialogue from one of 155 films currently in Quotacle's database, and the site will auto-generate the appropriate clip, as well as a GIF version with embedded subtitles. Quotacle also features a list of popular quotes and a "Random Quote" button, reminiscent of Google's "I'm Feeling Lucky" button.
Quotacle is currently in beta, and its unfinished design shows in a few different ways. Many of the movie clips and GIFs cut off mid-line, or aren't optimally cut for maximum comic effect.

Worse, the site has some major hiccups. Some are clearly related to the traffic Quotacle has been getting thanks to press coverage, and others—like a recent issue where subtitles aren't getting embedded in GIFs—are further evidence of the site's bootstrapped nature.
You'd think major studios might not be cool with a site distributing their content for free, but thus far, none have stepped up to challenge Quotacle's legality. The site's legal page claims fair use, since the movie clips are brief and intended for "educational use."
(We're not sure how educational a GIF of Jim Carrey's iconic, "Big Gulps, huh?" is, but it sure does make us laugh.)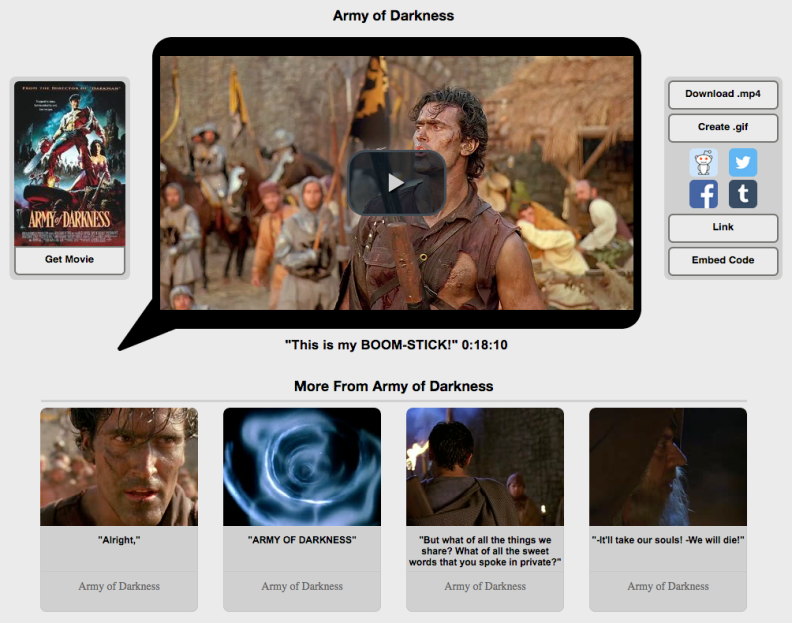 While Quotacle doesn't have a huge library of films to choose from, it does hit a high percentage of the pop-cultural milestones these GIFs tend to draw from. There's also a "Suggest Movie" button, so you can submit titles you'd like to see added to the database.
In the meantime, you can view a list of all the available movies to get an idea of the possibilities. Then you'll be just a quick search away from GIF heaven.