Samsung Electronics has just confirmed a partnership with 20th Century Fox, one that will establish a new way for consumers to watch UHD content.
UHD—or Ultra High Definition—is the next step in TV tech, offering four times the resolution of Full HD 1080p. This new content will be exclusive to Samsung's smart TV platform, called Smart Hub.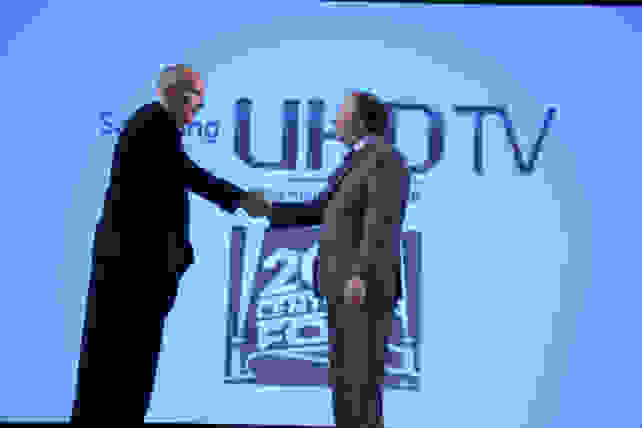 The announcement puts Samsung and 20th Century Fox firmly on competitive ground with fellow would-be UHD content providers Netflix and Vonetize.
We glimpsed the origins of this partnership during CES 2014 when Samsung revealed a "UHD Video Pack." The video pack showcased pre-loaded UHD content—some of which was provided by 20th Century Fox. With the announcement of this "strategic partnership," Samsung hopes to reward early adopters of UHD televisions by providing content that actually takes advantage of the titanic resolution.
Source:
RIDGEFIELD PARK, N.J. – March 20, 2014 – Samsung Electronics Co., Ltd., a global leader and award-winning innovator in consumer electronics, announced today a strategic partnership with leading Hollywood movie studio 20th Century Fox. Focused on establishing a secure and sustainable next-generation Ultra High Definition (UHD) content ecosystem, the partnership will deliver a variety of UHD content to consumers via Samsung's Smart Hub platform across the company's line up of UHD TVs, which offer four times the resolution of Full HD TVs for a vivid, crystal-clear picture. The partnership will also explore additional collaboration opportunities in multiple areas of innovation with the goal of creating immersive next-generation consumer experiences.
Earlier this year at CES 2014, Samsung announced a partnership with 20th Century Fox when it unveiled a UHD Video Pack, a storage device pre-loaded with content from multiple studios, including blockbuster 20th Century Fox movies – such as Night at the Museum, X-Men Origins: Wolverine and The Counselor. Going forward, Samsung and 20th Century Fox will expand this partnership in order to further develop a broader UHD content distribution ecosystem.
"As a market leader of UHD TVs, Samsung is actively working with the best in the industry to pioneer a sustainable UHD content distribution ecosystem which will not only benefit consumers, but also open ways for content partners to expand their role in distributing UHD content," said Kyungshik Lee, Senior Vice President of the Service Strategy Team of Visual Display Business, Samsung Electronics. "Our strategic partnership with 20th Century Fox is a great example of how the industry is working towards bringing UHD content to end-consumers in the most efficient way while accelerating our ability to provide a full UHD
ecosystem."
"Our partnership with Samsung creates a unique opportunity to introduce Ultra HD movies to audiences around the world," said Mike Dunn, President, Twentieth Century Fox Home Entertainment. "We are laser-focused on developing solutions that bring innovations like Ultra HD from the CES show floor to the living room for people to own and enjoy."
Our editors review and recommend products to help you buy the stuff you need. If you make a purchase by clicking one of our links, we may earn a small share of the revenue. Our picks and opinions are independent from any business incentives.