Televisions
Samsung's Serif TV Brings a Retro-Futuristic Look to 4K
Design? Check. Functionality? Not so much.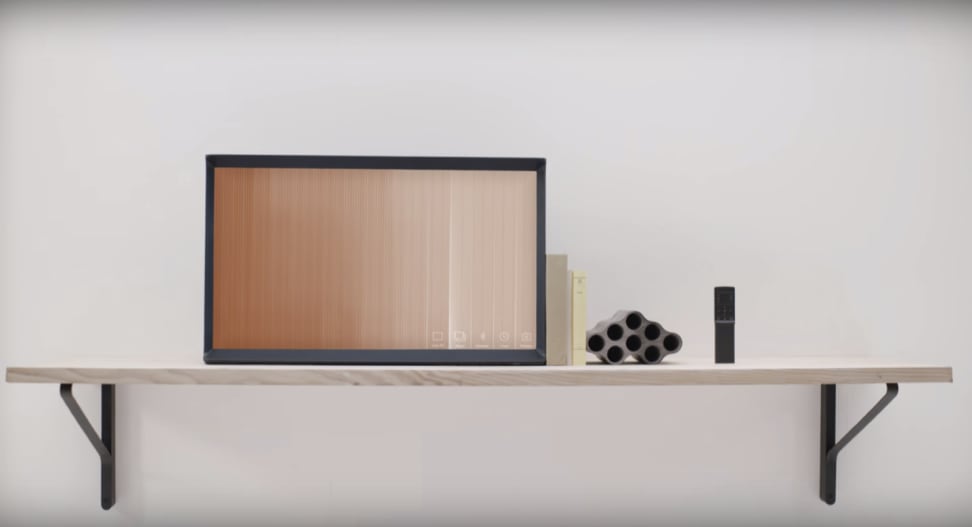 Credit: Samsung
Samsung has taken the wraps off a brand-new TV design called Serif. A collaboration with the famous designers Ronan and Erwan Bouroullec, the Serif TV looks futuristic, yet reminiscent of TV sets from the 50s and 60s. If it had rabbit ears, I'd swear it came out of a vintage electronics catalog.
But despite its appearance, the tech in this set is anything but old-school. The Serif TV comes in three sizes: the full-size 4K Serif TV, the full-HD Serif TV Medium, and the 720p HD Serif TV Mini. Samsung doesn't list screen sizes, but based on dimensions we estimate that they're 40 inches, 28 inches, and 24 inches, respectively.
All three TVs run a minimalist custom version of Samsung's smart TV software, also created by the Bouroullec brothers. The interface relies on what Samsung calls "curtain mode," a translucent curtain that rises over whatever you're watching to show the smart TV menu.
From the menu, Samsung says you can access smart TV apps, connect to Bluetooth speakers, view photo galleries, and even access a clock.
The Serif TV's design is quite striking, with oversized bezels that flatten out at the top and bottom. That means you can easily sit the TV on a table, and even place things on top of it—like cats.
However, the two larger Serif TV models also come with thin legs, so you can keep the TV at a proper viewing height in your tastefully furniture-less abode.
The only problem with the Serif TV? It might lack the flexibility and functionality of garden variety sets. We haven't seen the Serif in person, but in press photos we can't find any ports for video or audio. Of course, these are just early promo images, but currently the only port visible in promo images is for the power cable.
Regardless, it's unclear if you'll even be able to buy the Serif TV here in the U.S. Engadget reports that the TV will go on sale on November 2nd in Denmark, France, Sweden, and the U.K., with the largest model costing £1,199 (roughly $1,860).
UPDATE As of May 20, 2016, the Serif is now available in the U.S. in white and blue. It sells in the 40-inch size only, and retails for $1,499.
Each variant is available in two colors. The Serif TV and Serif TV Medium are available in white and dark blue, while the Serif TV Mini comes in white and red.
Related Video