Televisions
Samsung charges into 2017 with dazzling QLED TV lineup
First LED, then OLED—is QLED the new hotness? Samsung hopes so.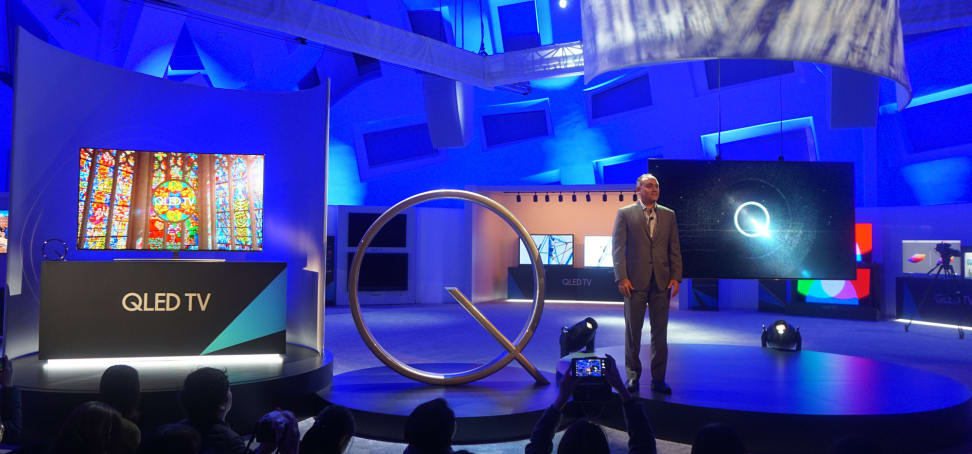 Credit: Reviewed.com / Lee Neikirk
Tonight, Samsung unveiled its latest and greatest TV innovation: QLED.
Yes, it's another LED-based acronym you have to parse and memorize, but to their credit, Samsung's new QLED TVs do dazzle the senses—specifically, the eyes. The new QLEDs are, naturally, poised to be the brightest and most colorful TVs the company has ever made—but the same was true of the "SUHD" sets from last year.
It's worth pointing out that while the phrase "QLED" is strikingly and purposefully similar to "OLED," the new QLED line are not emissive pixel displays as described during prior uses of the phrase QLED, but are still LED-backlit LCD TVs, albeit with very advanced quantum dots.
According to Samsung, the Q9, Q8, and Q7 series (confirmed amongst the QLED line) will deliver "dramatically improved color performance." If what the company claims is true, the QLED TVs will represent 100 percent of the DCI-P3 color volume, an alleged world first where digital cinema color space coverage is concerned.
The quantum dot-based QLED sets will also purportedly deliver between 1,500 and 2,000 nits brightness, numbers which are very believable when compared to the company's high-end 2016 sets. The "Smart Hub" interface has also been improved, such as via the new "Smart View" app which conveniently consolidates content.
No pricing or availability has been confirmed as of the QLED unveiling, but I expect to have much more information as CES unfolds over the rest of the week.