Televisions
Samsung Drops Soundbars, Egg-shaped Speakers for CES 2015
Curved soundbars? Egg speakers? Samsung thinks outside the box.
Credit:
Samsung is doubling down on the curved aesthetic for yet another round of products, this time in the home audio category. Read press release.
At CES Samsung unveiled a new line of curved soundbars, designed to match any of Samsung's curved TVs. The soundbars will come in a variety of sizes complementing Samsung's entire curved TV lineup.
"We have a new commitment to premium sound, built for the 21st century," said Joe Stinziano, Executive VP of Samsung Electronics North America, at the company's press conference in Las Vegas.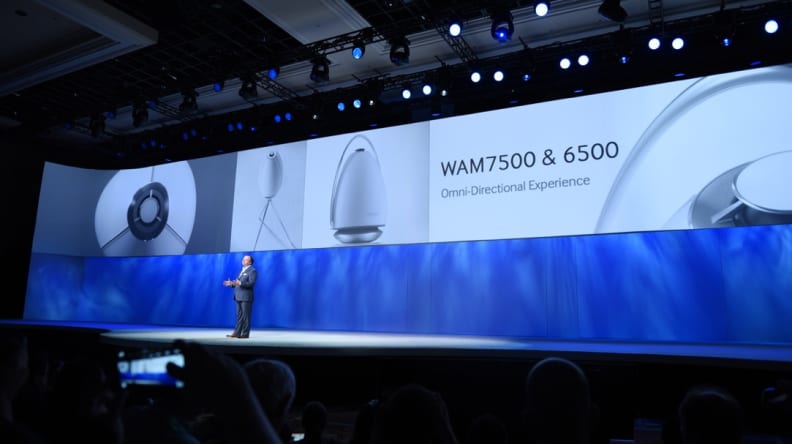 The 7500 series curved soundbar hit the market earlier in 2014, and currently retails for about $700. Next year it will be joined by the 6000 and 6500-series (presumably priced below the 7500-series), along with the flagship 8500-series, which features 9.1-channel surround sound.
Samsung also debuted two new unique speakers at CES, the WAM6500 and WAM7500. Shaped like silver and white eggs, these speakers are designed to project sound 360-degrees thanks to its "Ring Radiator" technology. The two models look very similar, though the stationary WAM7500 is the larger of the two while the WAM6500 includes a handle for portability.
Be sure to check back for hands-on (and ears-on) impressions of all the latest home audio products from CES 2015.