Televisions
Samsung Heralds 105-inch Curved UHD TVs for 2014
Merely hours after LG's announcement of a massive, ultra-wide curved 4K TV, Samsung follows with the same.
Credit:
After LG's big 4K announcement last night, only a handful of hours passed before Samsung trumpeted its own flashy news: Samsung plans to debut a more curved, ultra-wide, 105-inch UHD TV at CES next month.
Like LG's offering, Samsung's new giant boasts a massive 5120 x 2160 resolution—totaling 11 million pixels. That's more than four times what regular HD offers, and it's why 4K technology is growing in popularity. The new Samsung UHD TV will also sport an ultra-wide, cinematic aspect ratio of 21:9—again, same as LG's. As impressive as these specs sound, two hurdles remain: First, ultra-wide and native UHD content just aren't widely available to consumers, meaning no one can take full advantage of these technological achievements at the moment; second, prices for 2013 UHD TVs are towering, and we expect much the same for 2014.
As to available content, manufacturers are working steadily to improve matters. Sony released a 4K player this year, for example, and we expect to see similar releases from other big names at CES in January. Additionally, companies are continuing to invest upscaling technologies, which work to improve 1080p signals for 4K displays. In fact, Samsung's 105-inch UHD big boy will house a new "Quadmatic Picture Engine" for just such a purpose. So what's the main difference between LG's 105-inch UHD offering and Samsung's? The latter claims its product is the "most curved."
Samsung has not released a product number, price, or release date so far.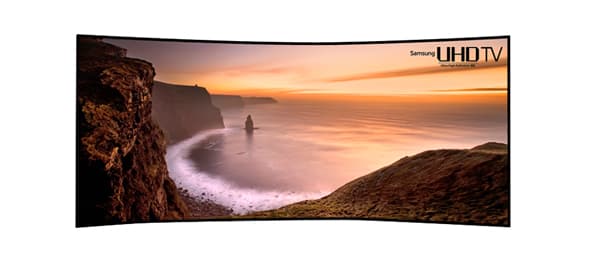 Read the full press release here.