Televisions
Samsung Releases 110-inch UHD TV for $150,000
Samsung currently holds the title for the world's largest UHD TV, not to mention the most expensive.
Credit:
Samsung released its 110-inch ultra high definition (UHD) TV today in South Korea. The price? An astounding $150,000, which means this TV costs over $1,000 per inch.
The launch makes this display the largest UHD TV available. Previously, Samsung showed off its 85-inch S9 UHD TV at the 2013 International CES, which was the largest UHD TV at the time. It is currently on sale for $39,999. Samsung uses the same easel-style frame as the S9 for its newest behemoth, which measures 2.6 meters wide by 1.8 meters high. According to Samsung, this is larger than a king-size bed.
In addition to South Korea, Samsung's latest gigantic TV will be available in China, Europe, and the Middle East. There is no word on an American release date yet.
This is just one of several big announcements Samsung has made in recent weeks. Only days ago, the company reported the upcoming debut of a 105-inch curved UHD TV for the American market. The curved display will appear for the first time at CES next month, but there is no word yet on pricing or a firm release date.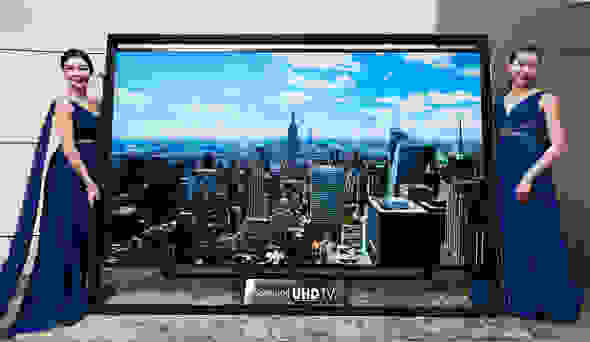 Via: Samsung
---
Hero image: Samsung Tomorrow