Televisions
Samsung Smart TVs: Evolving
Samsung adds voice and touch interaction, going for extra credit at CES 2014.

Credit:
With CES only two weeks away, Samsung just announced a raft of improvements for its 2014 Smart TV lineup. The biggest news: enhanced voice control and "finger gestures."
Integrated microphones within Samsung's Smart Touch Remotes—supported by all Samsung Smart TVs as of 2013—will respond to voice commands like "Power Off" and "What's On TV?" Language and dialect recognition previously covered just 11 countries, but that will expand to 12 "new markets" in tandem with the CES 2014 reveal.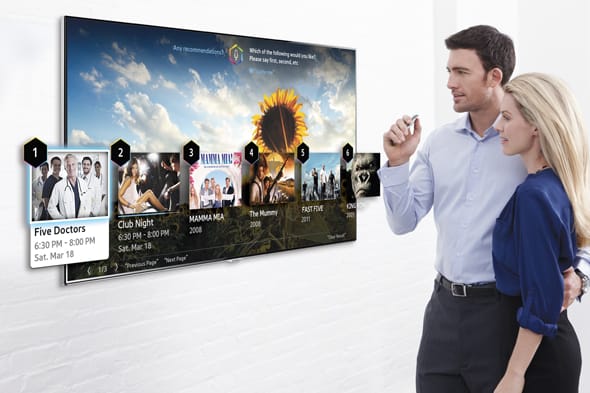 Where voice recognition is being expanded in scope, Samsung is attempting to contract and fine-tune its gesture control.
Samsung Smart TVs have used gesture-controls since 2012, via integrated cameras in the top bezels. By following the user's hands, a tracking system allows one to change the channel, alter audio volume, or interact with the Smart Hub itself. The improved tracking of 2014 Smart TVs will allegedly shrink the tracking scale down from a whole hand to a single finger, which should improve functionality and ease-of-use.
Via: Samsung Tomorrow