Televisions
Seiki to Release Retro TVs
To boldly go where many TVs have gone before... decades ago.

Credit:
Rewind
If you know anything about a little-known company called Seiki, it's probably that it appeared out of nowhere and presented the North American market with 4K for under $2K. Down with gimmicks. Simplicity is supreme.
Yet it was not the affordable 4K Seiki that grabbed my attention today. Juxtaposed comically in a sea of futuristic machines was the SE22FR01 Retro TV. Retro is in, that's old news—but it's still amusing to spot a television with actual knobs amid the frenzied 4K fanfare.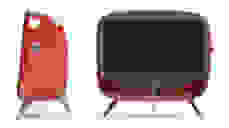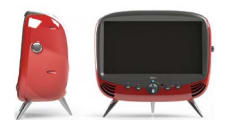 The SE22FR01 seems well-suited to dorms, stylish guest quarters, kitchens, and the like. It woos with big sound, statement design, and a little price tag (MSRP could range from $240-$300, according to reps). Underneath its three shiny legs, a 20-watt subwoofer is ready to go. The floor model I saw wore a zippy red ensemble, and spokespeople for Seiki hinted that the TV might come in as many as eight different colors. Though throwback in spirit, this Retro tube won't leave you without HDMI, VGA, component/composite, cable, and headphone ports—and its resolution is 1920 x 1080, too. All in all, I'm cheered by the sight of this jolly, tubby TV, warming the otherwise chilly forest of bony, modern displays.