Televisions
Set Lasers to Stun: Hisense Debuts New TV Tech
Pew pew! ULED and Laser Cinema enter the fray.
Credit:
Hisense may not be a household name in the Western world, but the Chinese electronics giant is fighting to change that here at IFA 2014.
The first order of business at the company's press conference was a projector unit dubbed Laser Cinema. The short-throw projector is capable of producing a 100-inch viewing area with a picture that holds up even in broad daylight, or so Hisense claims. It projects in 1080p (full-HD) resolution, and supposedly consumes less power than many large LCD TVs.
A release date and pricing for the Laser Cinema projector have yet to be announced.
The company also took the opportunity to re-introduce its ULED TV technology—essentially the poor man's OLED.
The company also took the opportunity to re-introduce its ULED TV technology, which we first spotted at CES in January. Essentially the poor man's OLED, the full-array ULED TVs use 144 individually controlled dimming zones to dynamically change screen luminance in a highly localized way. In theory, this allows it to mimic the deep blacks and dazzling highlights of OLED displays.
Hisense promises a few different ULED models. The first ULED TVs will go on sale in Europe in the second quarter of 2015, and while no release date for the U.S. was announced, we were assured that the new TV tech will definitely be making its way stateside. Pricing is yet to be confirmed, but we anticipate they'll be considerably cheaper than current OLED options.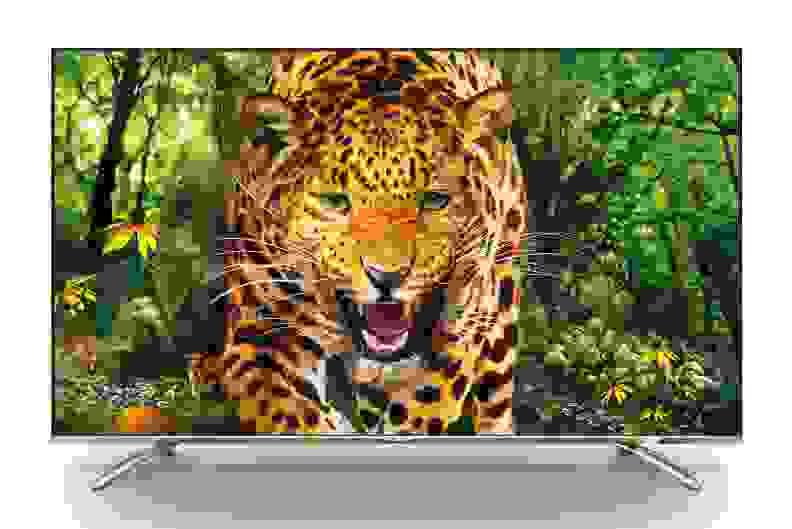 Since curved displays are the TV form factor du jour, it's no surprise that Hisense has begun a collaboration with Loewe (a producer of premium German electronics) with the aim of developing curved Hisense sets. The partnership has already yielded two curved UHD TVs—the 55-inch 55K681 and the 65-inch 65XT810.
Both of these TVs take advantage of a new technology Hisense calls 4x4. This algorithm combines quad-core and FRCX processors to produce video output with a 1000Hz smooth motion rate. The TVs also use a new smart TV interface called VISION, with a home screen that dynamically recommends content—an industry-standard tactic that Hisense is catching up on.
To gain name recognition in Europe, Hisense has struck a sponsorship deal with Schalke 04 of the German Bundesliga.
As part of its strategy to gain name recognition, Hisense has also struck a sponsorship deal with soccer team Schalke 04 of the German Bundesliga. At the press conference, Hisense and Schalke executives exchanged a TV and team jersey to seal the deal. (Nope, not kidding.)
The company went on to announce a new smartphone, a refrigerator with a barcode scanner, and a new ultra-quiet washing machine. It's unclear if the phone will make its way to the U.S., but we do know that neither of the appliances will.
Hopefully we will be able to get a ULED TV in our labs in the future. Until then, keep checking Reviewed.com for the latest news on IFA 2014.