Televisions
Sharp's 2012 Smart TV Platform: Explained
With only 12 apps to choose from, even the easy navigation can't save this platform.
Sharp Corporation has come a long way since its inception in 1912. The Japanese corporation that became famous for belt buckles and mechanical pencils changed with the times and is now known for its consumer electronics, specifically TVs.
For its 2012 Aquos branded TVs, Sharp has implemented its Smart TV platform called SmartCentral, not to be confused with the section of Los Angeles. Unfortunately, SmartCentral underwhelms—the sparse selection of apps and lack of an app store are the main problems. There isn't much to see in Sharp's SmartCentral, but at least it's easy to navigate.
How To Use It
SmartCentral feels rushed. This is the only way to describe the platform because it really is bare.
Getting to Sharp's SmartCentral is a breeze: simply press the button on the remote labelled "Smart Central" (yes, it is separated into two words on the remote). Pressing this button once will bring up a bar at the bottom of the screen that displays your favorite apps. Every app on the SmartCentral platform is listed as a favorite app by default—there is not much here. The first three apps on this bar correspond with the favorite app buttons on the remote. Pressing Enter or the "Smart Central" button again will bring you to the SmartCentral interface, which requires you to agree to a disclaimer (apparently from the early 90s) before you continue.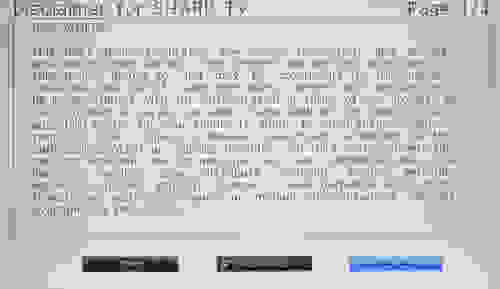 Sharp's interface may be a Plain Jane, but it is clean and easy-to-use. There is a bar towards the top of the screen that divides SmartCentral into seven tabs of apps: featured, video, social, web & search, other apps, support, and settings. The featured tab, which means favorites, is home to every single app available, for a grand total of twelve. If Sharp eliminated all of the tabs, the interface would still feel clean and uncluttered because it is so sparse.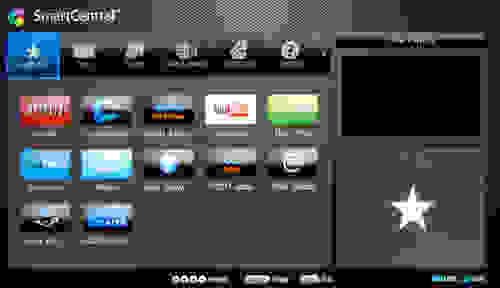 Some of the tabs have only one app, which seems completely unnecessary. The social tab only has Skype and the web & search tab only has the web browser. The settings tab has only one function, which is changing the wallpaper. We recommend blue ocean.
On the right-side of the SmartCentral interface, there is a picture-in-picture (PiP) screen that either shows what you are watching or the last app used. For example, if you are listening to your favorite Jamie Foxx song in YouTube, going back to the SmartCentral interface will keep the song playing with the video visible in the PiP screen.
Streaming TV, Movies, & Music
Sharp offers a slim selection of movie and TV streaming services on its SmartCentral platform. The entire lineup consists of Netflix, CinemaNow, YouTube, Hulu Plus, FilmFresh, and VUDU Movies. Surprisingly absent is Amazon Instant Video, which is present on most other Smart TVs.
Netflix seems like the top dog here, seeing as Sharp included a dedicated Netflix button on the remote. CinemaNow offers movies and TV shows for rent or purchase. FilmFresh is the same as CinemaNow—the interfaces on both apps are identical but they offer different content. YouTube is the same YouTube app that appears on all TVs, which means it is a limited version that is missing much of the content found on the computer version. Hulu Plus functions like Netflix and requires a subscription. Finally, there is VUDU Movies, which offers a wide selection of movies to rent or purchase.
Social Networking
We mentioned before that Skype was the only app under the social tab in the SmartCentral interface. The obvious omissions here are Facebook and Twitter. Take a deep breath—VUDU has you covered.
Sharp relies on content provider VUDU for its social networking apps. Opening VUDU Apps brings you to VUDU's interface, not to be confused with an app store. There are no apps to install or purchase here—everything is ready to go from the VUDU interface. Facebook requires logging into a separate VUDU account, rendering the app useless for those that do not want a VUDU account.
We fared better using Twitter, which just needed our Twitter login and password. The interface was surprisingly nice for a TV social networking app. The most significant feature, or lack of a feature, is that you cannot tweet using this app. We think this is a brilliant idea: someone at VUDU must have realized that typing out a sentence on a remote can be used as a form of torture. This Twitter app is strictly for checking your timeline and seeing what your favorite celebrities have to say. Unfortunately, the folks at VUDU forgot to add a PiP screen to the Twitter interface, defeating the purpose of having Twitter on a TV.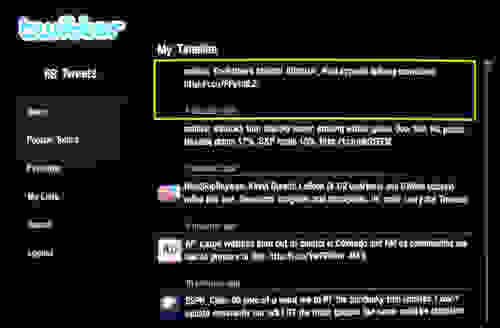 Apps & The App Store
There is no app store here. You will find twelve apps native to SmartCentral, one of them being VUDU Apps, which is a separate interface that has its own "apps." We use the word "apps" loosely when it comes to VUDU because while they do offer applications, many of the other items listed are just previews for TV shows. The Dexter "app" offers a 15 second advertisement for the show's newest season. Seriously.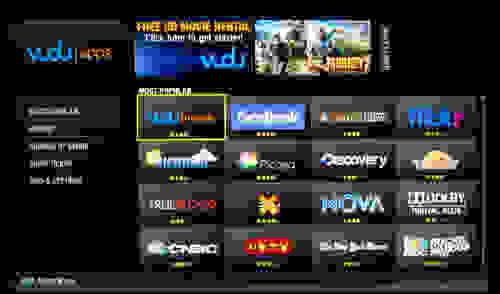 Not everything is completely useless on VUDU. There are the aforementioned Facebook and Twitter apps. There is a weather app, a Picasa app, a Flickr app, and even a stock tracking app. Everything else on VUDU is streaming content, usually in the form of a preview for a TV show.
One of Sharp's featured apps is the Aquos Advantage Live app. Once in the app, there are options to view your account, update your TV's software, view the user guide, and get live support for the TV. The live support feature is a novel idea: using it will let a Sharp employee remotely access your TV in order to fix a problem or adjust a setting.
Internet Browser
The internet browser that Sharp offers is basic and not fun to use, thanks in part to the bundled remote not being designed for it.
The browser can be found in SmartCentral, either in the featured apps section or the web & search section. Once launched, you will be brought to Sharp's website, the default homepage. Pressing the "D" button on the remote will bring up a menu bar at the bottom of the screen. This menu bar includes options to go back, forward, refresh, access your favorite websites and homepage, access settings, and enter an address.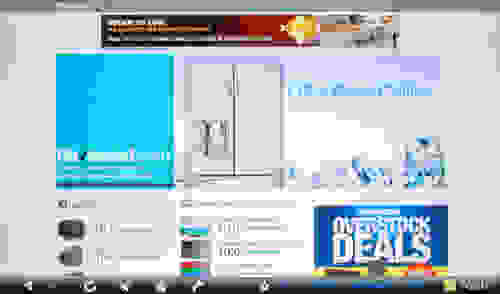 Navigating a website with this remote is a chore. Scrolling up or down involves holding the up or down arrows; the effect is painfully slow and begs the question of why anyone would browse the internet on their TV.
Your Personal Media
When a USB drive is inserted into your Sharp TV, the USB media app opens up. While convenient, the interface on this app resembles a high school PowerPoint presentation. There is a cheesy spotlight that highlights the type of media you wish to display: music, photo, or video. The worst part about this app is how slow it is: selecting a different media type produces a jerky animation.