Televisions
Sharp's 2015 Lineup Includes Three New UHD TV Series
The new year brings a bevy of 4K sets, and plenty of HD options.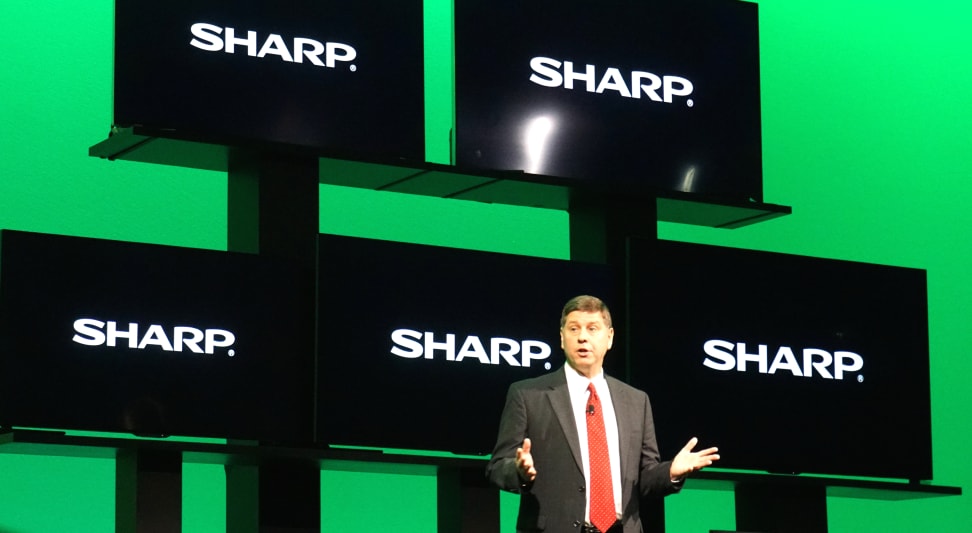 Credit:
Sharp has just announced three new 4K ultra-high-definition TVs and four new full-HD series during its press conference here at CES in Las Vegas.
The entry-level 4K option is the UB30 series, which will be available in 43-, 50-, 55-, and 65-inch sizes priced at $749, $999, $1,199, and $2,299 respectively. It's 4K-streaming capable (HEVC) and equipped with both Sharp's SmartCentral 3.0 smart platform and the Revelation Upscaler. As a bonus, the 65-inch model includes software local dimming—a contrast-enhancement feature.
The UH30 series is Sharp's flagship 4K option for 2015, and is available in 70- and 80-inch sizes.
Next up, the midrange UE30 series comes in 60-inch, 70-inch, and 80-inch options, priced at $1,999, $2,799, and $5,399 respectively. The UE30 series gives users access to the updated, Android-based SmartCentral 4.0 platform, and is equipped with the company's AquoDimming hardware local dimming—a step up from the software local dimming found on the UB30.
Finally, the UH30 series is Sharp's flagship 4K option for 2015. It's available in 70- and 80-inch sizes for $3,199 and $5,999. The high-end set boasts THX image certification, the Revelation Upscaler, Spectros color ability ("beyond HD" color), AquoDimming, and SmartCentral 4.0.
---
---
Still not ready for 4K? Sharp's doing HD, too.
If you're not yet interested in going ultra-high-def, Sharp is bringing out new full-HD options this year: the 660, 653, EQ, and UQ series. Pricing and availability for the HD models is yet to be announced, however.
The UQ series returns from last year—it's a 1080p TV capable of displaying a 4K signal.
The entry-level 660 series will be available in 60-, 70-, and 80-inch varieties, each boasting 50% thinner bezels and SmartCentral apps (but not the full SmartCentral platform). For this series, extra features are kept to a minimum to keep prices low.
The 653 series delivers midrange features and serious sizing flexibility, from a 32-inch version all the way up to a giant 65-inch option. The larger models (43 inches and up) include Sharp's AquoMotion 120 motion smoothing and access to SmartCentral apps.
The Sharp EQ series utilizes Sharp's Quattron technology, which uses four sub-pixels (red, green, blue, and yellow) to allegedly create more brilliant yellow and gold hues. The EQ series will be available in 60- and 70-inch options.
Finally, last year's UQ series returns. This is Sharp's Quattron+ (or "Q+") model, which means it's a 1080p TV capable of receiving and displaying a 4K signal. For this reason, the UQ Series adheres to 4K standards, and includes the full SmartCentral 4.0 smart platform. The UQ series will only be available in a 70-inch size.
For all the breaking TV news here at CES 2015, stick with Reviewed.com.