Televisions
Sony's 2012 Smart TV Platform: Explained
A confusing smart TV platform, complete with two different interfaces and an app store that most will never use.
In the days of yore, it seemed like the only smart devices we had were phones. Five long years have passed since the iPhone's release and now our TVs are smart. To some, the word "smart" merely connotes the idea of a device that connects to the internet and, perhaps, apps. We should expect more. "Smart" devices should aim for some real intelligence—something that pulls the connected world through the pipes of the internet and into your hands (or screen, in this case), all in a cohesive and sensible manner. Is that really so much to ask in 2012, when so many products do it well?
Sony has been in the smart TV game for some time. In 2009, Sony had more streaming content than its competitors, thanks to the back catalog of the Sony Entertainment Network. In 2012, smart TVs are more than just platforms for streaming content: they are platforms for interacting with your TV. LG and Samsung have figured this out, but judging from Sony's current platform, it has not.
How To Use It
Let's get this out of the way: There are two interfaces for Sony's smart TV content. One is a modern looking hub that allows for easy access to apps and entertainment. The other is a complicated maze of submenus that offers less content and more headaches.
The Sony remote packaged with their Bravia smart TVs has a blue button labeled "SEN." Pressing it will whisk you away to the Sony Entertainment Network, the visually appealing interface we mention. It has a PiP screen on the left third and four categories of content on the rest of the screen. These categories are apps, video, music, and favorites.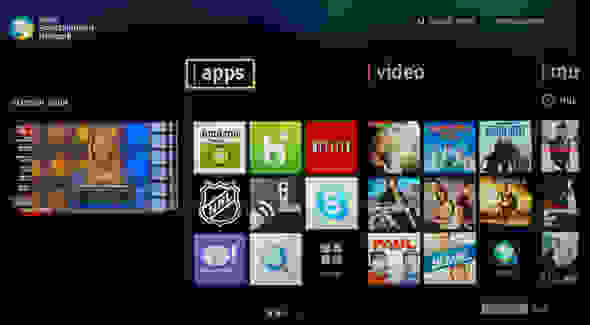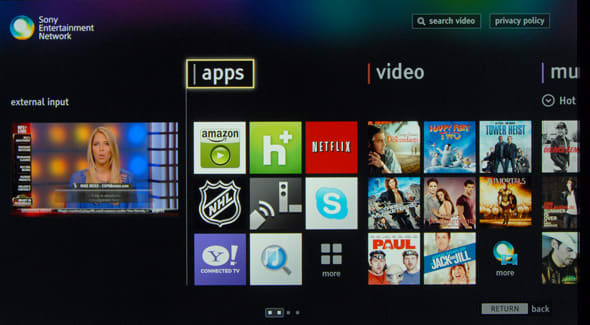 The look of this interface resembles Microsoft's Metro UI on its Windows Phone 7 platform. Apps are divided into rows of three, with a colorful square representing each one. The whole look is a breath of fresh air when compared to the other interface that is available.
Anyone who is familiar with the Playstation Portable or the Playstation 3 will see some similarities with Sony's alternate smart TV interface: They are all based on Sony's graphical user interface called XrossMediaBar (XMB). XMB is characterized by icons that go across the screen horizontally. When one of these icons is selected, a vertical menu appears that gives more options.
To access this interface, press the Home Menu button on the remote. In addition to housing options for the TV, Sony decided to let consumers access certain smart TV features here. Moving to the left or right will eventually bring you to one of three icons: applications, Sony Entertainment Network, and internet content. Applications has a small selection of apps like the internet browser, Skype, or anything downloaded off of the Yahoo! Connected TV Store, which is the app store for Sony's platform.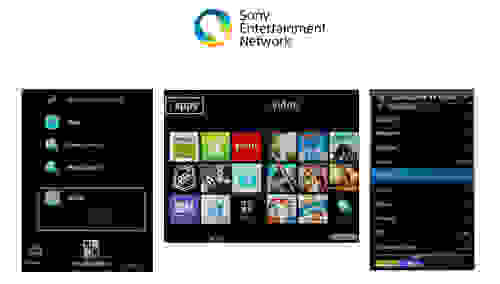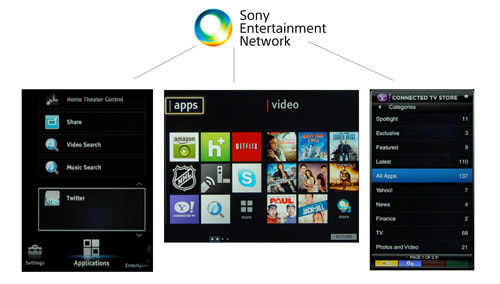 The Sony Entertainment Network section here is nothing like the previously discussed interface that the SEN button takes you to. There are two apps listed for this section: Music Unlimited and Video Unlimited, which are Sony services for music and video streaming. Music Unlimited is a subscription service while Video Unlimited is a movie rental service where you pay per movie. Speaking of music and video streaming services, more of those can be found in the internet content section. Apps like Amazon Instant Video, Pandora Internet Radio, and YouTube are here in all of their splendor.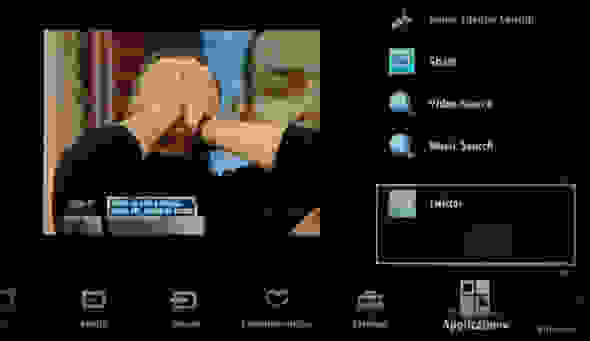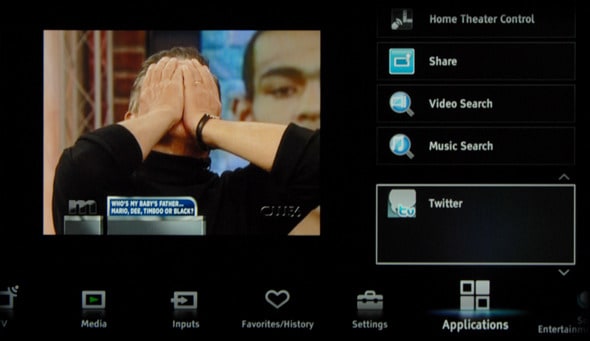 If choice is what you want, Sony gives it to you. You can choose to view your content in a simple, easy-to-find interface that divides them into apps, music, and video or you can use an archaic interface that has you sift through TV settings in order to find Hulu Plus.
Streaming TV, Movies, & Music
Sony covers all of the bases when it comes to streaming content. You will find Amazon Instant Video, Hulu Plus, Netflix (which has a dedicated button on the remote), YouTube, Pandora, NPR Radio, and Slacker Radio. Many of these services require separate subscription plans to view their content. Sony's aforementioned subscription service, Music Unlimited, and movie rental service, Video Unlimited, are included as well.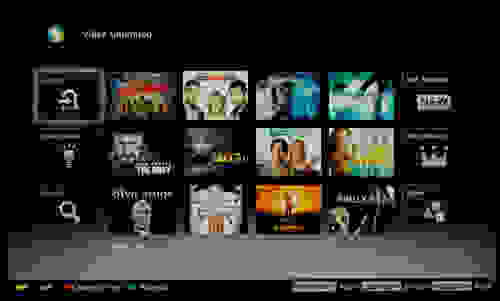 In addition to the tried-and-true streaming services, Sony offers some unconventional ones as well. You can find indie movies with SnagFilms, extreme surfing with the Billabong app, or you can watch classic TV shows, like Ripley's Believe It or Not starring Dean Cain, by using Crackle. None of these apps require a subscription.
Social Networking
Everyone seems to be on the social networking bandwagon, although we question Sony's commitment to it. Facebook and Twitter are offered on this platform, but their execution is a disaster.
The Facebook and Twitter apps can only be accessed through the XMB interface. Both apps look almost identical: They take up the right third of the screen and allow you to update your status or tweet about whatever comes to mind while watching daytime talk shows. Unfortunately, this must be done by using the remote and the alphabetical on-screen keyboard.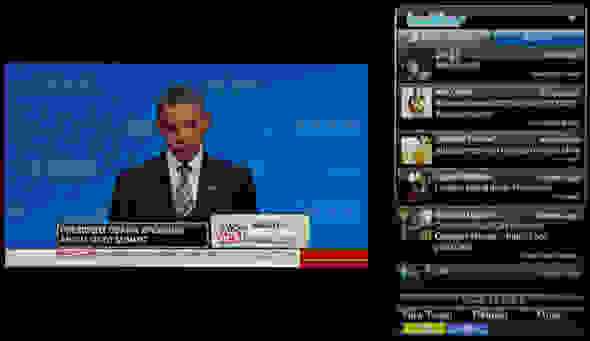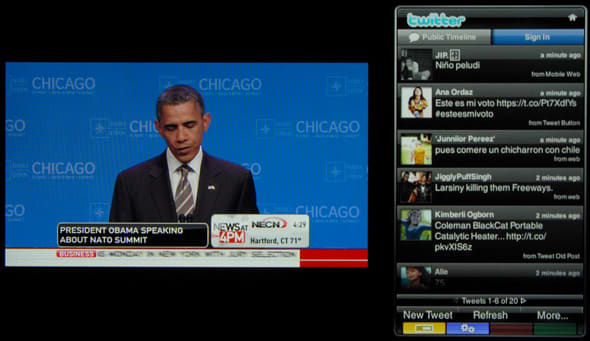 How well does this feature work? Not well at all. The interface looks outdated for both apps and using the remote to input text is an exercise in futility. Twitter, for example, is about sharing your opinion on something current; by the time you complete one tweet using the remote, that current event will be history.
Apps & The App Store
Most of the apps that you will use are included from the start. These apps mostly stream music and video, like the ones we mentioned in the Streaming section. There are some interesting (read: useless) apps to be found here like the Dr. Oz app that gives health tips or the Epicurious app that shows video recipes. The NHL Vault app has videos of classic hockey games.
The pinnacle of Sony's app selection is the Michael Jackson app, which has a selection of the King of Pop's greatest videos. We do have to point out two glaring omissions: "Remember the Time" and "You Rock My World," which featured Marlon Brando's final performance, are not included.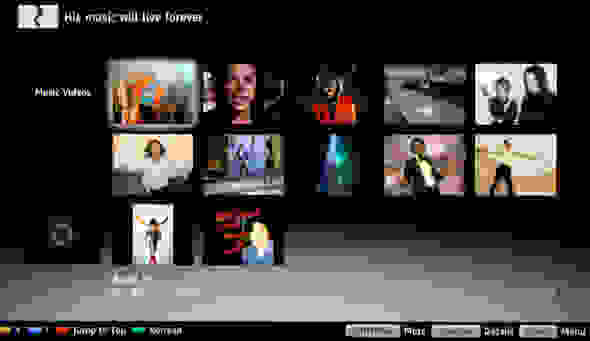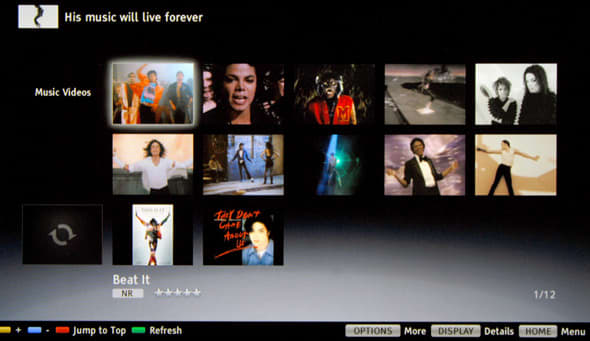 If you are in possession of a 3D smart TV from Sony, they have an app called "3D Experience." This app shows off clips from some of their PS3 games and movies that can be viewed in 3D (glasses required). It is more or less an advertisement for Sony's 3D capabilities.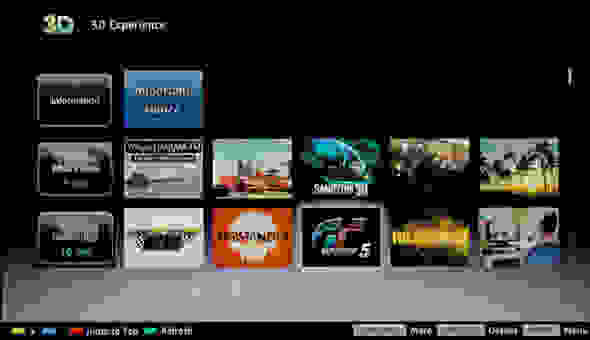 There are two ways to get new apps and neither one is very good. The first is to manually update the app content. This can be done by going to the Home Menu and navigating to the settings section. Under settings, select network and then select "refresh internet content." This process might take a minute or two, but will populate the Sony Entertainment Network with additional apps when they become available.
The other way to get more apps is much, much worse. In the XMB interface, there is an app store called the Yahoo! Connected TV Store. Here, you will be able to choose from the paltry offering of 137 apps. Most of them are free and seem to be local news apps like Kansas City's NBC Action News or Fox Carolina. There are some games, which are as good (or bad) as a game played on a TV remote can get. Any app that is downloaded on the Yahoo! store is only accessible via the XMB interface and not the Sony Entertainment Network interface. In a nutshell, this app store is bad. What were they thinking?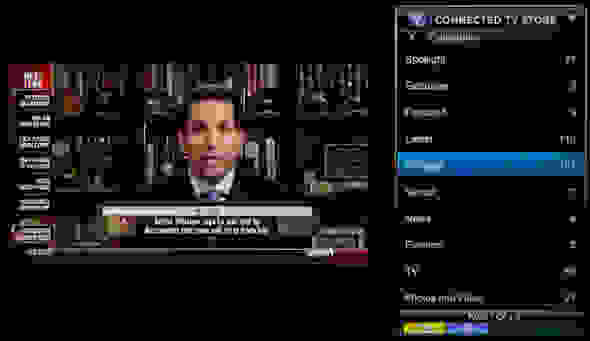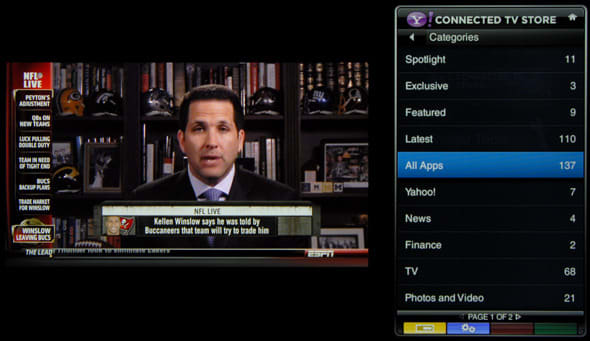 Internet Browser
We have all been in that situation where there was a funny picture or website that we wished to share with everyone in the living room. We ended up texting the website or picture with our smartphones and all was right with the world. With the integration of internet browsers on our TV, we can share these wonderful moments on 47-inch or 55-inch screens.
Sony's internet browser can be accessed via the Sony Entertainment Network or the XMB interface. Once opened, you will probably want to get off Sony's website and go some place more fun like TelevisionInfo.com. Unfortunately, there is no address bar to be found. To navigate to a different website, you need to press the options button on the remote and select "enter URL." After pressing that, you will be greeted by an on-screen keyboard where you can input text via the remote. In short, this is not how internet surfing on a TV should be.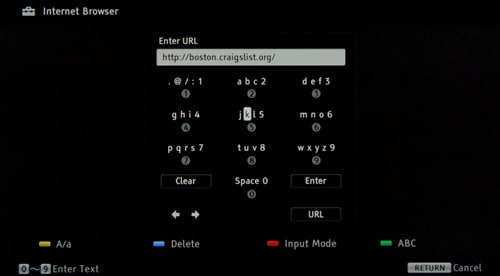 Luckily, things don't have to be this bad. Sony has a remote app that is available to Android and iOS users, called "Media Remote." The app is surprisingly robust and offers multiple interfaces to help you, unlike Sony's Smart TV platform, which offers multiple interfaces to confuse you. A cursor interface can be used to make the phone or tablet's screen act as a trackpad. Once a text box is clicked, which is done by simply tapping the screen, the app will prompt you to type in text. Typing with an Android or iOS keyboard is significantly easier than the out-of-date method involving the remote.
One of the easiest ways to show everyone in your living room a website is by using the "catch & throw" interface on Sony's Media Remote app. This interface "catches" whatever content is on the TV and displays it on your phone or tablet. Conversely, you can go to a website on your phone or tablet and "throw" it to the TV so it will display whatever amusing content you wish to share with your family, friends, and pets.
Your Personal Media
The 2012 Sony Bravia Smart TVs can connect to USB drives or to PCs via DLNA to display content like photos, music, and videos. To access the media section, go to the Home Menu and scroll left or right until you see the media icon. In this section, you can select which type of content you wish to display. Clicking on the music icon, for example, will bring up a menu that allows you to select where to find music, whether this is via USB or by a PC that is connected to the same network.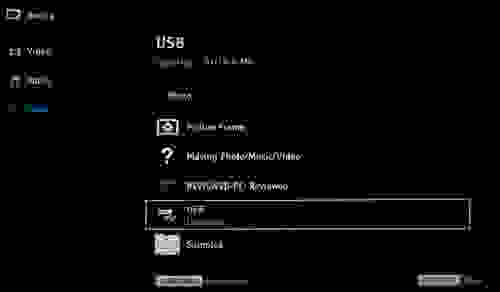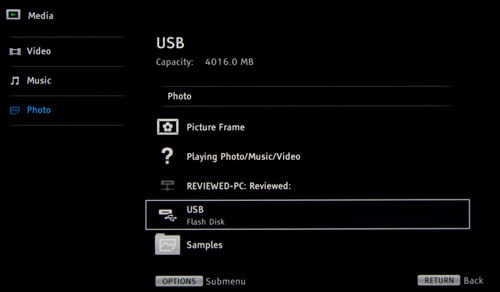 There is a service called WiFi Direct that Sony supports on its TVs. WiFi Direct is a method for connecting a device directly to the TV by Wi-Fi. In theory, this would be a great way to display photos from your phone on your TV. After 45 minutes of trying to get this feature to work, we came up empty handed. While we were able to get our phones and laptops connected to the TV, Sony offers no explanation of how to display anything once connected.