Televisions
Want to Dump Cable? You'll Probably Be Happy You Did
Proof that resentment and sobbing don't accompany every breakup

Credit:
According to research from the industry analysts at nScreenMedia, a whopping 84% of recent cord-cutters are "at least somewhat happy with their decision."
The firm polled 1,000 U.S. broadband subscribers who had recently terminated cable or satellite TV service. In addition to the massive majority of generally happy cable-free households, nScreenMedia also found that a substantial 37% were so pleased that they have no plans to ever subscribe to paid-for TV ever again.
Many of the respondents appear to actively resent subscription TV providers—a trend confirmed by other recent surveys. Even so, 17% of polled cord-cutters were in some way displeased with their choice, and 9% wished they had never terminated their subscription TV service at all.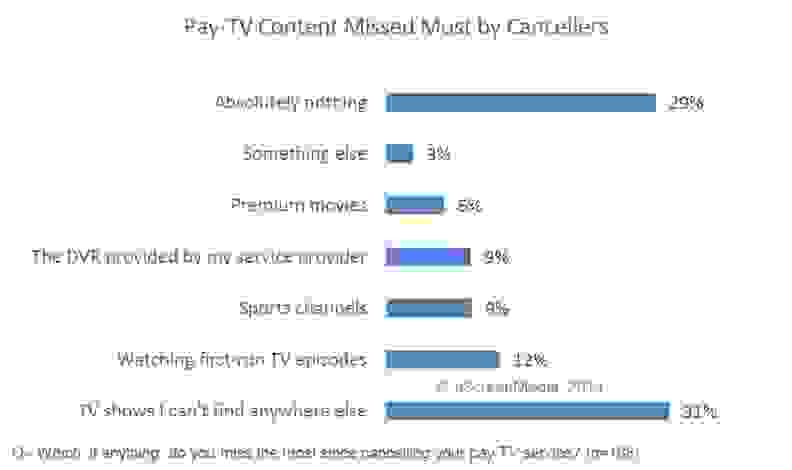 When asked why, 31% of the regretful cord cutters listed supply as the ultimate problem—they simply missed TV shows they couldn't find via streaming media. Only 9% of the remorseful group said they missed cable sports packages, and just 6% said they missed popular movie channels like Showtime and HBO.
There's no shortage of great programs available exclusively through cable and satellite TV, so the main issues for the likes of Comcast and Time Warner are apparently unwanted bundling and hefty price tags—the two elements of the current subscription TV model that seem least likely to change. Just how TV providers plan to win back cord cutters hearts and minds remains unclear for now.
Via: NScreenMedia