The company's latest vacuum—the Dyson Cinetic Big Ball Animal+Allergy (MSRP $699)—is the next logical step for Dyson's bagless upright lineup: bigger and better. The titular Big Ball makes this vacuum three pounds heavier than the Dyson DC65 Animal, but adds stability for maneuvering around corners and furniture without tipping. Combine that with a well-designed brush head, and the Cinetic can easily run circles around most uprights.
Some Dyson vacuums we've tested in the past have exhibited performance that doesn't quite live up to their impressive design and high prices, but this Dyson matches its beauty with brawn. It's not quite the best vacuum we've ever tested, but it does have the best price-to-performance ratio of any Dyson we've tested. As an added bonus, this vacuum comes with every accessory under the sun: From a dedicated mattress tool to a carbon fiber wand, this Dyson packs them all into a carrying bag.
If you're looking for a thoughtfully engineered vacuum cleaner and are willing to pay top dollar, the Dyson Cinetic Big Ball is worth checking out. And if you're interested in this model minus its overwhelming arsenal of accessories, you can purchase the Dyson Cinetic Animal for $599.

Vacuum cleaners are more complicated than you might think. We don't just evaluate cleaning performance, but also look at maneuverability, weight, noise, and ease of use. On this page we'll discuss how we reached the conclusions in our review of the Dyson Cinetic Big Ball.
While idling, the Dyson Cinetic Big Ball produced 74.5 dBa. According the Department of Transportation, that's about the same as a gas lawn mower 100 feet away. Not super loud, but other members of your household will know when you're vacuuming.
Goes around furniture, but not always under it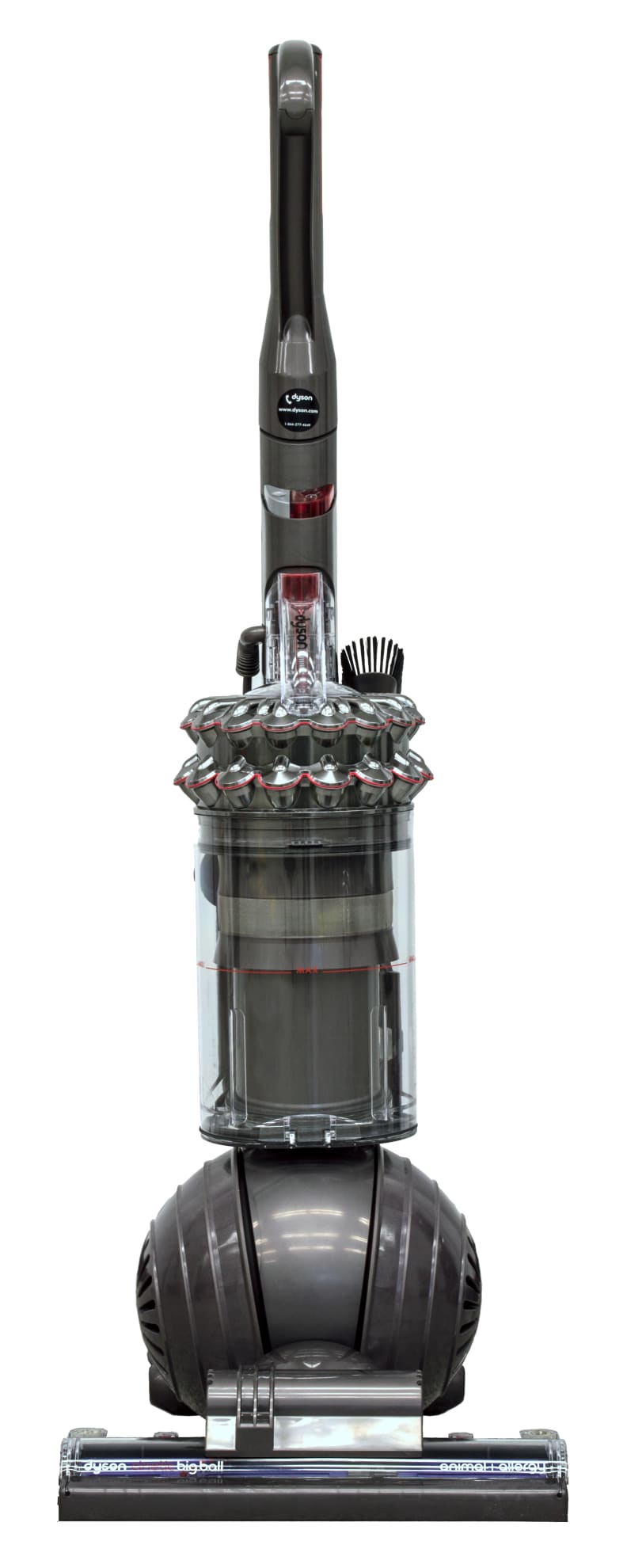 ×
Dyson
The Dyson Cinetic Big Ball tips the scales at 19.4 pounds—an intentional heft that Dyson says gives the cleaner better stability. Indeed, it feels a lot lighter when you're cleaning, and the Big Ball and adjustable head let you pivot on a dime. That being said, it's all fairly difficult to haul upstairs, especially since most of its mass is distributed near the floor.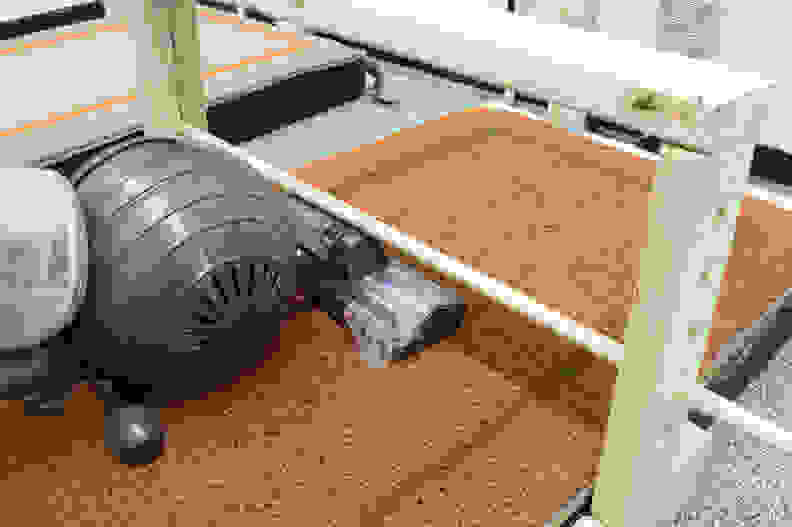 The large ball also makes it difficult for this vacuum to clean under furniture. If you have a sofa that stands four inches off the ground, you'll only be able to reach five inches underneath before the bottom of the sofa obstructs the vacuum head. Even when you boost the clearance up to 12 inches, the Big Ball can only reach in 15 inches.
If you live in an apartment with minimum clutter, this Dyson will suit you well. The long, 35-foot power cord means you can easily cover a 950 square-foot room without the need to replug.
The Big Ball was able to clean right up against the wall during our edge cleaning test. It didn't matter if we measured from the side or the front of the brush head—the dirt was gone.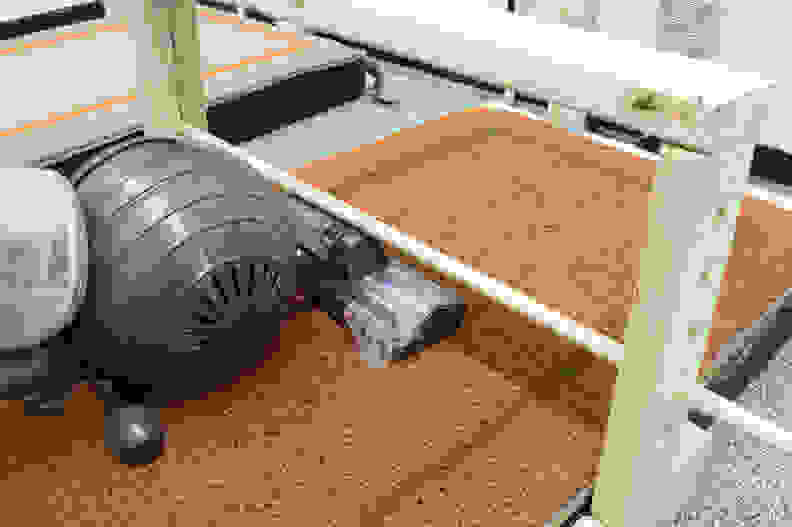 The titular big ball made it difficult to fit under furniture. For example, if you have a bed frame that sits four inches off the ground, the brush head would only be able to reach about five inches underneath. Even with a foot of clearance, the Big Ball could only reach under by 15 inches.
Accessories: All of Them
The Dyson Cinetic Big Ball has all the accessories, and I mean all of them. In the box, we counted a total of eight different attachments. The Tangle-Free Turbine and the Reach Under tool stand out the most. The Tangle-Free Turbine tool gets its name from two counter-rotating brushes that keep it from clogging with hair. The Reach Under tool is a hooked dusting brush that helps you reach under beds and couches.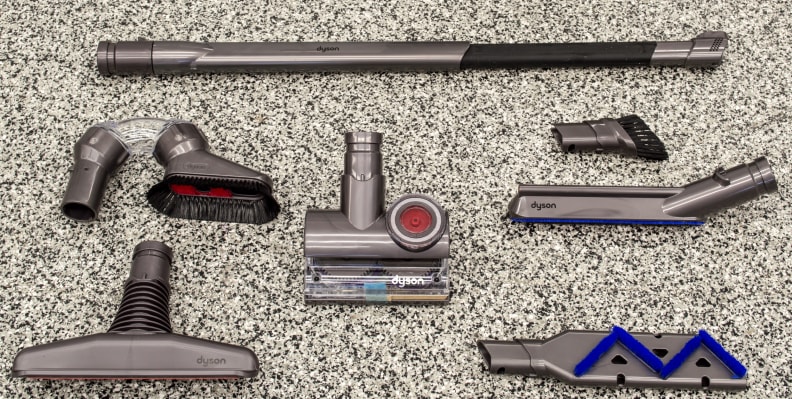 In addition to those two, the Big Ball also comes with a Stair tool, a Combination tool, a Multi-angle Brush, a Carbon Fiber Soft Dusting Brush, and an accessory bag to carry them all in.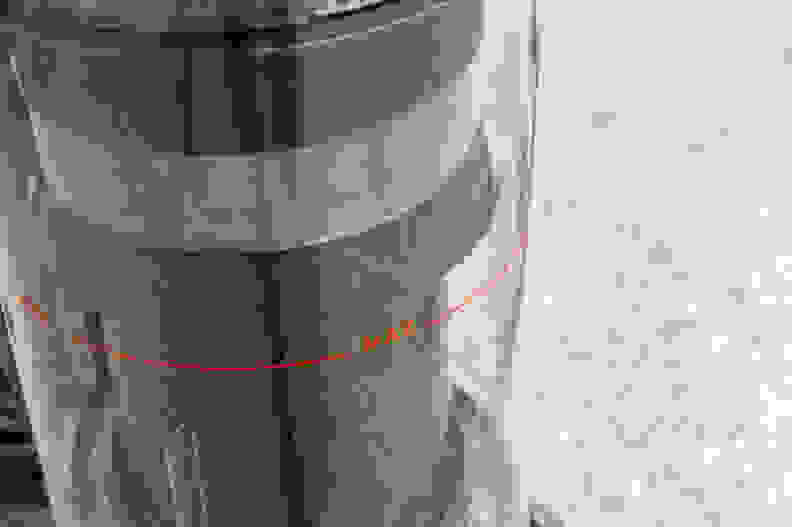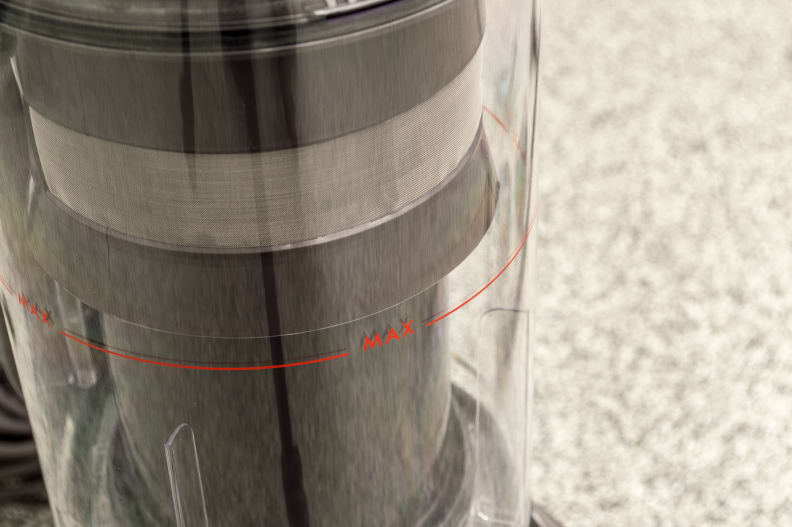 But while the accessories are comprehensive, they're also quite small. The Mattress tool measures the widest amongst them at seven inches. You'll probably be using the Tangle-Free brush the most, but it too is compact–measuring around 5 by 3 inches. That size essentially limits it to cleaning car mats, stairs, and upholstery. Like many Dyson accessories, these feel well-built, but they lack the size to tackle huge tasks.
We divide carpet cleaning into two categories: high-pile and normal. Both use a mixture of 100 grams of dirt that is composed of various grain sizes. This mixture is sprinkled evenly on test carpets and then we run the test vacuum over it.
The Dyson did very well on high-pile carpet. It picked up about grams 18.25 of the dirt mixture, which is good compared to the average of 16.2 grams that we've measured across all vacuums we've tested. The self-adjusting brush head proved its worth here.
On normal carpet, the Big Ball proved only average. It picked up 62.15 grams of the dirt we put down, which is about par for most high-end vacuums. However, considering that the Big Ball costs $700, we think it fell short.
When we switched to large debris, the Big Ball had even more trouble. The large debris test consists of uncooked macaroni, rice, and cat hair, evenly distributed across a surface.
On high-pile carpet, the Dyson left behind 25% of the macaroni, 15% of the rice, and 33% of the cat hair. It performed slightly better on normal carpet, missing 5% of the macaroni, 20% of the rice, and 17% of the cat hair. We found that the self-adjusting head put itself too low and pushed debris out of the way.
The best Dyson we've ever tested
The Dyson Cinetic Big Ball's raw test scores were very encouraging. It did very well removing dirt from both high-pile and normal carpet. During our tests on normal carpet, this Dyson picked up 62% of all the dirt we left out for it. On high pile, it sucked up 18%–higher than the 16.2% average of all the vacuums we've tested. Edge cleaning was also superb.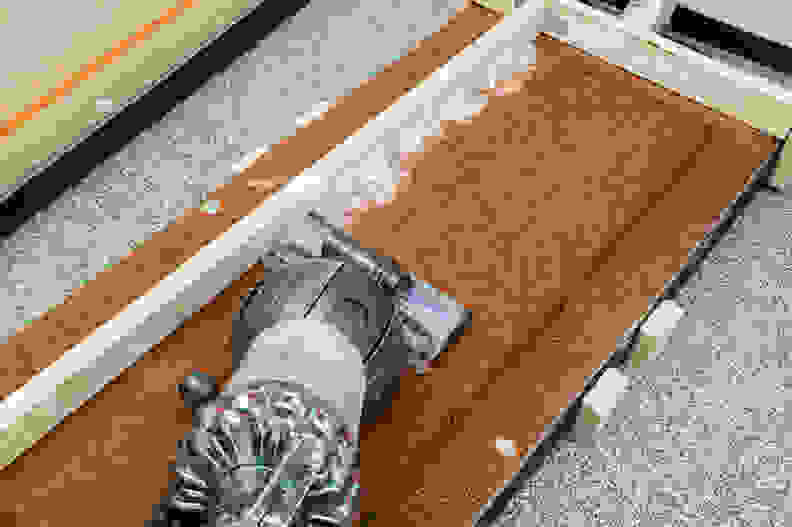 Its brush head did have trouble with large debris like macaroni and cat hair, leaving behind about a quarter of the macaroni and rice we distributed on the floor for our tests. Because the brush was so low to the ground it had a tendency to push large debris around rather than suck it up. On the plus side, the low profile of the self-adjusting head allows the Big Ball to seamlessly switch from deep carpet to bare floor cleaning.
For in-depth performance information, please visit the Science Page.
Among the best
In terms of pure suction, the Big Ball easily ranks within the top five percent of all vacuums we've tested. But how does this Dyson look in context? Two competitive uprights come to mind: the Kenmore 31150 and the Miele S7260.
The Kenmore matches or beats the Dyson in every cleaning performance category, but retails for $279–less than half of what the Dyson costs. But the Big Ball's accessories, handling, and fit and finish far outclass the Kenmore. The Miele, on the other hand, costs $50 more. It has slightly better cleaning performance, but demonstrated superior handling in our tests. So you can pay a little more and get it all, or you can save a lot and get just the cleaning performance.
If you're a fan of Dyson's filterless and bagless system, the Cinetic Big Ball is the bee's knees. If you want a single vacuum to clean your car, bed, and floor of course, the Big Ball has accessories for that. With some focus on cleaning performance, some on handling, and some on features, the outcome is a high-end all 'rounder.
On bare floors like your kitchen, the Dyson Cinetic Big Ball did a fair job. It scooped up all of the macaroni we left out and missed only 20% of the rice. Again, we had an issue with the Big Ball pushing debris along rather than picking it up.
Meet the tester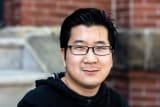 Jonathan Chan
Senior Manager of Lab Operations
@ReviewedHome
Jonathan Chan currently serves as the Lab Manager at Reviewed. If you clean with it, it's likely that Jon oversees its testing. Since joining the Reviewed in 2012, Jon has helped launch the company's efforts in reviewing laptops, vacuums, and outdoor gear. He thinks he's a pretty big deal. In the pursuit of data, he's plunged his hands into freezing cold water, consented to be literally dragged through the mud, and watched paint dry. Jon demands you have a nice day.
Checking our work.
We use standardized and scientific testing methods to scrutinize every product and provide you with objectively accurate results. If you've found different results in your own research, email us and we'll compare notes. If it looks substantial, we'll gladly re-test a product to try and reproduce these results. After all, peer reviews are a critical part of any scientific process.
Shoot us an email