Pros
Self-righting body

Brush head designed to tackle hardwood can capret
Cons
Weak suction for how much it costs

Expensive
The biggest news is that Dyson solved a major problem that plagues most traditional canister vacs: tipping. The Big Ball is weighted in such a way that it'll always self-right if it falls over—a claim that we repeatedly put to the test.
However, for all its wonderment in handling, the Cinetic Big Ball still didn't clean as well its bagged competition. It failed to pick up as much dirt as other canisters in its price range, and the air-driven brush spun fast enough to push dirt away instead of picking it up. The design itself is polarizing, and even the best-designed bagless vacuum is messier to empty than a good bag.
Aside from the self-righting technology, it's similar to the existing Cinetic Animal canister—although this new model costs $150 more. We think the extra money is worth it. But we'd be wrong if we told you there aren't better vacuums or models that perform as well but cost less.
The Dyson Cinetic Big Ball excels at both edge cleaning and furniture clearance. Its powerful suction extends all the way to the very edge and front of the brush head. Besides being able to clean right up to the wall, the Big Ball also does a good job getting under furniture. With just four inches of clearance, you can get the entire wand under a couch.
We set out 100 grams of sifted dirt and dust for the Dyson Big Ball to pick up. After running the Big Ball over our short-pile carpet, we were a little disappointed at the results. It picked up just 31.1% of the testing dirt. We've tested vacuums in its price range that have gotten 50% of the dirt.
The Big Ball's rankings greatly improved when we switched over to the deep-pile carpet. In one pass, it picked up 19.45% of the dirt, which is the highest amount we've seen from an air-driven brush head.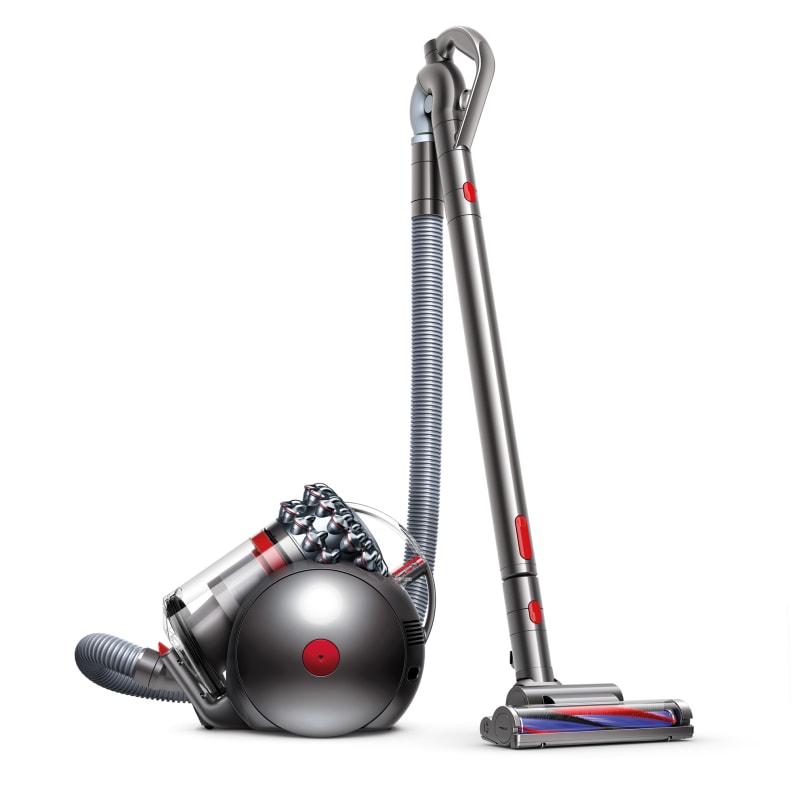 ×
New Gallery
Right out of the box you'll find an air-powered brush head, a crevice tool, a stair tool, and a stiff-bristle brush. That's fewer tools than come with the Big Ball upright, but nothing major is missing. In fact, it's the same assortment of attachments you'll find on the existing Dyson Cinetic canister.
Unlike the the existing canister, those tools click securely into place—a feature we grew to appreciate more and more as we moved the vacuum around our lab. Up to two tools at a time can be stored on the vacuum, and it's easy to swap them or remove them entirely for cleaning corners or reaching stray pet fur.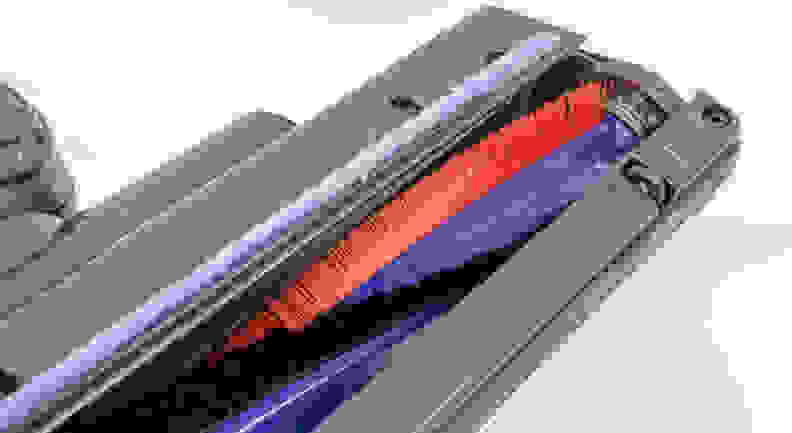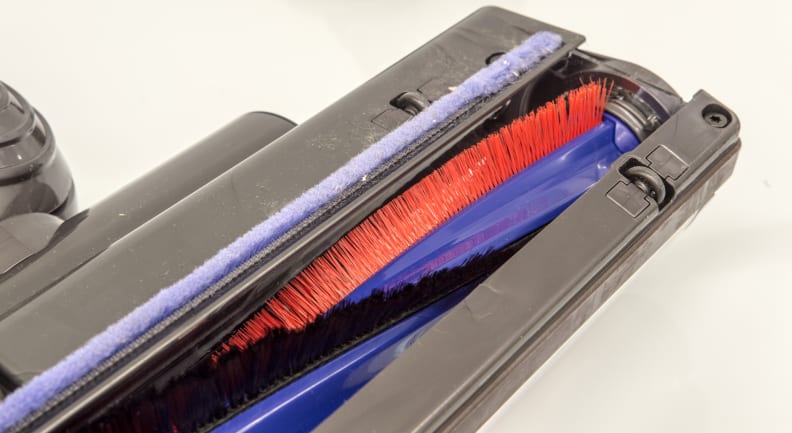 When we actually got around to cleaning carpets, we found the articulating "swan neck" on the handle and the joint at the end of the brush head worked together, allowing the Dyson to pivot around corners with ease. And because the brush head is small–10.5 inches wide and just under three inches tall—it'll easily get into tight spaces. The downside is that it takes longer to clean a large room.
However, the Big Ball's best time-saving feature is still its ability to self right. It's easy for a canister vacuum to tip over: Catch it on a corner or yank the hose too hard, and it'll flip onto its back like an upside-down turtle. Thanks to its namesake Big Ball, however, this Dyson will get right back on its wheels even if it tips completely over—a concept clearly inspired by Weebles and those creepy clown punching bags.
The Dyson Big Ball is rather loud vacuum. When it's running with the brush head going, our instruments picked up 74.5 dBA. That's almost as loud as a lawnmower.

We test vacuums for dirt cleanup on hardwood floors, and for dirt and dust pickup from both short- and high-pile carpets. We also test for edge cleaning and debris pickup.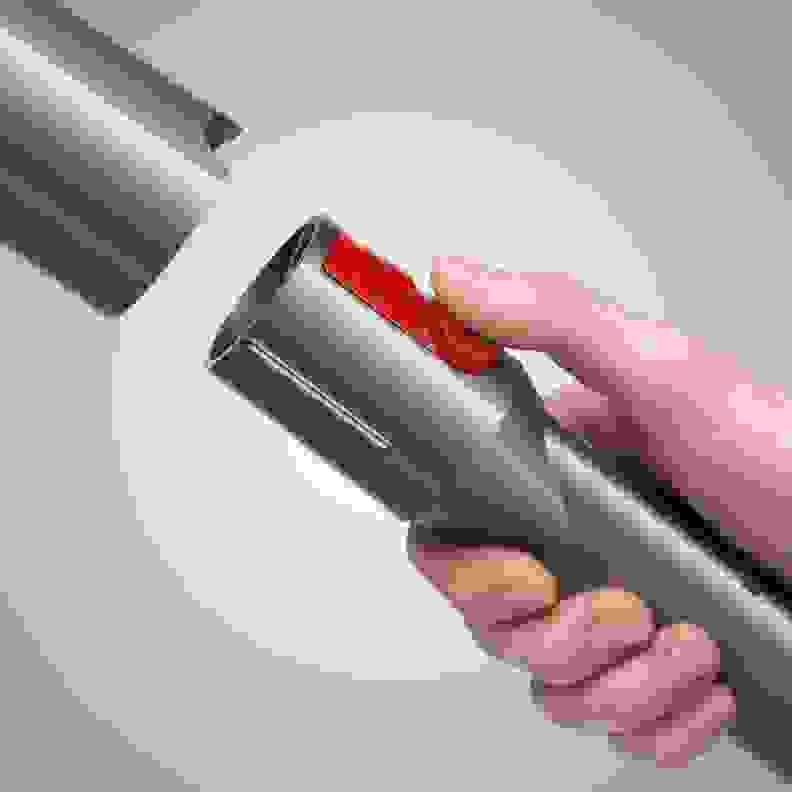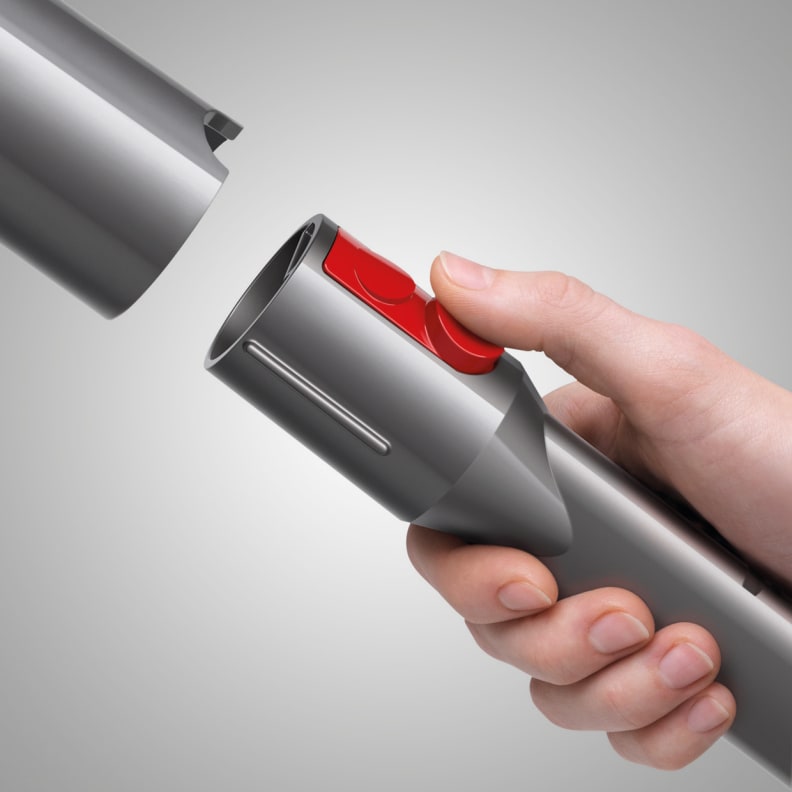 At the end of our short-pile tests, the Big Ball picked up around 31 percent of the dirt we laid out for it. Other air-powered brush heads—like the one on the Miele C2 Onyx—picked up around 50 percent of the dirt. Electrically powered brush heads can get even more.
We think we know why the Dyson lagged behind: During testing, we observed the brush spinning so fast it had the tendency to whip dirt off the carpet rather than pick it up. It's possible to reduce the speed of the brush, though not with the granular control other brands offer. That means suction will suffer.
The problem is even worse with large debris. Don't use the powered brush to pick up any spills in the kitchen, or else you'll be looking for bits and pieces of Cheerios for hours.
On the thicker carpet, however, the Dyson's fast-moving bristles were put to good use, picking up just under 20 percent of the dirt we put down. Although that might not sound like a lot, high-pile carpets tend to trap dirt, and most canisters leave far more than 80 percent of dirt behind. In fact, the Big Ball cleaned high-pile carpet better than any other air-driven canister we've tested.
If that thought grosses you out, consider a vacuum with a powered brush, which can get up to 60 percent of embedded dirt out of a tall carpet.
For in-depth performance information, please visit the Science Page.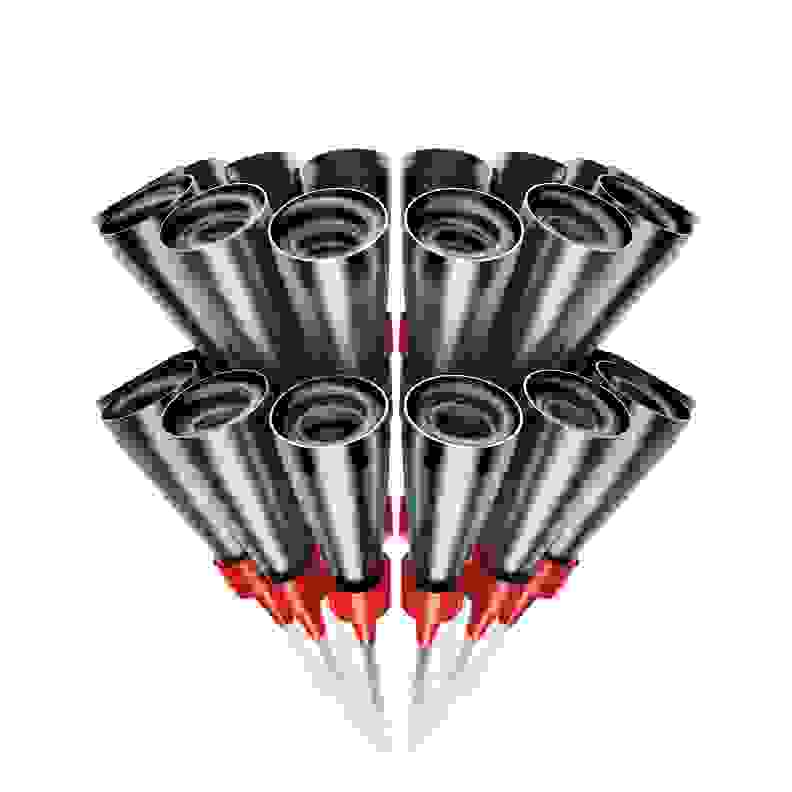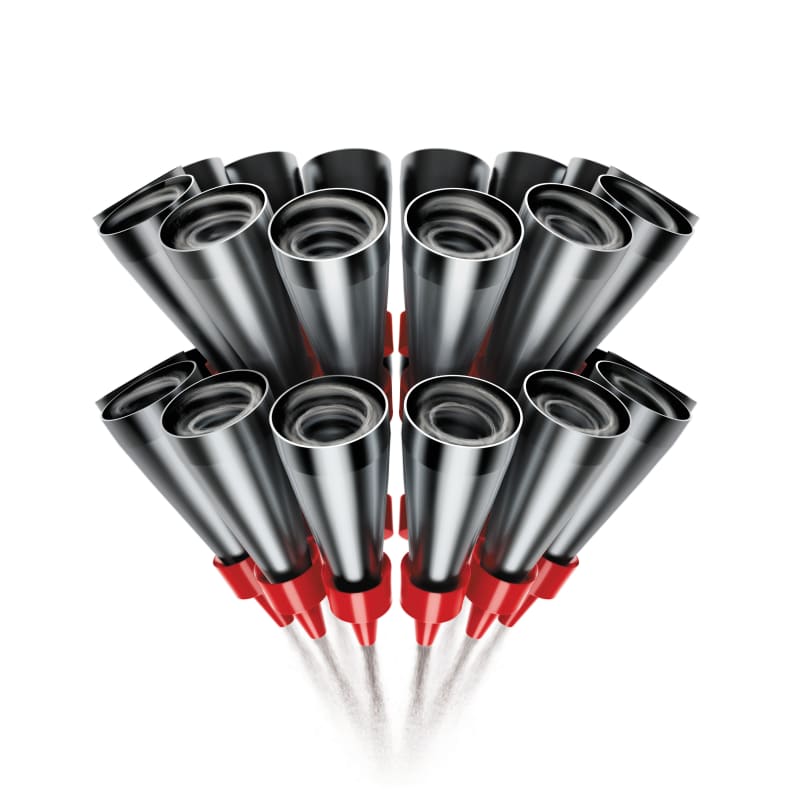 This is an expensive vacuum, but it comes with a good warranty. As long as you retain proof of purchase and your vacuum's serial number isn't altered, Dyson will warrant the Cinetic Big Ball for an impressive five-years for any original defects in materials or workmanship. You can read the fine print here.
Dyson claims that all vacuums featuring Cinetic technology can separate dust from air through powerful oscillating "tips"—those vaguely alien-looking bulges that protrude from the top of the unit. Although some of our staff found the overall appearance a bit too Giger-esque, the protrusions mean this Big Ball doesn't need a filter. That could save you a little money over a long period of time, and it keeps a foam or folded paper filter from sapping suction.
Although the early production unit we tested had no mention of HEPA, a Dyson representative assured us the canister would offer the same whole-unit HEPA filtration and sealed airflow as the Cinetic Big Ball upright.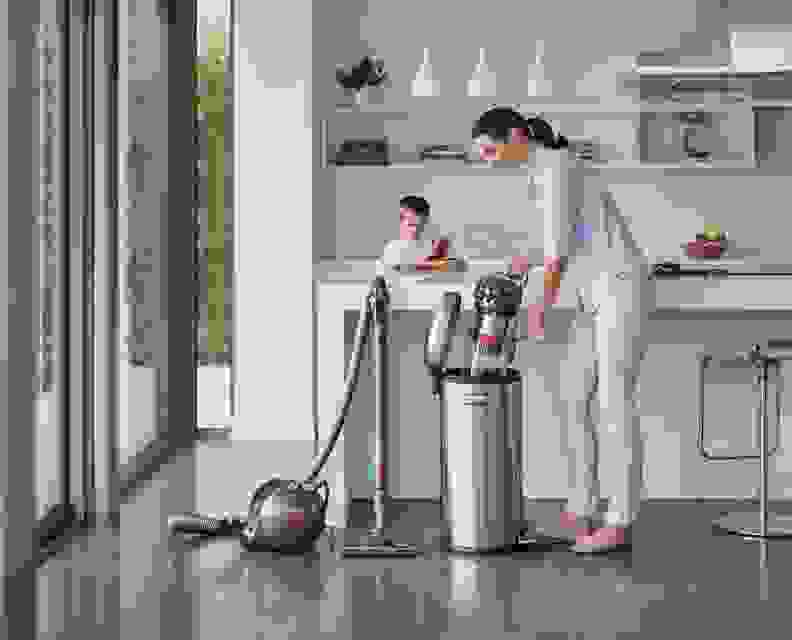 Sure, $599.99 may be a lot to spend on a vacuum, especially when canisters that cost half as much can clean just as well.
However, if you hate to clean, this self-righting, filter-free Dyson canister just might be worth the money. That's because the Big Ball is a pleasure to use. Vacuuming is a chore and a bore, and any device that makes it easier to clean deserves notice. After dragging and tugging the Dyson all over our labs, we think the self-righting feature alone might win you over. Even though self-sealing vacuum bags are easy to throw out, we have to admit that Dyson's "no touch" solution for emptying the Cinetic's dirt bin works better than any other bagless vacuum out there.
One thing is for sure: If Dyson shakes up the world of canister vacuums, other manufacturers will be sure to follow. In fact, Miele already announced that it's coming out with its first canister vacuum that doesn't need a bag. For now, however, this Dyson is the best bagless canister you can buy.
Meet the tester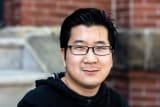 Jonathan Chan
Lab Manager
@ReviewedHome
Jonathan Chan currently serves as the Lab Manager at Reviewed. If you clean with it, it's likely that Jon oversees its testing. Since joining the Reviewed in 2012, Jon has helped launch the company's efforts in reviewing laptops, vacuums, and outdoor gear. He thinks he's a pretty big deal. In the pursuit of data, he's plunged his hands into freezing cold water, consented to be literally dragged through the mud, and watched paint dry. Jon demands you have a nice day.
Checking our work.
We use standardized and scientific testing methods to scrutinize every product and provide you with objectively accurate results. If you've found different results in your own research, email us and we'll compare notes. If it looks substantial, we'll gladly re-test a product to try and reproduce these results. After all, peer reviews are a critical part of any scientific process.
Shoot us an email