In 2013, Kmart opened at 6am to kick off its Black Friday sales—6am on Thanksgiving Day. While the discount retailer was the earliest of the early birds, it certainly wasn't alone: Eight other major stores were open to shoppers on Thanksgiving Day.
Some have dubbed it the "War on Thanksgiving," with stores competing against one another for the earliest start, turning a holiday dedicated to family and loved ones into an orgy of consumerism. Wars, of course, have casualties—in this case, the employees forced to work on a family holiday.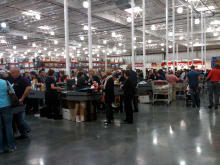 This year seems to be a little different, though. For 2014, several major retailers have proudly announced that they'll be closed on Turkey Day. Forbes has rounded up a list, which includes big names like Costco and BJ's Wholesale Club. In total, about two dozen major chains have declared they aren't giving in to mall mania.
A "Boycott Black Thursday" movement has sprung up, clearly framing the closed stores as "good guys" that "support their employees and their families," while discouraging shoppers from patronizing stores with Thanksgiving Day hours. And the supposed wrongdoers include some major names. Noticeably missing from Forbes' list are big national chains like Kmart, Target, and Walmart. Some retailers have jumped on the boycott bandwagon, including Gamestop, which issued a statement expressing solidarity with its sales associates.
Thanksgiving's status as an automatic day off has eroded over the years, hitting low-wage workers hardest.
It's tough not to read these closures as crass PR moves, but at the same time it's hard to argue against them. Speaking to ThinkProgress, a spokesperson for TJX (which operates T.J. Maxx and Marshall's stores) said, "We consider ourselves an Associate-friendly company, and we are pleased to give our Associates the time to enjoy the Thanksgiving holiday with family and friends."
What's left unspoken is the not-so-subtle suggestion that competitors who remain open are not friendly to their employees. In this sense, keeping the doors shut on Thanksgiving is the cheapest bit of advertising a chain can buy.
But regardless of whether you trust in these retailers' inscrutable corporate motives, the upshot is that—for this year, at least—more sales associates may be home for Thanksgiving dinner. That's something worth celebrating.
Via: TIME.com
Hero image: Flickr user "m01229" (CC BY 2.0)
Our editors review and recommend products to help you buy the stuff you need. If you make a purchase by clicking one of our links, we may earn a small share of the revenue. Our picks and opinions are independent from any business incentives.