UPDATE
Korean media outlets have reported that Moneual is involved in multiple financial scandals, which may or may not affect the availability and servicing of its robot vacuums going forward. Buyer beware.
November 4, 2014
South Korean company Moneual is bringing a new robot vacuum to CES... and this one does the mopping, too.
Just a few months ago, Moneual released the H67, a hybrid Roomba/Scooba competitor that combined vacuuming and dry-mopping functions in one machine. Now they're presenting the H68, which adds wet-mopping to the mix. In other words, we may never have to clean our own floors again.
The H68 has a reservoir that holds water or cleaning fluids for the mopping mode, along with interchangeable microfiber mopping and dry-sweeping pads. Because the vacuuming unit is located in front of the mopping unit, the H68 can be set to do both in a single pass.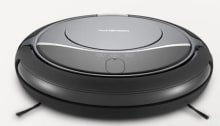 We're not sure if this means that both jobs are done in the usual time of one, or if the multi-tasking slows down the process. Either way, the convenience of pushing a single button to do two jobs is, according to Moneual, one of the major selling points of the H68.
Another major selling point? The H68 is loaded with sensors-42 of them, to be exact. They're omni-directional, and they're supposed to sense the size and shape of the room, then map out the most efficient combination of horizontal and vertical paths to make sure every square inch of floor is covered.
Given the random, and sometimes inexplicable, routes that some robot vacuums use to traverse spaces, we're interested to see this feature in action.
For particularly dirty floors-or those with particularly high standards-the H68 also has what Moneual refers to as "Shadow Cleaning." Essentially, this means the robot has the ability to sense dark and shadowed areas of the floor and give them extra attention.
The H68 also has what Moneual refers to as "Shadow Cleaning," letting the robot sense dark and shadowed areas of the floor and give them extra attention.
This seems like a pretty involved job, even for those 42 omni-directional sensors. But if it functions as advertised, it could be great for cleaning under couches and behind chairs-where most vacuums fear to tread.
The H68 will appear on the US market in the first quarter of 2014, with a planned price of around $500. That's mid-range for the robot vacuum market. If it performs its various functions as well as single-purpose machines handle theirs, it could represent a great value.
Moneual's past offerings in this same market have gotten respectable reviews from the media and consumers alike; we're eager to see if the H68 lives up to the company's growing reputation.
Our editors review and recommend products to help you buy the stuff you need. If you make a purchase by clicking one of our links, we may earn a small share of the revenue. Our picks and opinions are independent from any business incentives.