Though household chores are never fun, they get a little easier when you've got the right vacuum for the job. At VacuumCleanerInfo.com, we spent hours testing vacuums in our state-of-the-art labs, and we're awarding our annual Selects to the best products available. Here are some of the household vacuum cleaners that really cleaned up in 2011.
Vacuum Of The Year
Dyson DC28 Animal
(MSRP $649.99)


No other vacuum we tested tackled tough jobs as well as the Dyson DC28, which didn't flinch even when it came to cleaning long carpet. That's thanks to the Dyson's one-two punch of a powerful motorized brushroll that agitates nearly two thirds of dirt out of even the thickest carpets, and cyclonic suction that easily lifts messy debris from your floors. Consider that lesser vacuums might only pick up 20 percent of the dirt and debris lurking in your high-pile carpets, and buying the DC28 may literally let you breathe easier. Yes, it's bulky, heavy and expensive, but that's what it takes to get the job done.
Runner up
Kenmore Progressive 21514
(MSRP: $299.99)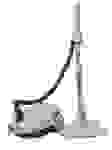 We're fans of old-fashioned bagged canister vacuums. It's nice to be able to dispose of all that nasty dirt and pet hair you've vacuumed up without having to look at it, and though the canister may be heavy, the part you actually push around the floor is lighter than any upright. The Kenmore 21514 is the best canister we've tested, with great dirt pickup on all surfaces. Its removable brushroll and plethora of attachments makes it a great fit for homes that mix hardwood floors with area rugs and thick carpets. Pet owners should know that the Kenmore's PowerMate Jr. miniature motorized brushroll will erase all traces of cat and dog fur from upholstery.
---
Best Canister Vacuum
Kenmore Progressive 21514
(MSRP: $299.99)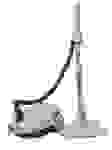 When it comes to canisters, the Kenmore Progressive 21514 is king. In our lab tests, it had some of the best performance we'd ever seen on short carpet and hardwood floors, and its powered brushroll also agitated dirt out of high-pile carpets. Its retractable cord and on-board tool storage save time, while the small, motorized PowerMate Jr. brushroll saved upholstery from getting covered in pet hair. There are other vacuums in Kenmore's lineup, but the 21514 is the value leader with the most features for the least money.
---
Best Compact Vacuum
Dyson DC24 Multi Floor
(MSRP: $429.99)


There are lots of small vacuums on the market. Unfortunately, most of them just move dirt around instead of picking it up. That's not the case with the Dyson DC24 Multi Floor, which features big power in a small package. Measuring just 43 inches tall, the DC24 can be stored almost anywhere. And with a ball instead of wheels, the vacuum also swivels easily around obstacles to reach those spots other vacuums might miss.
---
Best Upright Vacuum
LG LuV200R
(MSRP: $319.99)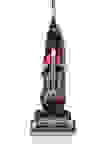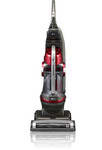 In our lab tests, the LG LuV200R did a great job on hardwood, berber, and long carpet alike, making this a good choice for people with many floor coverings. We also were impressed with its long hose and removable wand, which let us clean corners and curtains a whole thirteen feet away from the vacuum itself. Though its unique design took some getting used to, cleaning with the LG LuV200R eventually became intuitive.
Runner Up
Hoover Platinum UH30010COM
(MSRP: $299.99)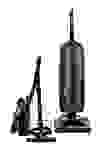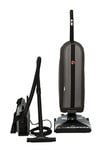 The Hoover Platinum UH30010COM is actually two vacuums: an old-school bagged upright and a compact canister. In our lab testing, the upright excelled at lifting dirt from the deepest depths of high-pile carpet, which makes this vacuum a must if you've got wall-to-wall. The canister is good for quick pick-ups, and both vacuums are very lightweight. They're easy to store, too, though the upright's handsome retro design may deserve display outside of a broom closet.
---
Best Value
Panasonic MC-UL915
(MSRP: $199.95)

There are plenty of vacuums to be found selling for under $200. We tested many of them, and none did as well in our lab tests as the Panasonic MC-UL915. It did extremely well getting dirt out of berber carpeting and hardwood floors, and the pet hair brush removed all traces of Fido and Fluffy. In addition to its excellent cleaning performance, the Panasonic also felt sturdier than its competitors, with a "quick draw" cleaning wand that stored in the vacuum body with a satisfying snap.
Our editors review and recommend products to help you buy the stuff you need. If you make a purchase by clicking one of our links, we may earn a small share of the revenue. Our picks and opinions are independent from any business incentives.