Accessibility
These hands-free shoes are pretty awesome
Kizik has managed to make a no-tie sneaker I actually want to wear.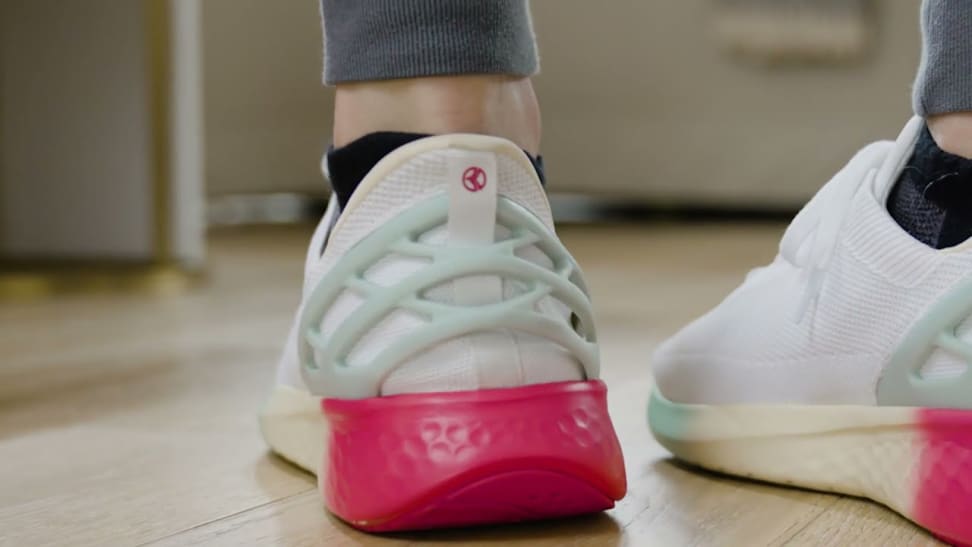 Credit: Kizik
As a person who can't use my hands very well due to disability, finding stylish apparel has always been a challenge. As a fairly confident adult, this isn't a huge concern. However we all know that in the school years, fashion is everything. I was no different on that front, and I hated feeling like I/my shoes didn't fit in. I wasn't able to tie my shoes like all of the other kids, which meant that—even if we could have afforded them—I couldn't wear the Air Jordan tennis shoes that were The Shoes to wear during my late-90s high school years.
Instead, I've always had to opt for hands-free options like slip-on shoes, flip-flops, or in my darkest moments, Velcro tennis shoes. This was the cost of independence. To wear shoes that required tying meant I had to ask a friend for help. So, in the name of autonomy, I wore uncool shoes.
I no longer feel that my life depends upon wearing the correct style of shoe, but I have been very pleased to discover that several current brands make hands-free tennis shoes. Some of them actually hinge open and closed as you step in, and some simply have heel cups that are designed to pop back into place once you slide your foot into the shoe. I don't think a single pair of athletic shoes I've ever owned didn't end up with a broken-down heel after all the slipping on and off as I use my feet to accomplish daily tasks most would use their hands to do. Lucky for me, Kizik made a shoe designed to be used in exactly that way.
How Kizik shoes work
While many slip-on tennis shoes simply have finger loops to help keep the shoe's structure intact as you slide your foot in, Kizik designed a heel cup that can compress and bounce back over and over without losing its shape. This is thanks to what the company calls External Cage technology: a crosshatch pattern of rubber strips that wrap around the heel cup. This "cage" can collapse and spring back into place, which means the shoe's heel never curls in or gets crushed.
What I like
They look like normal shoes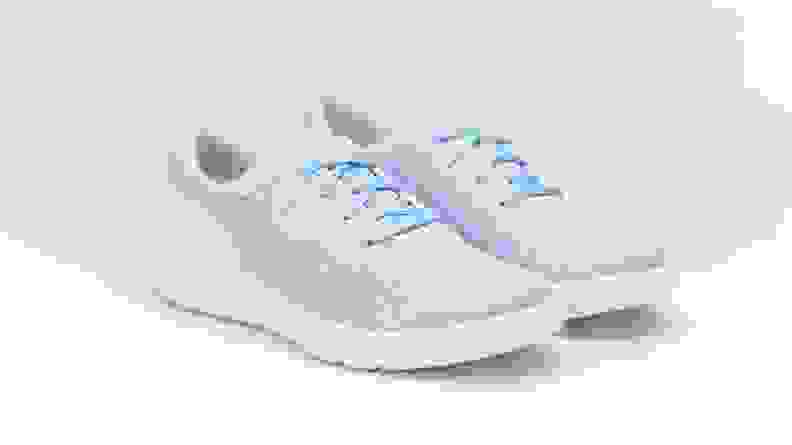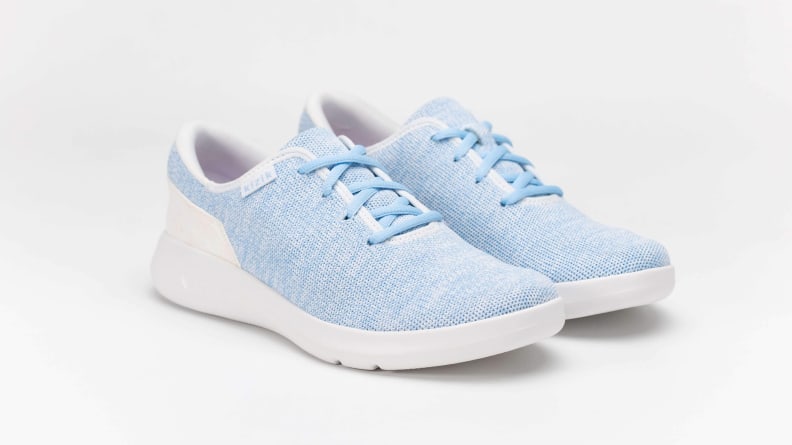 On one of Kizik's Facebook posts, a commenter asked why these shoes have laces at all. I don't know if my particular use case was what the folks at Kizik had in mind when designing the shoe, but I absolutely love that they look like standard tennis shoes. Kiziks have laces that can actually be tied, but once you get them at your ideal tightness, a good double knot and you'll never have to tie them again. The fact that they look like normal shoes makes me feel like a normal person wearing them.
They are comfortable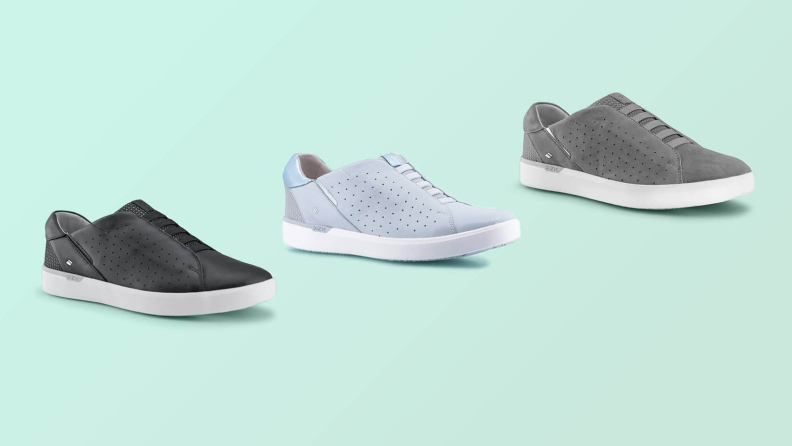 I've tried a few hands-free shoes available today and Kiziks are by far the most pleasant to wear. They are supportive and the heel cup is comfortable—a feature that I have not found a be true with other reinforced, heavy duty heel cups designed to bounce back. Kizik shoes are lightweight and feel like a regular shoe. I've worn is them for the occasional walk and errands, but the real test was recently when I wore them to a theme park with my family. I was able to slip them on and off whenever I needed them, and they remained miraculously comfortable all day.
When your main shoe-shopping concern is whether you're able to even put them on, you don't get the luxury of choosing the pair that's the most comfortable or attractive. To my delight, Kiziks manage to be comfy, functional, and good-looking to boot. Where have they been my whole life?
I love the designs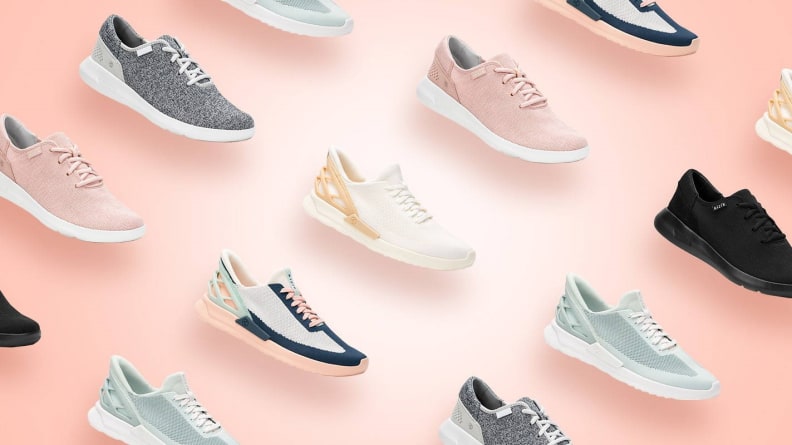 Kiziks range from the hey-look-at-me bright, contrasting colorways to a discrete black sneaker. There are styles and colors to fit pretty much any tennis-shoe-appropriate occasion, and at around $100, they won't break the bank (unless you buy them in every color—no judgement). Since I began wearing Kiziks a few months ago, even more colors and styles have been released. I hope that continues. But that brings me to my next point.
What I don't like
There could be more shoe types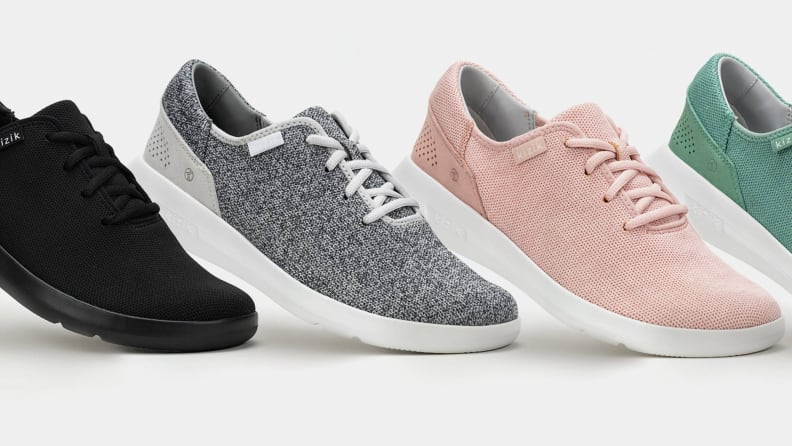 As it's so difficult to find a good slip-on tennis shoe, I understand why most brands are starting here with their innovative heel designs. However, I would love a pair of ballet flats or ankle boots or even pumps that don't end up squished awkwardly to one side of the heel after so many uses. Many people can put their shoes on at the beginning of the day and leave them on until the end, but I use my feet throughout the day and therefore there's a lot of taking shoes off and putting them back on. I'm very hard on my shoes and it would be nice if I weren't limited to choosing only specific styles.
Should you buy them?
Yes, especially if you need assistance putting sneakers on. I think there are probably a lot of able-bodied people out there who still don't like taking the time to tie shoes and end up slipping them on more than not. This is tough on your shoes and if you find yourself trying to pry the top of the heel cup back into place after slipping your kicks on, Kiziks are for you. If you really enjoy taking the time to knot laces, however, you have all the options in the world when it comes to shoe choice. Even so, you might like Kiziks for the fun designs and lightweight-but-sturdy construction.
The product experts at Reviewed have all your shopping needs covered. Follow Reviewed on Facebook, Twitter, Instagram, TikTok or Flipboard for the latest deals, product reviews and more.
Prices were accurate at the time this article was published but may change over time.