Beauty
PaintLab Brow SculptSoap review
This $20 brow "soap" delivers on its promise of fluffy, thick eyebrows
Credit: PaintLab
My eyebrows are probably the least complicated part of my beauty routine. On a daily basis, they only require a quick run-through of eyebrow pencil to fill in sparse areas and a whole lot of brow gel to comb them into place. Despite having my routine down solid, I find myself reveling in the feathery eyebrow look that's taken over my TikTok and Instagram feeds for the last five years or so. Many taking part in the fluffy brow trend use soap—yes, as in a bar of Dove—to achieve the look because it has a waxy consistency that holds hairs in place, which is where the term "soap brows" comes from.
I've always been curious to try the trend out for myself—after all, my thick, unruly brows could benefit from something stronger than a brow gel. So when I got word that the beauty brand PaintLab restocked its famous brow soap after it kept selling out, I knew it was my chance to put it to the test. The $20 PaintLab Brow SculptSoap is meant to be an all-in-one product that grooms, thickens, and shapes eyebrows. I'm happy to report that, after some trial and error, the product delivered on all fronts.
What is the PaintLab Brow SculptSoap?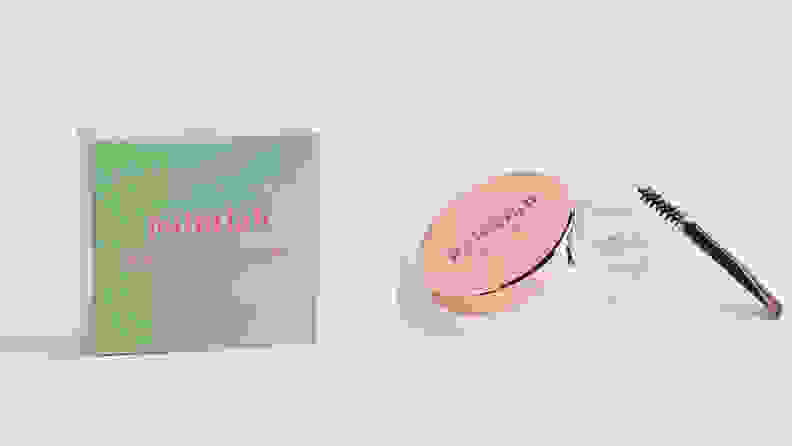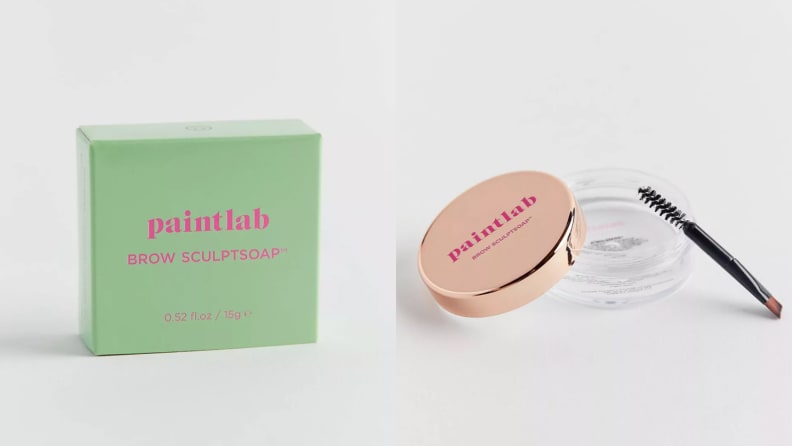 The Brow SculptSoap from PaintLab is like a clear brow gel in jar form. The "soap" in the name doesn't refer to the actual consistency of the product (or mean you'll have to activate it with water)—rather, the name implies that it will deliver the combed-through, strong hold results you'd see if you rubbed a spoolie on a bar of soap and ran it threw your brows (yes that's a trend on social media) but without the waxiness or potential mess. The texture of the product isn't solid like a brow wax, but it's thicker than the standard brow gel that's typically packaged in a mascara-like tube. It's almost like a hair pomade—but for your brows.
The formula promises to visibly thicken, sculpt, and tame brow hairs into place. It also claims to offer a soft, flexible hold, which attracted me because extreme-hold products tend to feel heavy on my brows. The 0.52-ounce Brow Sculptsoap is housed in a tub no bigger than the palm of my hand and comes with a spoolie that's conveniently bent on one side, which makes it easy to dip into the jar without being limited by the lip of the container. It also has an angled brush on the other end, which I'm assuming is meant for layering on a brow powder, though the brand doesn't specify or offer such a thing.
What's it like to use the PaintLab Brow SculptSoap?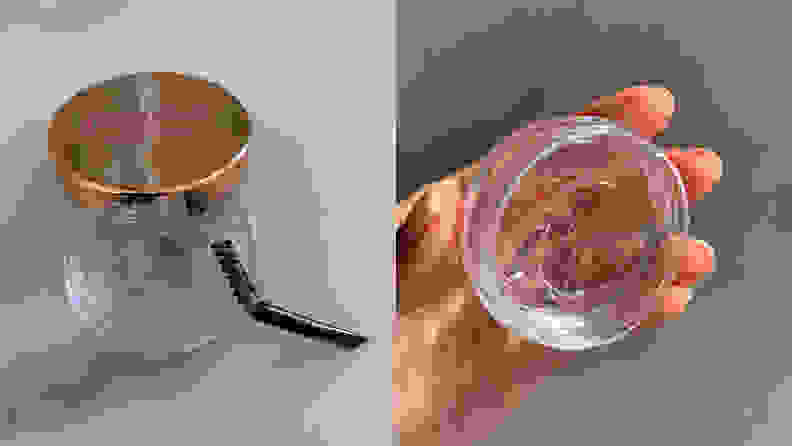 The first few times I tried Brow SculptSoap, it was evident there would be a learning curve. Dipping the spoolie into the actual tub picked up way too much gel, which caused clumpy results instead of the feathery results I was hoping for. After several attempts, I realized that the best way to use it was to dip a (clean) finger into the tub, apply it in a single layer onto the back of my hand, and swipe the spoolie across the layer before applying it to my brows. This was a great way to ensure I wasn't caking on an excess amount of product, and also helped me build the formula up in layers for the most natural look. For reference, I used this after filling in my brows with my One/Size by Patrick Starrr BrowKiki Micro Brow Defining Pencil to color in sparse areas, though you can certainly use it on its own as well.
At first, the Brow SculptSoap makes my brows feel firm and sticky, but it eventually dries down to a matte, touchable finish that doesn't look wet or feel tacky. Because it has a flexible hold, you have a few minutes to sculpt your brows into place before it sets. Other than minor difficulties mastering my application technique, the only con I have with this product is the spoolie that it comes with. The wand's bristles were of different lengths and poked out in multiple directions, which made it difficult to brush through my brow hairs evenly and achieve a combed-through result. I much preferred using this gel with a rubber-bristled wand, as it made for a neater application and a natural-looking, clump-free result.
Does the PaintLab Brow SculptSoap do what it claims?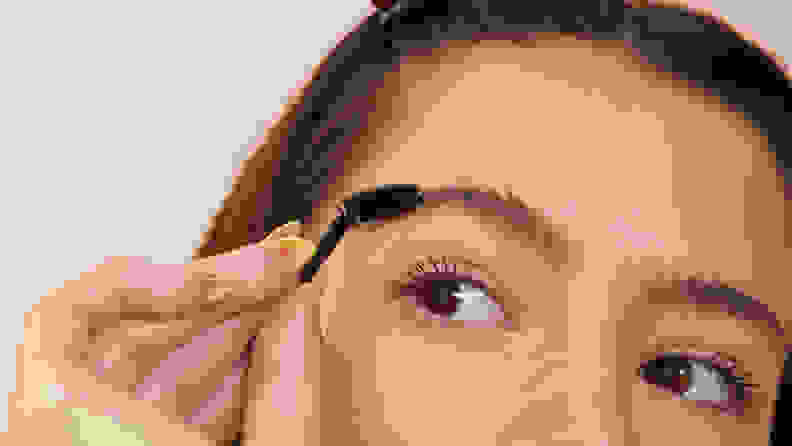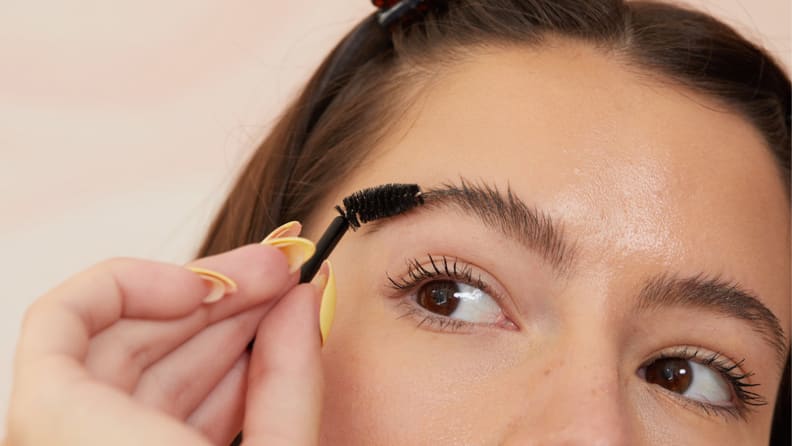 Yes, the Brow SculptSoap lives up to its brow-defining claim. Even though I have naturally full eyebrows, I noticed that my brow hairs looked thicker and fluffier after using the product. I was happy with the feathery appearance it gave my brows once I perfected my technique, and was relieved that it didn't make the hairs feel rough to the touch or uncomfortable throughout the day.
Most of all, it delivered on its promise of having an impressive staying power despite not having extreme hold that would harden the hairs. My brow hairs stayed put from the moment I put the gel on to the moment I removed my makeup at the end of the day (which was roughly eight hours for this testing). It also didn't flake as I wore it—something I struggle with when using other formulas.
Is the PaintLab Brow SculptSoap worth it?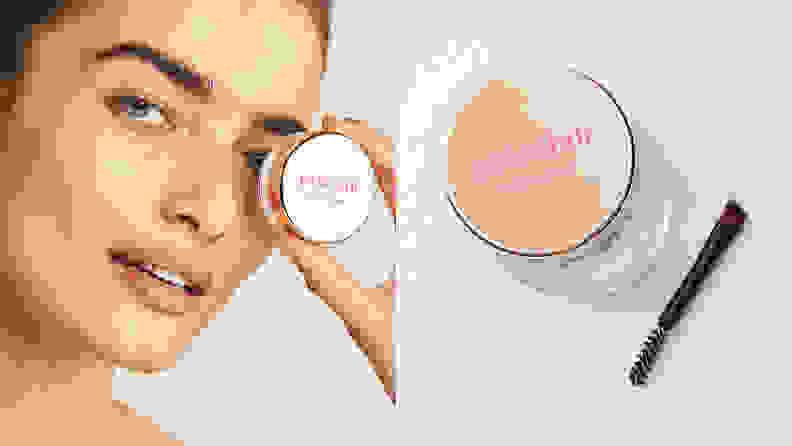 If you're into the soap brow look, or you've tinkered around with the thought of brow lamination, the Brow SculptSoap is worth it. While it's a makeup product that washes off (and thus, won't deliver long-term results like a brow lamination treatment), it's a great way to control unruly brow hairs. It's also a promising option for those with thin brow hairs who are looking to give the illusion of thickness. With some practice, the Brow SculptSoap is a great addition to your beauty routine if you're looking for a brow gel that does more than just set the hairs in place.
Get the PaintLab Brow SculptSoap from Free People for $20
The product experts at Reviewed have all your shopping needs covered. Follow Reviewed on Facebook, Twitter, Instagram, TikTok, or Flipboard for the latest deals, product reviews, and more.
Prices were accurate at the time this article was published but may change over time.