Beauty
Does this Cryo facelift actually work?
Can you actually get a facelift at home?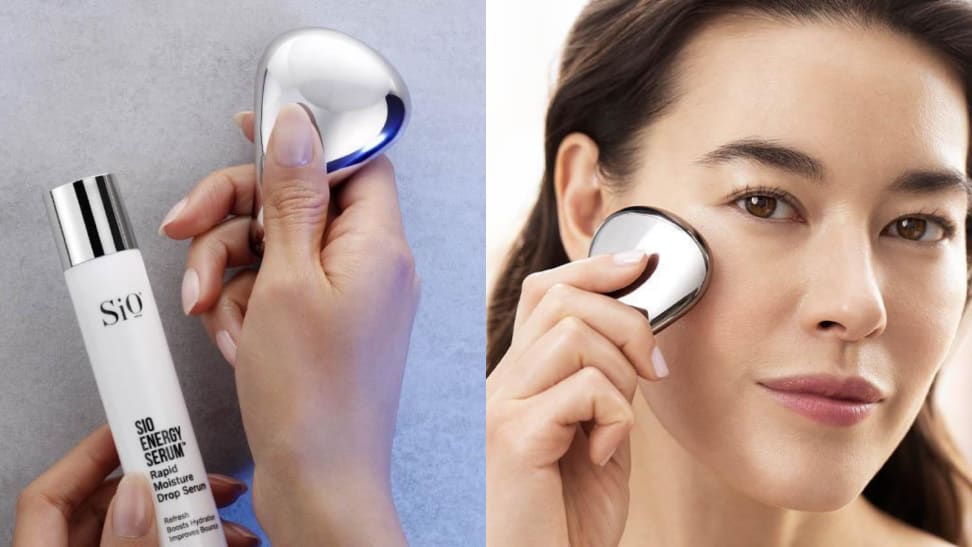 Credit: SiO
Not into needles? You're not alone. And thankfully, there are a number of beauty products that claim to eliminate wrinkles and provide Botox-like results without requiring a visit to the surgeon. But do these products actually work?
That was my first thought when I first heard about the SiO Cryodrop beauty tool, a "cold-controlled magnetic facelift" that's essentially a metal instrument you rub over your face in the hopes of toning and improving your skin using magnetic charge and cold therapy. I know. It sounds wild, but I tried it. Jade roller aficionados will probably want to read on.
What is SiO?
SiO is a beauty company that produces a line of wrinkle-fighting patches, creams, and tools. SiO products use silicone to compress the skin and plump it, which the company claims smooths out those wrinkly areas. We tried SiO last year to see if the company's wrinkle patches really worked. Our tester found that some of them were highly effective, while others didn't quite yield noticable results.
Recently, SiO added the Cryo System to their offerings, and it's pretty different from the silicone-based patches we tested. The Cryodrop system uses a mix of cold therapy and skin massaging to achieve its results.
What is the SiO Cryodrop?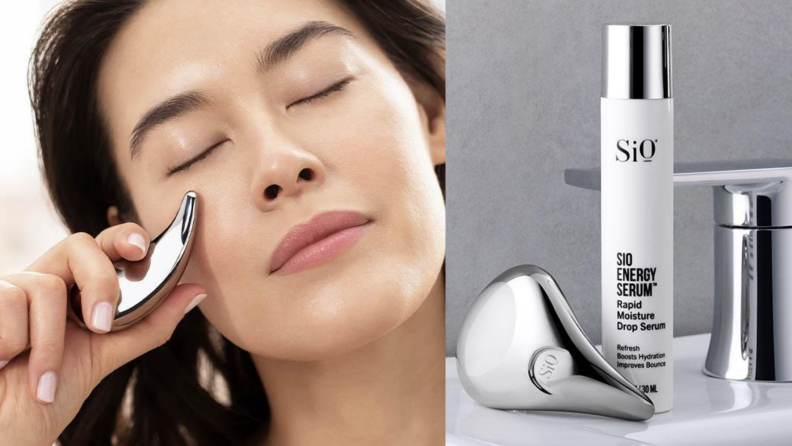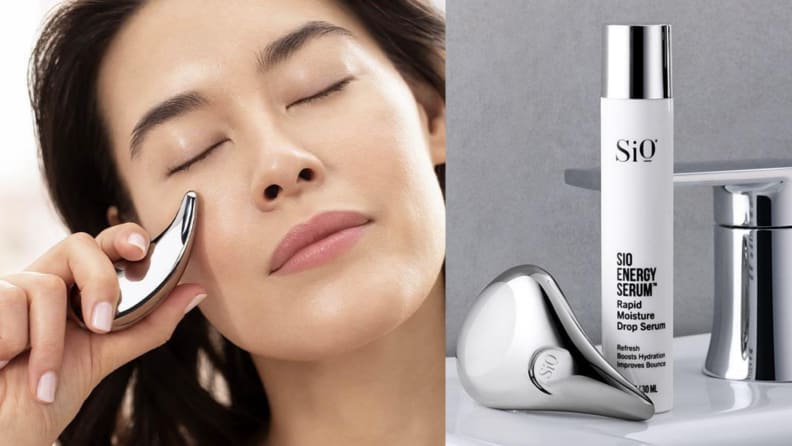 The basis of the Cryo System is the Cryodrop, which is an orb-like tool made from medical-grade steel. The site says it has a magnetic charge in its heart that lasts a lifetime. The teardrop-shaped Cryodrop uses "diamagnetic action" to push the Energy Serum deeper into your skin for maximum results. It also uses cold therapy and massaging to de-puff skin. Lifting, tightening, and toning are the overall goals.
So what's up with this "magnetic heart" that holds a lifetime charge? And how does it help your skin? According to the site, the magnetic heart "propels the positive ions of the serum into the negative ions of your skin for maximum saturation." I did some Googling, and essentially, it means there's a magnet in the Cryodrop that uses magnetism to push the Energy Serum deeper into your skin. I'd like a more thorough explanation on the site, because we're having a hard time figuring out exactly what the Cryrodrop claims to do.
The serum contains hyaluronic acid, peptides, green tea, camellia japonica flower, and amino acids—a bunch of chemicals that claim to moisturize, plump, prevent wrinkles, and hydrate the skin. You can use the Cryodrop with any serum for massage and de-puffing, but to take advantage of the diamagnetic action you need the Energy Serum. In addition to the magnetic technology, the Cryodrop uses cold therapy to relax facial muscles and reduce inflammation.
How to use the Cryo System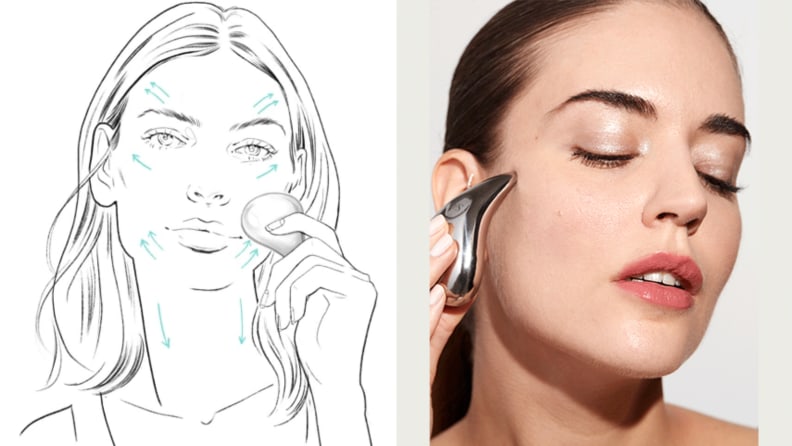 To check out this unique product, I tested out the Cryo System, which is:
a SiO Cryodrop steel tool (which goes on your face)
SiO Energy Serum (that works with the Cryodrop tool)
I used the Cryodrop once a day (typically in the morning because the cold, de-puffing action is refreshing) for over a month. The tool is generally cold because it's steel, but you can put it in the refrigerator for a refreshing chilly boost. I was too lazy for this (although I tried it a few times) so I just kept it in my medicine cabinet and I found it was cold enough on its own. After washing my face I applied one pump (about a pea-sized amount) of Energy Serum onto my face with the tool for about a minute, following the arrows on the directions and making smooth, outward strokes. Then I would apply my daily sunscreen moisturizer. I have to admit, it was satisfying; rubbing the cold steel on my face felt like I was actively fighting wrinkles, almost like I was ironing my face. The very subtle smell is pleasant, as is the sensation overall.
My biggest tip is not related to skin at all: Be careful that you don't drop this slippery sucker, because it is heavy. I fumbled while cleaning and my Cryodrop took a little chip out of my sink. It is ergonomically-shaped but it's a little hard to keep in your grasp, especially if you have serum on your hands, or you're stupidly trying to wash it, like me.
What I liked about the Cryo System
I enjoyed the morning de-puffing ritual of the cold Cryodrop on my face. It was invigorating and it felt productive to physically smooth out my skin. The Energy Serum feels nice and light, and it didn't have any negative effects on my skin. I didn't break out, and it's a clean-feeling, moisturizing formula. The serum absorbs easily into my skin and doesn't feel oily. I loved watching the bags under my eyes deflate in seconds when I applied the Cryodrop—very cool! (Literally.) So if you're prone to puffiness, this could be a great addition to your skincare routine.
What I didn't like about the Cryo System
Fumbling with the steel orb and dropping it (and then worrying about dropping it) was a bit stressful. I also didn't enjoy having one more skincare step in my daily routine. Although I saw de-puffing results, I can't say I noticed much in the way of wrinkle reduction, but I also don't expect a serum to effectively remove wrinkles.
Does the Cryo System from SiO actually work?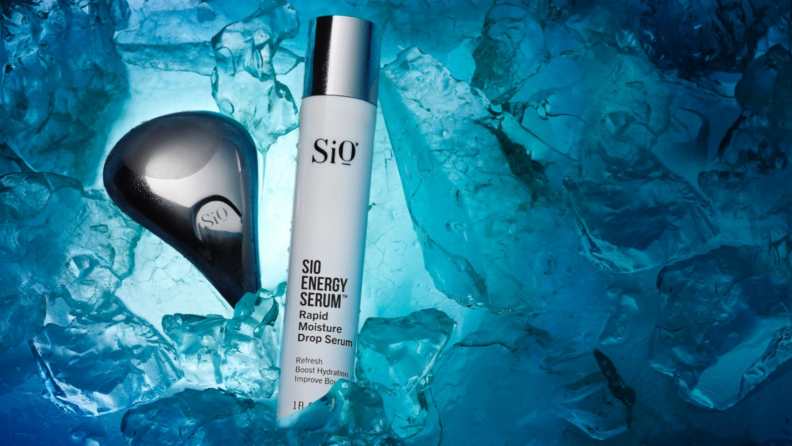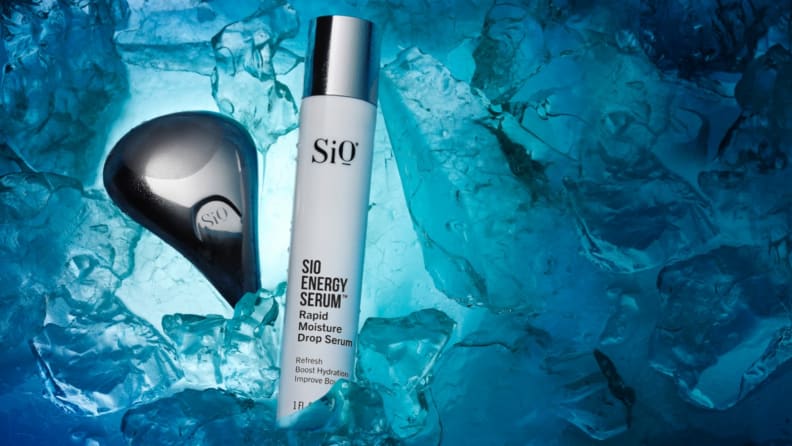 Now to the part that you actually want to know: Does it work? It's hard to tell if my wrinkles actually diminished, but I will say the de-puffing really works. And the de-puffing action under my eyes in the morning is rather nice, I would continue using the Cryodrop for that benefit. I can't tell a huge difference when it comes to wrinkles, though. The serum did not make me break out, which is a plus.
If you have the money to spend, I'd recommend the Cryo System for its impressive de-puffing effects. It was not too effective in eliminating wrinkles, so if this is your main goal, you may have better results with SiO's wrinkle-fighting patches.
The product experts at Reviewed have all your shopping needs covered. Follow Reviewed on Facebook, Twitter, and Instagram for the latest deals, product reviews, and more.
Prices were accurate at the time this article was published but may change over time.