Introduction
Design & Usability
The HF M52 is a very traditional camcorder with a touchscreen LCD and a 10x zoom lens.
Canon excels at making handheld camcorders that are both stylish and traditional. The HF M52 doesn't look special; it looks like a normal camcorder that is too big to fit in your pocket, but will slip into your medium-sized purse or bag with ease. Canon's hand strap is one of the better straps found on a mid-range camcorder, and the overall shape of the M52 allows the camcorder to fit nicely in your palm. The HF M52 does use a touchscreen LCD, as is the case with almost all consumer models these days.
Canon included too many controls and features for the HF M52 to get slapped with an "easy-to-use" label.
I wouldn't recommend the HF M52 for someone who is looking for a simple, idiot-proof camcorder. Canon included too many controls and features, as well as a complicated menu system, for the HF M52 to get slapped with an "easy-to-use" label. The M52's lack of a control ring or dial also means it won't satisfy pros who are looking for top-notch control adjustment. The camcorder does have lots of features, though, so as long as you don't mind adjusting these controls via the touchscreen interface then you should be satisfied.
Features
In addition to built-in WiFi, Canon added a few other new features to the HF M52, including extra audio controls and a 720p record mode.
The addition of WiFi capability, the 720p MPEG-4 record mode, and extra audio controls make the HF M52 one of the most loaded mid-range camcorders of 2012. It's a great choice for audiophiles who want a compact camcorder with prosumer-grade audio controls (and an external mic jack!), and the inclusion of Canon's PF24 frame rate and Cinema Modes makes the M52 a solid choice for artists or student filmmakers, as well.
The WiFi capabilities weren't that impressive.
Despite its plethora of features, though, this isn't a professional camcorder. Nearly all the controls rely on the imprecise touchscreen interface for adjustments. Also, the M52's WiFi capabilities weren't that impressive; this new feature seemed more complicated than useful.
Performance
If you want great low light video from a mid-range camcorder, the HF M52 is the model for you.
The HF M52 excelled in our low light testing and put up better-than-average scores in the rest of our performance tests, too. Surprisingly, the camcorder didn't show a huge improvement over last year's HF M40, so the HF M52 isn't much of an upgrade in the performance department. Still, this is a top-notch camcorder that captures video as good as, or better than, numerous high-end models. Its low light performance was exceptional, sharpness numbers were great, and motion was excellent in all frame rate options.
Conclusion
This excellent mid-range camcorder isn't much better than its predecessor, especially since the WiFi features aren't that cool.
If you're looking for a first-rate low light camcorder that won't break the bank, then the Canon HF M52 is right up your alley. It's a fantastic product in terms of video performance, and it ranked near the top of its class in all of our video tests (with the exception of image stabilization). The Vixia HF M52's $750 MSRP is steep for a mid-range model, but its exceptional video performance makes its high price understandable.
You may want to search for an old Canon HF M41, HF M40, or HF M400 while you still can, instead of shelling out the extra cash for a new HF M52.
Unfortunately, the HF M52's new features for 2012 aren't that noteworthy, so if you're looking to upgrade from last year's HF M41 (or HF M40), then you're gonna want to sit tight. The big new additions include some extra audio features, a new MPEG-4 720p record mode, and built-in WiFi. Of these features, the 720p record mode is what excited us most, and it is a useful option for those who want a video format that's easier to share with friends. The new WiFi capabilities, on the other hand, are a bust. They were too frustrating to setup, too limited in their functions, and far too complicated for the average user.
Canon also reduced the size and weight of the HF M52 by a hair, but the reduction wasn't significant enough to make the HF M52 any more portable than its predecessor. In fact, we'd go so far as saying you may want to search for an old Canon HF M41, HF M40, or HF M400 while you still can, instead of shelling out the extra cash for a new HF M52. The differences really aren't great enough to warrant the HF M52's extra cost—despite the fact that it is a great camcorder. Other than a tiny improvement in low light performance, there was no change in the way the HF M52 recorded video as compared to the HF M40 we tested last year. Going with the HF M41 instead of the HF M52 could save you $50 – $100, but it is likely that last year's models won't be around for much longer.
The HF M52, which comes with 32GB of internal memory, has an MSRP of $749. The HF M50, which has the same features as the M52, but with half the internal memory (16GB), has an MSRP of $649. There's also the card-only Canon HF M500, which is also missing the WiFi functions and a few other features, that is available for $549.
Science Introduction
The Canon HF M52 was built to perform. The camcorder is one of the strongest mid-range models we've seen in terms of pure video image quality, and its low light numbers were downright amazing.
Even with these great scores, the M52 still failed to improve all that much over its predecessor in certain categories. Sharpness and color accuracy were stagnant, showing no improvement over last year's HF M40, although the slight enhancement in low light sensitivity may be to blame for this. Judging by performance alone, this is a high-end camcorder with a mid-range price point.
Low Light Performance
Low light video is the HF M52's bread and butter.
The Canon HF M52's low light sensitivity results were spectacular, and I'm saying that without a hint of hyperbole. Like its predecessor, the HF M40, the HF M52 managed to produce bright images with minimal illumination. In fact, the HF M52 needed just four lux of light to produce video that hit 50 IRE on our waveform monitor—a level that is one lux lower than the HF M40 measured in this test last year. Zooming out, in an effort to use the HF M52's widest aperture setting, allowed the camcorder to capture the same video image with two lux of light instead of four.
But that's just the start of this grand low light sensitivity performance. Shooting with the camcorder's PF24 or PF30 frame rates give the M52 an instant brightness boost. The camcorder needed just one—yes one—lux of light to record a usable broadcast video using its alternate frame rate options.
In our low light sensitivity test, the HF M52 definitely started producing a bit of noise in its videos, but most of that noise came in very low light situations (under 20 lux of illumination). In reasonable low light situations, which is what we use for our low light noise test (60 lux), the Canon HF M52 showed little presence of noise. Noise levels were measured at 0.92% in this test, which is statistically identical to what the HF M40 registered last year.
The Canon HF M52's results in our low light color test were top-notch, although the numbers weren't quite as impressive as what the camcorder did in low light sensitivity. In low light, the camcorder measured a color error of 4.21 and a saturation level of 82%. This color error number isn't much different than the camcorder's performance in bright light, so that represents a positive for the HF M52. The saturation level is a bit lower than the M52's bright light results, but 82% is still excellent for a camcorder in low light.
Motion Performance
Multiple frame rate options make the HF M52 one of the more versatile camcorders for recording motion.
Motion looked very good on the Canon HF M52, just like its predecessor, the HF M40. In addition to its low artifacting and limited motion blur, the HF M52 includes two alternate frame rate options, PF24 and PF30, that are helpful for capturing alternate motion aesthetics. We noticed little to no rolling shutter problems with the camcorder and we were surprised to see limited artifacting even with the M52's MPEG-4 record mode, which records a lower-quality 720p video than the camcorder's AVCHD settings.
The camcorder's video did have some color bleeding and trailing, and its overall motion results were a notch worse than the Sony PJ30V and Panasonic HC-X900M. Still, this is one of the better mid-range camcorders for capturing motion, and the PF24 and PF30 frame rates are very useful. One thing that is not on the HF M52, however, is a 1080/60p record mode. Canon is the only major manufacturer that has yet to incorporate this frame rate on its consumer camcorders.
Sharpness Performance
Ever-so-slightly worse than last year's HF M40, the HF M52's results in this test were still quite good.
The HF M52 showed a tiny drop in sharpness compared to our lab-tests with last year's HF M40. The sharpness drop was not hugely significant, as the M52 still managed a horizontal sharpness of 800 LW/PH and a vertical sharpness of 600 LW/PH (the M40 had 850 LW/PH horizontal and 600 LW/PH vertical). This drop in sharpness level is nothing to be hugely concerned about, as we do often see changes like this from year to year.
Canon did make some changes to the camcorder's imaging system, resulting in a slight improvement in low light sensitivity, so it's possible that this caused the sharpness to drop a bit. Despite the sharpness reduction, the HF M52's results in this test are still strong for a mid-range camcorder.
Meet the tester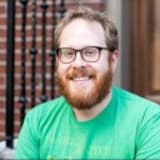 Jeremy Stamas
Managing Editor, Video
@nematode9
Jeremy is the video expert of our imaging team and Reviewed.com's head of video production. Originally from Pennsylvania and upstate NY, he graduated from Bard college with a degree in film and electronic media. He has been living and working in New England since 2005.
Checking our work.
Our team is here for one purpose: to help you buy the best stuff and love what you own. Our writers, editors, and lab technicians obsess over the products we cover to make sure you're confident and satisfied. Have a different opinion about something we recommend? Email us and we'll compare notes.
Shoot us an email