Introduction
The Canon HF R30, with its 8GB of internal memory and WiFi functions, is the middle child of Canon's HF R series of camcorders. The low-end HF R30 has no internal memory or WiFi, while the top-line HF R32 has 32GB of internal memory and includes the same WiFi functions as the HF R30. All three camcorders have identical video performance capabilities, as they each include the same lens and sensor systems.
Design & Usability
Simple, compact design without the pricy frills
If you've handled a camcorder made in the past few years, it probably looked like a slightly larger HF R30. This camcorder is light and slim, with a decent grip, but untouched by fancy flourishes of any sort: no flash, no video light, and no special ports or terminals other than a 3.5mm mic jack. The camcorder's LCD is 3-inches in size, which is substantial, but the screen resolution is so low that it makes images look bland and faded. The 32x optical zoom lens gives you plenty to play around with, but you can get this amount of zoom on nearly any camcorder in this price range.
It's easy to get lost among all these menu options.
With its dedicated auto mode turned on, the Canon HF R30 is a simple camcorder to use. Digging into the menu system to work with some of the more complex controls, however, is an arduous process. Located on the left side of the camcorder, the HF R30's new "home" button is the only way to access the main menu system, and the button is very difficult to locate on the fly. Pressing it opens a large menu system with layers of confusing controls. It's easy to get lost among all these menu options, most of which could be organized in a more user-friendly layout. If you don't mind sticking to auto mode, then the Canon HF R30 will offer a simple user experience. Getting any of those special functions to work, though, especially the spanking-new WiFi features, will not be easy.
Features
Headline-stealing WiFi features aren't as great as they sound.
The Vixia HF R30 is branded with the word "WiFi" all over its box, but the new WiFi features aren't that impressive. These options are astonishingly-difficult to setup, and even after going through that frustrating process, the features don't allow you to do much. You can wirelessly upload video from the camcorder to an iPhone or iPad (no Android) or you can send video from the HF R30 to a PC (no Macs). Those lame features aren't enough to warrant going through the long WiFi setup process, trust me.
WiFi options are astonishingly-difficult to setup, and even after going through that frustrating process, the features don't allow you to do much.
The most impressive features on the Canon HF R30 include the camcorder's multiple recording options, 32x optical zoom lens, and the numerous cinema filters that let you add digital effects to your videos during recording. The HF R30 also has a number of useful auto features like face detection and tracking, zoom speed controls, and auto backlight correction. Otherwise, since this isn't a professional camcorder, you don't get many manual controls other than focus, white balance, and basic exposure. If you want full shutter speed, aperture, or gain controls, you need to spring for a higher-end model.
Performance
Not a spectacular camcorder, but performance wasn't bad for a budget model
It's not easy to find a camcorder with spectacular image quality that costs less than $500. The Canon HF R30 tries to be just that, but it comes up short in a whole bunch of areas. Videos in bright light look very good, with quite a bit of detail in the shots, but under less-than-ideal lighting conditions things get a bit hairy (and noisy). Shooting inside a dim room like, say, a bar or restaurant, the HF R30 produced video that looked like a blurry, distorted mess. Noise was everywhere as the camcorder tried its hardest to produce a usable image. Worst of all, the camcorder's battery lasted for less than 45 minutes in our test, which is abysmal even for a budget cam.
The camcorder's battery lasted for less than 45 minutes in our test, which is abysmal even for a budget cam.
Of course, the Canon HF R30 does a few things quite well for a budget model. Video recorded in low light was brighter than most camcorders in this price range, and in bright light, things looked sharper than we expected. Colors were also reasonably accurate and vivid in bright light, but that's something we see from most budget camcorders these days.
Conclusion
Even with its setbacks, this is still one of the best budget camcorders we've reviewed all year.
This is one of the best budget camcorders we've reviewed this year.
The Canon HF R30 is one of the best budget camcorders we've reviewed this year. As with most cheap models, however, the R30 comes with a fairly substantial list of weaknesses, most blatant of which is the camcorder's horrid battery life. Canon's provided battery pack lasted for less than 45 minutes in our test, which means you'll be lucky to make it to halftime of recording your nephew's football game before you have to recharge.
On top of poor battery life, the Canon Vixia HF R30 also struggled in our low light performance tests. Videos looked bland and noisy when we shot in less-than-ideal lighting conditions, but in bright light the Canon handled itself quite well. Colors were more accurate than many models in the same price range, and the HF R30's set of three frame rate options are unique for a camcorder that costs less than $500.
Canon didn't make any bad camcorders this year, but its new Vixia models didn't blow us away either. The HF R30 should have performed significantly better than last year's HF R20, but it didn't. And that leaves us with a bad taste in our mouth. Don't get us wrong, the HF R30 is a fine camcorder for the price, but we expected more improvement from Canon.
Science Introduction
The Canon HF R30 got onto the right track in many of our performance tests, but it slid off the road as we delved deeper into our analysis. The camcorder is great in bright light, producing accurate colors and sharper images than most models in its price range. In low light, though, noise popped up consistently and turned those sharp daytime images into murky low light shots. Battery life was another embarrassment for the HF R30, with the Canon putting forth one of the worst performances we've ever seen in our tests.
Battery Life
Thoroughly battered by the battery test
The Canon HF R30 uses a smaller battery pack than Canon's higher-end Vixia models (like the HF M series and HF G10 camcorder), and it is clear from our test that this tiny battery doesn't pack much juice.
The battery lasted for just 43 minutes of continuous recording in our test—a time that would be unimpressive even for an ultracompact pocket-cam. The Panasonic HC-V500M and the Canon HF R21 (the HF R30's predecessor) both lasted much longer.
Motion and Sharpness
The HF R30 produces sharper video than your average budget model, and its offer of 24p and 30p frame rates is exciting.
Sharpness in bright light is one of the key elements to the HF R30's game. The camcorder managed 700 lw/ph in our horizontal sharpness test and 550 lw/ph in our vertical sharpness test. These numbers pale in comparison to most high-end camcorders, but they're stronger than the sharpness levels we measured on the Panasonic HC-VG500M and Sony HDR-CX210—two models in direct competition with the Canon HF R30.
Motion is another strong area for the Canon HF R30, mainly thanks to the presence of multiple frame rate options. This is something rarely seen on budget camcorders, but Canon went ahead and included two extra recording options in addition to its regular 60i mode: PF24 and PF30. Both frame rates don't record "natively," which is to say the video is converted to look like 24p and 30p, but is really captured at 60i. Either way, the effect of the frame rates is exactly what it sounds like. The 24p mode produces video that looks like film, while the 30p mode produces video that is a bit crisper and has less bleeding than the 60i record mode.
Low Light Problems
Noise in low light shots was a consistent problem.
The Canon HF R30 was able to retain decent color accuracy in low light, and its videos shot in dim environments did look quite bright, but the camcorder struggled mightily in the war against noise. Noise levels in low light approached 1.8%, levels that are consistent with the Canon HF R21 from last year. We thought Canon would try harder to rectify the noise problems with its budget models, but based on the results from the HF R30's low light noise test, this doesn't seem to be the case.
In Canon's defense, this increase in noise stems from the fact that the HF R30 uses a significant gain boost in low light. This gain boost is probably why the camcorder did so well on our low light sensitivity test. So it's a clear case of give-and-take. The HF R30 gets you brighter images in low light and you can make videos without much light at all, but you can expect those shots will have a healthy does of noise throughout.
Meet the tester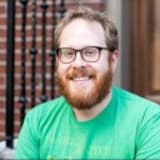 Jeremy Stamas
Managing Editor, Video
@nematode9
Jeremy is the video expert of our imaging team and Reviewed.com's head of video production. Originally from Pennsylvania and upstate NY, he graduated from Bard college with a degree in film and electronic media. He has been living and working in New England since 2005.
Checking our work.
Our team is here for one purpose: to help you buy the best stuff and love what you own. Our writers, editors, and lab technicians obsess over the products we cover to make sure you're confident and satisfied. Have a different opinion about something we recommend? Email us and we'll compare notes.
Shoot us an email