Cut from the same cloth as the more advanced XA25, the G30 offers a very similar feature set. Unless you need infrared night shooting, the optional top handle with XLR input and an SDI port, the G30 gives you the same overall video quality for way less money. Where the value proposition comes into difficult territory is when the G30 is compared to its predecessor, Canon's excellent G20. Even though the G30 offers some changes we've been anticipating, you'll have to carefully weigh whether or not the extras you get are worth the steep $600 premium.
Since the G30 is based on the pro-grade XA25, we expected there to be many similarities between the two camcorders. Even though you sacrifice XLR inputs and that nifty top handle, you'll still getting great video performance from the G30, all for about $1000 less. You do pay a premium over the G20—just announced this past January at CES—but the G30 offers quite a bit more for your money. With double the zoom range, 1080/60p recording, and improved performance in many key areas, the G30 is a true flagship camcorder.
A brand-new G
Even though it carries some recognizable design elements from G20, the G30 is actually a drastic, clean-sheet redesign. Right away you'll notice it's a little bigger and slightly heavier than the G20. Thankfully, a new shape makes the G30 even more comfortable to hold. A curvier grip and a plush strap come together and keep the camera's body securely on your hand without causing any discomfort.
The G30 has gained a few new external controls. For starters, you'll find the trademark front focus/zoom ring as on the G20. On the G30, it's as smooth and useful as it's ever been. Here, instead of digging through menus to change its function, there's a physical switch on the back of the camera so you can decide quickly which action you need. It's a nice touch.
Even though we thought the touch menu system worked acceptably in the G20, the G30 enhances the experience with a perfectly-placed 4-way joystick near the record start/stop button. That means you can navigate the menu system even while looking through the camera's EVF, something that simply wasn't possible on the G20. There's a greater level of customizability, too, with five custom programmable buttons peppered around the camera. There's also a new custom dial and button towards the front of the camera which is set to control exposure by default. Even the zoom switch has seen an overhaul, switching from a small slider-type to a chunky, variable rocker switch that we think is easier to use.
The G30's electronic viewfinder has now been reengineered to tilt up. Previously, the G20's EVF telescoped, but it lacked the capability to swivel vertically. Now, to activate the EVF, you pull it out away from the camera's body and it can click up to a 45-degree angle. If you're more of a flip-out screen shooter, you'll still find a familiar 3.5-inch screen, though the OLED display is sharper than previous models.
The gaggle of ports on the G30 are easier to access, thanks to the radical departure from previous G-series designs. No longer will you have to keep the screen open in order to have headphones plugged in, as the minijack has been added to a group of ports including mini-HDMI, microphone, LANC remote, and USB ports—all under one massive flap in front of the strap. Towards the rear of the camera are the legacy standard-def A/V-out port and DC charging jack. If you're planning on shooting with the G30 on a tripod in a studio setting, the rearranged port layout will make your life way easier.
We saw nearly identical results from the G30 as its expensive big sister when we tested for sharpness. In bright conditions, we measured 850 lw/ph horizontal and 800 lw/ph vertical when the camera is panned on those axes. It blew the doors off the scores we saw from the G20, largely thanks to its 28 Mbps 60p option.
Again, continuing the great performance we've seen from other G-series camcorders, the G30 performed extremely well in dimly-lit situations. Its fast f/1.8-2.8 lens helps collect enough light to make a passable image. Of course, there are limits, but the G30 ranked among our highest performing camcorders when tested against our low light scenarios.
In our low light sensitivity test, the G30 required just 5 lux to produce an image that hit 50 IRE on our waveform monitor. Keep in mind that this was when we shot with the top recording mode of 1080/60p. You might be able to gain more sensitivity if you choose to shoot in the G30's optional 24p mode.
At long last: 1080/60p!
In our review of the G20, we couldn't help but feel disappointed in a major shortcoming. Canon's flagship consumer HD camcorder was lacking the top full-HD recording mode of 1080/60p. No longer—the G30 can finally match the competition, offering much smoother motion rendition. There are options for AVCHD and MP4, with the aforementioned 60 fps, as well as 30p, and native 24p. The top bit rate of 35 Mbps is only attainable in MP4, with AVCHD limited to a slightly lower bit rate of 28 Mbps.
The G30 offers dual card slots but puzzlingly omits internal storage. The G20 came with 32 GB of internal storage, mitigating the need to buy an SD card right off the bat. The G30 is more expensive yet comes with no internal storage making the value proposition a little bit worse than before. You're paying $600 more and expected to bring your own storage to the party.
The other features that are new to this camera help to make this loss sting a bit less. Canon has doubled the G30's zoom range. In the G10 and 20, 10x zoom was standard. With this model, you'll get 20x zoom with the same f/1.8 max aperture. There's little doubt that if you utilized the extra reach that the G10 or 20's 10x zoom lens afforded you, you'll love the doubly long focal length attainable with the G30.
Canon's app-less WiFi Remote feature will let you control the G30 without having to invest in pricey LANC accessories.
The G30 also features WiFi control. Canon's app-less WiFi Remote feature will let you control the G30 without having to invest in pricey LANC accessories. Basically any device with a modern browser can be connected to the G30's WiFi and used as a remote control. It's great that they've chosen a device-agnostic solution so you can use this feature with the laptop, tablet, or smartphone of your choice.
If you want to upload content from the G30, you have a few different options. iOS and Android users can use Canon's Movie Uploader app. Directly from the camcorder, Canon's iMAGE GATEWAY service can shuttle your footage off to YouTube and Facebook. Finally, an option for advanced users—FTP file transfer. Enter in the server's information and your login credentials and you can upload directly across a WLAN to a server.
If you desire AVCHD footage for its full archival quality but seek to share what you're shooting quickly, Canon has you covered.
Another first for the G30 is its extremely useful dual recording mode. If you desire AVCHD footage for its full archival quality but seek to share what you're shooting quickly, Canon has you covered. The G30's dual shooting mode records both a high-quality 1080/60i (or 30p) AVCHD stream while simultaneously writing a 720/30p MP4 version of the same footage to your other SD card. Continuous recording on two cards works like it should, too. The G30 seamlessly switches from one card to the other using Relay Recording, so you can keep rolling without a worry.
Furthering the G-series' reputation
In all the areas that matter in our camcorder tests, the G30 turned in mostly great results. There are a few individual tests that push this model over the edge when compared to its predecessor.
Video sharpness is improved, both in our scientific resolution test and our subjective motion test. We saw a little bump in horizontal and an impressive boost in vertical resolution thanks to the new 60p shooting mode and redesigned lens.
The new 20x is good for more than just sharpness. Compared to the G20, the G30's lens is 10% wider when zoomed out all the way. Even though it's wider and has twice the optical zoom as its predecessor, the G30 still has an 8-bladed aperture and an f/1.8-f/2.8 aperture range.
We were blown away by the increased battery life of the G30 in our continuous shooting test. While the G20 turned in an acceptable 111 minutes, the G30's hardware changes along with the included larger capacity battery put its predecessor to shame. We measured 159 minutes of battery life from the G30, an increase of almost 70%.
For more information on how the G30 scored, check out our Science Page.

Canon finally included a long-lasting battery with this year's G. It's not like the G20 died quickly—it lasted 111 minutes. The G30 mopped the floor with the G20, including a bigger capacity battery standard for a runtime increase of almost 70%. We measured 159 minutes of continuous shooting from the G30.
Hard to beat if you have the means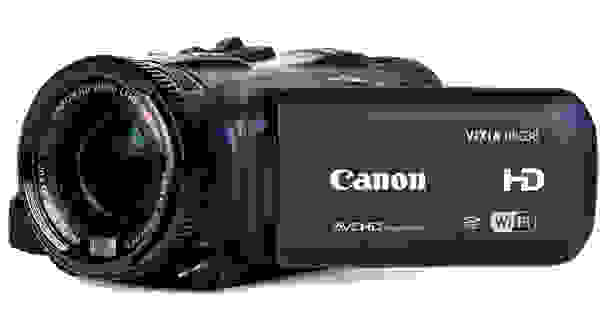 There's little doubt that the Vixia G30 is a great choice if you're in the market for a high-end HD video device. Between the fast, 20x zoom lens, stellar image quality, wide range of shooting options, the new ergonomic improvements, and an impressive suite of WiFi connectivity options, it wins this price segment. When you get down to it, the G30 is the G20 we deserved instead of the warmed-over camcorder Canon shipped.
That said, the G20 remains in the lineup at a great price. The G20 is as easy to shoot as the G30 and includes 32GB of internal flash to boot and it's $600 less. If you're looking for a high-quality camcorder for personal use and you can live knowing there's a better G-series camcorder available, the G20 is a smart choice.
If you think about this camcorder as the consumer version of the XA25, you're getting quite a deal.
But, if you think about this camcorder as the consumer version of the XA25, you're getting quite a deal. The G30 can easily slot into your already existing AVCHD workflow, adding another vantage point to your multi-camera shoots. You might miss out on pro-oriented features like SDI compatibility, a top handle with controls, and XLR jacks, but you're also saving $1,300 and getting what amounts to the exact same performance. And, for some, that's going to sound like a mighty tempting notion.
Meet the tester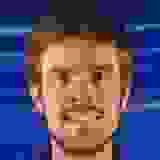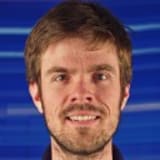 Brendan Nystedt
Contributor
@bnystedt
Brendan is originally from California. Prior to writing for Reviewed.com, he graduated from UC Santa Cruz and did IT support and wrote for a technology blog in the mythical Silicon Valley. Brendan enjoys history, Marx Brothers films, Vietnamese food, cars, and laughing loudly.
See all of Brendan Nystedt's reviews
Checking our work.
We use standardized and scientific testing methods to scrutinize every product and provide you with objectively accurate results. If you've found different results in your own research, email us and we'll compare notes. If it looks substantial, we'll gladly re-test a product to try and reproduce these results. After all, peer reviews are a critical part of any scientific process.
Shoot us an email