This year's Vixia HF R40 (MSRP $399) is an updated version of the HF R30, back with a slightly redesigned look, more useful WiFi integration, and a new 1080/60p recording mode. The HF R40 sits squarely in the middle of Canon's entry-level lineup. That means it's not as barebones as the R400 (which eschews internal memory and WiFi), but it cuts costs by getting by with only 8 GB of built-in storage. For those who want more flash built-in, there's the HF R42, which ups the available storage to a roomier 32 GB. Since all these camcorders are so closely related, much of this review applies to all of the R-series models.
Smartphones may be eating away at the market share of camcorders like this one, but the R40 makes a strong argument for why a standalone device is still a good idea for folks who really love shooting video.
Design & Usability
Simply designed for novice users
Canon's stuck to a tried and true camcorder design with the HF R40 and it works well. The R40's glossy, pearlescent charcoal exterior lends a sophisticated, subtle touch to what otherwise could have been cheap and chintzy. A felt-lined adjustable strap is comfortable and the camcorder's light enough that it's easy to carry for a long time without feeling fatigued in the slightest.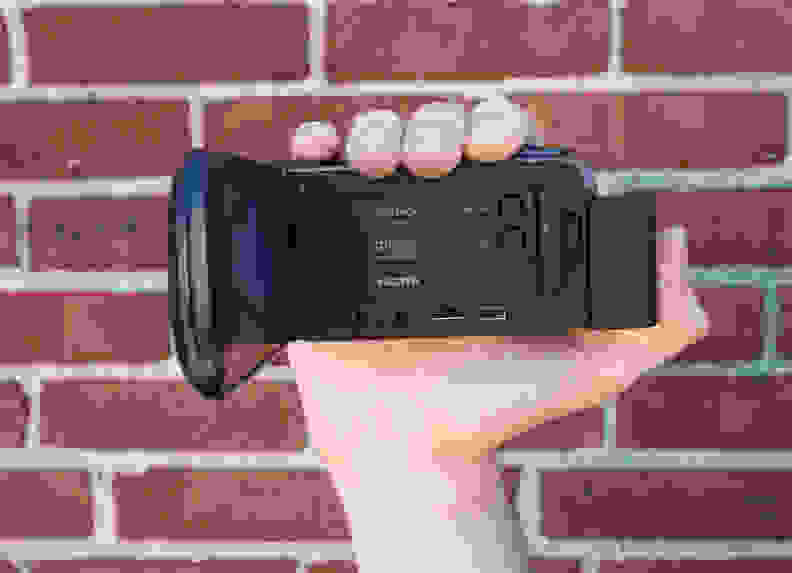 The R40 is extremely minimal.
The R40's design eliminates anything normal users didn't touch. This camcorder's overall aesthetic is extremely minimal, which means that the touchscreen is where much of its functionality lies. There are 3 buttons on the R40, a zoom slider and an open/close switch for the lens cover. That's it. Basic on/off functionality is tied by default to the LCD opening, which makes the startup process simple and quick.
Features
Plenty of zoom and better device connectivity
The R40 has the same 32x optical zoom lens as its predecessor.
Like the R30, the R40 provides a balance of features, adding up to an appealing package. It includes Canon's Optical Image Stabilization technology, WiFi, 8 GB of internal storage (easily expandable via an SD slot), and quite impressive video quality. The most obvious improvement over the R30 is its rejiggered Advanced Zoom, claiming 2x more magnification (as the large-point "53X" emblazoned on the side proudly proclaims). In reality, the R40 has the same 32x optical zoom lens as its predecessor. That's a healthy amount of zoom on such a compact camera.
Videographers looking for lots of manual control will be disappointed with the R40. This camcorder is definitely geared toward people who are more than happy to rely on automatic modes. There's auto backlight correction and face detection turned on by default, which makes shooting a little easier. While Auto mode does a fine job most of the time, at least there's a program auto mode with some customizable settings. Focus, exposure, and white balance controls are nice to have just in case, but it's doubtful the average user will ever need to tap into those functions.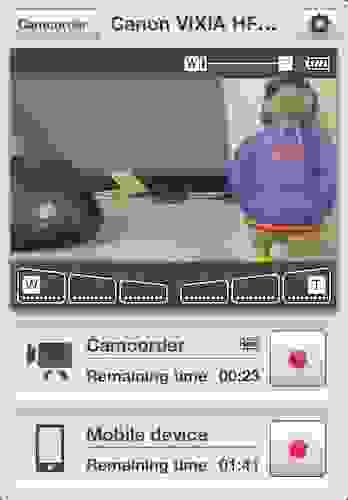 Canon improved the WiFi on the R40, but it's still a bit of a hassle to configure. On the device end, Canon's made strides improving its iOS and Android connectivity with the new CameraAccess app on both platforms. CameraAccess is a remote control application that allows for video streaming straight to your phone or tablet of choice. We found the app was a little slow to respond, but tolerable. Also new to the R40 is Remote Browse. Once the R40's connected to a device via WiFi, Remote Browse lets you download or play back videos through your web browser.
Performance
Fairly smooth 60p video, greatly improved battery life
High-end HD camcorders may have image quality all sewn up, but the HF R40 still cranked out decent looking video. If you haven't bought a camcorder in a while, it might be shocking to see a budget camcorder default to 1080/60p. It's the first time that 60p shooting has been made available from Canon in its consumer camcorders. The HF R40 also packs a cinematic-looking 1080/24p mode. Inexplicably, 1080/24p only works when shooting in MP4 (which, admittedly, is easier to work with) and it would have been nice to see it enabled for AVCHD video, too. On the whole, the MP4 mode is probably the easiest for most users to work with since it means faster uploads to Facebook and YouTube, without having to convert.
Under ample lighting, the R40 produced good, vivid images with smooth motion. The soccer and softball parent crowd will probably find this fits their needs well. Low light left much to be desired, as images taken in dim settings often turned up an abundance of noisy, grainy blotches, but in full daylight this camcorder performed admirably. Low light sensitivity wasn't improved over the HF R30, in fact, the R40 requires more light to produce a quality image.
The R40's stock battery can finally last through all of Barbara's ballet recital or Jack's judo class.
The middling battery life of the R30 is absolutely blown away by this year's model. The R40 bested the embarrassingly-low battery life of its predecessor and delivered more than an hour and a half of runtime. This will be music to the ears of R30 users who were forced to buy a second battery in order to get enough juice to film for more than 43 minutes. The R40's stock battery can finally last through all of Barbara's ballet recital or Jack's judo class.
From our time with this camcorder out of doors, we have some gripes about the R40's zoom. When utilizing this camcorder's 32X optical zoom, the software naturally ramps up its stabilization to counter minute movements that would turn the picture into a shaky mess. Although the R40 tries its best, it ends up correcting the image so that it jerks unnaturally, which we found to be distracting. This being the case, image stabilization is definitely preferable to a lack thereof. During normal shooting, the Canon dialed in a more reasonable amount of smoothing to correct shakiness, and the jerking wasn't as noticeable.
Conclusion
Improvements in all the right places
Canon's yearly refresh cycle has left us with a camcorder that still delivers good video quality while substantially boosting battery life. People upgrading from smartphone-caliber HD video will appreciate the image stabilization and mighty 32x zoom. There's also the matter of expandability—instead of robbing your phone of precious internal space normally used for apps and music, the R40 includes 8 GB built-in, plus up to 64 GB through the SDXC card slot.
If you find that you shoot a lot of video, making the move to a Canon R-series camera is a no-brainer. It's inexpensive, includes ample features and lasts a fairly long time on one charge. It's an excellent choice for the beginner videographer who wants to capture priceless memories without overtaxing their smartphone.
By the Numbers
Our scientific tests cover everything from battery longevity to white balance to low light performance. We put the Canon Vixia HF R40 through its paces in the field and in the lab in order to get a complete idea of what it's capable of. What we found wasn't terribly surprising. Under most circumstances, the R40 is a competent camcorder. Its Achilles heel was in low light—we found that it struggled to produce good-looking images when the lights were dim.
Battery Life
Canon fixed something we took great exception to with the R40, giving users a larger-capacity battery standard. With this camcorder's previous incarnation, we saw a measly 43 minutes of continuous recording. That's not enough to film half of most theatrical performances, much less a kid's recital or sports game. The R40 recognizes the needs of its target audience and provides enough runtime for an hour and a half of continuous filming. That's more than double the battery life at the same price point as last year's model.
Motion and Sharpness
The R40's strong suit is a well-lit environment. In our labs, it scored highest in our bright light tests, while struggling to produce acceptable video in low light. The new 1080/60p mode is a good addition, since the top frame rate of the R30 was 60i, making 30p the preferable choice. Its numbers weren't great, scoring only 675 lw/ph horizontal and 625 lw/ph in our sharpness test. These were better numbers than the R30 could deliver, however.
Low Light Performance
Low light, as mentioned previously, is where the R40 fell flat on its face. In our low light lab, we noticed the picture quality plunged dramatically the dimmer the lights became, evidenced by plenty of ugly noise and blotchy colors. Noise levels in our low light test were higher than the R30, with over 2% of the image registering as noise. This is one area where Canon is likely not concerned about improving performance in such an inexpensive camcorder.
Sample and Test Footage
Meet the tester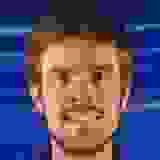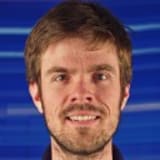 Brendan Nystedt
Contributor
@bnystedt
Brendan is originally from California. Prior to writing for Reviewed.com, he graduated from UC Santa Cruz and did IT support and wrote for a technology blog in the mythical Silicon Valley. Brendan enjoys history, Marx Brothers films, Vietnamese food, cars, and laughing loudly.
Checking our work.
Our team is here for one purpose: to help you buy the best stuff and love what you own. Our writers, editors, and lab technicians obsess over the products we cover to make sure you're confident and satisfied. Have a different opinion about something we recommend? Email us and we'll compare notes.
Shoot us an email