We took the new Hero4 Silver into our labs to see where the Hero4 Silver Edition stands in GoPro's newest lineup.
Just two months ago GoPro took the 2014 holiday season by storm, dropping three new models in time for everyone to add them to their shopping lists. At Reviewed.com, we were just as excited as anyone to snag the new line of action cams to see what they could do. While we were pleased to see the improvements made to the flagship Hero4 Black Edition, the rest of the lineup is arguably more interesting.
The next model down, for example, is the Hero4 Silver Edition (MSRP $399.99), with a feature set that apes last year's Hero3+ Black edition, but with several new features all its own. Namely, the Hero4 Silver is the first GoPro ever with a built-in touchscreen LCD. This lets you review footage and control your GoPro from the convenience of the camera itself, eliminating the need for a bulky accessory LCD.
This, coupled with new features shared with the Hero4 Black edition such as HiLight Tag, Bluetooth compatibility, and Protune for both video and photos make the Hero4 Silver a unique addition to the line. Of course, even with a bunch of new features it still has to do what GoPros do best: capture action in places most other camcorders wouldn't dream of.
A touchscreen LCD helps on a camcorder? Who would've known!
At first glance, the Hero 4 Silver looks exactly like the Hero 4 Black edition. This isn't surprising, since pretty much all of the silver/black edition GoPros have been outwardly identical. The Hero 4 Silver, however, changes everything as soon as you flip it over to the back to reveal its ace in the hole: a touchscreen LCD.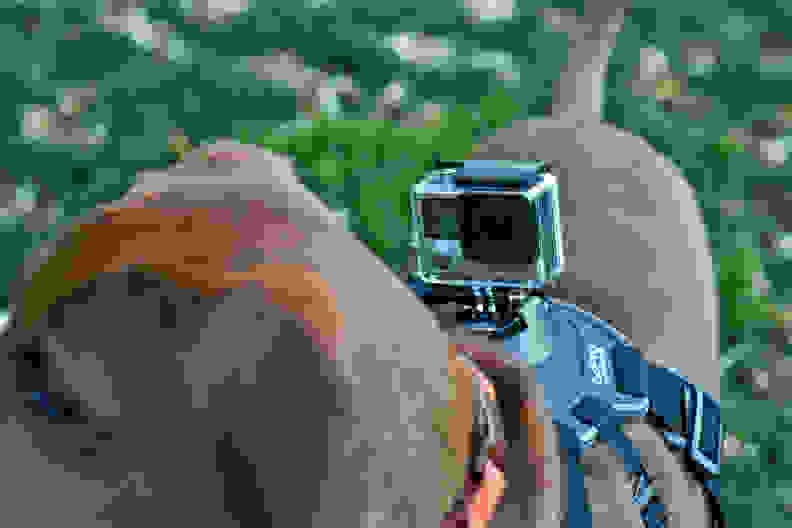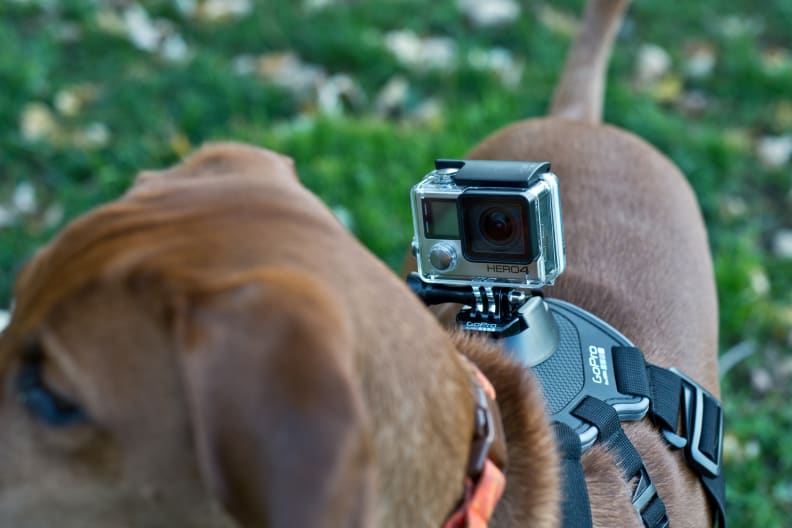 There are two things that have made GoPros so successful in an otherwise barren camcorder market: simplicity and durability. All previous GoPros were little more than small plastic cubes with heavy-duty plastic mounts. Such small cameras were cheap to manufacture, eschewing complex controls and extraneous features in the name of keeping costs down while reducing the amount of moving parts that could break.
One of the features deemed extraneous was the flip-out LCD that all camcorders generally come with. GoPros eliminated this, opting for a simple monochrome LCD that gave only the most basic shooting information, visible even in bright light. Combined with a wide-angle lens and a shockproof, waterproof case, the GoPro became the ultimate set-it-and-forget-it camcorder.
But, when you're out shooting it's nice to occasionally see what you actually captured. Adding a viewfinder to previous GoPros usually meant utilizing a bulky accessory LCD or using the WiFi with your phone, at a penalty to battery life. Though the monochrome LCD is still present if you want the old-school GoPro feel, having the rear LCD makes framing and reviewing shots as simple as you like—as long as you can take the GoPro out of the waterproof housing.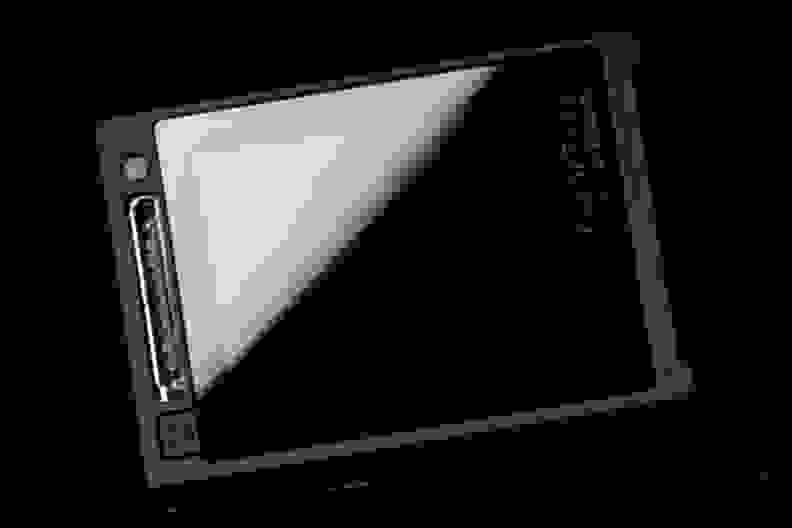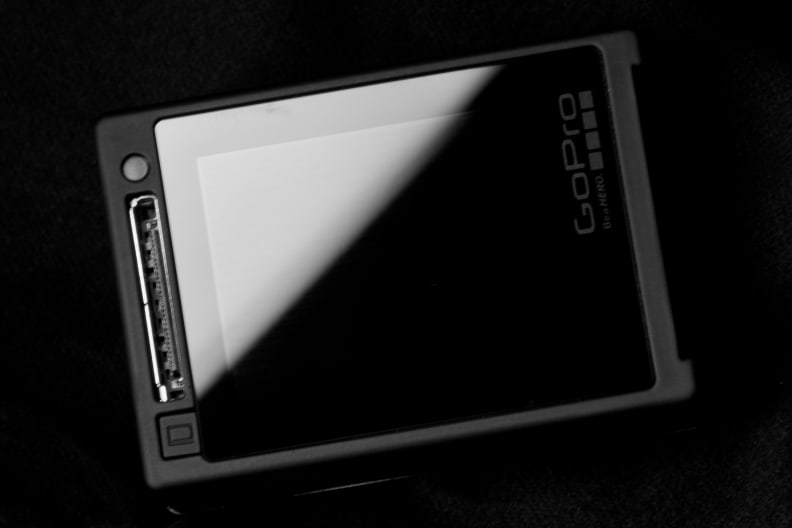 Other than the rear screen, the Hero4 Silver is exactly the same as the other Hero4 Black edition. Basically, it's a small gray box with a monochrome LCD, a large record button, a wide-angle lens on the front, and a battery door on the bottom. There's also the GoPro Hero port for attaching accessories, as well as three more ports, including mini USB, HDMI, and a microSD slot. That's pretty much it.
Sharpness has been an ongoing improvement for GoPro over the years. It gets better quality with the same sensor size by improving the processing of images in the camera, unlocking higher bitrates and resolutions. That said, sharpness on the Hero4 Silver is a slightly worse than it was on the Hero3+ Black.
On the older Hero3+ Black, we saw 700 lp/ph (line pairs per picture height) horizontal and 800 lp/ph vertically. The newer Hero4 Silver dropped to 575 lp/ph vertically and 600 lp/ph horizontally. We aren't sure how the drop happened as they share processing speeds, but we weren't thrilled with the drop.
Also worth noting: Just as the Hero3+ Black before it, the camera's extra-wide angle "SuperView" mode causes a loss of resolution. So if you want the sharpest output possible you'll want to keep that option turned off.
More of the same, with minor deficits compared to the flagship Black edition.
As you might expect, performance-wise the Hero4 Silver is nearly identical to the Hero4 Black. This isn't exactly a huge surprise, given they share most of the same features and components. We did find that the Hero4 Silver was not quite as sharp as the Hero4 Black, but sharper than the basic Hero. This is likely due to the slightly higher compression, with the Silver edition recording at 45Mbps while the Hero4 Black is 60Mbps. It doesn't show up much in real-world footage, though, so you shouldn't worry about it.
The one area where opting for the Black edition does make a difference is with 4K video. Though the Silver edition can record in 4K, it's only at 15 frames per second. It's sharp footage, but 15fps won't look as pleasing as run-of-the-mill HD video. The Black edition is sharper, and records at a full 30fps in 4K. The Silver edition can shoot at 2.7K (2704x1520) at 30fps, but it's not much better than the 1080/60p mode. With 1080/60p we measured resolution up to 600 line pairs per picture height vertically and 575 horizontally—fairly typical for an HD camera. The motion results were also good, though again the Black Edition has the advantage here with its 1080/120 fps.
GoPros have always had some issues in low light and the Hero4 Silver is no exception. When light gets scarce, the Hero4 Silver has similar woes as all other GoPros, although it is an improvement. The Auto Low Light mode is a feature that automatically adjusts frame rates according to lighting conditions for enhanced low-light performance. This was intended to improve the low light sensitivity on the new GoPro, but it simply didn't work in our camera lab's conditions. We saw slightly better low-light results from the previous GoPro Hero3+ Black, but your mileage may vary.
GoPros have always had some issues in lowlight and the Hero4 Silver is no exception.
Another area that all the new GoPro Hero4 cameras failed to improve was battery life. Battery life is easily the most common thing people complain about on GoPros and it isn't improved with the Hero4 models. The battery capacity is essentially the same—dropping from 1180 MaH to a 1160 MaH—but the redesigned battery means the Hero4 cameras aren't compatible with any older GoPro batteries. If you're a GoPro user making the jump to a higher model, you'll have to buy new spares.
Where that hurts the most is the new features such as a built-in touchscreen. Using a touch-screen all the time will greatly suck the battery life as opposed to not having one, meaning you need more batteries if shooting over long periods with the Hero4 Silver. GoPro did at least make changing cells easier by moving the battery hatch the the bottom of the camera, so you don't need to remove add-ons to get to the Hero4 Silver's battery.
Small sensors will always struggle in low-light when compared to larger sensors, as the smaller pixel sites can only gather so much light at a time. Last year, however, the Hero3+ Black impressed us with a big improvement in low-light performance on a small sensor. After seeing the Hero3+ Black produce a usably bright image with a light level as low as 3 lux, we were hoping for even better results with the Hero4's new processor.
Unfortunately, the Hero4 Silver–as well as the Black–actually took a minor step back in low-light performance, requiring 6 lux to produce an similarly bright image. That makes it more comparable to the Hero3 in this category, though functionally all three will perform about the same. ProTune will give you better low-light results and more control over ISO, but with higher ISO speeds comes much more noise that will have to be taken care of in post-production.
Enhanced framerate options are nice, but no true 4K this time around.
Just like all its brethren, the Hero4 Silver can shoot in just about any resolution you can dream of. The Hero4 Silver can shoot at 4k (15fps), 2.7K (30 and 24 fps), 1440p (48, 30, and 24 fps), 1080p (60, 30, and 24 fps), 960p (100 and 60fps), 720p (120, 60, and 30fps), and even WVGA (240 fps), with PAL variants for most of those framerates. The Hero4 Silver also enables you to use SuperView–an extremely wide viewing angle–at 1080p and 720p with a variety of fps options.
Just like all its brethren, the Hero4 Silver can shoot about as many resolutions as you can think of.
In addition to shooting a near infinite amount of video resolutions, you have the option of shooting 12-megapixel still images in a variety of ways, including a few burst modes and time-lapse settings. Additionally, the Hero4 Silver can capture video and timelapse photos simultaneously. This is available in intervals of 5, 10, 30 and 60 seconds at 1440p, 1080p, and 720p. There is also Night Lapse which allows you to capture a series of photos at specific intervals and exposure times. You can choose exposures of 15, 20, 30 and 60 seconds every 2, 5, 30 and 60 minutes.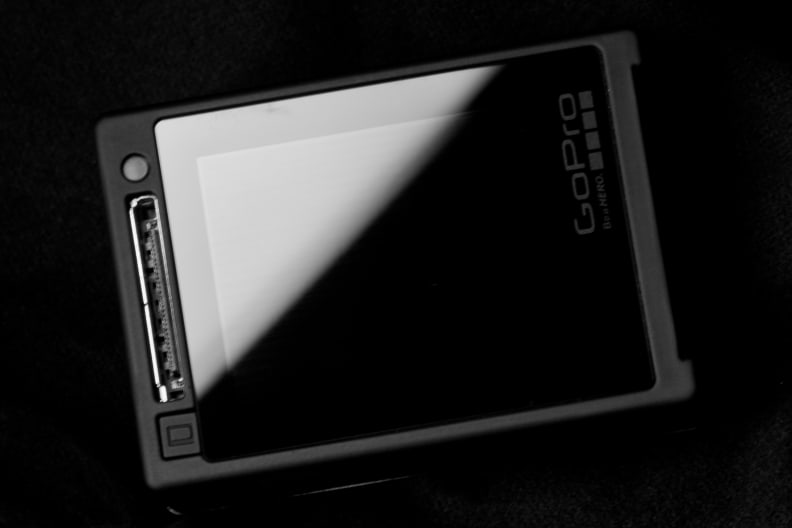 ×
Design
There's a new HiLight Tag function where you can mark a particular moment by pressing the small button on the right side of the camera. Once tagged, you can quickly jump to that point in a video when using the GoPro app or GoPro Studio editing app. This is convenient, but only if you have access to the camera while you're shooting; if you've got the GoPro mounted somewhere that's not accessible, it won't do you much good.
The Hero4 Silver also offers the ability to shoot in GoPro's unvarnished ProTune setting, giving you more flexibility when editing your footage by allowing you to shoot in a higher quality—and with less compression. It also gives more control, with the ability to adjust settings including color, ISO limit, white balance, sharpness, and exposure. This makes it easier to incorporate footage from multiple cameras into a workflow, and exposure value compensation can be adjusted to control brightness. The ISO selection also gives you more control over brightness and noise–with settings ranging from ISO 400 to 6,400 for video and 100 to 800 for stills. ProTune has only been available for video until now, giving shooters flexibility similar to RAW files on DSLRs.
The Hero4 Silver also offers ProTune options, giving you more flexibility when editing your footage.
WiFi makes a return and gives the GoPro the connectivity everyone has come to expect. The Hero4 Silver also comes with Bluetooth connectivity in addition to the built-in WiFi and is compatible with both the GoPro App and Smart Remote. The GoPro App allows you to control your camera remotely using your smartphone, complete with live video. The optional Smart Remote (an update to the Wi-Fi Remote which was bundled with the GoPro Hero3+ Black) features an increased battery capacity and allows you to control multiple GoPro cameras from distances of up to 600 ft.
The Hero4 Silver is capable of shooting everything that the Hero3+ Black could–and then some. The 4K mode is the sharpest of the all, but if you want smooth motion we suggest using the 1080/60fps instead. It would have been nice to see the 1080/120fps on the Silver like the Black, but the 1080/60fps is still much smoother than the 4k/15fps. In the lab we noticed very little trailing and nearly no visible artifacts.
A small edition makes a big improvement to the GoPro line.
It can be a bit confusing keeping track of all the different variations of GoPros on the market, something not aided by the fact that they all look so similar. The Hero4 Silver distinguishes itself from the rest of the pack by being the first GoPro to include a touchscreen LCD. This makes framing shots and reviewing footage infinitely simpler, as it doesn't require a bulky accessory LCD or battery-draining WiFi to accomplish the task.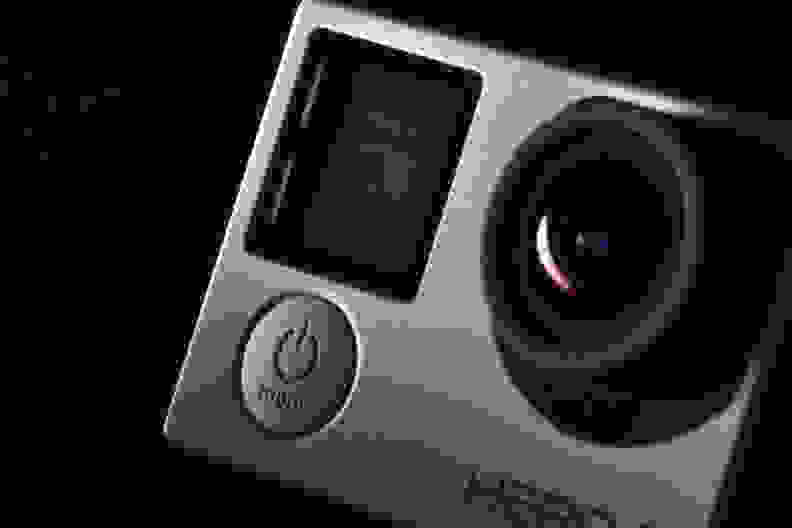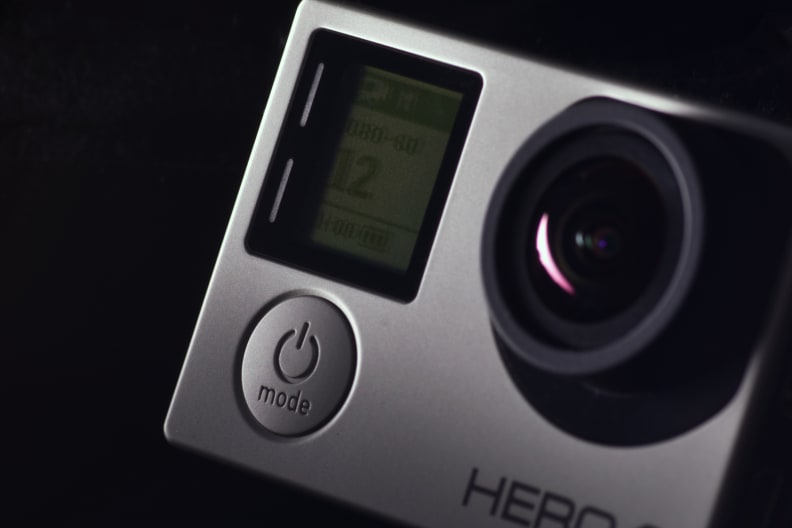 It's a unique feature amongst GoPros, and it actually makes this one of the more compelling choices for certain shooting situations. While part of the fun of shooting with a GoPro is reliving the footage later—not knowing exactly what you got until after the fact—it's still a bummer when you don't capture what you thought you did. This is a problem other GoPros solved by letting you use your phone as an external monitor via WiFi, but it's much easier to have the LCD right on the camera.
In our minds, it's enough to even recommend the Silver edition over the higher-specced Black edition in the right situation. Though you give up 1080/120fps and 4K/30fps recording, you save $100 and gain the touchscreen. That's tough to pass up, even if the touchscreen doesn't work quite as well in situations where you'd like a GoPro to work, like while underwater.
It may not be the best, but it's the most user-friendly GoPro you can buy.
The only other caveat that we'd have about the Silver is the redesigned battery. Though it's more accessible and doesn't have drastically lower capacity, the fact that your old batteries are obsolete is a tough pill to swallow. If you're heavily invested in GoPro batteries and don't need the touchscreen LCD or 4K video we'd potentially recommend picking up an older Hero 3; performance isn't all that different and saving on buying spare batteries is always a good idea.
Otherwise, the Hero4 Silver edition is a credible alternative to the flagship Black edition. More importantly, it shows that a GoPro with a traditional LCD can be just as durable as one without, while being infinitely more usable. It may not be the best, but it's the most user-friendly GoPro you can buy, and that's saying something.
One thing everyone that uses GoPro cameras knows is you have to have spare batteries. They are little cameras with little batteries, but remarkably huge appetites for power. That hasn't changed at all with the new Hero4 series. The built-in touchscreen is capable of sucking power in a hurry.
Shooting at 4K/15p we were able to capture about an 85 minutes of footage before needing to stop and charge or swap batteries. That is without WiFi enabled or the use of a remote control, both of which will drain the battery even faster. GoPro also went with a 1160 mAh battery instead of the 1180 mAh battery of the Hero3+. It's a minor change in terms of capacity, but a major change for one reason: older batteries are no longer compatible.
Meet the tester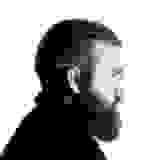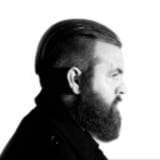 Jackson Ruckar
Photographer / Producer
@JacksonRuckar
As a photojournalist, Jackson has had stints working with bands, the military, and professional baseball teams before landing with Reviewed.com's camera team. Outside of Reviewed.com, he can be found looking for the next game to relieve his "Gamer ADD" or growing his beard.
Checking our work.
Our team is here for one purpose: to help you buy the best stuff and love what you own. Our writers, editors, and lab technicians obsess over the products we cover to make sure you're confident and satisfied. Have a different opinion about something we recommend? Email us and we'll compare notes.
Shoot us an email