Introduction
Unlike the V700, a V720M version with internal flash memory isn't yet available in the U.S., meaning an SD card is your only means of storing footage. If you pick up a V720M outside our territory, we do expect performance to be exactly the same. The HC-V720 is retailing now for $549.99, and is available only in black.
Video Review
Design & Usability
The V720 takes most of its design cues from Panasonic's successful V700.
As ever, the body is oriented around horizontal handholding, and it's also very light, weighing in at only 321g with the battery and media card inserted. Since this camcorder lacks the feature set of more expensive models, the body itself is relatively sparse. You'll find only the most important buttons on the top and rear of the camcorder, with little else to get in the way.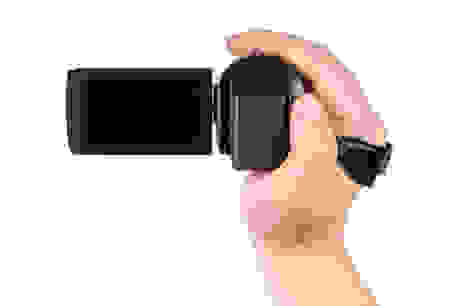 ...you're likely to notice a few major cost-cutting efforts right away.
Unfortunately, you're likely to notice a few major cost-cutting efforts right away. The right hand strap is comically bad. There are only buckles on one side of the strap, so if you've got a big hand, one of the velcro cushions will always pull awkwardly to one side. The menu system is also rather hideous and low resolution, but at least the controls are easy to figure out.
For years Panasonic's camcorders were known for complex, unintuitive manual controls, though they've made efforts to turn this around recently. Such was the case for the V700, and continues to be the case for the V720. Great beginner features like autofocus tracking and automatic Level Shot make tricky shooting scenarios easier. In fact, most situations can be handled completely automatically, thanks to modes like Intelligent Auto and Intelligent Auto Plus (which unlocks a few more manual controls).
At the same time, part of the reason this camcorder will have such broad appeal is the inclusion of deep manual controls, in addition to the automatic features. While none of these features get their own convenient physical keys, a quick visit to the function menu will reveal soft buttons for focus distance, white balance, shutter speed, and aperture iris. And if you get yourself into trouble, or simply can't figure the correct exposure, we also appreciate the V720's convenient placement of the Intelligent Auto button.
Performance
The V720 makes only small improvements to image quality over its predecessor, but improvements nonetheless.
Both color accuracy and saturation each represent such a tiny advantage over the V700 that we doubt anyone will even notice. Plus, both of those tests are highly dependent on white balance, which is no more accurate or responsive in this camera than the last. The same story applies to sharpness, which is again only marginally improved this year, yet still strong compared to most of the market.
Performance also dropped a bit in a few key tests since the V700. We docked a fraction of a point for motion performance due to some bad frequency interference, and image noise is also worse in both bright and low light. The V720 is definitely more sensitive under dim lighting though, requiring only 15 lux of ambient illumination to properly expose a scene. In other words, those school plays are sure to turn out much better.
WiFi Features
With a performance profile essentially equivalent to last year's V700, the V720 relies on new features to stand out.
Thanks to both WiFi and NFC technology, it's remarkably easy to set up your camcorder for use with a smartphone.
Brand new wireless capabilities are the most compelling upgrades to this camcorder. Thanks to both WiFi and near field communications technology, it's remarkably easy to set up your camcorder for use with a smartphone. We used this feature for extremely important applications, such as spying on co-workers from the next room, but Panasonic's free app also has the ability to remotely adjust white balance, toggle Intelligent Auto, compensate for backlighting, and of course zoom in and out.
The camcorder itself is a WiFi transceiver, so as long as your phone supports NFC, the two devices will talk to one another and establish an ad-hoc connection automatically within seconds. In fact, even if you can't use NFC, the setup process is still relatively intuitive, at least compared to the rest of the imaging market's infantile WiFi implementations. For truly remote control, the V720 and Panasonic's Image App support home monitoring. Setup is a little more difficult in this configuration, since you'll need to connect the V720 directly to a wireless network, and the interface here is slow.
Wireless broadcasting via Ustream is also supported, though it too requires the cumbersome direct WiFi setup. Finally, recorded content can be shared directly to DLNA devices like certain TVs or your smartphone.
Conclusion
A modest update, but still a lot of camcorder for the money.
It's hard to get excited about a camcorder that offers so few performance improvements, but bear with us, because the Panasonic HC-V720—like its predecessor—is a great deal.
Minus a few slight changes, both for better and worse, the V720's image quality is quite similar to the V700's. But let's not forget how strong performance was to begin with. This camcorder's color accuracy and noise reduction are both solid, and sharpness is outstanding, surpassing competitors like Canon's HF M52. The camcorder is also at home in low light, where it outperforms JVC's GZ-VX815 in almost every test. So when we say performance hasn't increased very much, consider how strong performance was to begin with.
Panasonic chose to focus on adding new features, and for the right consumer they could be highly compelling.
Instead, Panasonic chose to focus on adding new features, and for the right consumer they could be highly compelling. The V720's WiFi capabilities may be trapped inside a rather ugly interface, but they do work, and without much trouble either. We had some fun setting up Link to Cell, and controlling the camcorder with a smartphone from far away, though it was hard to imagine a legitimate application aside from our own geeky curiosity. Near field communication is another great add, but mostly serves to make WiFi interfacing more convenient. It seems to us that live broadcasting via Ustream will be the most useful new feature over the long term. We've got at least one dedicated online streamer in our office, and the V720 would simplify one important step in his process.
All this allows our recommendation to be a rather simple one: if you aren't excited by the V720's new WiFi features, you can save some cash by purchasing a used V700, which offers almost identical image quality. But if you're dying to go wireless, $549.99 is still a fair price for a camcorder of this caliber.
Science Introduction
Panasonic opted to focus almost all of its efforts on new features for the HC-V720 (MSRP $549.99), so most of our performance metrics will not show many major differences between this model and the last. Actually, it was the omission of internal storage that caused the V720 to lose most of its points.
Sharpness Performance
Under full studio illumination, the V720 is narrowly sharper than the V700.
While a scene is in motion, the sensor is capable of resolving 750 lp/ph horizontally and 800 vertically. Contrast that with the V700, which resolved 700 and 750 lp/ph respectively.
We also observed the V720 going out of its way to artificially enhance the apparent sharpness of edges, which ultimately degrades image quality. Our lab tests detected as much as 16% oversharpening in high contrast areas, an effect that is responsible for those faint white halos you might be seeing around your subjects.

Still, in this price range the scores are matched only by JVC's GZ-V815, and even then only by the narrowest of margins. JVC's camcorder has a slight edge in horizontal moving sharpness, and earned equal scores vertically.
Low Light Performance
The V720 is a strong choice for low light videography, chiefly because the CMOS chip is so sensitive.
In order to reach 50 IRE (the acceptable signal level of video data), the V720 requires only 15 lux of ambient illumination, compared to the V700 which required 24 lux. Although some camcorders go much lower (Canon's HF M52, for example, needs only 4 lux), we're impressed by the improvement.
The camcorder's noise reduction algorithm also prevents ugly image noise from creeping up when the lights are dimmed. At 60 lux of ambient illumination, noise levels do cross a hair over 1.00%, but only observant videophiles will notice the problem. To put that in perspective, noise levels at 3000 lux average 0.69%.
Of course things aren't always perfect in low light, and in the V720's case, this means a drop in color accuracy. Under such conditions the camcorder's color error average increases to ∆C00 5.63, which is very poor. Saturation also takes a massive hit, dropping down to only 68% of ideal.
Motion & Detail
Panasonic's experience with 1080/60p recording continues to yield impressive results.
Moving footage shot using the 1080/60p setting is both sharp and smooth. There's no hint of object trailing, thanks to the high frame rate, and we had to stare pretty hard to locate any compression artifacting. Even when we could locate some, it was restricted to shadowed areas.
We docked the V720 for a bit of frequency interference, which can be observed by pausing a 60p clip and paying attention to moving, high-contrast areas, like the colored pinwheel in our sample videos. This was a problem we didn't observe with the V700, and although we're surprised to see this step backwards, it's only a minor issue.
Color & White Balance
If you can get the white balance right, the V720 is capable of acceptable color accuracy.
Our lab tests recorded a delta-C average error value of only 3.39, and a corresponding saturation level of 95.25%. Typically color error averages less than 3.50, and saturation levels within +/- 5% of 100%, are considered "great."
But again, those results are assuming white balance is correct, and that's where the V720 runs into trouble. Many Panasonics seem to do this, and we're still not quite sure why, but the automatic white balance consistently takes more than 20 seconds to adapt to changes in ambient color temperature. Filming a continuous shot from outside walking in? Your interior shot is going to look blue for 20 seconds. In fact, it's actually much faster to cycle the camcorder's power, forcing the automatic white balance to come back to life.


Even if the automatic algorithm does react quickly, there's no guarantee it will be accurate. Daylight is fine, but expect scenes under fluorescent light to be off by as much as 1800 Kelvins, and make that 2500 K for incandescents. For context, manually white balancing beforehand will—under the same lighting conditions—yield errors of only 90 K and 150 K respectively.
Meet the tester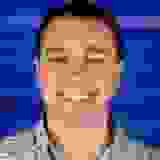 Christopher Snow
Managing Editor
@BlameSnow
Chris was born and raised less than ten miles from our editorial office, and even graduated from nearby Merrimack College. He came to Reviewed after covering the telecom industry, and has been moonlighting as a Boston area dining critic since 2008.
Checking our work.
Our team is here for one purpose: to help you buy the best stuff and love what you own. Our writers, editors, and lab technicians obsess over the products we cover to make sure you're confident and satisfied. Have a different opinion about something we recommend? Email us and we'll compare notes.
Shoot us an email