camcorders
Panasonic HC-W850 Twin Recording Camcorder Review
Panasonic freshens up one of its midrange camcorders with... a second camcorder?
The world of consumer camcorders isn't exactly ripe with innovation lately. Sony, Panasonic, Canon, Samsung, and other companies still making traditional camcorders for everyday people have been stuck primarily in a cycle of iterative updates. WiFi is now commonplace, and Panasonic has had some success integrating support for live streaming, such as with last year's X920 and V720 models, but genuine change is still hard to come by.
The new Panasonic HC-W850 (MSRP $799.99)comes right out of left field, then, taking a typical high-end camcorder and adding a second, rotating camera to the flip-out LCD purpose-built for capturing easy picture-in-picture video. Want to zoom in on your child during a play, but still want to give your viewer a wide-angle view of the whole thing? Done. At a baseball game and want to capture the game in front of you and your child's reaction to your left? Easy!
It may not be reinventing the wheel—more like adding a sidecar to a motorcycle—but Panasonic's W850 provides a dual-camcorder experience that no other model on the market can match. But wait, there's more! (cue Ron Popeil) Panasonic has also improved on last year's mid-range V720 with some new recording modes, improved optics, and some additional features that improve the value considerably.
Design & Usability
The Panasonic W850 is a standard midrange consumer camcorder save for its one unique design feature: a rotating secondary camera built into the flip-out LCD. Other than that, it bears a striking resemblance to last year's Panasonic HC-V720, with the addition of a headphone jack, an improved internal microphone, and a higher-resolution sensor for still photos.
Controlling the W850 is dead simple: Just slip your hand into the strap, flip out the 3-inch LCD, and you're ready to go. Your thumb naturally falls right onto the dedicated record button, a zoom rocker on top is easily reached by your index finger, and more advanced controls are located on the inside panel of the camera. The LCD also features touch control, and through this you can access the camera's menu and change shooting modes and tweak various settings. The W850 lets you control iris, gain, and shutter speed manually, either through this touchscreen or with a function dial located on the front of the camera.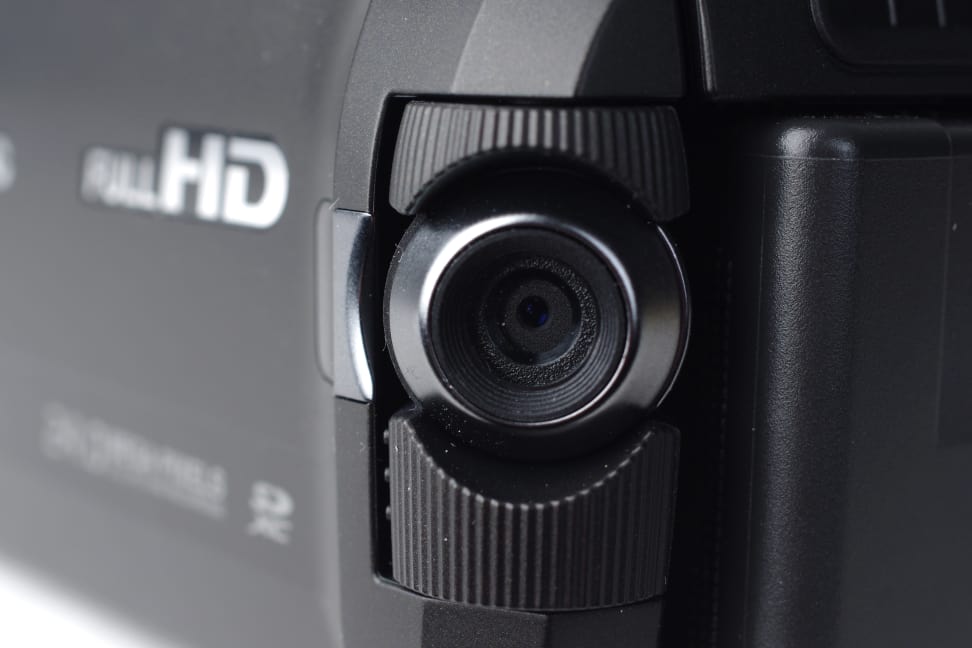 Though advanced shooters may get the most use out of the manual settings, there are also a collection of creative and alternative shooting modes that users of all levels can enjoy. These include the usual suspects like Intelligent Auto and scene modes (including low light, sports, beach, fireworks, etc.) as well as more unusual settings such as full HD slow motion, timelapse, miniature effect, and silent movie modes. Unfortunately, many of these modes do not work with the secondary camera, as the camcorder doesn't have enough processing to pull off both effects simultaneously.
While shooting with the W850 is relatively easy, there are some serious drawbacks to the camera's design. First and foremost is the touchscreen panel itself. It is not capacitive, and is quite inaccurate, making even simple trips to the menu more frustrating than they need to be. The on-screen icon to activate the secondary picture-in-picture camera is also frustratingly small, making it difficult to press. A hardware key would've been much simpler and more straightforward for beginners to figure out. We were once again impressed by the W850's ability to stream via WiFi, as well as the simple connectivity provided by NFC, letting you quickly sync up a smartphone to the W850 just by touching the top of the camcorder with your phone.
Performance
The W850 improves quite a bit on the performance of Panasonic's 2013 midrange model, the V720, thanks to a new sensor, slightly improved optics, and a new MP4 record mode with bitrates of up to 50Mbps. In our performance tests the W850 did display some quirks, however, and there were definitely some areas where AVCHD 1080/60p recording proved to be the superior option.
In our motion test, for example, the MP4 mode has crisp motion in bright light, but in low light we preferred the look of the 1080/60p AVCHD footage. Our MP4 test footage also didn't play back so smoothly, as the file sizes can be quite enormous. But going by the MP4 mode the camera was able to resolve up to 800 line pairs per picture height in bright light—sharper than the AVCHD by some margin and a slight improvement over last year's V720.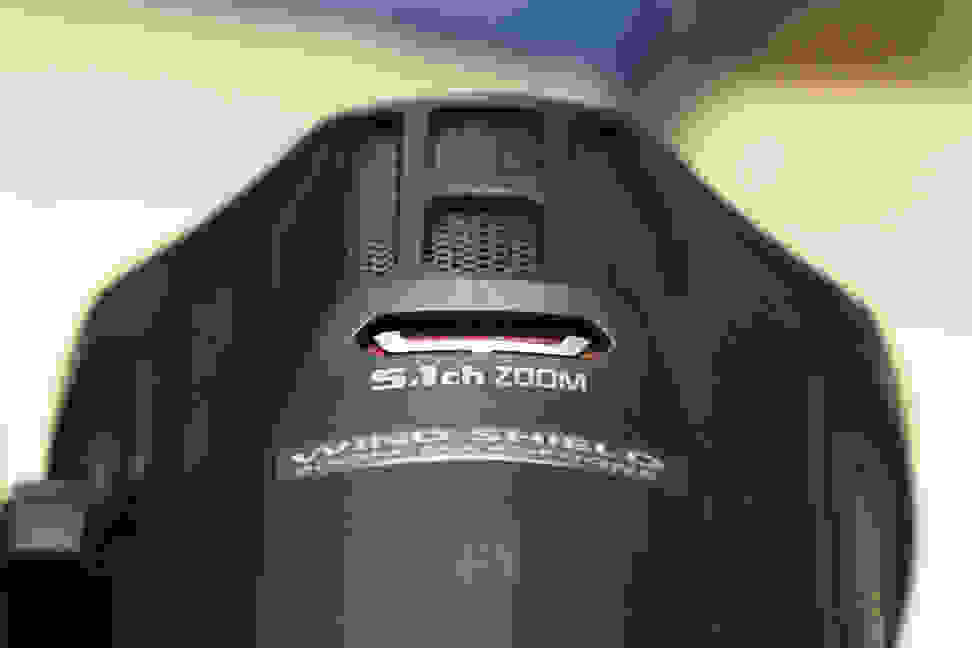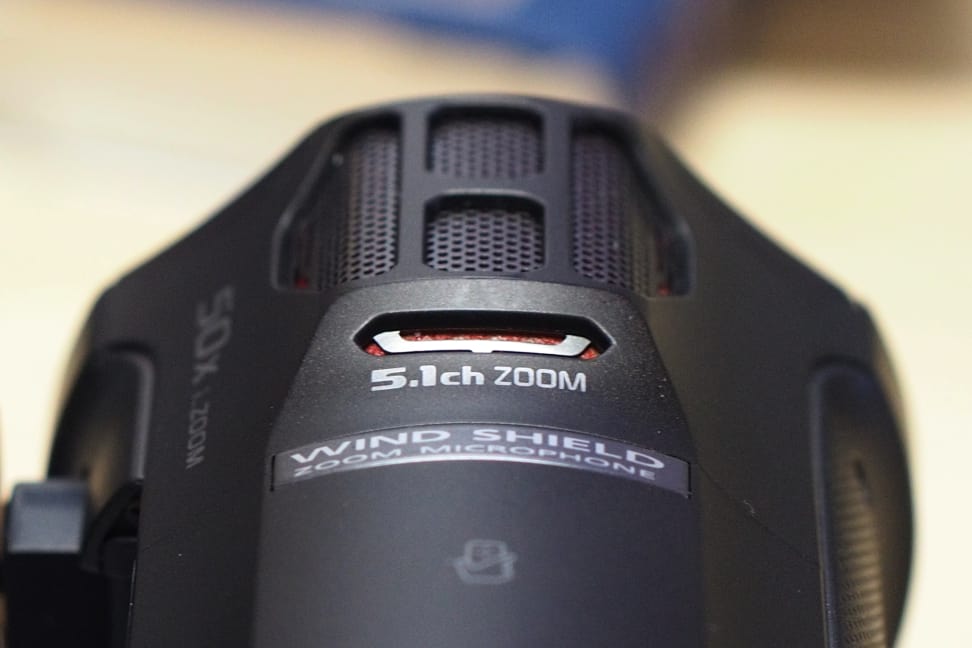 The W850 improves on the V720 significantly in low light, however, with the MP4 mode showing better low light sensitivity, lower noise levels across the board, and better color accuracy in our 120 lux test. Oddly enough, we even saw better color accuracy at 60 lux than we did at 120 lux, though in extreme low light (15 lux and lower) you can expect accuracy to go off the rails as gain jumps to compensate, lowering saturation dramatically. It's an impressive suite of results, and the higher bitrate really shows off the improved optics.
These improvements are even more welcome considering the W850 lacks a 24p recording mode. Though 24p modes are usually desired for their "filmic" rendition of motion, they also allow for the use of slower shutter speeds, letting more light hit the sensor. The MP4 mode definitely helps make up for this, especially when shooting wide open to take advantage of the W850's fast f/1.8 maximum aperture. Generally speaking we recommend shooting in MP4 where available, unless you're trying to capture action in low light or you want to keep file sizes to a minimum.
Features
The highlight feature of the HC-W850 is, of course, its secondary camera. Located on the flip-out LCD, the second camera is entirely separate from the main unit, with its own processor and wide-angle lens. Situated on a rotating hinge, the camera can spin in place, able to capture anything behind, beside, or in front of the camera with roughly a 48 degree angle of view and an f/2.2 lens.
The result? While the high-end main sensor captures shots with its 20x f/1.8 lens, this secondary lens can be flipped out to capture its own separate video stream. This stream can be overlaid on top of the main video in one of the four corners, providing you with two different shots at any one time. It's entirely optional, with the sub-camera flipping shut when you just want to use the main camcorder to record. It's a unique feature that allows for lots of little moments that simply aren't possible with a single camera setup.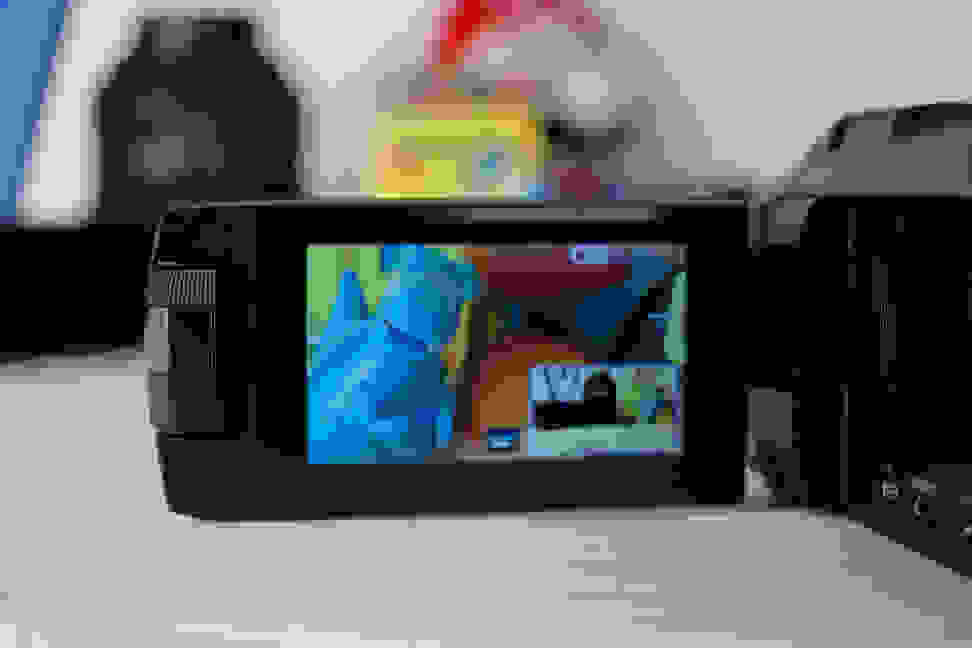 Now, we don't see the W850 being of much use to productions who actually want two separate video streams—the sub-camera's video can only record video for picture-in-picture, it doesn't perform well in low light, and the secondary stream isn't saved separately. Otherwise, the camcorder is a pretty standard midrange device. It has the aforementioned 20x optical zoom lens with optical image stabilization and a maximum aperture range of f/1.8-3.6. The lens sits in front of a single 1/2.3-inch, 12.76-megapixel CMOS image sensor. The W850 can record in 1080/60p AVCHD or in MP4 with a maximum bitrate of 50Mbps. It also includes an onboard 5.1 microphone, as well as both mini headphone and mic jacks for external audio recording/monitoring.
Internally, the W850 doesn't have any storage (relying on a single SD card slot for recording), but it does have WiFi that, like last year's flagship X920, can be used for live streaming via UStream. This is designed for video bloggers and people who want to share an event with people in a remote location at the same time. In the case of the W850, it can also be used in "baby monitor mode," allowing you to have a running streaming going over your baby that you can see and access via smartphone.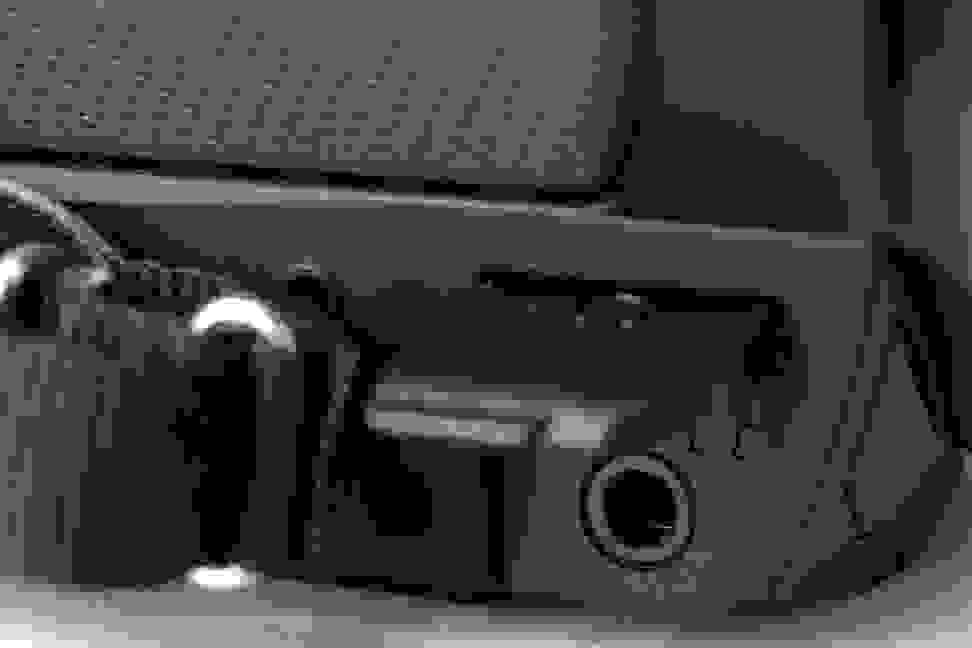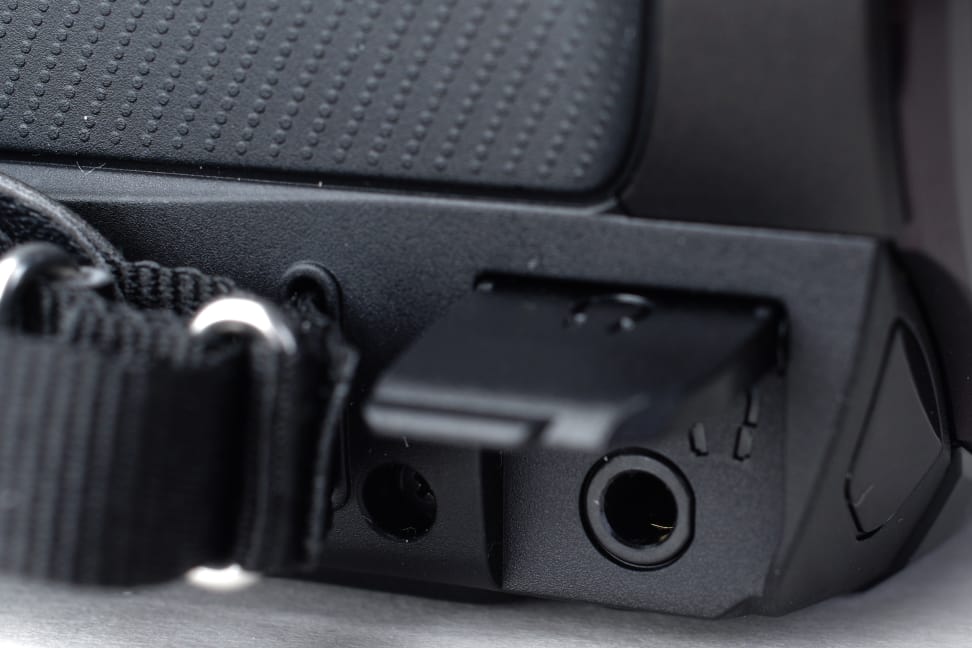 You can even combine it with Panasonic's new Pan Tilt Cradle, which lets you remotely zoom and control the camcorder, or automatically will follow a pet around the house, zooming in on its location. You can also speak through the camera, so if you see your dog jump on the couch, you can put Fido in his place. The tl;dr version? After spending some time with it, it's simply not worth $200 in our estimation. It's difficult to set up, doesn't provide that much extra utility, and every time you change a setting it has to go through a cumbersome alignment process. Pass or at least wait for a discount.
Conclusion
When we first saw the Panasonic W850, we were incredibly intrigued by the concept of a secondary camera that rotates, letting you capture extra parts of your scene that just aren't possible with a traditional camcorder. Though our enthusiasm for the prospect has cooled somewhat after seeing it in practice, it's still a unique feature that sets the camcorder apart from everything else on the market.
Yes, the stream can only be seen in one corner of your actual footage. No, you can't switch between feeds. No, you can't save the sub-camera's video separately. No, it's not very good in low light. But it's there, which is something you just can't say about any other camera on the market. And though it's not as revolutionary a feature as we hoped it would be, it's hardly the W850's only raison d'être. It's just one neat extra amongst a collection of improvements that put a fair distance between the W850 and last year's V720.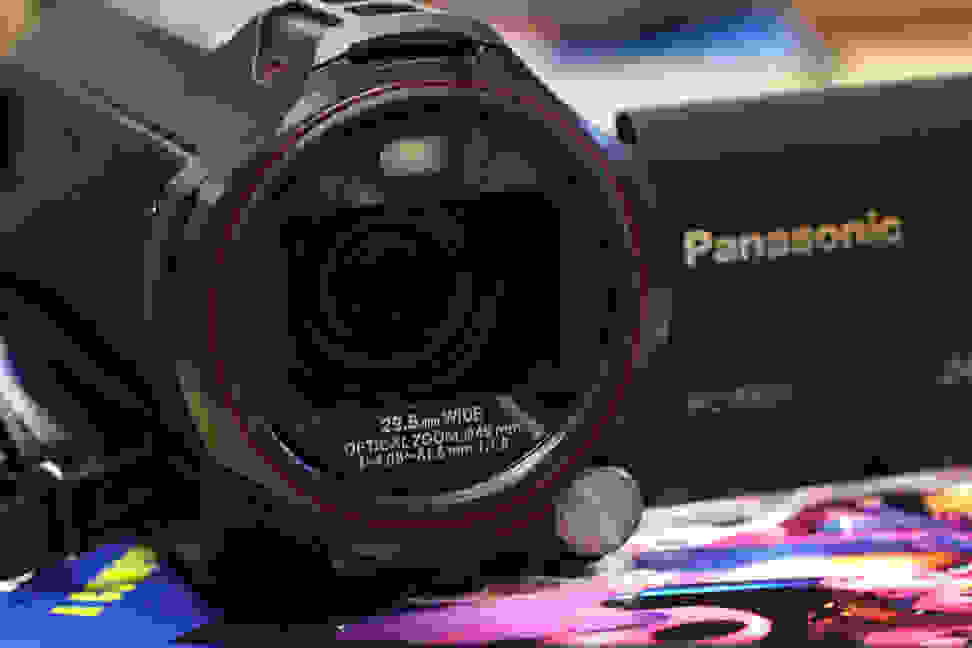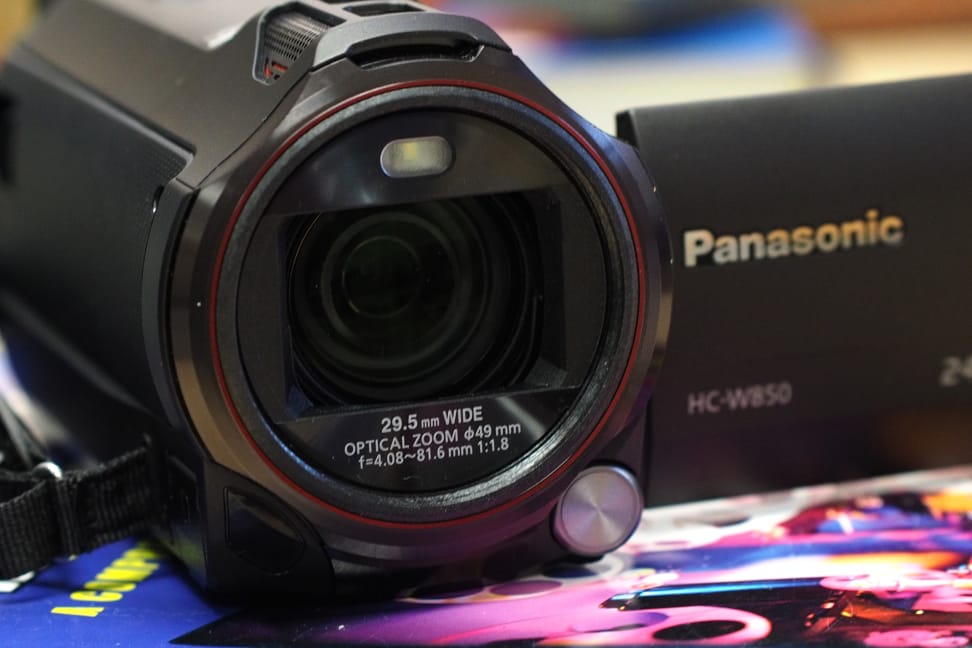 This is still a device that combines a very sharp 20x optical zoom lens, a fast maximum aperture, a high-quality image sensor, 5.1 channel zoom mic, built-in WiFi/NFC with UStream support, and the option of recording either 1080/60p AVCHD or high-quality 50Mbps MP4 footage. And you get all that for a very attractive MSRP of just $799.99. There are a holes in the resume—lack of 1080/24p recording, no electronic viewfinder, just a powerless cold shoe, and a 3-inch LCD with a fairly inaccurate touch response—but they're all easy enough to overlook. Again, this isn't Panasonic's flagship device, but merely a midrange option designed to appeal to those who just want a good all-around camcorder for family trips, recitals, and home movies.
In a camcorder market that seems utterly bereft of innovation, the W850 stands apart.
Judged by those standards, the W850 is a successful camcorder that nails the core camcorder features while also giving shooters the option of expanding the experience with secondary recording and WiFi connectivity. In a camcorder market that seems utterly bereft of innovation, the W850 stands apart and provides an excellent value for just $799.99. Of course, Panasonic has been providing plenty of value for your money lately, and the flagship X920 has a superior 3MOS chip, a Leica f/1.5 12x zoom lens, and all the same streaming options minus the secondary camera for a street price of just $899.99. But for those who are intrigued by the two-camera concept or simply don't want to spend quite that much, the W850 is a compelling option that will be more than good enough for regular folks.
Our editors review and recommend products to help you buy the stuff you need. If you make a purchase by clicking one of our links, we may earn a small share of the revenue. Our picks and opinions are independent from any business incentives.
Our editors review and recommend products to help you buy the stuff you need. If you make a purchase by clicking one of our links, we may earn a small share of the revenue. Our picks and opinions are independent from any business incentives.
Advertisement - Continue Reading Below
Our editors review and recommend products to help you buy the stuff you need. If you make a purchase by clicking one of our links, we may earn a small share of the revenue. Our picks and opinions are independent from any business incentives.
Advertisement - Continue Reading Below
Advertisement - Continue Reading Below
Advertisement - Continue Reading Below
Advertisement - Continue Reading Below
Advertisement - Continue Reading Below
Get Our Newsletter
Real advice from real experts. Sign up for our newsletter
Thanks for signing up!