The world of UHD cameras is evolving rapidly. Formerly the province of ultra-expensive, hacked-together science projects, it's now populated with consumer-ready, affordable camcorders.
Though major players are still putting out hacky 4K-capable* options (like the Sony A7S), we've also seen cameras like the Panasonic FZ1000 and Panasonic GH4 that can natively record 4K.
Now Panasonic is back on the 4K scene with the new HC-X1000 camcorder. This is a camcorder capable of recording 4K video straight to SD cards, but it also comes packed to the gills with the kind of high-end controls that pros would demand of a true cinema camera.
The X1000 has pretty much everything you need: a Leica-branded f/1.8-3.8 20x optical zoom cinema lens, 4K/60p recording to dual SD cards, a built-in ND filter, and dual independently controlled XLR inputs with phantom power. It also has three silky-smooth control dials, a gorgeous electronic viewfinder, and loads of other manual settings.
No matter how you slice it, the X1000 is a pro-ready piece of kit on par with something like Canon's XA25 and Sony's AX1.
The kicker? The HC-X1000 hits the market for just $3,499.95, with no costly accessories required.
Design & Usability
A serious piece of cinema gear
When you pick up the HC-X1000, the first thing you'll notice is just how light it is. The body is made of a thick plastic rather than the heavier, more durable magnesium alloy found on most high-end cameras. The light weight and excellent balance means the X1000 is easy to wield with a single hand, either by the fixed top handle or the padded velcro strap on the right side of the body.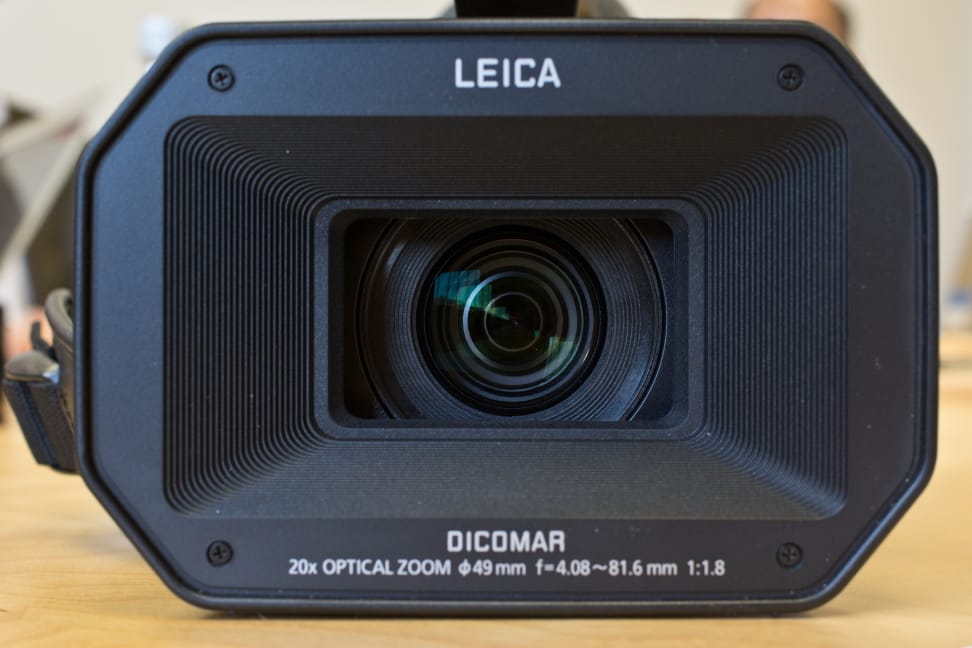 Operationally, the X1000 is similar to most other high-end cinema cameras. It has smooth rocker switches for zoom, powering the Leica-certified 20x optical zoom lens as quickly or slowly as you want, quietly and with razor-sharp control. The lens has three built-in control rings for optical zoom, iris, and manual focus.
The X1000 also features easy-to-access focus-assist options, including focus peaking and focus zoom, that can be viewed on the included LCD or through the electronic viewfinder.
Though the X1000 is quite large compared to something like the Panasonic GH4 or the Sony AX100, it's actually on the small side for a camcorder of this type. The lens is compact, and just about every square inch of the body is used for some sort of manual control. The camcorder even squeezes a futuristic tally light around the lens itself.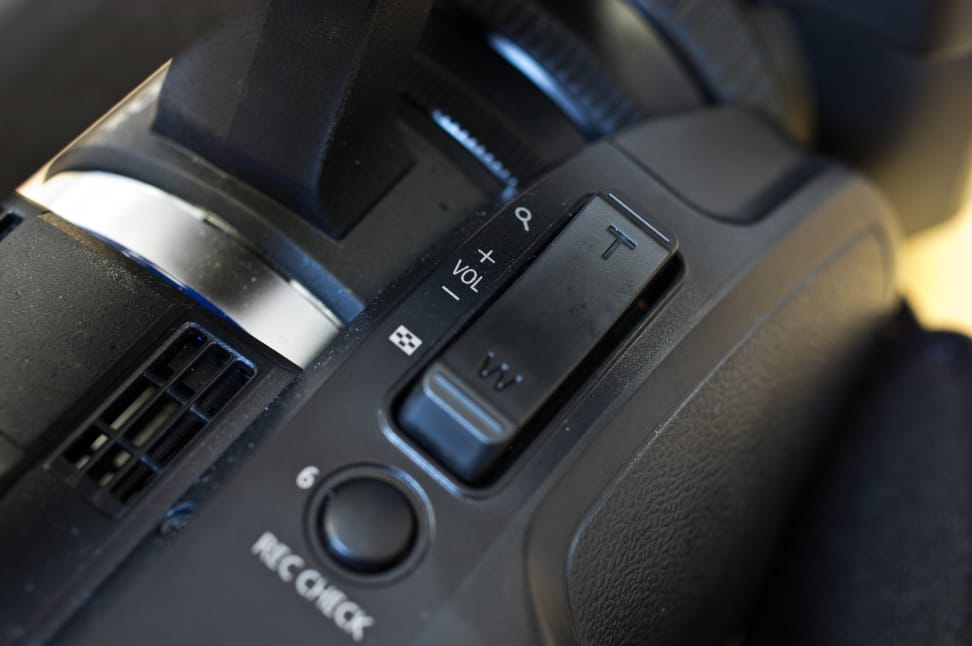 Just behind the control rings, you'll find the main control panel. All the usual suspects are accounted for: white balance, gain, iris, and shutter speed, as well as focus modes. There's an adjustable ND filter switch, along with independent controls for each XLR line input.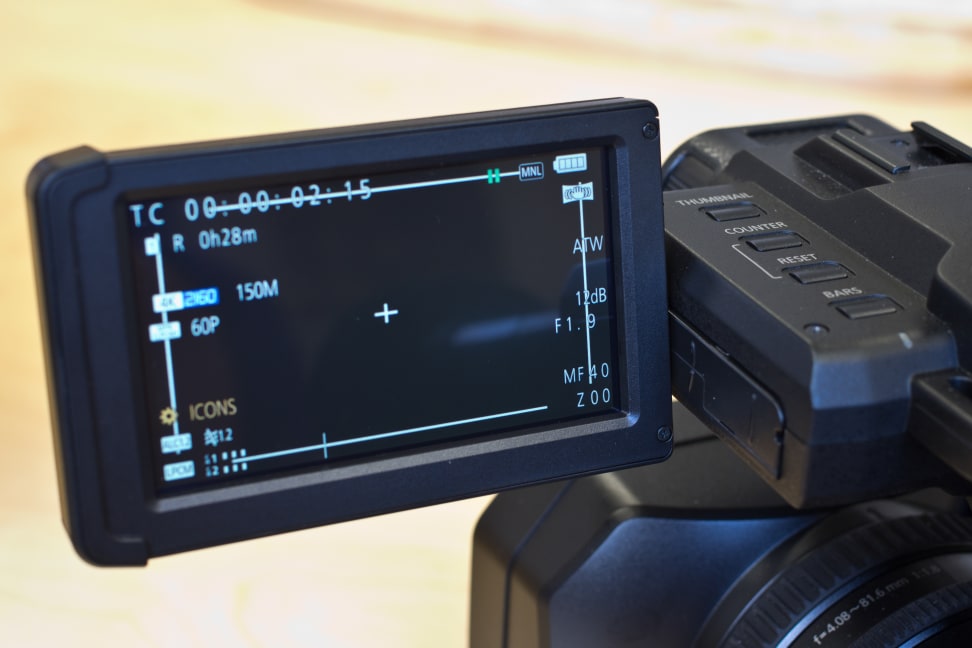 If you prefer to use the X1000's hand strap, you'll likely make use of the electronic viewfinder. It's a bright, detailed panel with 1.2-million-dot resolution and a comfortable eyecup. If you're shooting in a more run-n-gun style, there's a 3.5-inch, 1.1-million-dot LCD. When not in use, the LCD actually flips down and slips into the top handle itself, neatly protecting it from wear and tear.
Generally speaking, the X1000 feels like a true cinema-grade piece of hardware. It's plastic and lacks SDI output, which might put some people off, but it feels very sturdy and ready for field work.
The level of control offered here is rivaled only by something like the Sony AX1, and in terms of control and hardware it easily outstrips Panasonic's own (excellent) GH4–even with the optional YAGH interface unit.
Features
This is consumer-level 4K, all grown up.
Until recently, if you wanted to shoot 4K video you had to either give up professional-quality features, spend a fortune on a high-end camera, or DIY your way to some kind of inelegant solution.
Though the GH4 combined Voltron-style with its interface unit to form a camcorder that recorded 4K to SD cards while offering XLR audio input and control, it's still a rather kludgy solution to an all-too-common problem.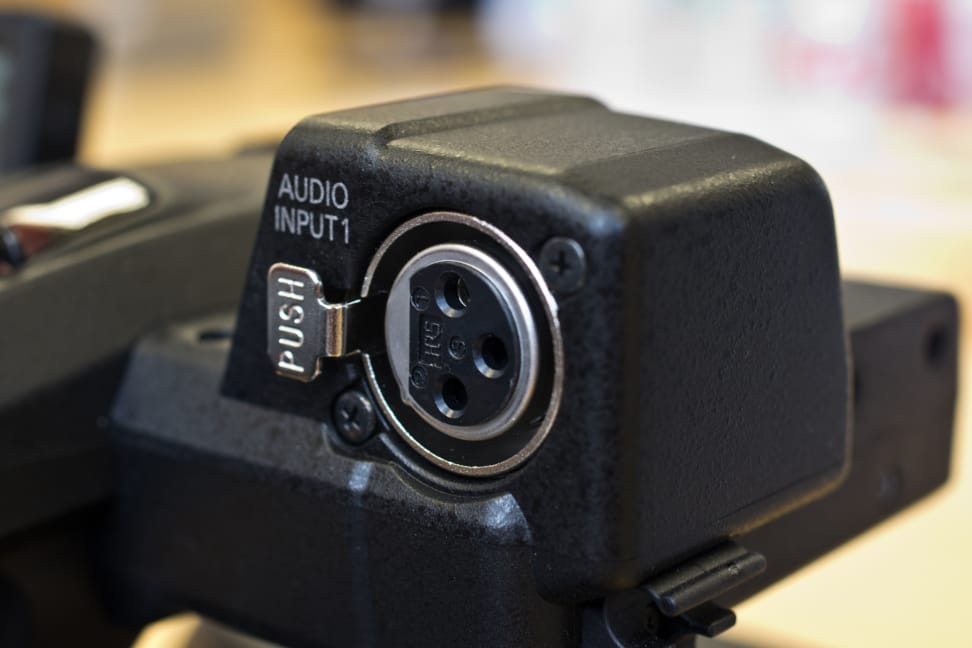 The X1000 solves this issue by taking two of the GH4's quad-core processors and pairing them with a video-ready 1/2.3-inch CMOS sensor. The combo provides throughput fast enough to record 4K/60p to an internal SD card. Though you'll likely need the newest UHS-3 cards to get the job done, that's no small feat. And the X1000 also records in a number of high bitrate HD formats, including both IPB and ALL-I.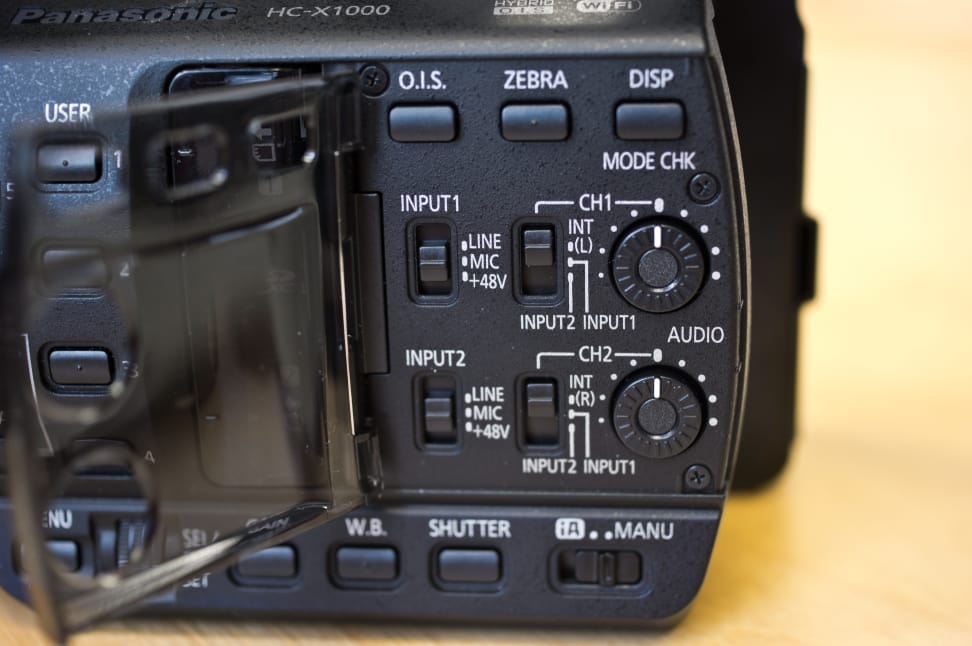 Putting 4K aside for a moment, the X1000 includes a bevy of features that should make pros happy. The camera comes with optical image stabilization—5-axis for HD and Power OIS for 4K. It also has two user-adjustable levels of zebra warnings, a histogram, a color bar monitor, a digital level, USB 3.0 output, WiFi, and a full-size HDMI port capable of 4K/60p output that allows you to export footage to an external recorder while also recording internally.
The dual card slots allow for some neat tricks. The X1000 can record dual 4K/60p streams, or it can record continuously to one card while letting you stop and start to cut together short clips in-camera. The X1000 pre-records three seconds of footage to facilitate this last feature, so you can record a full game to one card while using the other to grab highlights as they happen.
Conclusion
If you want pro-ready 4K on a budget, the X1000 ticks the right boxes.
There's a ton to cover with a camera like the X1000. It's loaded with just about every control that you'd need, along with the hardware and ergonomic design require to get the job done in the studio and out in the field.
It's clear that Panasonic is looking at the X1000 as more than just a milestone product; this is a camcorder that's designed for professionals to use today.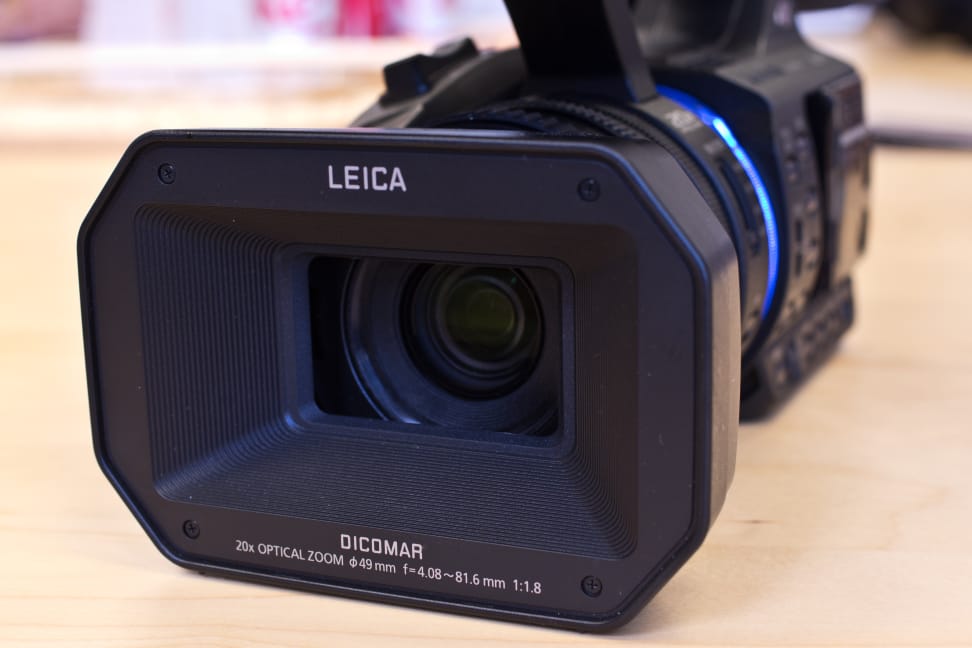 There are a couple holes in the X1000's spec sheet that are worth pointing out, though.
The camera doesn't have SDI output, so if you've got a killer SDI monitor or external recorder that you like to use, you're going to be out of luck. It can output uncompressed 4K/60p footage via HDMI, but there are almost no recorders on the market that can handle 4K footage that way—they all work via SDI, and can only do full-HD over HDMI. That'll change, but for now it's an annoyance.
The 1/2.3-inch sensor is also on the small side, especially compared to full-frame cameras like the Sony A7s or even cameras equipped with 1-inch sensors, like the Sony AX100. Panasonic says the benefit is that there's no line skipping or pixel binning required, so the small sensor reduces rolling shutter and yields much sharper footage overall.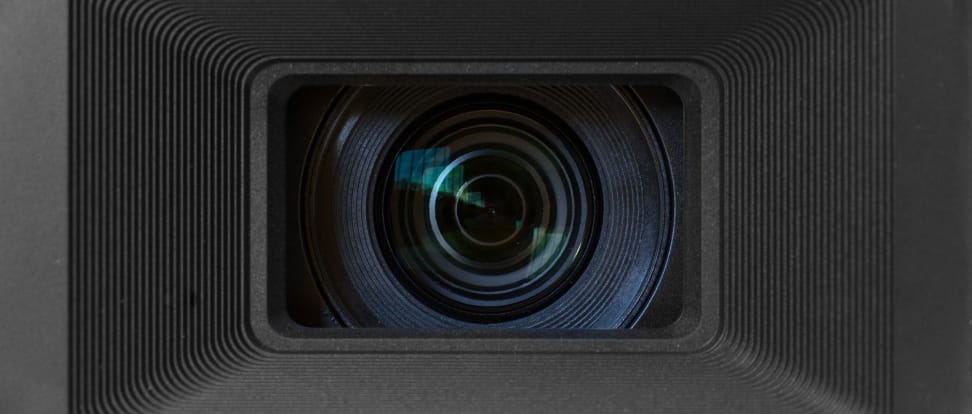 A sensor this small also has the read-out speed to let the camera record in 4K and down-convert to HD on the fly. That reduces noise and preserves more detail. Still, if you're after that full-frame look, you're going to need enough room to back up and zoom in—even with what appears to be a high-quality 20x f/1.8-3.8 Leica zoom lens.
The X1000 is a compelling option for anyone who wants pro-quality control and hardware, but still wants to keep things light and affordable.
Beyond that shortcoming, the X1000 is extremely promising. Still, there are a number of rival 4K-ready options hitting the market with budget-conscious pros in mind. The Blackmagic Ursa and Studio Cameras, the GH4 with its YAGH interface unit, the Sony AX1/AX100 camcorders, and now the HC-X1000 are all competing in this segment. Though each camcorder will appeal to a different buyer, the X1000 is a compelling option for anyone who wants pro-quality control and hardware, but still wants to keep things light and affordable.
At $3,499.95, it's also quite a bit cheaper than what we were expecting. There are cheaper 4K options on the market right now, but none include a 20x optical zoom lens and few offer this level of control, let alone 4K/60p recording to SD.
We'll have to see how the X1000 fares in our lab tests before we arrive at any final conclusions, but if you're thinking about upgrading your pro-level setup for 4K, there's no time like the present.
Our editors review and recommend products to help you buy the stuff you need. If you make a purchase by clicking one of our links, we may earn a small share of the revenue. Our picks and opinions are independent from any business incentives.