There's one thing that hit us as soon as we started our standard review of Panasonic's Lumix GH4—this camera isn't the end-all-be-all stills shooting beast some Panasonic fans hoped for. But, that's totally okay. Because it kills at HD and 4K video, joining a host of other options for indie filmmakers. Budget is no longer an excuse to settle for middling quality or a form factor that doesn't quite work for you. For well under $2,000 body-only, you get an unbeatable package that can truly do it all.
The GH4 is an amazingly well executed, future-proof video camera that can start paying dividends right now. The only stumbling block seems to be UHD adoption, which hinges on both content distribution and display sales. But regardless of whether or not the world is ready for the leap to 4K, the GH4 is here and reporting for duty.
More of the same great design
The GH4 ticks off a laundry list of items that video shooters were undoubtedly clamoring for. Yet, the exterior of this new camera hasn't changed in any substantial way. The GH4 is based around the same design as the tried-and-true GH3, meaning that it's ready to integrate into any number of shooting solutions on the market—including what you might already own. So, you get more features and power inside an enclosure that is the exact same size.
The articulated, pivoting touchscreen makes the GH4 almost as easy to handle as the Canon EOS 70D, one of its main rivals. But, since there's no mirror or mirrorbox, the GH4 is about a quarter lighter (0.22 lbs) than the Canon. It's also more than 40% lighter than the 5D Mark III. And that's before you mount heavy EF-mount glass, which will also be heavier than what's available in the Micro Four Thirds family. While it might seem like we're making a big fuss over a few ounces saved here and there, any shooter worth his or her salt will appreciate the difference after a long day of lugging gear bags around airports.
If you need even more data from the GH4's sensor, there are off-device recording options both through HDMI and the production-grade port attachment. For $1,997.99, the DMW-YAGH adds HD-SDI which can output 4K and HD at full-bore 4:2:2 with 10-bit color. You'll also add real XLR audio input with phantom power and external level controls, not to mention a full-size HDMI so you don't have to fiddle with a finicky micro HDMI plug. Finally, even though it doesn't contain any extra batteries, the YAGH features a pretty standard DC-in jack for either plugging in when you're all set up in a studio, or when using external battery packs on location.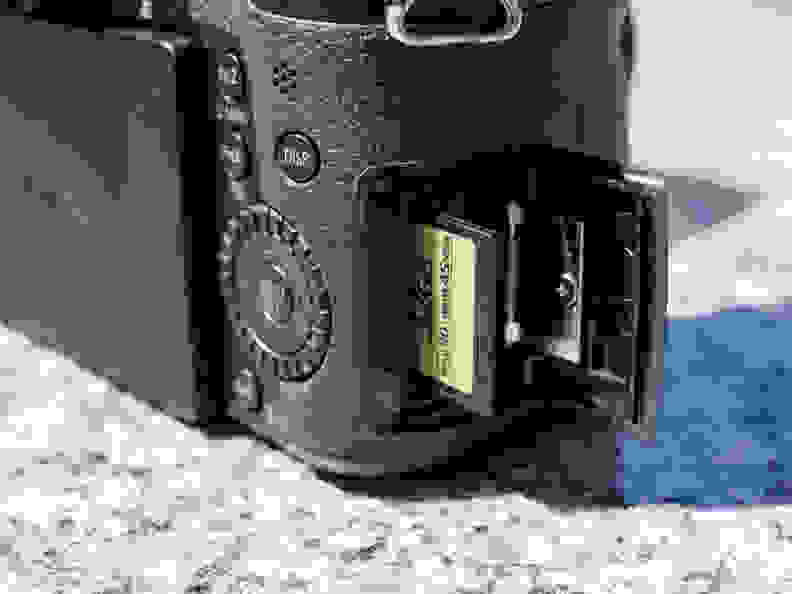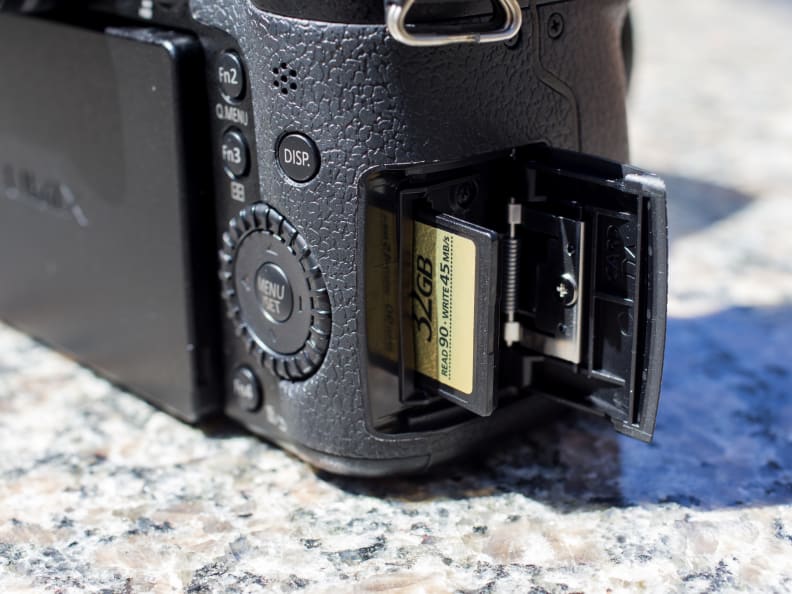 In this configuration, the GH4 can be directly compared to production cameras like the new Blackmagic Studio Camera 4K or the RED Epic. Even though you don't get a global shutter with the GH4, you're looking at paying $3,300 for a studio-ready solution with the right features and I/O. Even if you just intend to use it as a B-cam (or even a crash cam) to support your more expensive equipment, this will be a great way to go for many professional operations.
Using the GH4's Variable Frame Rate option, you gain a wide array of 12 different frame rates while recording in MOV. That includes an awesome 96 fps slow motion mode in 1080p HD, which makes any everyday activity look absolutely epic. And, to make full manual shooting easier, there's a customizable zebra mode with two presets. Automatic synchro scan can help you eliminate flickering fluorescent lights and lines on displays with little fuss. Finally, an audio test tone rounds out the new features, giving the GH4 a pro-grade bag of tricks.
The GH4's dynamic duo does what few other cameras can
The GH4 goes a long way to establish itself as a legitimate contender as soon as you start looking at the spec sheet. The recording resolutions and bit rates alone read like a video shooter's Christmas list. This new Lumix delivers a huge number of new options in 1080p and 2160p. In HD and 4K, you have bit rates all the way up to 200 Mbps (ALL-Intra) and 100 Mbps (IPB). Like we mentioned above, you'll be limited to slightly less chroma depth, with subsampling at 4:2:0 when recording to an SD card. While you can't get 4K at 60p, 30p and native 24p are present and accounted for.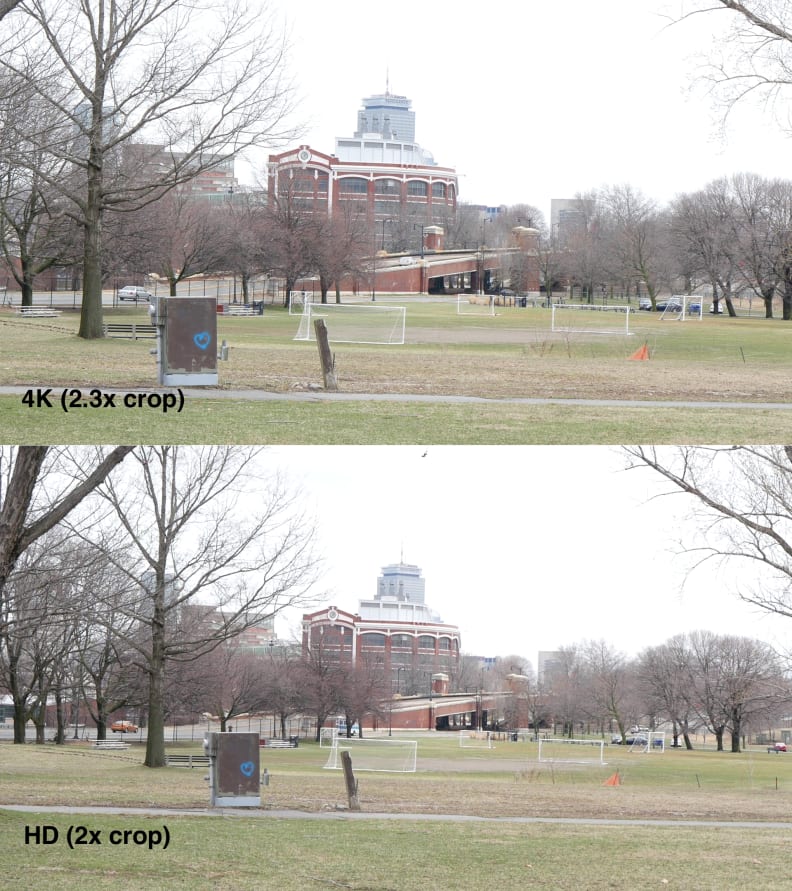 Something we noticed while shooting 4K UHD and HD back-to-back is that the crop factor changes, occasionally forcing us to reframe our shots. That's because the GH4 uses different parts of the sensor to grab 4K. It's complicated further if you switch into full 24 Hz (Cinema) mode, since that unlocks yet another 4K resolution—this time a slightly wider 17:9 aspect ratio (at 4096x2160).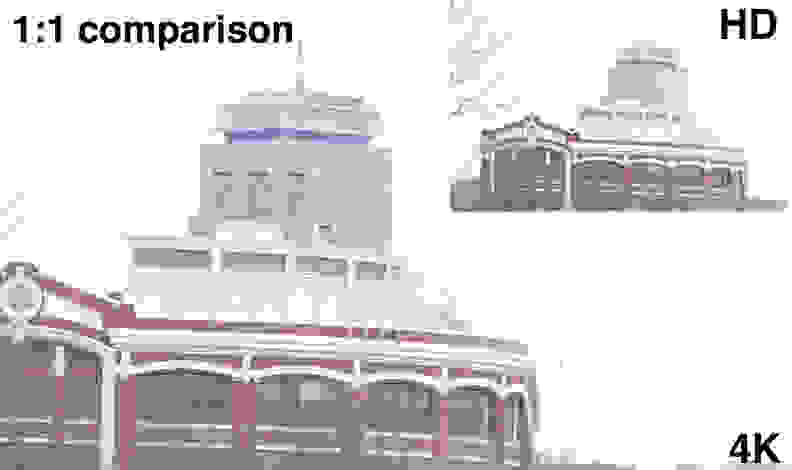 For 4K, the crop increases to 2.3x, since the GH4 is only using the middle of the sensor. Instead of binning multiple pixels, the GH4 can record at the native resolution with a 1:1 pixel relationship. This is advantageous since you'll see a slight uptick in sharpness, as every effective pixel in the area used corresponds to one in the video file recorded. If you want to increase the angle of view, you could always use something like a Metabones Speed Booster to change up the crop factor when using non-native lenses.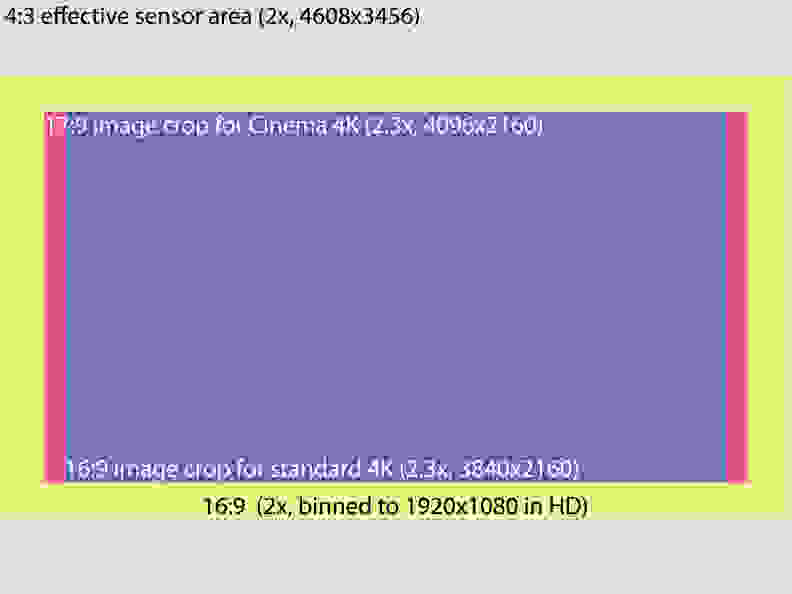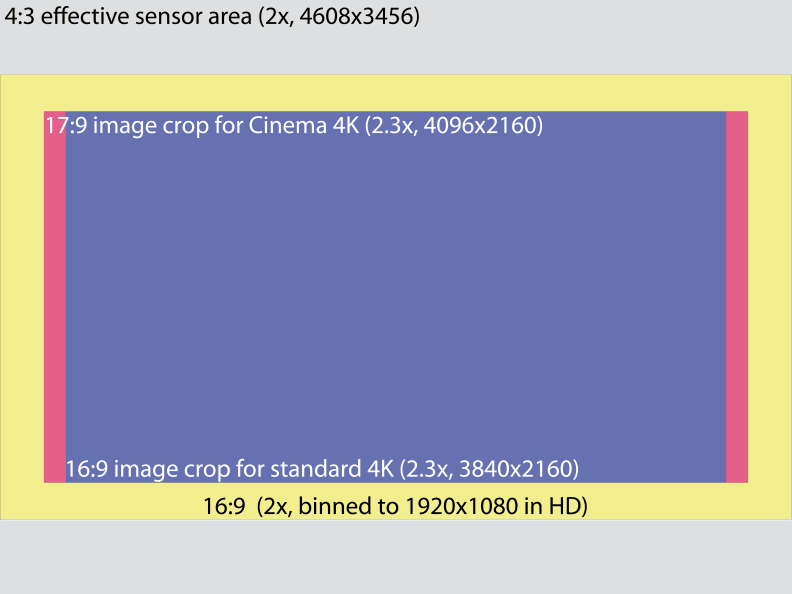 At long last, Panasonic has wised up and realized that some people may want to shoot in different regional frequencies. The GH4 can be used wherever you want, be that a PAL or an NTSC region. On top of that, you can also switch over to true 24Hz for cinema shooting. On top of that, luminance levels are also adjustable. Choose from the standard 16-255, 16-235, or 0-255 for the full range.
Editor's Note: If you're curious, check out full-res screenshots of our sharpness chart for 4K and HD resolutions.
4K may not be practical yet, but gosh is it nice.
First, a little about our methodology. This is the first full-fledged Ultra HD hybrid camera our labs have ever seen. As a result, we had to improvise a bit to get results that worked within our current, HD-centric scoring system. Luckily, we had Panasonic's own 65-inch AX800-series 4K television in-house for testing by our televisions team. Since we didn't have a computer that could smoothly project a 4K image readily at hand, we played footage directly from the GH4 over HDMI to the AX800. This means that, depending on your equipment and workflow, your results may differ from ours.
Sharpness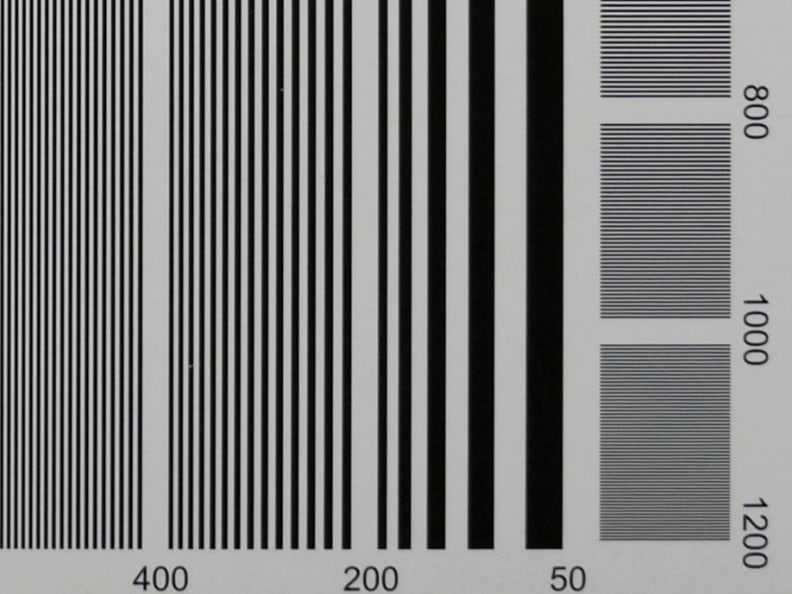 Even though we don't have a formalized 4K sharpness testing methodology (yet), using our test designed for HD yielded some amazing figures. The GH4 just about maxed out our DSC Labs CamAlign MultiBurst test pattern chart on the vertical axis. In bright light, we measured 975 line pairs/picture height (lp/ph) horizontal and 1100 lp/ph vertical. The GH4 also held onto detail incredibly well in our low-light sharpness test, scoring 900 lp/ph horizontal and 940 lp/ph vertical. For reference, typical AVCHD DSLRs top out around 700 lp/ph. We also used the AX800 to view downsampled 4K straight from the camera. When downsampled to HD, the 4K bright light sharpness chart video registered 825 lp/ph horizontal and 850 lp/ph vertical, a bit sharper than the 800/750 lp/ph we measured from the native HD sample.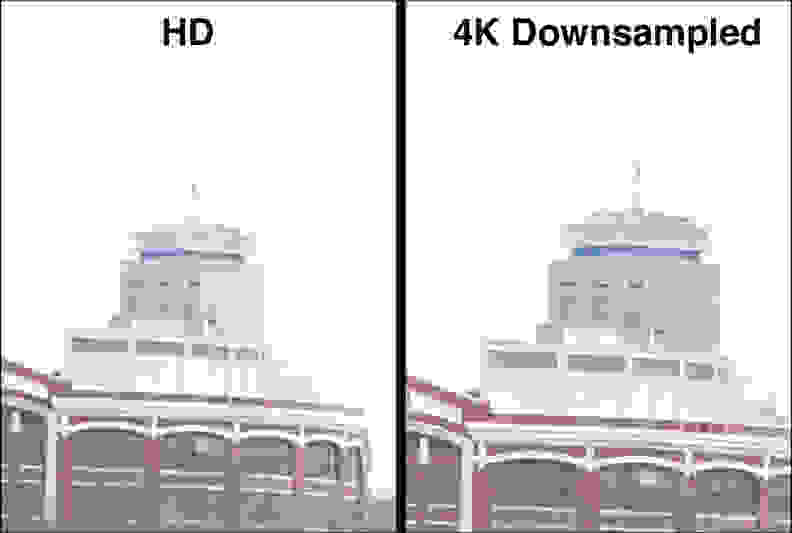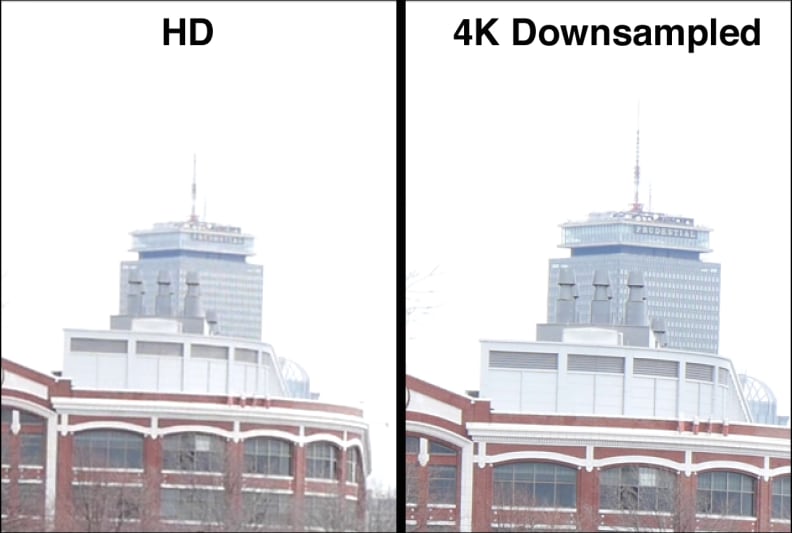 Rolling Shutter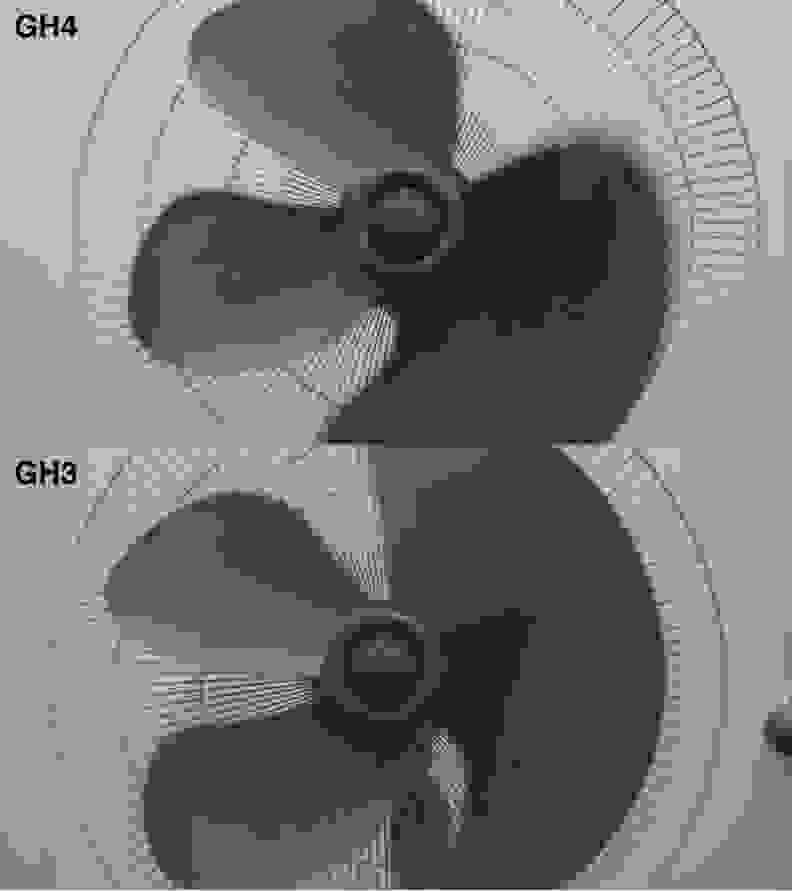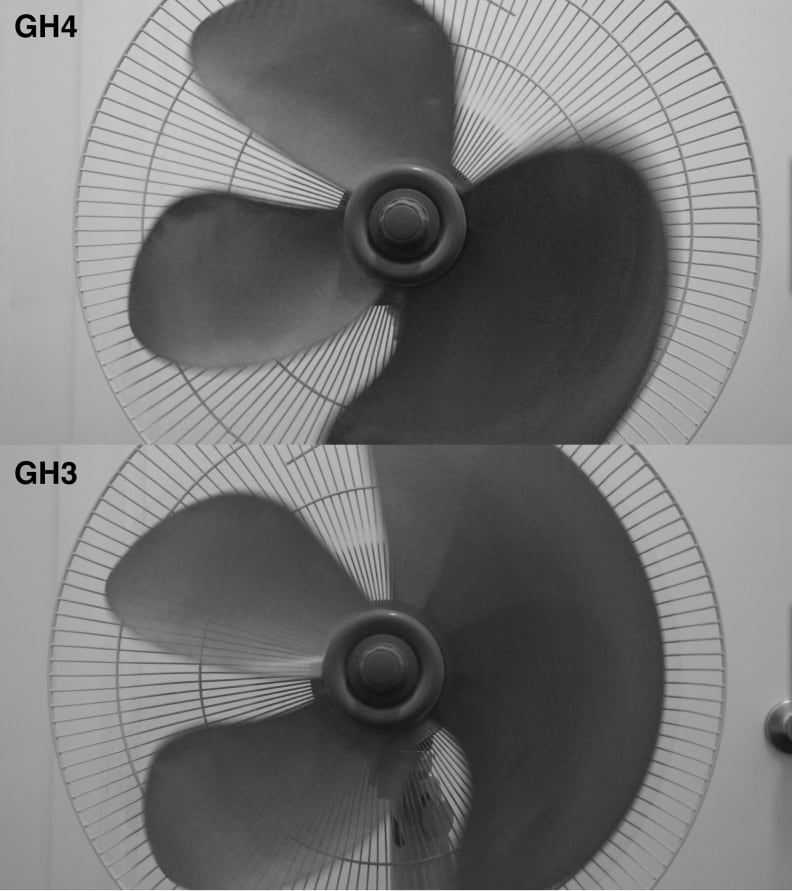 Panasonic tells us that the sensor in the GH4 has a faster refresh rate than the GH3's sensor. In order to check this, we set both cameras to 1/1000th of a second and identical HD recording modes, and pointed each at a spinning fan. Rolling shutter is not significantly better or worse than what we saw from the GH3, but might be less of a problem in some instances.
Low Light Sensitivity
Even though we were blown away with the GH4's resolution performance, we were also impressed with the ISO range and low light sensitivity. The range is diminished when compared with what you get in still shooting, with only ISOs 200 to ISO 6400 selectable in video. It's not as ridiculous as what you can capture with Nikon's D4S and its 409,600 max ISO, but it's more than enough for realistic scenarios. In our low light test, with auto gain on, the GH4 produced an image at 50 IRE with only 2 lux.
Dynamic Range
Panasonic has you covered from a color grading and DR standpoint. The Cinelike D color mode is designed to be a flat color profile, and should help you get the most out of each frame. With this color mode selected, we ran our typical dynamic range test. We were able to eke out around 10.5 to 11 stops from the GH4 at base ISO. Furthermore, that was a number that didn't waver much even at higher sensitivities (the video ISO scale stops at ISO 6400). In HD, we found that you could get a little bit more DR from the GH4. We ran this test with the 200 Mbps ALL-i video, so it's understandable that you might see a little bit less clipping, but not enough useful range to make it worth the tradeoff in resolution.
As a contrast to those results, we also re-ran our GH3 DR results. At ISO 200, we measured about 12 stops of DR. Again, those last couple fractions of a stop aren't going to a world of difference when you're pushing the camera to its limits. In our opinion, the GH4 is on par with the GH3 for most situations.
With the GH3 hitting record low prices, is the GH4 worth it?
In a word, yes. For videographers who make their living capturing moving images, absolutely. As far as we can see, the video quality of the GH4 is worth the $700 premium—not only to futureproof your footage, but also to get more detail from downsampled 4K right now. The GH4's 4K abilities are unlike anything we've ever seen for less than $2,000, in a complete package that doesn't feel like it's kludged together. The attention to detail in the user interface and control scheme is top notch. Quite frankly, the GH4's performance and experience make the specialty HD cinema cameras and HDSLRs that are around the same price feel rough around the edges.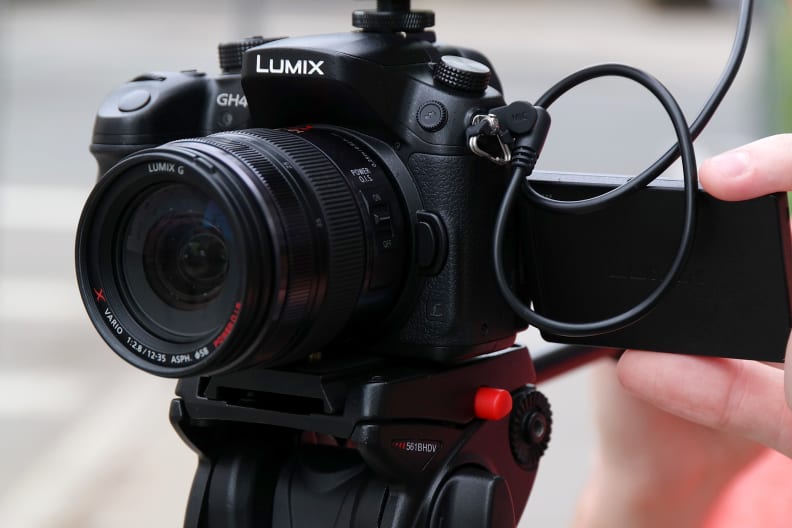 Looking at the numbers and reflecting on our hands-on experience in the field, the GH4 is a truly groundbreaking new camera. Without a doubt, this is set to become a hero camera for amateur filmmakers all around the world. This is a complete solution that's unbelievably easy to use, fits into a terrific ecosystem (of both GH-designed accessories and Micro Four Thirds lenses), and will give you the results you're looking for.
The 4K competition is getting to be good, but far from ready-to-rock. The only cameras on the horizon that might be able to compete aren't even available to buy as of this writing, though they're coming.
The Blackmagic Studio Camera 4K has a global shutter, along with the oh-so-adaptable active Micro Four Thirds mount, matching many of the features of the GH4 and the DMW-YAGH for around the same price. But, its 4-hour built-in battery and overall form factor makes it more stationary than portable. Sony's upcoming A7S, with its full-frame sensor, sounds promising, but it can't record 4K in-camera—you'll need an external recorder to accomplish that, something that'll run a few grand extra. Unfortunately, the A7S is also $900 more expensive body-only, making it a different kettle of fish in that regard, too.
This is the ultimate run-and-gun cinema camera, that also is capable of transforming into a studio-grade tool.
Don't get us wrong, the GH3 is still a very capable camera. If you're on a tight budget, we wouldn't hesitate to recommend it. But, like we insinuated at the top of this section, the GH4 puts you in a whole new league if you can afford to stretch your resources. This is the ultimate run-and-gun cinema camera, that also is capable of transforming into a studio-grade tool. In many ways, it feels like the fulfillment of everything Panasonic set out to do with the GH3, while also taking a step into the brave new world of UHD.
Meet the tester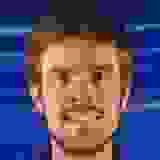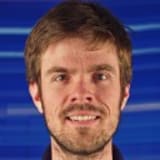 Brendan Nystedt
Contributor
@bnystedt
Brendan is originally from California. Prior to writing for Reviewed.com, he graduated from UC Santa Cruz and did IT support and wrote for a technology blog in the mythical Silicon Valley. Brendan enjoys history, Marx Brothers films, Vietnamese food, cars, and laughing loudly.
Checking our work.
Our team is here for one purpose: to help you buy the best stuff and love what you own. Our writers, editors, and lab technicians obsess over the products we cover to make sure you're confident and satisfied. Have a different opinion about something we recommend? Email us and we'll compare notes.
Shoot us an email