Polaroid, while a shell of its former self, has spent the past year or so trying to find its strengths as a brand. You've been able to buy anything and everything Polaroid, from TVs to LCD picture frames, to rebranded Fujifilm Instax cameras—original products have been few and far between.
Finally, it's tapped into a tiny sliver of that old Edwin Land magic. You might not associate instant photography with action cams, but that isn't stopping Polaroid from promoting the super-adorable Cube (MSRP $99.99). While we're certain that GoPro isn't shaking in its boots, this well-designed, clever video camera could win fans based on its sense of style and tidy footprint.
Design
We can't deny the aesthetic appeal of the Polaroid Cube. It's just so tiny and adorable that it immediately stands out from any of the other macho, tough action cameras on the market today.
We really grok the old-school Polaroid rainbow stripe that made the Polaroid One Step Land Camera so iconic. That stripe is what informed the design of the Instagram app logo, so it lives on in the minds of people that weren't born in the heyday of instant photography.
We have to hand it to the designers of the Cube: This action camera is small, and it keeps things very tidy. Ammunition, the house behind the iconic Beats headphones (pre-Apple ownership), is no stranger to creating strong brands through striking industrial design. Unfortunately, this is the first time we've been able to actually get our hands on it, since it was behind glass at CES 2014. It calls out to be touched and picked up and it's great to finally see it in the (rubber) flesh.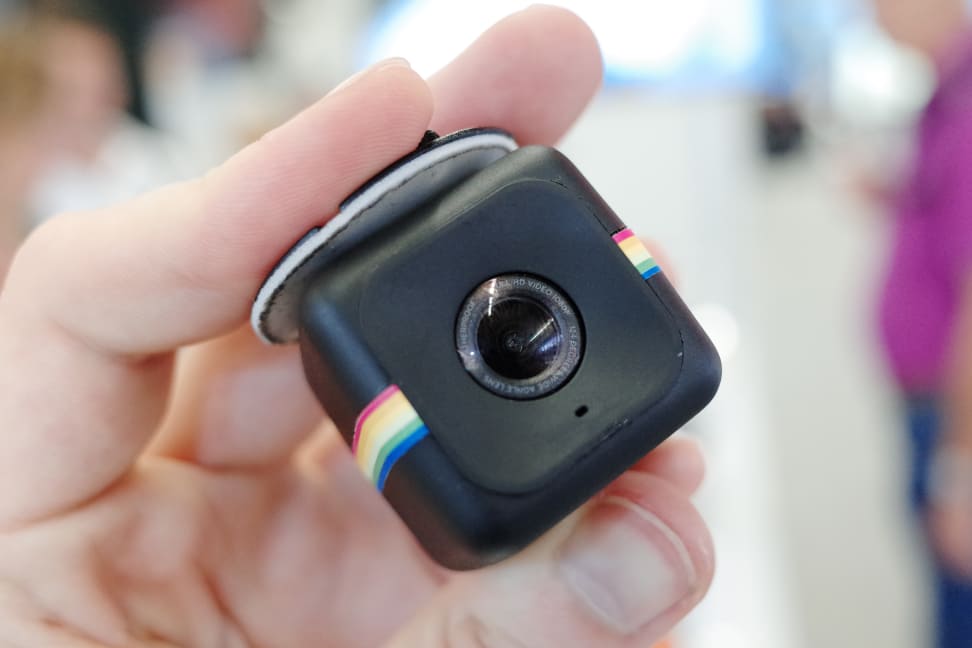 Of course, the front of the Cube is where its wide-angle lens lives. It's a 124-degree field of view and it can record 6 MP images, along with 1080p video. On its bottom is a recessed metal divot. This is a magnetic area designed to stick to exposed metal, making it easy to mount. Behind the lens is a... plastic plug. It's designed to be screwed out with a coin, exposing the microSD card slot, micro USB port, and simple 1080/720p resolution switch. The top of the device is where you can find the camera's record button. It couldn't be more straightforward.
Features
Bare-bones, but that's not bad.
Given how small this li'l guy is, we weren't shocked to hear that Polaroid's engineers left the kitchen sink by the wayside. You won't find WiFi, NFC, or anything too fancy. For $100 bucks, you can get basic stills and video.
Polaroid says that you can get up to 90 minutes of recording time on a single charge. We're happy that the Cube charges via micro USB, since it means that you can use just about any smartphone charger to juice it up. The upper limit of SD card compatibility appears to be 32 GB, but since the battery only lasts 90 minutes anyway, it doesn't seem like a limitation at all.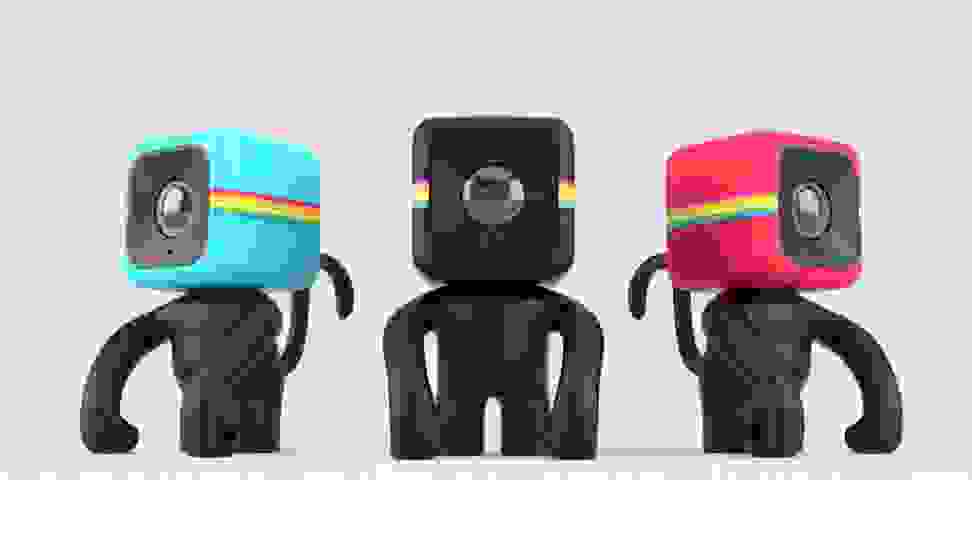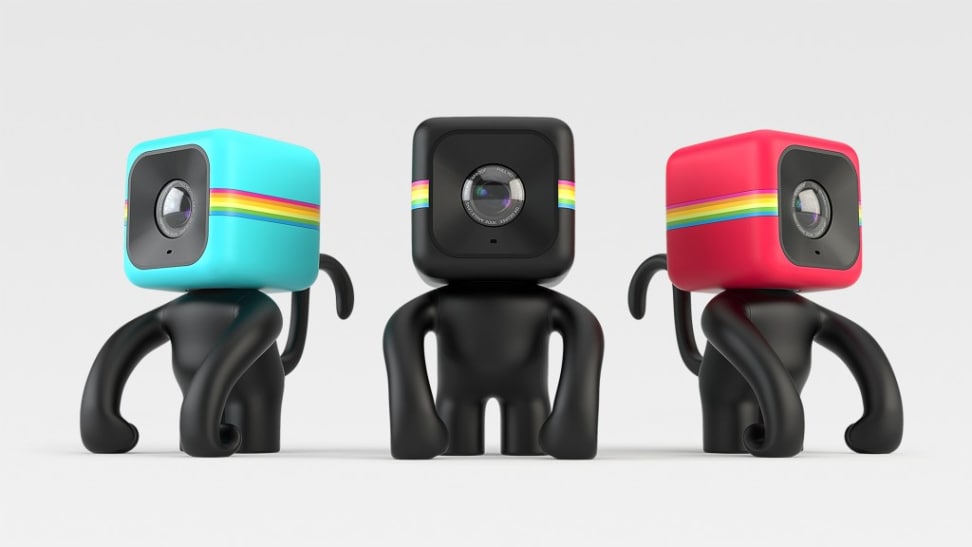 The Cube's small size makes it an obvious choice for mounting to just about anything. At its Photokina booth, Polaroid showed off mounts for bicycle handlebars, helmets, a waterproof case, a tripod mount, and even something called a monkey stand. And if the monkey stand doesn't make you stop and emit an audible chuckle you might want to get your sense of humor checked.
The footage we've watched from the Cube looks good enough for web sharing. The lack of anything like ProTune means that GoPro's position in the market for high-quality video is probably safe.
Conclusion
A fun toy for the right price.
There are two surefire ways to get shoppers to sit up and take notice: design your product well, and sell it for a reasonable price. Because it's up against $200+ action cameras, we think the Polaroid Cube has the blend of cost and cuteness just right to make its way into plenty of stockings this Christmas season.
Just simply as a photographic novelty, the Polaroid Cube has undeniable charm—even if it's not exactly high technology.
While we're unlikely to recommend this to demanding action videographers, it's a small price to pay if you've shied away from more complicated mountable video cameras in the past. Just simply as a photographic novelty, the Polaroid Cube has undeniable charm—even if it's not exactly high technology.
Our editors review and recommend products to help you buy the stuff you need. If you make a purchase by clicking one of our links, we may earn a small share of the revenue. Our picks and opinions are independent from any business incentives.