Travelers love to bring home memories of their journeys. Some voyagers prefer still photos, while others pick video as their medium of choice.
Today, there are plenty of great video cameras for recording vacation memories. Ideal features include a decent zoom range and a light, possibly compact body. Of course, the image quality for the buck is always something to look for, too. Here are some of our favorite video cameras for filming your travels.
Compact Cameras
If your budget is limited and you don't want to carry two devices (especially when one will do just fine), a video-friendly compact camera is your best bet. We'd recommend the travel zoom category in particular. These cameras are certainly small and lightweight—pocketable, even. As for video quality, it can be nearly as good as many dedicated camcorders. And hey, they're better at stills than any camcorder you can buy. It's a twofer!
Our runner-up for 2012 Best Travel Zoom of the Year, the Sony Cyber-shot HX30V is a particularly capable video camera. It can record all the way up to 1080/60p full HD video (most cameras and camcorders top out at 1080/30p or 1080/60i) as well as lower resolutions and frame rates, and both AVCHD and MP4 formats. The 20x zoom range covers most routine shooting situations, and it produces extremely sharp, moire-free video in good light.
Also worth a look is our Best Travel Zoom winner, Canon's PowerShot SX260 HS. While its video isn't up to par with the class-leading HX30V, it is a better all-around performer, taking both stills and video into consideration. It captures video at 1080/24p for a more cinematic (though not as smooth) look than the Sony. If you plan to shoot as many stills as videos, it's a great choice.
---
System Cameras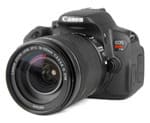 If you want better image quality and handling than a point-and-shoot and don't mind adding an extra pound or two to your bag, an interchangeable-lens camera might fit the bill. These cameras take great-looking still images (obviously) but also shine on the video side thanks to their quick and reliable autofocus, great sensors, and unbeatable shallow depth-of-field effects.
Our 2012 Best Value System Camera for Video is the Canon EOS Rebel T4i. While it's a very capable stills shooter, the T4i stands out because of its video implementation. A unique hybrid autofocus system ensures fast and accurate focus locking under almost any kind of lighting, and the intuitive swiveling touchscreen interface is a great help in composing otherwise awkward shots. With some lenses, it has completely silent autofocus, too—a first for a DSLR camera.
Runner-up is the Sony NEX-5R. Far more compact and lightweight than the T4i, it's a better bet for those who favor portability over ergonomics. Both its still-image and video quality are tops in class. Handling isn't as comfortable, the screen tilts but doesn't articulate, and the menu system buries video controls a bit. But it's one of the best affordable system cameras for video.
---
Camcorders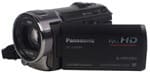 It might seem odd that it's taken us this long to get around to mentioning actual camcorders in this guide, but that's just a reflection of the times. Many compact and system cameras match and even beat what a decent camcorder can do. But plenty of folks still need a dedicated video camera, and plenty of excellent camcorders are still being made.
Our best suggestion for camcorder aficionados not looking to break the bank is the Panasonic HC-V700M, our 2012 Mid-Range Camcorder of the Year. For a MSRP of just $550 and street prices closer to $450, you get excellent video performance in both bright and low light, 16 gigabytes of internal memory, and a very useful 21x zoom range. Controls are plentiful, ergonomics are decent, and optical image stabilization helps you capture a shake-free video.
Panasonic really knocked it out of the park this year. The second-best bet for a dedicated camcorder is the HC-V500M, the little brother to the V700M. What makes it stand out? Well, most importantly it's the best overall performer in the sub-$500 MSRP bracket. A 3-inch touchscreen, optical stabilization, and plenty of manual picture controls make it behave like a far more expensive camera, though it's still as easy to use as an entry-level one.
If for some reason you have a grudge against Panasonic, the Canon Vixia M52 is also a great, travel-friendly model—albeit at a slightly higher price point. Though it loses out to the Panasonics in the aggregate, it's a fantastic performer with especially good low-light capability.
Our editors review and recommend products to help you buy the stuff you need. If you make a purchase by clicking one of our links, we may earn a small share of the revenue. Our picks and opinions are independent from any business incentives.