In many ways there has never been a better time for amateur filmmakers to go out and purchase new equipment. The rise of HD video has brought forth a wave of new products: from high-performance camcorders that sell for under $1000, to hands-free adventure cams that let you capture all the action for just a couple hundred bucks. And lets not forget all those video-capable DSLRs that offer the flexibility of interchangeable lens systems at lower costs than ever before.
So, if you're on the prowl for new video equipment, let us help you out for a moment. Here's our list for the top five camcorders for the budget filmmaker, with all of these models costing less than $2000.
Compact Prosumer Camcorder
The Canon HF G10 sets the bar for compact "prosumer" camcorders. Its price tag is high compared to the rest of Canon's Vixia line, but it includes a wide range of professional-grade video features and controls. With its suite of color modes and cinema filters, as well as its native 24p frame rate option, the camcorder is ideal for those who are looking to add a film-like aesthetic to their video recordings.
Thanks to Canon's redesigned CMOS image sensor, the HF G10 was able to churn out a incredible performances in our low light image tests. The camcorder was also strong in other areas, although its images weren't quite as sharp as the top-level competition (one of the G10's few downsides). The manual lens ring, large LCD, and old-fashioned electronic viewfinder are all pleasant to work with, and give the HF G10 the look and feel of a professional device.
The HF G10 also doesn't have XLR inputs, so if you're looking to hook up professional audio equipment to the camcorder you're going to be disappointed. Canon's answer to this predicament is the XA10 camcorder, a model that is nearly identical to the HF G10 except it comes with a removable handlebar with XLR audio ports. It does cost an extra $500, though, so you may be better off getting a separate digital audio recorder along with the G10 instead.
High-end Camcorder for Bargain Hunters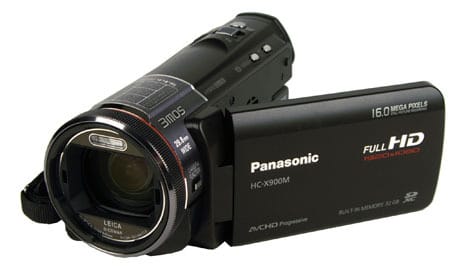 If you can't spend more than $1000, but you still want a high-end consumer camcorder with all the bells and whistles, the Panasonic HC-X900M should suit your needs. The camcorder doesn't feel or look as professional as the Canon HF G10, but it has a near-equivalent set of manual controls as well as multiple frame rate recording options (including a 1080/60p record mode, which the Canon lacks). Additionally, the X900M has a very compact design that makes it ideal for the nomad filmmaker.
Our main issue with the HC-X900M, and Panasonic camcorders in general, is the company's apparent lack of innovation over the past few years. The HC-X900M is nearly a direct copy of the HDC-TM900 before it, which was almost identical to the HDC-TM700 before that. So, for three years now, Panasonic has sat tight, offering minor updates to its flagship camcorder design. It doesn't bode well for people who are looking for exciting new features, but it is great for anyone who wants to shop around for a good deal. A refurbished, used, or clearance-rack TM900 or TM700 would net you a fantastic camcorder at a bargain price.
Video-Capable DSLR for the Masses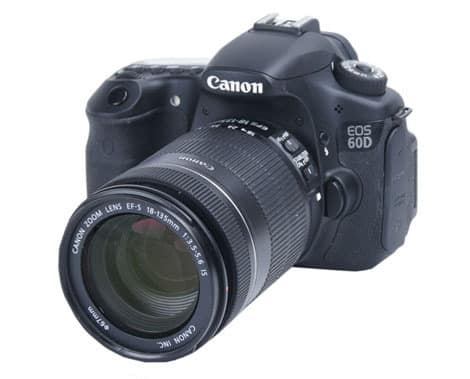 DSLR cameras that can record video are everywhere, and they're especially popular with filmmakers on a budget. Gone are the days where you'd have to spend upwards of $30,000 for a camcorder with an interchangeable lens system. Now you can do it for less than a thousand bucks with a video-DSLR. The Canon 60D is an older camera that hit the market a couple of years ago, but its video performance and capabilities are still impressive to this day.
It's not hard to find a 60D for under $900 these days, and usually you can find it packaged with a kit lens for around $200 bucks more. Purchasing a ton of extra lenses will obviously bloat your production costs, but good lenses can do wonders to enhance the quality of your video. In addition to its removable lens, the Canon 60D has a full set of manual exposure controls, all of which can be adjusted during recording, and it features cinema-friendly 24p and 30p frame rate options. Be warned, however, the EOS 60D doesn't have a good autofocus mechanism. In fact, it's downright terrible. If you're going to use the 60D to shoot video, you'll have to get accustomed to adjusting focus on the fly manually—that is, using the lens ring. It's not too hard to get the hang of, and it's more akin to what the pros do anyway, but it's something that people should be aware of before they purchase a 60D.
Canon makes a lot of good DSLRs that shoot video, but the EOS 60D gets you the best bang for your buck. It tested nearly as well as the EOS 7D camera, which usually retails for about $500 more than the 60D. Besides, the 60D also has the benefit of an articulated LCD, which is always something that makes the cinematographer's job easier.
Affordable Interchangeable Lens Camcorder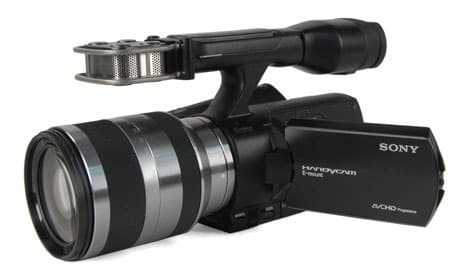 With the popularity of video-capable DSLRs increasing every day, Sony went out and did something very smart. They made the NEX-VG20 a product that combines the image quality and flexibility of an interchangeable lens camera, with the design and handling of a traditional camcorder.
From the outside, the NEX-VG20 looks just like a camcorder should. It has a rotatable LCD, a large, angled viewfinder, and a right side grip that makes handheld recording an ease. Taking a peak under the hood reveals a product that is almost identical to Sony's line of Alpha NEX digital cameras (the NEX-5N being the most apt comparison). The VG20 has an APS-C image sensor that is much larger than the CMOS chips found in traditional compact camcorders. The camcorder also has an interchangeable lens system that fits any Sony E-mount lens. A few years ago it would have been impossible to find a removable lens camcorder for less than $2000, but now you can get the NEX-V20 for around $1600 (body only).
Before you run out the door and swipe your credit card for a new VG20, you should be aware the camcorder does have a few problems. It has no motorized zoom control, so the camcorder is very difficult to wield with one hand. You must use a second hand to turn the zoom ring on the attached lens, and this doesn't always result in the smoothest of zooms. The camcorder also lacks some of the professional color and image controls that we'd expect to see from a model in this price range, but it does get by with the basics.
Action Sequence B-Roll Camcorder
We know what you're thinking. It sure looks funny to include a wearable adventure cam on a list of best camcorders for filmmakers, doesn't it? But the GoPro Hero2 is an exceptional piece of technology, and it can be a useful for tool for capturing those high-cost action sequences that you have to absolutely get right on the first take. From underwater shots to POV sequences from moving vehicles, the Hero2's versatile design will likely come in handy at some point during your filmmaking process.
Let's be clear, the Hero2 is not something you can use to shoot a feature film, but it's the kind of camcorder you definitely want to have in your arsenal. For $299 bucks, you get the tiny Hero2 camcorder, a waterproof case that lets you travel up to 180-feet below the Earth's surface, and your choice of mounts and attachments.
Planning a few car chase scenes in your indie film? Check out the GoPro Motorsports Edition that comes with a suction cup mount that will hold the Hero2 to the side of a vehicle traveling at speeds up to 150 miles per hour. If you're more likely to be filming shots on the beach, the Surf Edition may be the smarter direction to go. There's also the more generic Outdoor Edition that has a few helmet mounts that are great for point-of-view recording.
Our editors review and recommend products to help you buy the stuff you need. If you make a purchase by clicking one of our links, we may earn a small share of the revenue. Our picks and opinions are independent from any business incentives.