From your child's soccer game to skydiving from an airplane, action sequences are some of the most enthralling moments to capture on video. But if you want to make all your friends jealous on YouTube, you better have the right camcorder for the job. Otherwise, your action videos may turn out to be just as blurry as your memories.
Look Ma, No Hands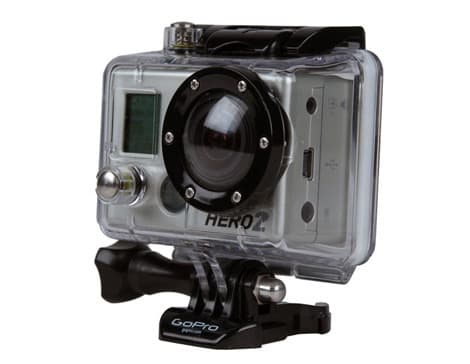 Here's a brilliant idea: wearable camcorders that allow you to be part of the action and record all the action at the same time. A relatively new camcorder market, wearable camcorders (or action/adventure cams) have become extremely popular over the past year thanks to their low price tags and versatile designs.
Currently, our favorite is the GoPro HD Hero2, which is the highest-selling camcorder on Amazon.com. But there is a ton of competition coming GoPro's way. Sony has jumped into the market with the new HDR-AS15 Action Cam, and GoPro's old rival Contour has released an impressive update to last year's Contour+.
The Hero2 even has competition coming from GoPro itself, as the new Hero3 adventure cam was just announced and is expected to hit stores next month (just in time for the holidays). Our testing has shown that all of these wearable camcorders have varying strengths and weaknesses. But the current GoPro is the easiest to use and it comes with the best assortment of mounts and accessories—all for under 300 bucks.
Remember the Children
Kids love to play with camcorders, and, let's face it, most of them are better at dealing with technology than their parents. If you're looking for a simple, cheap camcorder that your child can use to record their own adventures, you should check out the Samsung HMX-W300.
This compact, waterproof camcorder costs around $130, and its durable design means it'll last for a while (even in the hands of a child). The perfect companion for snorkeling, a trip to the amusement park, hiking, or snowball fights, the Samsung W300 is both easy to use and small enough to fit in your pocket when you're done shooting. Best of all, its simple user interface makes uploading video to YouTube a snap.
For the Soccer Mom (or Dad) Who Wants it All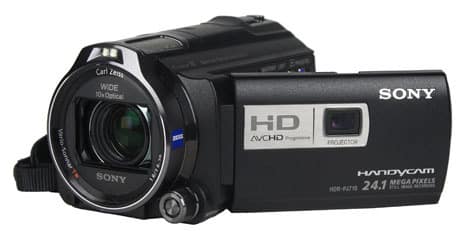 So you're ready to become a full-fledged sports videographer. You want a camcorder that's suitable for shooting Little League practice, but could also make do on the sidelines of a high school football game, maybe even capturing footage for the coach to analyze after the game. It comes with a steep price tag, but the Sony HDR-PJ710V is your best bet.
This high-end camcorder delivers impressive video quality and is packed with a number of action-oriented features to make the best of your videos: manual shutter speed control, a sports scene mode, top-notch image stabilization, and even a slow-motion recording option. Multiple low-light modes, including Sony's infrared NightShot setting, mean you can even capture action scenes in near-total darkness. Golf fanatics may also find joy in the PJ710's special "Golf Shot" mode that is specifically designed for, you guessed it, analyzing your golf swing. The Sony HDR-PJ710V has the whole package, but it will cost you around $1,300.
Our editors review and recommend products to help you buy the stuff you need. If you make a purchase by clicking one of our links, we may earn a small share of the revenue. Our picks and opinions are independent from any business incentives.