It's certainly strange when the most buzz-worthy product at NAB isn't a camcorder or some kind of broadcast instrument. This is the National Association of Broadcasters convention, after all. But this year, there's an unlikely contender for the "most talked about" product on the show floor. It's a compact stabilization device from a small company called Freefly, and many people think it will be a game-changer for the filmmaking industry.
The product is called the MoVI M10, and it's a digitally-stabilized camera gimbal that gives users the freedom to move almost anyway they please—all while maintaining near-perfect image stabilization with a mounted camera or camcorder. That strange dance that's required by Steadicam operators need not happen here. The MoVI is so good at what it does, you can run at full speed and your shots will be stabilized. Sample video on Filmmaker Vincent Laforet's blog shows this off best. Freedom of motion. That's the key to the MoVI's brilliance.
How it works
The MoVI makes use of a triple-axis digital gyro-stabilizer. This gives you free range to pan, tilt, and roll the MoVI, all while the camera is digitally-corrected to remain perfectly still. Words don't explain the system very well, so check out our video from the show floor instead. Just to note—most of these people had never touched the MoVI before, so this is their first time using the device.
The MoVI has a couple different stabilization modes. In Majestic mode, the MoVI can be controlled easily by a single user (this is the mode shown in the video above). The gimbal interprets the operator's movements into stabilized pans and tilts in an effort to create smooth movement while maintaing camera or camcorder stabilization.
With two controllers, you can let one person control the MoVI itself, while another "gimbal operator" controls the mounted camera remotely. Think about it like this: The MoVI operator runs alongside a moving car to capture the shot of a driver's face. Meanwhile, the gimbal operator makes fine adjustments to the camera's position in order to keep the shot perfectly framed on the subject. This remote operation is performed via a Bluetooth connection between the gimbal and a Windows PC or Android app. Freefly proposed an iOS application would be available in the future, but no word as to when.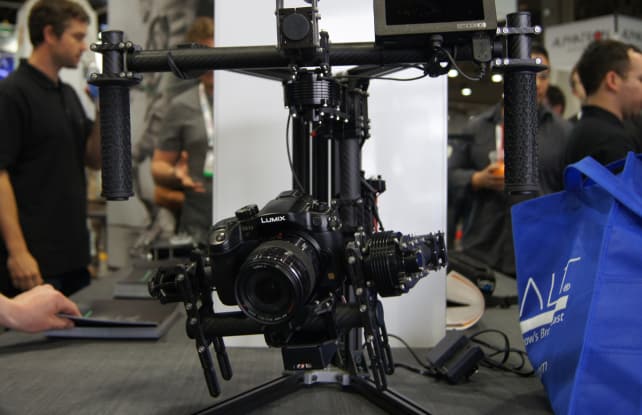 The MoVI M10 does all of this while only weighing 3.4 pounds and operating virtually silently. Through the wireless interface, the MoVI can export data about the exact camera position, height, pan, tilt, and roll for each shot, thus making it easier to reproduce shots later on. And if you want to give your footage a "handheld" feel, you can fine-tune the MoVI's stabilization correction, effectively telling the device how much shake you want to leave in your shot.
What's it gonna cost?
The MoVI M10 won't be cheap. Freefly plans to sell the stabilizer for around $15,000, which is prohibitively expensive for a no-budget filmmaker. Compared to a professional track and dolly setup or a high-end Steadicam, however, the MoVi M10 is a relative bargain.
Even better: Freefly is planning a smaller version of the MoVI M10, called the M5, which will retail for around $7,500. At half the price of the M10, a MoVI M5 is actually cheaper than a lot of pro stabilization rigs, putting it in the same price range as the Steadicam Scout. The M5 is said to have the exact same features as the M10, except it will be smaller and won't be able to carry as much weight.
If you can't wait to get your hands on a MoVI, you may want to keep a close eye on Freefly's website. The M10 is set to be available for pre-order (with a $3,000 deposit) sometime this week. The company expects to start shipping in the 3rd quarter of 2013.
Limitations
People at NAB have taken to describing the MoVI as a "game changer."
Tweet It
People at NAB have taken to describing the MoVI as a "game changer," and, while we do understand this sentiment, the product isn't without its limitations. For starters, the MoVI M10 has a max capacity of 10 pounds (the smaller M5 will be limited to 5 pounds). This means it can hold a RED Epic with a prime lens or a decked-out DSLR without much of a problem. At Freefly's booth we saw the MoVI work with a RED Epic, a Panasonic GH3, and a Canon 5D Mark III. According to Freefly, the system is also large enough to hold a Canon EOS Cinema camera (depending on the lens). The camera tray on the M10 is limited to 200(W) x 140(L) x 200mm(H).
If you want to stabilize something larger witha MoVI, then you're out of luck... at least for now. Freefly chatted us up about plans for a larger MoVI device (tentatively planned as the M20) that will be designed to support an Arri Alexa or a RED Epic packaged with a big zoom lens. In order to accomodate such a heavy load, this larger MoVI will likely incorporate a few design elements not found on the M10.
Since the MoVI is digital it requires power to function. According to the reps at the Freefly booth at NAB, the battery pack lasts around 3-6 hours depending on how you use the device. If that seems like a deal-breaker, hold on for a moment: Freefly is planning to ship each MoVI M10 with enough battery packs to handle a full day of shooting (probably 3 or 4 batteries). Extra batteries will also be available, but the pricing is still in the works.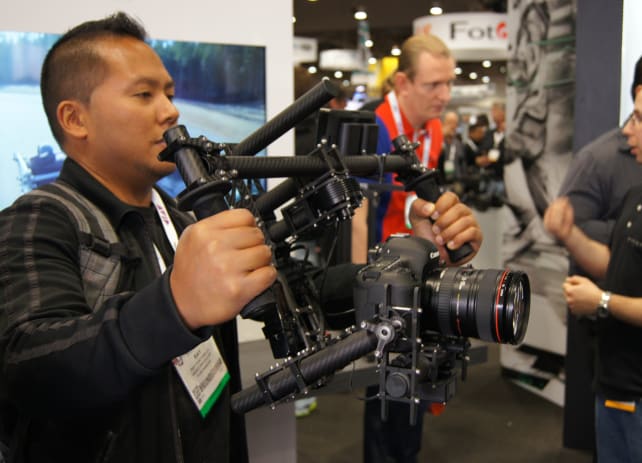 For now, the most significant limitation is cost. Shelling out $15,000 for a stabilization device should sound crazy to most people, but the MoVI could be worth it if you have a lot of tracking shots in the works. The M10 is so versatile that it could even replace your tripod for basic pans or tilts. If you're not won over by the MoVI yet, don't worry. Freefly and the MoVI won't be going anywhere anytime soon, and we're guessing the M10 will have a huge back-order once it goes on sale this week. Maybe it'll be best to wait for the next-gen model, so Freefly has time to work out any kinks that might come up down the road.
Our editors review and recommend products to help you buy the stuff you need. If you make a purchase by clicking one of our links, we may earn a small share of the revenue. Our picks and opinions are independent from any business incentives.