Camcorders
Canon Announces New Professional Filmmaking Camera: the EOS C300
Canon's newest camera, the EOS C300, may prove to be a game changer for the filmmaking industry.
Canon's newest camera, the EOS C300, may prove to be a game changer for the filmmaking industry. Combining an interchangeable lens system with a brand new Super 35mm CMOS sensor, the EOS C300 is a "digital cinema camera" that is designed to fit the needs of the professional filmmaker. The EOS C300 will be available in two models: one with an EF lens mount that is compatible with Canon's EF lens system, and one with a PL lens mount for use with cinema-standard PL lenses.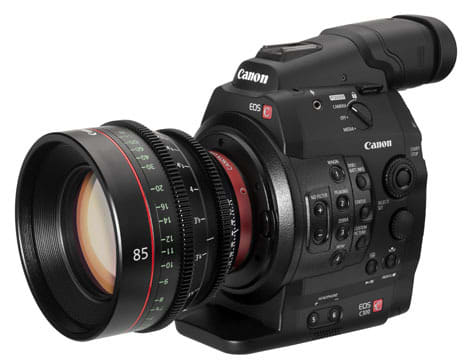 The biggest news for the camera involves its brand new CMOS sensor that offers an active image size of 24.4 x 13.5mm and an effective pixel count of nearly 8.29 megapixels. The camera uses MPEG-2 compression to record video at a 50Mbps, 35Mbps, or 25Mbps bitrate, and it supports both NTSC and PAL video signals. At a 1920 x 1080 resolution, the C300 offers frame rates of 60i, 30p, and 24p recording, as we 25p and 50i frame rates. The camera does not offer 1080/60p recording, but a 60p frame rate is available with 1280 x 720 recording. Video is recorded to Compact Flash memory cards, and the camera is outfitted with two card slots.
The C300 camera will use Canon's XF codec to record HD video, which is the same codec used on Canon's line of professional XF camcorders. The codec allows for 4:2:2 color sampling, enabling the C300 to capture more color information than cameras or camcorders that use 4:2:0 color sampling. Canon's hope is that this will result in cleaner, sharper colors that don't fade or blur around the edges.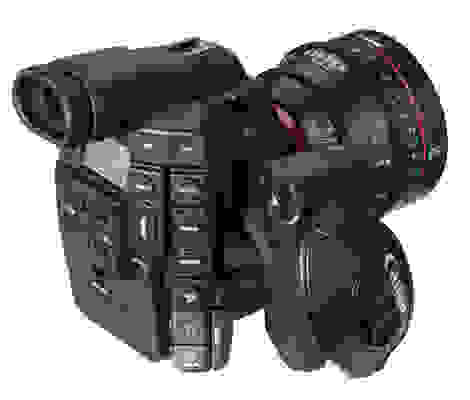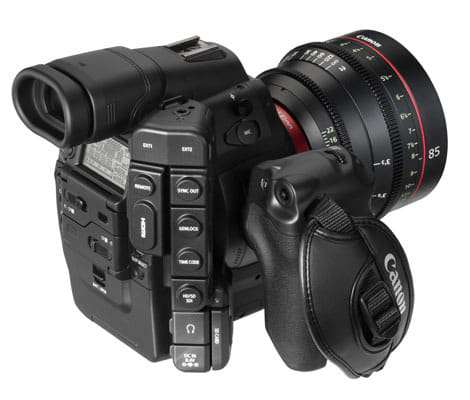 Since the image sensor was designed with filmmaking in mind, Canon claims the camera will offer a wider dynamic range than the competition, as well as a reduced rolling shutter effect and minimal moire artifacting. While the camera is only equipped with one image sensor, the DIGIC DV III Image Processor separates the RGB signals into three separate channels. This allows for a single Full HD image for each color channel (red, blue, and green).
At Canon's Hollywood event, the EOS C300 was only part of the story. Canon's new lineup of seven EF Cinema lenses will work with the C300 camera. The new cinema lenses include four zoom lenses (two for EF mounts and two for PL mounts), and three fixed focus lenses (all for EF mounts). For more information about these lenses—including pricing and availability—check out our article at DigitalCameraInfo.com.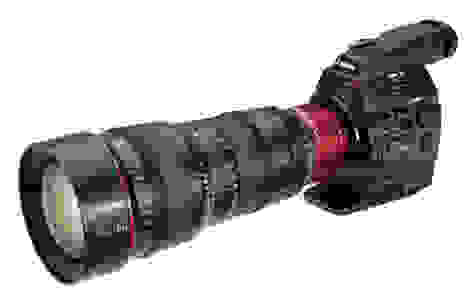 The look of the EOS C300 somewhat resembles that of a traditional DSLR, but the camera is clearly unlike anything Canon has released before. According to Canon's press release, the C300 represents the company's "full-fledged entry into the motion picture industry", and it is clear Canon designed the camera with filmmakers in mind. The camera weighs just over three pounds, includes a 1.55-megapixel electronic viewfinder, and comes packaged with a removable 4-inch monitor and control panel. The camera can be outfitted with a hand grip, designed for handheld shooting, or this grip can be removed for different shooting style.
The camera includes all the video connectivity options you'd expect from a professional camcorder. These include an HD-SDI output, Genlock and Timecode terminals, audio ports with Linear PCM recording, a headphone jack, wired remote terminal, DC-input, and HDMI output (as well as a few others).
The Canon EOS C300 (EF mount) is scheduled for release in late January 2012, while the PL mount version (Canon EOS C300 PL) should be available in late March 2010. Both versions of the EOS C300 have an estimated list price of $20,000.
Visit Canon's website for more information about the EOS C300 and EOS C300 PL. And visit our sister-site, DigitalCameraInfo.com, for more information about Canon's new Cinema Lenses, as well as content about a new 4K concept DSLR that Canon revealed at the Hollywood event.
Begin Press Release
HOLLYWOOD, California, November 3, 2011/TOKYO, November 4, 2011 – Canon Inc. and Canon U.S.A., Inc. today raised the curtain on an all-new interchangeable-lens digital cinema camera that combines exceptional imaging performance with outstanding mobility and expandability to meet the demanding production needs of today's motion picture industry. The camera, which features a newly developed Super 35 mm-equivalent approximately 8.29-megapixel CMOS sensor, will be available in two models: the EOS C300 Digital Cinema Camera**, equipped with an EF lens mount for compatibility with Canon's current diverse lineup of interchangeable EF lenses for EOS single-lens reflex (SLR) cameras and new EF Cinema Lens lineup; and the EOS C300 PL Digital Cinema Camera**, with a PL lens mount for use with industry-standard PL lenses.
You can read the full press release for the camera here.
{:{PhotoGallery article.attachments}:}