JVC unveiled its first 3D camcorder today with the announcement of the GS-TD1 at CES in Las Vegas. This marks the third major manufacturer to release 3D camcorders for 2011. Sony announced its HDR-TD10 and Bloggie 3D camcorders yesterday, while Panasonic revealed its plan to expand 3D capability on a number of HD models using its 3D conversion lens.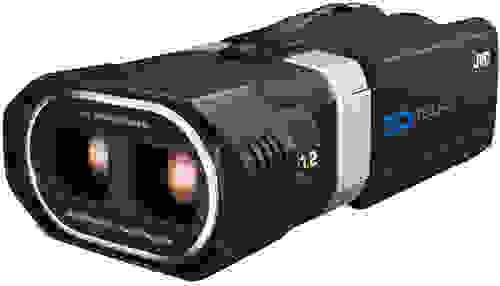 The JVC GS-TD1 uses two lenses and two 3.32-megapixel CMOS sensors to capture its 3D image—a system that is similar to what the Sony HDR-TD10 employs. JVC also touts its new high-speed processor as being powerful enough to handle two Full HD images simultaneously in order to deliver Full HD 3D recording. The camcorder includes two modes for recording 3D: JVC's new "LR Independent Format" as well as a "Side-by-Side Format" that uses AVCHD. Regular 2D video can be captured using AVCHD compression as well.
According to JVC, the newly developed "LR Independent Format" allows the GS-TD1 to capture a Full HD 3D image unlike any other consumer-oriented camcorder. Strangely, JVC abbreviates this compression system as "MVC". Using MVC compression, the GS-TD1 offers recording bitrates of 34Mbps and 22Mbps.
The GS-TD1's twin lens system allows for 5x optical zoom during 3D recording, optical image stabilization, and automatic parallax adjustment. This means you shouldn't have to calibrate the camcorder—like you must do with Panasonic's 3D conversion lens—before you can record 3D videos. The lenses also have very wide apertures of f/1.2, which should help produce better images in low light situations.
The camcorder comes with a 3.5-inch touchscreen LCD that can display 3D imagery without the use of special 3D glasses (just like the Sony HDR-TD10). Viewing 3D content on an HDTV, however, requires you to wear whatever special glasses the 3D TV requires. In addition to recording regular 3D video, the GS-TD1 can capture 3D photos and perform 3D time-lapse recording.
The GS-TD1 has 64GB of internal flash memory and an SD/SDHC/SDXC memory card slot. The camcorder will be available in March for $1999. JVC has also announced the Everio GZ-HM960, which has the capability to convert any 2D video into 3D, but does not record actual 3D video. You can read about the GZ-HM960 announcement, as well as other new Everio camcorders from JVC, here.
Our editors review and recommend products to help you buy the stuff you need. If you make a purchase by clicking one of our links, we may earn a small share of the revenue. Our picks and opinions are independent from any business incentives.