** Update **
Panasonic announced today that its line of new ultracompact camcorders—the HX-WA10, HX-DC10, HX-D1, HM-TA20, and HM-TA2—will be released in the US in June 2011. The five camcorders were previously announced at a Panasonic event in London England. Pricing for the US models will be announced roughly 30 days prior to shipping.
New features for the HM-TA20 and HM-TA2 that were unveiled by Panasonic include a tripod stand that ships free with both camcorders, a night video mode that uses a very slow shutter speed (1/15 of a second) in order to improve low light performance, and three recording effects (sepia, monochrome, and soft skin). The HM-TA20 will be available in orange, but the HM-TA2 will come in three color options: red, white, and dark grey.
Panasonic also released color specifications for the HX series of camcorders. The HX-WA10 is set to come in black, orange, or blue paint jobs; the HX-DC10 will be only available in orange; and the HX-D1 will have options for pink, white, and dark grey.
** original news piece follows **
February 16, 2011 –
Panasonic revealed five new compact camcorders today at an event in London, England. Three of the camcorders—the HX-DC10, the HX-DC1, and the waterproof HX-WA10—offer pistol-grip designs that are reminiscent of Sanyo camcorders from the past few years. The other two models, the HM-TA20 (also waterproof) and HM-TA2, are a continuation of Panasonic's mobile camcorder line that started with last year's HM-TA1.
The waterproof HX-WA10 is probably the most prized camcorder of the set, and it may help invigorate Panasonic's compact camcorder lineup. The camcorder can be used at a depth of up to three meters and it records Full HD video at a 1920 x 1080 resolution. The camcorder also has a 16-megapixel still image capability, a 2.7-inch LCD, and a 5x optical zoom.
The HX-DC10 appears to have similar specs to the HX-WA10, except it doesn't have the waterproof casing. It too offers Full HD video recording and can take 16-megapixel stills. The HX-DC1 has a still image limit of 14-megapixels, but includes a 3-inch LCD monitor.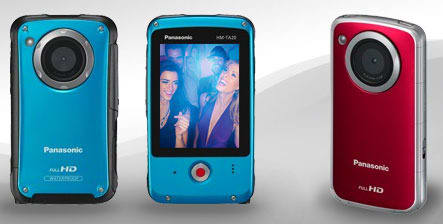 All three of the HX camcorders look eerily similar to Sanyo's classic pistol-grip camcorders, and that makes sense—Panasonic completed an acquisition of Sanyo in late 2009.
The HM-TA20 and HM-TA2 have a more rectangular design that is the tradition in the ultracompact camcorder market. Like the HX-WA10, the TA20 offers a waterproof design that is both shockproof and dustproof as well. Both the TA20 and TA2 have 3-inch touchscreen LCDs, can record Full HD video, and offer 8-megapixel still image capabilities.
Release dates and price points for all five new models have yet to be announced. It is unclear when (or if) these new camcorders will hit the shelves in the US, as Panasonic's announcement was limited to the UK market for now.
Our editors review and recommend products to help you buy the stuff you need. If you make a purchase by clicking one of our links, we may earn a small share of the revenue. Our picks and opinions are independent from any business incentives.