UPDATE: December 3, 2008 – Keeping with the theme of 'obsolescence obsolete,' Red Digital Cinema announced today a variety of upgrade options for current Red One users. The company also made some price cuts, released a few new specs, and gave vague estimations of release dates.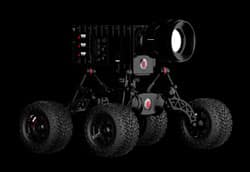 Owners of Red One cameras can trade in their models and receive $17,500 credit towards the purchase of an EPIC-X S35 Private Reserve—a package that is only available to current Red One customers. Users can also opt to receive the same amount of credit towards the purchase of a variety of 'Brains,' including the Epic FF35 Pro Cinema, Epic 645 Pro, and Epic 617 Pro.
The 3K Scarlet camera with 2/3-inch sensor and a fixed 8x lens is now priced at $3,000 (brain and lens only, $3,750 for complete kit) and has an estimated release date of Fall 2009. The Epic-X, which is only available as an upgrade from Red One, costs $28,000 and features a Brain, CF Module, Battery Module, and I/O Module (with a Summer/Fall 2009 approximate release date). The Epic Pro camera 'Brains' range from $28,000 - $53,000 and are scheduled for release somewhere between Summer/Fall 2009 and Spring 2010. As with all Red products, these delivery dates are 'subject to drastic changes.'
Founder Jim Jannard made the announcements via Red's message boards, ending his comments with a bizarre set of photographic teasers—one of a round, spiked object, and the other of a camera mounted on a large set of wheels.
---
November 13, 2008 – Red Digital Cinema has teased a multitude of new products on its forums this morning, revamping the design and direction of previous announcements, and dreaming far into the future with promises of the spectacular. At the core of the hype are three new camera systems that would function as both camera and video: the Scarlet, ranging from 3K to 6K resolution, the Epic, ranging from 5K to 9K, and the fantastical Epic Red 617, with a reported 28K resolution.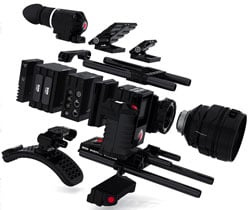 Red seems to be using its familiar tag line, 'Everything in life changes... including our camera specs and delivery dates...,' with particular emphasis, indicating that some or all of these products may be revised, perhaps drastically, or never appear at all. Only a few months ago, Ted Schilowitz, self-titled Leader of the Rebellion, touted the Scarlet camera system as a consumer camcorder for soccer moms. It is now a marketed as a 'professional' system.
As with past Red systems, the products are designed to be entirely modular, and appear to morph between familiar SLR shapes, handheld camcorders, and over-the-shoulder or mounted professional video cameras. No products are expected to deliver this year. The closest to actually materializing, according to dates, is the 3K Scarlet camera featuring a 2/3-inch 'Mysterium-X'sensor with a fixed 8x RED lens (price TBA), and a 5K Scarlet featuring an S35 Mysterium-X sensor (30 x 24mm) with a RED/PL/Canon/Nikon lens mount (est. $7000).
All details concerning the products are on Red's message boards.
Our editors review and recommend products to help you buy the stuff you need. If you make a purchase by clicking one of our links, we may earn a small share of the revenue. Our picks and opinions are independent from any business incentives.