In the past year since the release of the EOS 60D, we've felt that Canon's DSLR lineup had grown a bit stale, with the company favoring incremental improvements over bold innovation. In attempting to replace both their speed-oriented 1D Mark IV and their quality-oriented 1Ds Mark III professional cameras with one new model, however, we think Canon has taken a giant leap forward.
The Canon EOS-1Dx wants to be a jack of all trades, offering the speed needed by sports, action, celebrity and news photographers to go along with the full frame image quality and low light capability that studio, fashion, and landscape photographers require. Add to that the fact that the 1Dx is arguably the first DSLR that has been designed from the ground up to satisfy the desires of professional videographers as well, and you have one bold camera on paper.
The 1Dx brings with it a host of new technologies: dual image processors that are reportedly 17 times more powerful than the previous generation, a full-frame image sensor that tries to offer the same quality as 35mm film, and the ability to transfer images faster than ever via common Ethernet cable.
The greatest advances may have been made in the camera's video capture, with a full suite of manual controls, audio level readout during capture, compression types that are easier for professionals to edit, and industry standard timecode options for shooting with multiple cameras. According to Canon, the improvements to the camera's sensor design should also eliminate the sampling errors and moire that have plagued previous video-capable DSLRs.
With the camera set to ship at the end of March for $6800, the Canon 1Dx is expensive. However, Canon rates it as a professional workhorse, with durable, weather-resistant construction and a shutter life rated to over 400,000 cycles. Despite these advances, professionals upgrading from previous 1D cameras shouldn't feel too out of place the moment they pick up the 1Dx.
All told, you have a camera that looks to set the standard for the rest of Canon's DSLR lineup for at least the next year—and one we're very anxious to get into our labs to test fully.
The 1Dx offers all the manual control any photographer or videographer could want, with a full range of shutter speed, aperture, focus, white balance, and exposure controls. As Canon's flagship DSLR, there's no wanting for control whether you're capturing still images or HD video with the 1Dx.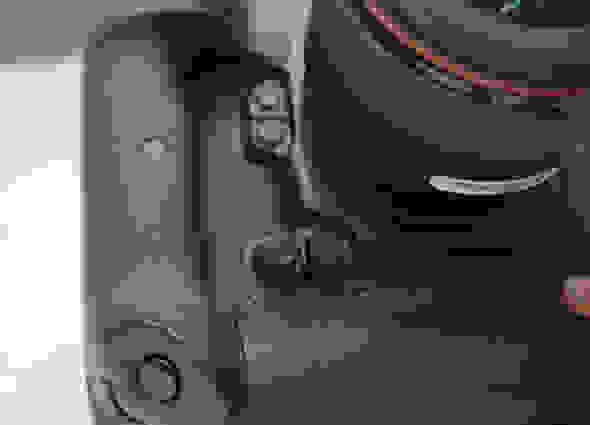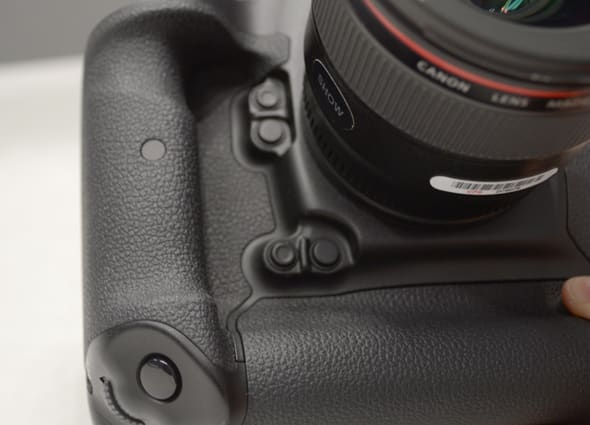 Compared to an entry-level DSLR, the Canon 1D does not offer a wide variety of shooting modes, with the core manual, aperture/shutter priority, and program automatic modes. This isn't a downside; the 1Dx simply doesn't need to offer a wide variety of creative modes, as it's designed to be a professional tool. In automatic mode, the 1Dx makes an automatic judgement of the scene and adjusts exposure.
The 1Dx offers a shiftable program auto mode, with a metering sensitivity of EV 0-20. Users can select to meter in center-weighted, pre-flash, mutli-spot (up to 8 readings), spot metering, partial metering, and 252-zone evaluative metering modes. That automatic exposure can be compensated +/- 5 stops in 1/3- or 1/2-stop increments, with flash exposure compensation limited to +/- 3 stops.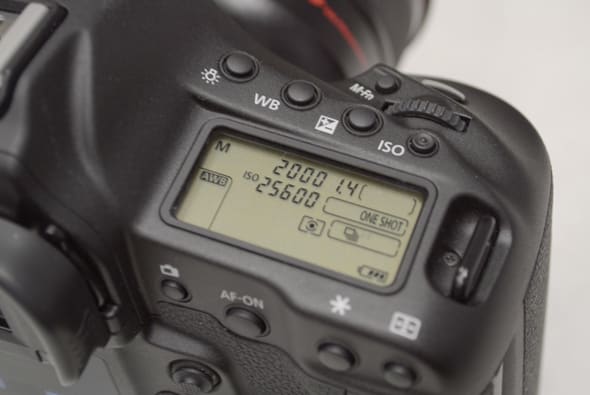 While many expect the technologies and advances in the Canon 1Dx to trickle down to future lower end models (as they did with previous 1D models), there has been a bit of an exchange over the last few years. The result has been the 1Dx adopting several design cues and controls that bring it right in line with how some lower end models operate.
The two noticeable examples of this on the rear of the camera are the dedicated live view button and the "quick" menu button. The "quick menu" is a truncated group of shooting controls that can be brought up on the LCD during live view (and during regular use) that allow for quick access to commonly altered shooting modes. There is still a top display for quickly altering main shooting settings, but it's an extra level of control that will be familiar to anyone who has used any of Canon's other DSLRs recently, as far down the line as their entry-level Rebel T3.
In general, however, the 1Dx will take some getting used to for anyone who isn't familiar with the workings of a professional-level DSLR. That being said, there isn't a radically different control scheme or menu system in place on the 1Dx, and the learning curve will be significantly shorter for anyone stepping up to the 1D series who has shot with previous Canon DSLRs of almost any level.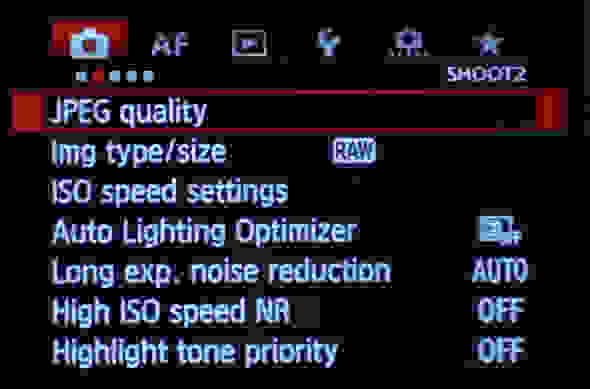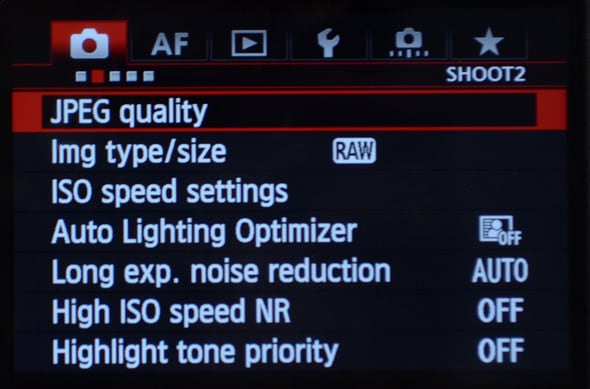 The Canon 1Dx sports a 3.2 inch rear LCD with a 1020k dot resolution. That level of detail allows for some fine focus adjustments (though we'd recommend the still superior optical viewfinder when possible), as well as checking of image detail on images in playback. The resolution difference will certainly be seen by those used to shooting with the 1Ds Mark III, which used an LCD with just 230k dot resolution. It also represents a smaller upgrade over the 5D Mark II and the 1D Mark IV, which used 920k dot resolution LCD monitors.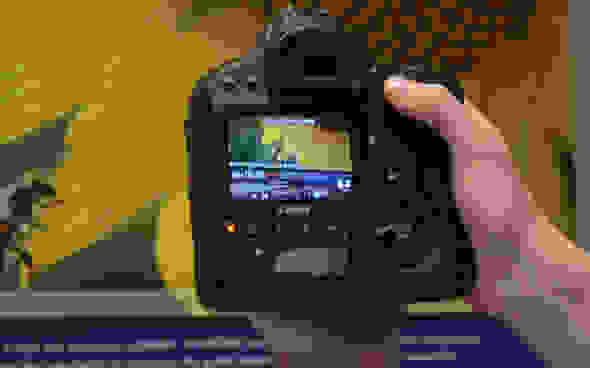 The optical viewfinder on the Canon 1Dx offers a 20mm eyepoint, 0.76x magnification, and 100% frame coverage. The camera utilizes an eye-level fixed pentaprism, and the viewfinder is very bright and clear. It also makes use of the Ec series of interchangeable focusing screens, allowing professionals to customize what is visible through the optical viewfinder to assist in achieving correct focus.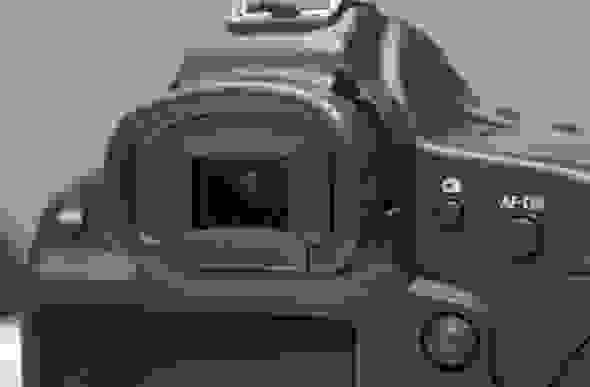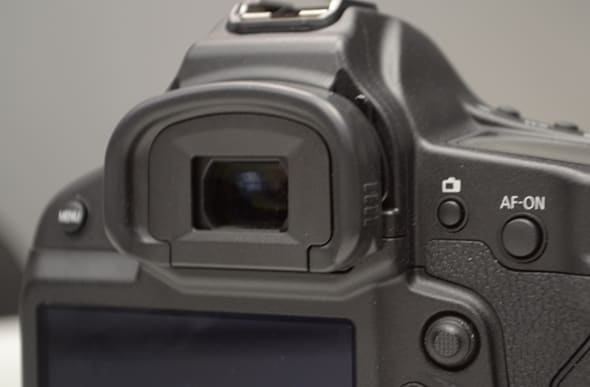 The Canon EOS-1Dx looks nearly identical to previous Canon 1D and 1Ds models, with only slight differences. Head on, the major changes are the 1Dx's regal "X" designation badge on the front, with four unmarked custom buttons placed around the lens. The custom buttons are positioned so that two can be used when the camera is being held by either grip.
The rear of the camera looks very similar to the Canon 60D, with a combination of rear control wheel, dedicated live view button, and quick menu key that brings a small selection of the most common shooting options onto the rear LCD for quick adjustment. The 1Dx also sports a rear control stick, designed for quickly navigating the menu.
On one side of the camera are the various input/output ports on offer: HDMI, AV/USB, LAN outputs, as well as mic, DC power, and remote inputs. There's also a small pop-out tab for unlocking and removing the battery, which slides out of the bottom of the camera. Overall the design makes few concessions to style, and everything is as spartan as you would expect from a professional photographer's main tool.
The Canon 1Dx does not feature a built-in flash, instead utilizing Canon Speedlite strobes through its hot shoe. The camera can also control strobes wirelessly, with a full measure of flash control built into the camera. The 1Dx offers exposure compensation of +/- 3 stops, with a flash sync speed of 1/250 of a second. Flash information, including flash readiness, sync, FE lock, and flash exposure compensation are all available in the viewfinder's informational readout.
The Canon 1Dx offers a 61-point autofocus system, with autofocus sensitivity from EV -2 to 20 at ISO 100 with an f/1.4 lens. This is three EV beyond what both the 1Ds Mark III and the 1D Mark IV were capable of. The system allows for the user to select any of the 61 AF points, with 41 points being cross-type dependent on the lens. Five of the center points are also diagonal cross type (again, lens dependent), and the AF and metering systems are all handled by a dedicated DIGIC IV processor with Canon also claiming improved AI Servo AF III functionality for focus tracking. The menu offers more insight into this functionality, with an entire tab dedicated to the camera's autofocus system and its options for tweaking sensitivity and tracking for sports and action photographers.
The Canon EOS-1Dx is the latest professional flagship DSLR from the company, aiming to replace both the 1Ds Mark III and the 1D Mark IV professional cameras. With both of those models being discontinued once the 1Dx hits shelves, that means that it will have to be a camera that can satisfy not only the sports, action and celebrity photographers with blazing speed, but can offer images of a high enough quality for fashion, studio, and landscape photographers whose work frequently ends up in print.
With 12fps full resolution RAW shooting, a new 18-megapixel full-frame CMOS sensor, and a new sensor design that allows for faster image readout with less noise, Canon may have accomplished their goal. This goes without even mentioning the new compression and sensor design that should eliminate moire and artifacting when shooting HD video. All in all, the Canon 1Dx has lofty goals, and is set to ship out at the end of March of next year. Read on to see our first impressions in using Canon's impressive headlining DSLR.
The 1Dx is, in many ways, the first DSLR that is really designed to offer professional-level video capture, with video an obvious and primary concern in the camera's design from the sensor through its menu and control scheme. Whereas the 5D Mark II was a full frame DSLR that pushed the boundaries of DSLR video, the 1Dx is a fully capable video camera that will fulfill many of the demands that videographers have of their equipment.
The 1Dx's biggest improvement in video quality will largely come with its sensor design. While Canon couldn't be specific about some of the sensor-level improvements made for video, they stated that the improvements in how the camera reads information off the sensor will "eliminate" moire from sampling errors, while the improvements in compression should drastically reduce artifacting in video capture. We'll have to get the 1Dx into our labs to check, but this should yield greatly improved sharpness.
The improvements go beyond that, however, with 1080i HDMI output for external monitors, 3.5mm mic input, industry standrathe 1Dx offering inter- and intraframe compression that will satisfy users who need to do extensive editing and those who need high quality video but at a much lower filesize for ease of transmission. The 1Dx will capture video at up to 1080/30p, but will also offer the filmic 24p, 720/60p capture, and a full complement of PAL framerates as well.
The Canon 1Dx is quite large, with a built-in battery grip, full-frame image sensor, and large 3.2-inch LCD. This will come as no shock to its primary customer base, however, as professionals who have shot with the 1D Mark IV and 1Ds Mark III will feel right at home shooting with the camera.
Overall, the 1Dx is bulky, but not horrifically cumbersome. Those with smaller hands may find it unwieldy at times but the weight of the camera is distributed such that it doesn't feel as though it's dragging in any one direction. There are few revolutionary changes in its handling design, and it will feel right at home in the hands of anyone who has shot with previous 1D models extensively.
When shooting by the portrait grip, there is a full complement of controls available, including autofocus control, shutter release, and a four-way control stick for operating the menu.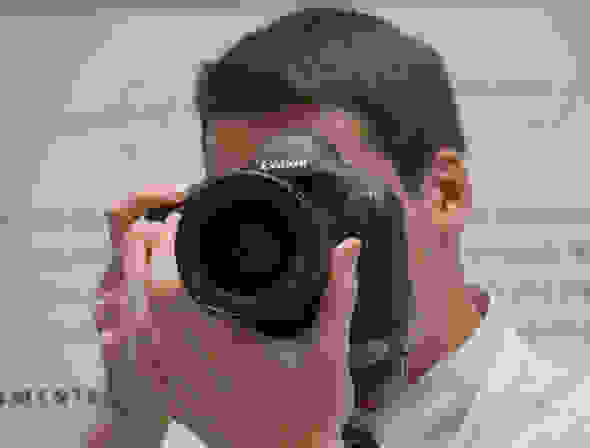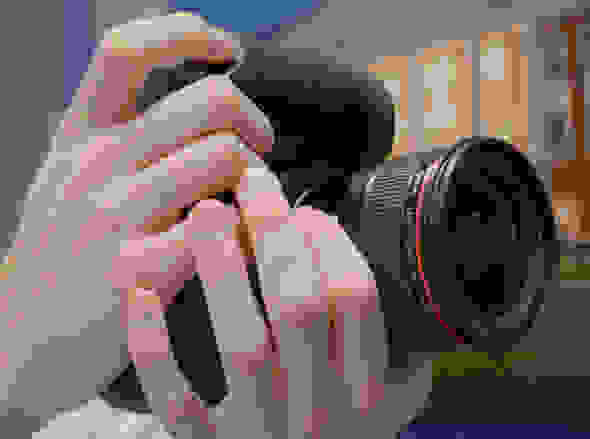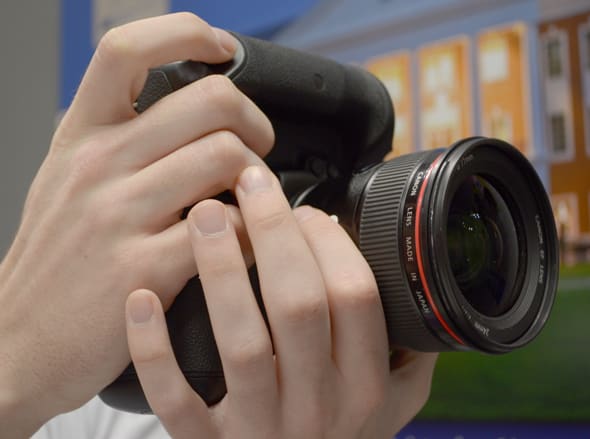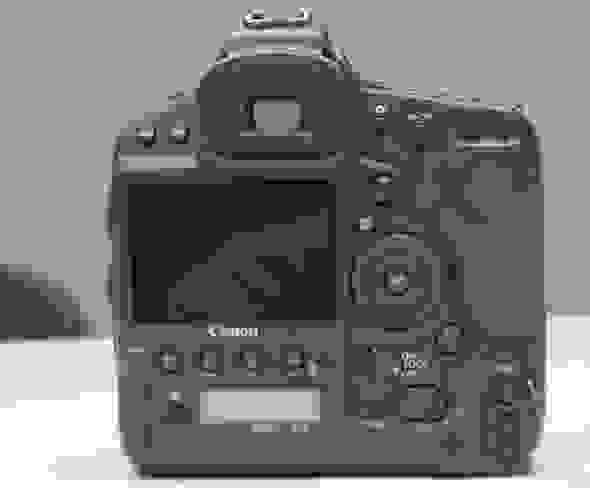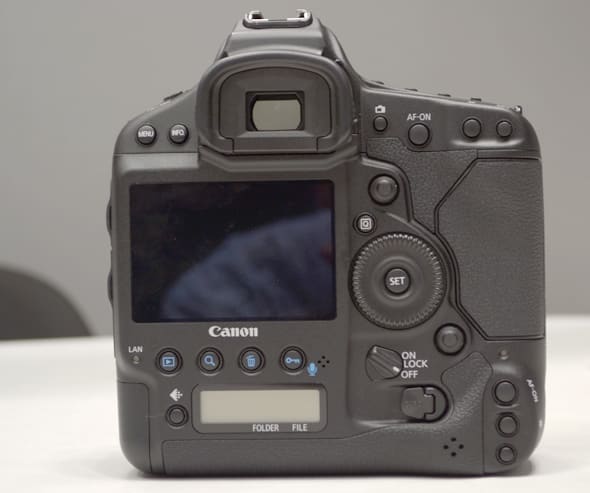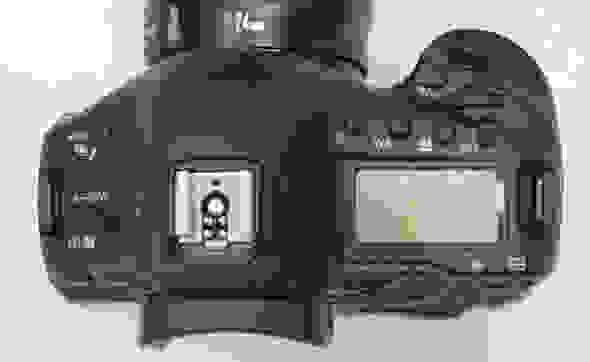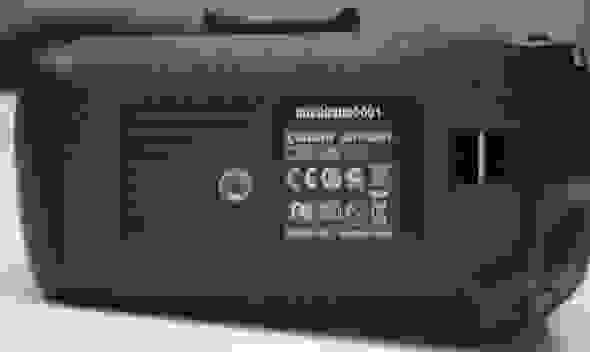 The 1Dx allows users to capture images at ISO speeds from 100-51,200, with extended high ISO options allowing for capture at 102,400 and 204,800 ISO and as low as 50 ISO. Canon's press release for the 1Dx insists the high ISO options are mostly useful in non-creative fields such as surveillance and law enforcement, but they're available. We'll have to get the camera in our labs to see if the image performance offers these extended ISO options life beyond those limited applications.
We weren't able to gather much on the playback modes on the 1Dx, as Canon wasn't allowing samples with the camera to be released just yet. That being said, there wasn't much in the way of special menu features or options that we found that might indicate anything beyond the standard. There will certainly be options for playback zoom and distribution of images via the camera's LAN output. The playback controls are all located above the rear secondary display, which is dedicated to displaying information on the camera's file capacity. The four buttons allow users the ability to access playback options, zoom in and out, delete images, and mark images as protected or record a voice memo.
The Canon 1Dx offers three user-savable custom image profiles which can alter sharpness, color tone, and saturation. This is not unlike their previous DSLRs, such as the 5D Mark II, and the control scheme is very similar to what we've come to expect from Canon in this regard. This is the same functionality that allowed, for example, the Technicolor flat image profile that allowed for better tonal response and easier color grading in video capture on the Canon 5D Mark II. We'd expect similar results and functionality out of the 1Dx.
The Canon 1Dx offers the standard collection of ports for a professional DSLR: HDMI, AV/USB output, 3.5mm microphone input, DC power input, and remote input. The great addition from a professional perspective is the addition of an Ethernet LAN port, which will allow the 1Dx to quickly transfer images and video off at a much greater speed. That will also allow for connection solutions of up to 100 feet, well beyond the lengths provided by USB and HDMI cables at a fraction of the price.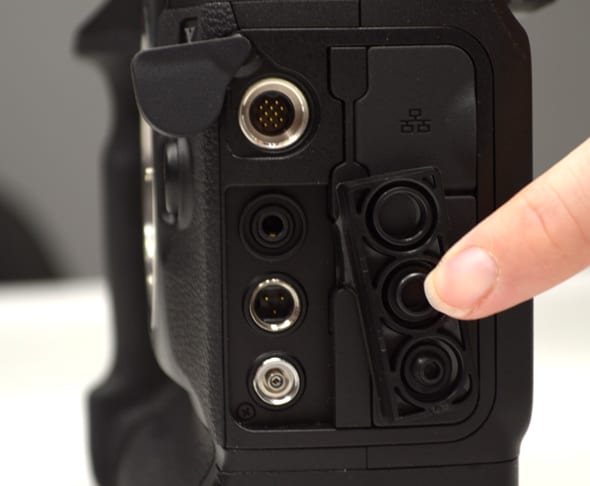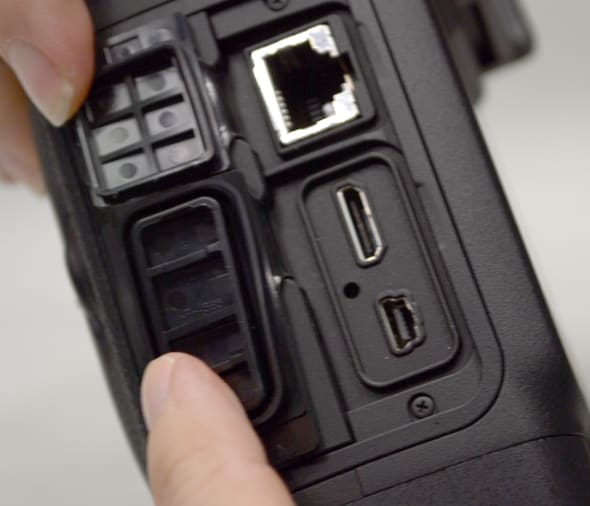 The Canon 1Dx offers eight white balance presets and a custom white balance option, with the ability to apply compensation for certain color biases. The presets include auto, daylight ,shade, cloudy, tungsten light, white fluorescent light, flash, custom, and direct kelvin entry. White balance can be set in the menu and accessed directly utilizing the dedicated white balance button above the top display behind the main shutter release button.
The 1Dx utilizes a dedicated DIGIC IV processor for autofocus and metering for exposure, with a 100k pixel RGB metering sensor that meters utilizing the lens' maximum aperture (since the lens isn't stopped down except when depth of field preview is applied and when the image is captured). The 1Dx can meter using a 252-zone evaluative metering mode, partial metering, spot metering linked to user-selected AF points, multi-spot metering of up to eight such points, center-weighted average metering, and pre-flash metering in E-TTL II mode.
The Canon 1Dx offers drive modes in a number of flavors. The camera is capable of firing single quiet shots, or bursts of 3fps, 12fps, and 14fps (JPEG only with mirror lockup). Given that this is an 18-megapixel full frame sensor, that speed is remarkable. When firing at full speed, the shutter release is nearly instantaneous, and it takes hardly any pressure before 8-9 shots have been fired in a row.
The Canon 1Dx makes use of the LP-E4N battery, which is designed similarly to the LP-E4 used in the 1D Mark IV. The LP-E4 can be used in the new Canon 1Dx, though the LP-E4N should provide more juice per charge. The only hitch is the LP-E4 cannot be charged in the LP-E4N's charger. The battery's final CIPA rating has not been finalized, though we expect it to be equal to or better than the 1500 shots the LP-E4 managed with the 1D Mark IV.
The 1Dx will eschew SD memory in favor of dual Compact Flash cards. The dual card setup can be used to store images concurrently, so that an automatic backup is created with each shot. Alternatively, users can swap cards in and out as one fills up. The use of CF cards will also be able to keep up with the camera's blistering 12fps RAW shooting and the high bitrate of the camera's recorded video.
The 1Dx offers shutter speeds ranging from 1/8000 of a second up to 30 seconds, with bulb capture available. Shutter speeds can be manually set in 1/3-, 1/2-, and full-stop increments. The camera has a flash sync of 1/250 of a second, which is right in line with the previous 1D-series cameras as well as the 5D Mark II.
The Canon 1Dx, as an interchangeable lens camera, will have an aperture range that is dependent on the lens attached to it. The camera can alter aperture in aperture-priority mode, full manual, or by program shift in program auto mode. The new 61-point AF system will now offer cross-point AF and diagonal AF sensitivity at a wider range of apertures than previous Canon DSLRs.
Dual Digic 5+ Processors
The Canon 1Dx offers dual DIGIC 5+ processors for image processing, with a dedicated DIGIC IV processor for autofocus and auto exposure processing. Canon states that according to their engineers, the DIGIC 5+ processors are up to 17 times more powerful than the dual DIGIC IV processors that were used in the 1D Mark IV (the 1Ds Mark III utilized dual DIGIC III processors). It's that ability, combined with the faster readout off the chip and the construction of the mirror that allows the camera's 12fps RAW capture.
Canon utilizes an in-lens image stabilization system. The Canon 1Dx will be able to take advantage of this system when IS lenses are attached. The main benefit of in-lens image stabilization is that it will stabilize in the optical viewfinder as well, instead of the image only being stabilized when the sensor moves to accommodate camera movement.
The Canon 1Dx offers RAW, JPEG, and RAW+JPEG capture of images up to 18-megapixel images. The camera also offers JPEGs in 14.2-, 8-, and and 4.5-megapixel varieties, with RAW capture also available in 10.1 and 4.5 megapixels. Image quality can also be set in camera, so that images captures are compressed to take up less space on the memory card.
The 1Dx allows users to set a number of image profiles, each of which can be adjusted to the user's preference. There are ten in total, including three custom ones that the user can save. Like other Canon DSLRs, they are called "Picture Styles" in the menu. The presets include auto, standard, portrait, landscape, neutral, faithful, monochrome, and the three custom profiles. Each offers options for tweaking sharpness, contrast, color tone, and saturation.
Battery Grip Controls
The Canon 1Dx, like previous 1D models, offers a secondary battery grip built into the camera. When holding the camera in this orientation, users have immediate access to an autofocus button, shutter release, custom function button, and a second rear control stick that will allow users to manipulate the menu just as they would when holding the camera by the standard grip.
Meet the tester TJ Donegan
Executive Editor
@TJDonegan
TJ is the Executive Editor of Reviewed.com. He is a Massachusetts native and has covered electronics, cameras, TVs, smartphones, parenting, and more for Reviewed. He is from the self-styled "Cranberry Capitol of the World," which is, in fact, a real thing.
Checking our work.
We use standardized and scientific testing methods to scrutinize every product and provide you with objectively accurate results. If you've found different results in your own research, email us and we'll compare notes. If it looks substantial, we'll gladly re-test a product to try and reproduce these results. After all, peer reviews are a critical part of any scientific process.
Shoot us an email