The camera, like its predecessors, was designed to for shooting either horizontally or at a 90-degree angle, and offers a dedicated shutter button and dial for the latter. All the ports are sealed up tight, promising some kind of weatherproofing, though you hate to see that kind of thing put to the test without any guarantees. Overall, it feels like a very study camera.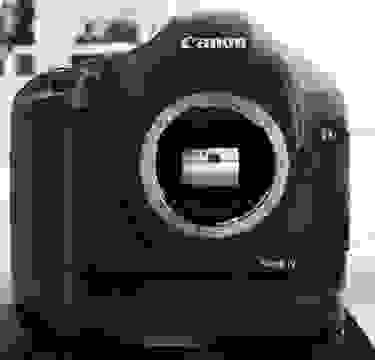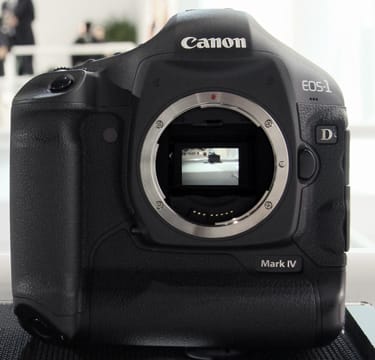 The front of the camera shows off the two grips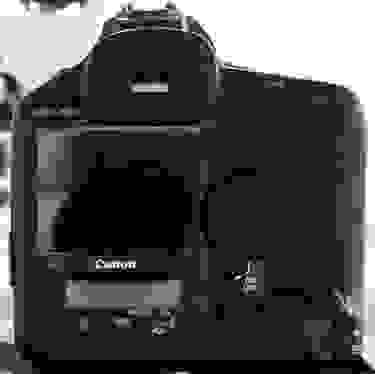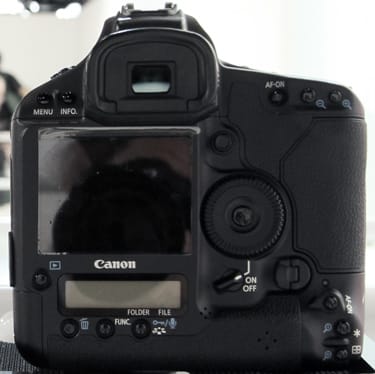 On the back, you can see two of the three displays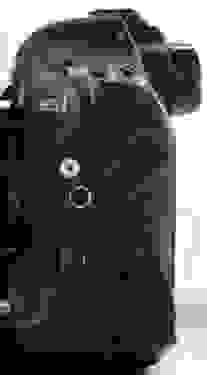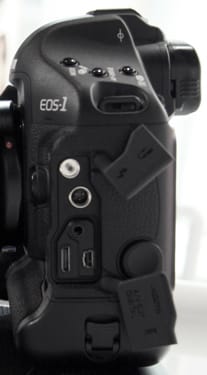 Most of the ports are on the left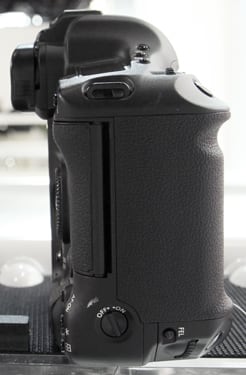 An on/off switch for the bottom shutter button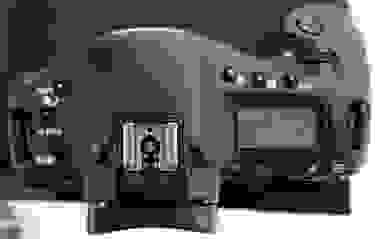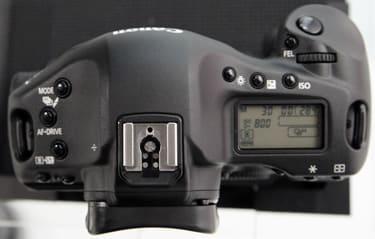 An accessory shoe on top, along with the third display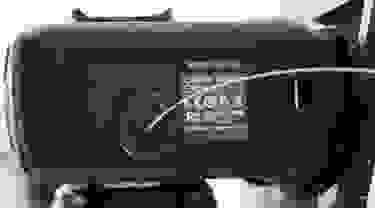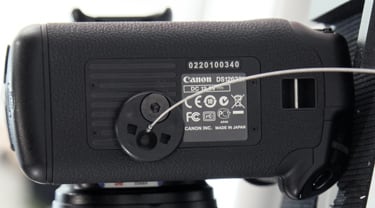 The bottom of the camera
Viewfinder
---
The viewfinder on the Canon EOS-1D Mark IV is padded with semi-hard rubber and comfortable for users, even with eyeglasses. A diopter adjuster on the side ranges from -3.0 to +1.0, just as we saw on the 1D Mark III. When looking through the viewfinder, you're presented with the mission-critical information, rather than the more artfully presented information you get with the LCD display. Text appears in green.  It's fairly amazing what they do manage to fit in such a small area, including information about: shutter, aperture, ISO, AF frame and mode, burst/drive mode, exposure meter, photo quality mode, battery level, exposure mode, and flash data. And yet none of it feels cluttered (at least, once you've been using the camera for a few minutes).
**
LCD**
---
The Canon EOS-1D Mark IV has a 3-inch LCD screen on the back. The resolution is 920,000 pixels, a big step up from the 230,000 pixels in the 1D Mark III. The increase in resolution is probably not critical to pro photographers, who wouldn't rely on an LCD as anything but a quick reference check for focus and exposure, but it does make the photos pop in way that a 230K screen simply can't.
We found the LCD far more useful as a tool for making menu adjustments. The menu organization is clean and clear, once you get over the relatively short learning curve that comes with any high-end DSLR.
The LCD offers live preview, which is activated by pushing in on the big button in the center of the bog scroll wheel on the back. Of course, you can make adjusts to the appearance of the screen itself. There are multiple screen brightness settings. If shooting on a bright, sunny day, having a brighter screen could make a big difference in how well you can rely on the LCD.
There are two smaller, monochrome displays on the Canon EOS-1D Mark IV, as well. The one on top is familiar to most DSLR uses. It contains most of the same data you'll see in the viewfinder when shooting. The display is context-sensitive, though, and as you hold down different buttons on the camera (such as ISO), only the ISO settings will display until you let go of the button.
The second monochrome display is below the color display. This shows information regarding which media you're shooting to, external media connections, image size and quality, white balance mode, network connections, and file numbers.
Flash
---
The Canon EOS-1D Mark IV does not have a built-in flash, but there is an accessory shoe on top that can be used with a variety of devices. 
Lens Mount & Sensor
---
The Canon EOS-1D Mark IV has a Canon EF lens mount. There are approximately 50 EF lenses from which to choose, which should suffice for every type of shooter.
The camera has a APS-H 16.10 megapixel CMOS sensor with a 3:2 native aspect ratio.
Jacks, Ports & Plugs
---
The Canon EOS-1D Mark IV has a number of ports, split into three groupings. The media card slots (Compact Flash and SD) are located behind a hard plastic cover that opens by twisting a nearby dial. The camera is definitely not waterproof, but the joins on this and all the other points of entry look like they'll do a decent job of keeping out dust and light moisture.
The second and third groupings of ports are located on the right side, behind two soft rubber flaps. On top are a PC terminal for connecting to a computer, and a N3 remote control terminal. Below that are ports for a microphone, HDMI out, and AV out.
Battery
---
The battery loads from a slide-out slot on the right side. It's the sheer size of the battery that accounts for the Canon EOS-1D Mark IV's fat bottom. The LP-E4 battery is a rechargeable lithium ion, the same that was used on the 1D Mark III. For its size, the battery is not actually that heavy. The instruction manual indicates that it should take 2 hours to recharge a fully drained battery. In terms of life expectancy, the you can expect 1500 shots at 73 degrees F, and 1200 shots at freezing point. That's actually several hundred less than the ratings for the 1D Mark III. 
Memory
---
The Canon EOS-1D Mark IV records to both Compact Flash and SD cards. The number of possibilities this opens up is great. You can automatically begin recording on the second media when the first is full, or record RAW to one and JPEG to the other, or copy files from one to the other.
Size & Handling
---
The Canon EOS-1D Mark IV is a hefty camera when compared to the total market of DSLRs. However, most pros will be comfortable with its size. Most of the body is covered in a thick, textured coating that helps with grip. For all its bulk, the body is well-balanced, with a low center of gravity (courtesy of the battery pack at the bottom) that should prevent some tip-overs. Of course, the balance will ultimately depend on which lens you use. The shell is made of magnesium alloy.
The Canon EOS-1D Mark IV is designed for shooting on two axes. The first, and most obvious, is the standard horizontal alignment. But a second shutter button has been placed in the lower right-rear corner for shooting on a 90-degree angle. There's also a dial here for shifting various controls. To prevent accidental bumping of this secondary shutter button, there's an on/off switch dedicated to just these two controls.
All the buttons on the Canon EOS-1D Mark IV feel well-designed and well-suited to their respective tasks. The only possible exception is the tiny 4-way joystick located to the right of the LCD, above the scroll wheel. The joystick made its debut on the Mark III, and we were thankful for its inclusion. But as user interface has advanced in the last few years, it seems like they could have made an intuitive control like a joystick more prominent/
**
Ease of Use**
---
For a professional level camera, the Canon EOS-1D Mark IV is easy to use. It carries over a lot of interface mechanisms that Canon users will pick up on immediately. Even non-advanced users may be surprised how quickly they can adapt, so long as you have some SLR experience. The more advanced options for exposure and focus that the Mark IV offers will definitely require some consultation with the instruction manual, simply because there are so many options. 
Auto Mode
---
The Canon EOS-1D Mark IV is a camera designed for the professional, so there's no full auto (dummy) mode. However, there are plenty of auto-controlled functions that can help when you don't want to shoot in full manual. The camera has Program AE mode that sets the shutter and aperture automatically, as well as an Aperture Priority and Shutter Priority.
There always complaints about how accurately or how quickly a camera auto focuses, and the Mark III and Mark IV have both received some criticism. However, one of the improvements of the Mark IV is a faster computer inside, which is meant to improve auto focus response.The auto focus uses 45 points of reference, and you can change which points it's using. 
Movie Mode
---
One of the most obvious feature upgrades from the Mark III to the Mark IV is the introduction of video recording. Whether or not professionals will use the EOS-1D Mark IV for video recording is up for debate, but it's there, and its inclusion certainly didn't hurt any other specs.
To engage video recording, you first have to turn on live preview. Then hit the FEL button at the top to begin recording. During recording, you cannot autofocus, which is certainly a weakness compared to a dedicated camcorder. In fact, none of the Canon DSLRs can autofocus during video recording. You can, however, make manual focus changes, as well as aperture and shutter speed changes. The shutter will not go below 1/3th in video mode.
There are several quality modes for video recording: 1920x1080: 30p/25p/24p, 1280x720: 60p/50p, and 640x480: 60p/50p. For best results, you'll want to record with a UDMA card. The Mark IV also has an 1/8th-inch mic input.
The EOS-1D Mark IV has a lot going for it in terms of still photography, but it's still probably not the best that Canon offers for video recording. For that, look to the 5D Mark II. With its full-frame sensor, the 5D Mark II allows for far more control over depth of focus.
Drive/Burst Mode
---
The Canon EOS-1D Mark IV has drive modes for: single shot, high-speed continuous shooting, low-speed continuous shooting, 10-second timer, 2-second timer, and silent single shooting. 
Playback Mode
---
Playing back images gives you the ability to review a lot of information about the image, including a histogram, color data, the exposure settings, and more. The camera has an HDMI and an AV out for connecting to TVs.
Manual Controls
---
The Canon EOS-1D Mark IV has every kind of manual control you could imagine for a DSLR. While most of the features have been carried over from the 1D Mark III, with expansions in the level of control over focus and other areas (and of course, the addition of video recording). 
Focus
---
The Canon EOS-1D Mark IV, like the Mark III, has 0.76x magnification viewfinder, meaning objects appear smaller in the viewfinder than they do to your eye, or to the LCD screen. It may be preferable, therefore, to make focal adjustments with live preview.
For more about Auto Focus modes, read here.
ISO
---
The Canon EOS-1D Mark IV has a wide range of ISO modes, from 200 to 12800. Remarkably, the sample photos we took at 12800 did not seem to noisy as we would have thought. Of course, any who shoots at something near that ISO level should expect a less than crystal-clear image, but overall, we were impressed. There are three settings beyond 12800, labeled H1, H2, and H3. The H1 setting is twice that of 128000, H2 is twice of H1, and H3 is twice as high as H2. There's a reason they have the 'H' label, and it's probably best that you steer clear unless you really need to squeeze that hard for a picture.
To change the ISO, hold down the ISO button on the top of the camera and use the upper scroll wheel. Because the two controls are so close together, it's probably the most awkward of all the adjustments to make. But for many of the functions, you can also use the bigger scroll wheel on the back. 
White Balance
---
The Canon EOS-1D Mark IV's white balance settings include Auto, Daylight, Shade, Shade, Cloudy, Tungsten, White Fluorescent, Flash, Custom, and a direct color temperature setting with a range of 2500 to 10,000. You can shoot and store up to five custom white balances.
The camera also offers a white balance correction feature, which Canon users will already be familiar with. It plots your current white balance on an x-y graph, and you can use the joystick to shift the white balance point across the graph. If you're unsure what the best setting is and you need to shoot on-the-go, there's also a white balance bracketing mode that shoots three pictures. One mode takes standard white balance, then a blue bias and amber bias, and another that takes standard white balance, then magenta and green bias.
Exposure & Metering
---
The Canon EOS-1D Mark IV offers the ability to make exposure compensations +/-3 stops, in 1/3-stop increments. On the Mark III, you could also do 1/2-stops, so that feature appears to have been lost. The feature is available in Priority modes and Program AE mode, but not in Manual mode. There's also a bracketing feature that takes three shots in 1/3-stop increments.
Metering occurs over 63-zones (same as the Mark III). There are several settings to narrow down the zone of interest, useful when shooting backlit subjects. You can select from Evaluative, Partial, Spot, or Center-weighted metering.
Carried over from previous Canon DSLRs is the Multi-Spot Metering, which (according to a fairly vociferous Canon booth attendant) is not used or written about as frequently as it should. In essence, it allows you to set up to eight designated spots for use in metering. Point the camera and one spot and hit the FEL button on the top. Then point it towards the next spot and hit FEL again... and again, up to eight times. Then take your shot and the camera takes all those points into consideration for metering.
Shutter Speed
---
The Canon EOS-1D Mark IV has manual shutter speeds ranging from 1/8000 to 30 seconds. The shutter itself is  an electronically-controlled, focal-plane shutter. if you're using a bump, the shutter can be set out for even longer. 
Aperture
---
The Canon EOS-1D Mark IV allows for 1/3-stop aperture settings. The range, of course, depends on the lens, but the camera itself has a limit: the minimum aperture can be set to f/1.4-9 and the maximum aperture to f/1.0-64. 
Image Stabilization
---
The Canon EOS-1D Mark IV does not have a stabilization system built into the camera, but several lenses offer the option. 
Picture Quality & Size Options
---
The Canon EOS-1D Mark IV allows you to take images in four size: Large (16 MP), Medium 1 (12.4 MP), Medium 2 (8.4 MP), and Small (4 MP). The RAW setting is always 16 MP. For any of the JPEG settings you can choose from multiple quality settings. There are also options to record in both RAW and any of the JPEG settings simultaneously. 
Picture Effects
---
The Canon EOS-1D Mark IV has six preset picture effects: Standard, Portrait, Landscape, Neutral, Faithful, and Monochrome. There are also three user-defined settings that you can store for future use. 
Meet the tester
David Kender
Editor in Chief
@davekender
David Kender oversees content at Reviewed as the Editor in Chief. He served as managing editor and editor in chief of Reviewed's ancestor, CamcorderInfo.com, helping to grow the company from a tiny staff to one of the most influential online review resources. In his time at Reviewed, David has helped to launch over 100 product categories and written too many articles to count.
Checking our work.
We use standardized and scientific testing methods to scrutinize every product and provide you with objectively accurate results. If you've found different results in your own research, email us and we'll compare notes. If it looks substantial, we'll gladly re-test a product to try and reproduce these results. After all, peer reviews are a critical part of any scientific process.
Shoot us an email