Introduction
Like the D600, that (relatively) teenie-weenie price tag is the most compelling feature of all. On paper, the 6D's specs seem to lag behind Nikon's contender (resolution, autofocus, etc.). But if image quality is up to par, the so-called "entry-level" full-frame market could have its first rivalry.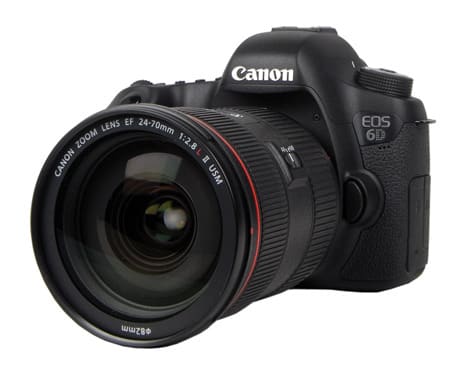 Design & Handing
Reminiscent of other Canon full-frames, though some key features are absent
The EOS 6D's physical design departs very little from existing Canon full-frame models, though we were dismayed at the absence of a dedicated button for white balance. Under the hood, feature set lags slightly behind the competition. The most glaring shortcoming is the 11-point autofocus system, which stacks up poorly with Nikon's superior 39-point array. Of less concern but still notable is the sensor's megapixel count of "only" 20.2, which comes up a little short of the D600's 24.3-megapixel unit. The chassis is hefty and durable, but there's no built-in flash—just like many of Canon's high-end models.
Though sizable, the 6D handles like a dream. On the front panel, we're treated to a large, rubberized hand grip that leaves plenty of surface area for the full length of your fingers to latch onto. There's a deep indentation near the top, lending the middle finger some extra leverage. We only wish the main control wheel had been placed in front of the shutter release, rather than behind.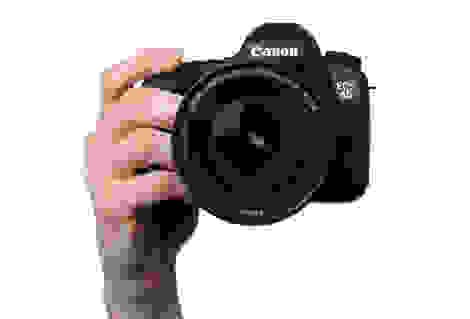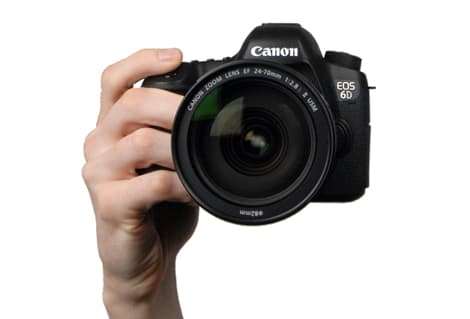 The rear panel finds room to squeeze in a large, rubberized area for the thumb without compromising the control scheme. We spent most of our time shooting two-handed; Canon seems to anticipate this, and there's some rubberization on the left side of the body to accommodate photographers like us.
We were immediately impressed by the 6D's menu interface and usability, which is remarkably simplified for a full-frame DSLR, yet deep and detailed when the need arises. This is true even when compared to Canon's own full-frame offerings, like the 5D Mark III. The 6D is more flexible in the hands of an expert, but requires no such expertise to get started. Physically handling the camera is also very comfortable, and controls are laid out wisely, minus only a few questionable design choices and the lack of a detailed autofocus menu.
Performance
The 6D packs much of what makes the 1D X so great into a smaller, cheaper body—but sharpness could be better.
The 6D had virtually identical color accuracy to the top-of-the-line Canon 1D X.
After producing some of the best color accuracy and noise reduction results we've ever seen, we felt pretty confident that the 6D would boast some of the best image quality on the entire market, regardless of its lower cost. Further encouragement came from our dynamic range and white balance scores, but the 6D's sharpness—at least with the 24-105mm lens—was pretty disappointing compared to what we've seen from some other recent DSLRs, bringing our expectations back down to earth. Still, we're highly impressed by the 6D's image quality overall.
The 6D had virtually identical color accuracy to the top-of-the-line Canon 1D X. That's really saying something, since the 1D X is the all-time color accuracy champion in our lab tests. The 6D was just a hundredth of a point off that camera's score, which is absolutely indistinguishable in practice. White balance was also extremely accurate, even when using automatic settings. Only incandescent light provided a real challenge to its algorithms, but the 6D still performed far better than most under those conditions.
Noise levels are impressively well-controlled all the way up through ISO 3200, and images remain usable for certain purposes even through the sky-high maximum setting of ISO 102400. Dynamic range is also great through ISO 3200, then falls off a cliff—that's not entirely unexpected, but we'd like to see a little more staying power.
Though it's an excellent stills camera, many will also be looking at the 6D as a potential videography tool. The camera's video output isn't the sharpest we've seen, and it's limited to 30 frames per second at full-HD resolution, but videos look pretty good all the same. The most impressive thing about the 6D's video performance is its incredible low-light sensitivity—it took just 2 lux of ambient illumination to generate an image bright enough for TV broadcast.
Features
The 6D can't compete with the D600 on a feature-for-feature basis, though it does throw in some oddballs like WiFi and GPS.
Some of the minor features found in competition like the D600 are omitted from the 6D, such as a built-in interval timer and advanced autofocus options. The 6D does include some ancillary features like built-in WiFi and both built-in and external GPS functionality, but the value of such features is a subject of ongoing debate in our office. (We're sure there are some users somewhere who have them on a must-have list, but we can't imagine there are too many. Continuous drive is limited to 4.5 frames per second, which is worse than many APS-C DSLRs, nearly all mirrorless cameras, and even the competing D600. It's better than the 5D Mark II, though!
Video features are certainly impressive, with full manual control of all recording parameters.
Video features are certainly impressive, though, with full manual control of all recording parameters. Video recording options are numerous but slightly unintuitive. Full 1080p resolution is available, but only at 30 or the more cinematic 24 frames per second progressive. 60p recording is also available, but to get at that silky smooth goodness you'll have to step down to 1280 x 720px. Compression settings are ALL-I or IPB, the former of which is the higher quality option.
Conclusion
Canon's 6D may cost north of $2,000, but it's still the best value in the company's stables.
Everything the D600 is for Nikonians, the EOS 6D is for Canonites: a relatively affordable full-frame option, aimed at photographers looking to get their start in high-end portraiture or event shooting. Plus the—shall we say—"price insensitive" consumers are no longer forced to step up to bulkier bodies like the 5D Mark III.
Everything the D600 is for Nikonians, the EOS 6D is for Canonites.
It feels silly to call any camera north of two grand a "good value," but like the D600, that's exactly the case. The vast majority of the features and performance metrics you'd get from the rest of Canon's full-frame lineup are available here, for less. The 6D, for example, handles noise just as well as the 1D X, renders color more accurately than the 5D Mark III, and is just as sharp as either of them when paired with equivalent lenses.
But the closest competitor is certainly the D600. Averaging together all our scores and test results, the two are on extremely equal footing. The 6D earned top marks in more tests, such as JPEG color accuracy, noise reduction, dynamic range (by a slim margin), and white balance. Yet many of these factors aren't incredibly relevant to those who plan on shooting RAW and processing afterward. The D600 earned a far better score in arguably our most important test—sharpness—and this translates to sharper videos as well. The D600 also boasts superior autofocus speed and options, plus additional minor features like a built-in interval timer.
Those who are making their first foray into this market segment and don't have an existing brand preference will probably find the Canon user interface a little easier to digest than Nikon's. Upon first using the 6D, we were struck by the clarity and simplicity of the main and quick menus, even compared to Canon's own 5D Mark III. There's depth here too, if you want it, but the fast menu system puts emphasis on the most important settings, relegating rarely-used fine details off to the side. Heavy users will likely find Nikon's button-oriented controls faster in the long run, but they'll need to invest a lot of time to overcome the learning curve.
For those with prior lens family affiliation, your decision is already made. Almost all the praise we have for the Nikon D600 also applies to the 6D. We think the 6D's autofocus system does lag behind—only by a little, but enough to make this camera a slightly inferior choice for action photography. Otherwise, the Canon EOS 6D is tied for the best entry point for new full-frame photographers, and yes, represents a fantastic value, even at $2,100.
Science Introduction
If you want 80% of a 1D X's raw image quality in a more compact, lower-priced package, the 6D is your camera. Color and noise results are pretty much spot-on imitations of what you'd get from Canon's professional flagship, while the 6D's dynamic range results are similarly impressive. Practically the only image quality metric in which the camera falls short of greatness is sharpness, thanks almost entirely to the less-than-stellar 24-105mm kit lens. Video is also quite nice, though you can't shoot 1080/60p.
Sharpness
Performance was disappointing with the kit lens, but far better with the 24-70mm f/2.8.
We spent a lot of time with Canon's 24-70mm f/2.8L II (the $2,299 beast of a lens that we'd been testing with the 1D X), and while we used this excellent glass for sample photos (with relish!), our resolution testing was limited to the 6D's kit offering: the 24-105mm f/4L IS. We also deactivated all of the 6D's numerous distortion compensation features, allowing us to test any genuine geometric distortion or chromatic aberration produced by the lens. We also deactivated all sharpness enhancement, and shot in the "Faithful" picture style.
Sharpness was best near f/9, as is often the case, while the widest apertures resulted in an acceptable drop in sharpness, but a drop nonetheless. Sharpness also usually tends to dip at very narrow apertures, and that's the case here as well. The difference between sharpness at f/9 and f/22 is around 35%, which actually isn't so bad. The sharpest focal length is the widest, 24mm, while 70mm and 105mm positions provide slightly less stellar, if consistent, performance.
Noise Reduction
Noise performance precisely equal to the world-beating 1D X
Even without noise reduction being applied, the 6D's sensor is so well-designed that overall image noise doesn't cross 1% until ISO 3200. Applying only the Standard NR setting, this threshold is pushed off to ISO 25600. In fact, with enough noise reduction, even the extended ISO levels—51200 and 102400—can be smoothed down to 1.17% and 1.64% noise respectively. The results don't look fantastic, but they're certainly usable for certain purposes (reduced-resolution web use and small prints). It's a pretty amazing accomplishment.
Qualitatively speaking, Canon cameras at this level seem to do a better job reducing or preventing chroma noise than their Nikon counterparts.
Qualitatively speaking, Canon cameras at this level seem to do a better job reducing or preventing chroma noise than their Nikon counterparts. This means that the noise we do see tends to manifest as colorless, film-like grain, as opposed to multicolored splotching. Obviously a complete absence of noise is most desirable, but given the choice, grain is usually considered the more appealing type.
The high-end of the imaging market is crowded with cameras that all do an excellent job minimizing noise, so scores here are all very close. Yet even with this tough competition, the 6D manages to distinguish itself. In our complex rating system, the 6D earned an identical score to the 1D X, right down to the third decimal point, and they now represent the two best cameras on the market for this metric.
Color & White Balance
The 6D is nearly identical to the 1D X in color performance, too.
By comparing unprocessed JPEGS with the known values of an X-Rite ColorChecker, we determined that the 6D's JPEGs (when shooting in the most accurate color mode: Faithful) produce a delta-C color error of only 1.73—worse than the 1D X by just one-hundredth of a point. To put this in context, a typical professional body might return an error value in excess of 2.5 and still be considered excellent. The 6D is far better than that. Color saturation was also perfect, down to the tenth of a percent, which is a feat we almost never see.
This performance is far beyond any close competition, like Nikon's D600, or even tangential competition like Canon's own 5D Mark III, which costs $1000 more. The $6,799 1D X is really the only camera that offers similar color accuracy to the 6D. Good show, Canon.
High-end cameras can be hit or miss when it comes to white balance, but the 6D does a better job than most.
High-end cameras can be hit or miss when it comes to white balance, but the 6D does a better job than most. Under both daylight and fluorescents, the automatic white balance algorithm will be perfectly adequate. Here we recorded color temperature errors of less than 150 kelvins; under these conditions, a manual white balance won't give you any significant advantage.
Incandescent light is a different story—you'll definitely want to set a manual white balance here. That's because the automatic system has trouble with incandescent (almost all cameras do), and returns average color temperature errors in excess of 1500 kelvins. That's better than many other DSLRs, but still enough to give images a warm, yellow-orangey cast. A custom white balance will bring that error back down to just 100 kelvins in the same light.
Dynamic Range
The 6D offers fantastic dynamic range up through ISO 1600, but drops off sharply from there.
DR starts at 8.55 "high-quality" (a 10:1 signal-to-noise ratio) stops at ISO 100 and only drops to just over 7 stops at ISO 1600. But at ISO 3200, D-range quickly falls off to 4.88 stops, then 2.98 stops at 6400, and so on. Our test only measures the range of what we call "usable" data, so these figures may differ from scores recorded by other publications (which typically use a 1:1 signal-to-noise ratio).
Since the 6D's dynamic range performance is divided evenly between excellent and sub-par results, the numbers average out to an overall score that is competitive with the Nikon D600, in fact the 6D comes out on top by a narrow margin. A closer competitor is actually the 5D Mark III, which offers almost identical dynamic range performance.
Video Quality
Video output is decently sharp, and shows excellent light sensitivity.
Under both bright and dim lighting, the 6D and 24-105mm kit lens are slightly less sharp than the D600 kit when it comes to video output.
Under both bright and dim lighting, the 6D and 24-105mm kit lens are slightly less sharp than the D600 kit when it comes to video output. The 6D achieved approximately 625 lp/ph horizontally and 650 vertically under 3000 lux studio illumination. Note these results aren't immune to a bit of moire, which is visible in areas of fine repetitive detail. When we took ambient lighting down to 60 lux, the 6D lost some sharpness, but not much. This time we recorded 600 lp/ph horizontally and 625 vertically, which is still impressive.
Like many high-end Canon SLRs, the 6D is also capable of shooting video in extremely low light. Our lab test measures the light level at which a camera is no longer able to gather 50 IRE of video image data, assuming maximum sensitivity and kit lens aperture. The 6D's sensor was able to maintain 50 IRE until we dimmed the lights all the way down to 2 lux. This is an amazing score, surpassed only by Canon's own 1D X.
Meet the tester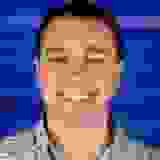 Christopher Snow
Managing Editor
@BlameSnow
Chris was born and raised less than ten miles from our editorial office, and even graduated from nearby Merrimack College. He came to Reviewed after covering the telecom industry, and has been moonlighting as a Boston area dining critic since 2008.
Checking our work.
Our team is here for one purpose: to help you buy the best stuff and love what you own. Our writers, editors, and lab technicians obsess over the products we cover to make sure you're confident and satisfied. Have a different opinion about something we recommend? Email us and we'll compare notes.
Shoot us an email