The main issue is autofocus; DSLRs shoot aesthetically pleasing video with shallow depth of field, but actually keeping what you want in focus—let alone tracking your subject anywhere—is extraordinarily difficult. Even when cameras get it right, most often it's the result of a noisy, staccato performance by the camera's autofocus motor. Enter: the Canon EOS 70D (MSRP $1,199.99 body-only) and its Dual Pixel AF technology, allowing for quick, easy, smooth autofocus performance in video.
Dual Pixel AF is a technical marriage of hardware and software that yields a remarkably simple result: usable autofocus that tracks subjects quickly and quietly, locks onto faces with ease, and swings between subjects without trouble. While the EOS 70D is a perfectly competent high-end DSLR in its own right—featuring excellent manual control, superb handling, and great image quality—it's this simple change that should elevate the 70D over its DSLR peers, even if some needless feature-gutting will leave budget-minded filmmakers in the cold.
Design and Handling
Fits like a glove
The Canon EOS 70D is the direct replacement for the EOS 60D, one of our favorite DSLRs from recent memory. While the 70D includes all sorts of new functionality on the inside, the physical design is very similar to its predecessor. Just like the 60D, the 70D features a large, accommodating grip, a flip-out rear LCD, a secondary LCD on the top plate, and a weather-sealed, durable body. While the mode dial and the controls for live view have been slightly refined, you'd be hard-pressed to guess that two and a half years have passed since the 60D was announced.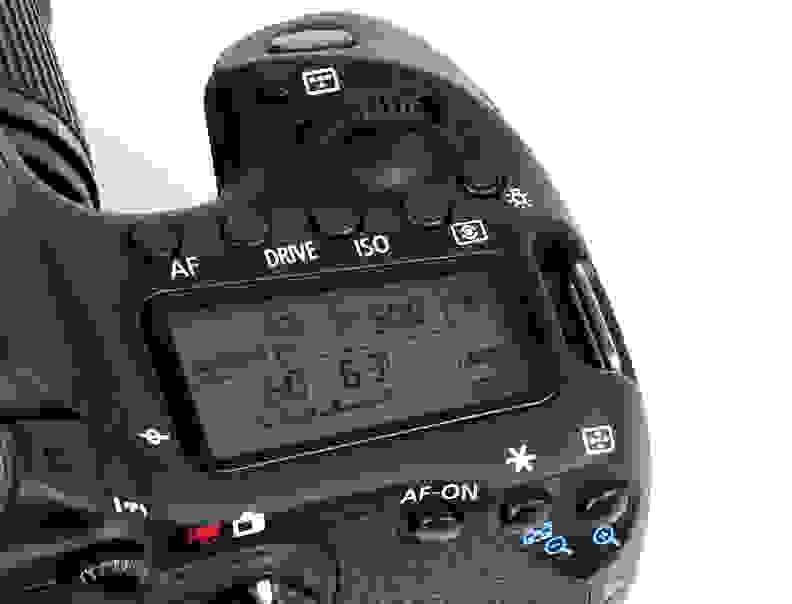 While the mode dial and the controls for live view have been slightly refined, you'd be hard-pressed to guess that two years have passed since the 60D was announced.
Still, there's a reason for that; shooting with the 70D is a pleasant experience for photographers of all skill levels, with a control scheme that's as simple or complex as you'd like to make it. The amount of control offered here will sate all but the professional crowd, with full PASM control, a user-savable custom mode, and dedicated on-body controls for focus, drive, ISO, and metering. While we certainly feel that the 70D will appeal mostly to advanced shooters, the inclusion of scene modes, a full auto mode, as well as Canon's new "Q" quick control menu keep the 70D approachable to those stepping up from simpler cameras.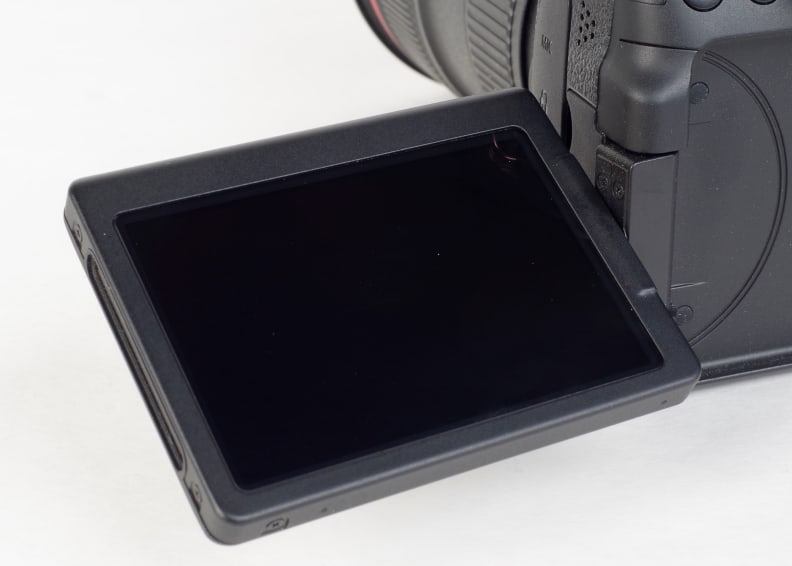 The main additions to the body are mostly small tweaks, rather than wholesale changes. The mode dial now has an improved locking mechanism and turns completely around, the live view/video switch is now in line with the rest of Canon's lineup, and the grip has been altered slightly. There's also a new AF area selection button right by the shutter release, which lets you quickly change from single point AF to zone or auto AF. It's not nearly as robust as the AF controls on Canon's flagship EOS-1D X (no camera on the market is, really), but it's a smart addition that will help action shooters nonetheless.
Features
Are you listening? Apparently not.
The Canon EOS 70D follows the same blueprint that Canon established with the 60D (and the 50D before it), with a pro-style durable body chockablock with novice-friendly controls and features like built-in WiFi. This allows the 70D to artfully toe the line between consumers and prosumers, meeting each group on their own terms without excluding the other. In practice this is most obvious in looking at the contrast between the body design and the menu. The body has a control layout on par with all of Canon's full-frame cameras save for the EOD-1D X, while the menu system is almost exactly the same as you'd find on any Rebel camera. While the body design may be intimidating to new users, this is an ideal camera for an intermediate shooter to learn and grow with.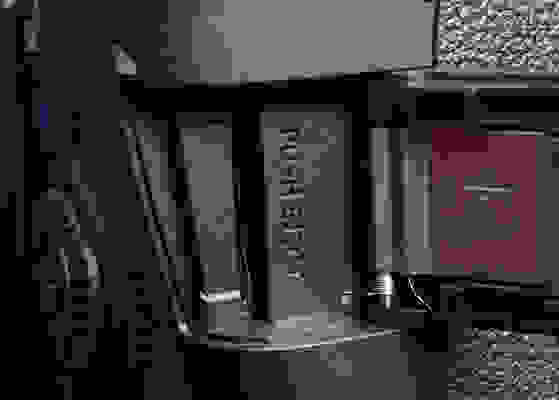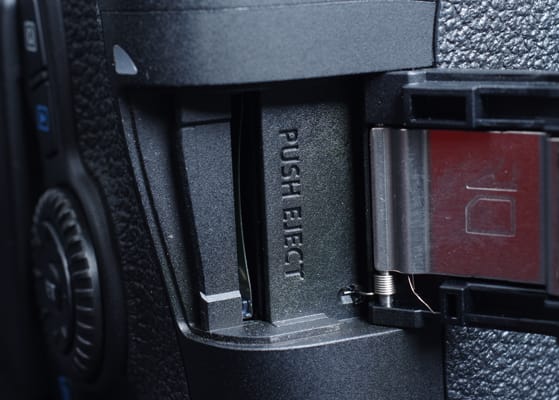 Love to pop things into landscape or portrait mode but don't fully understand aperture yet? The 70D has you covered.
On the one hand, you've got access to all the familiar auto and scene modes that all of Canon's lower-end cameras have. Love to pop things into landscape or portrait mode but don't fully understand aperture yet? The 70D has you covered. Always shoot in manual and insist on changing exposure by yourself? Well you'll feel right at home here, also. Worst case scenario, a novice can always utilize the camera's full automatic mode, which will make all the decisions for them. It's the best of both worlds and the best compromise in Canon's lineup.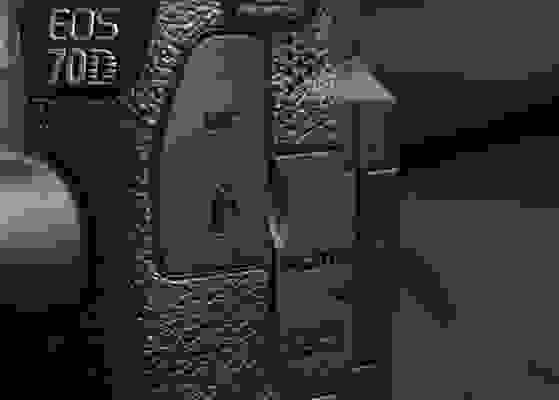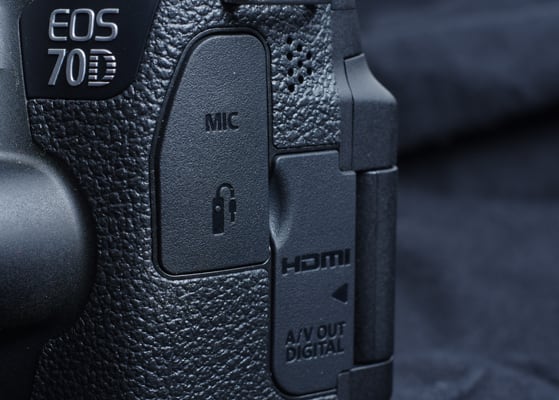 Compared to the competition—namely the Nikon D7100 and the Pentax K-3—the Canon EOS 70D stacks up well for still shooters. It offers a similar layout to the full-frame Canon EOS 6D, though with a 19-point (19 cross-type) autofocus sensor and a 98% coverage viewfinder. Where the 70D falls short, ironically enough, is with higher-end video shooters. While the 70D includes a 3.5mm mic jack, it doesn't include a 3.5mm headphone jack. For most consumers this won't be an issue—they likely aren't using mics and headphones anyway—but for anyone looking to craft professional-quality audio alongside the 70D's video, the lack of real-time audio monitoring simply won't cut it.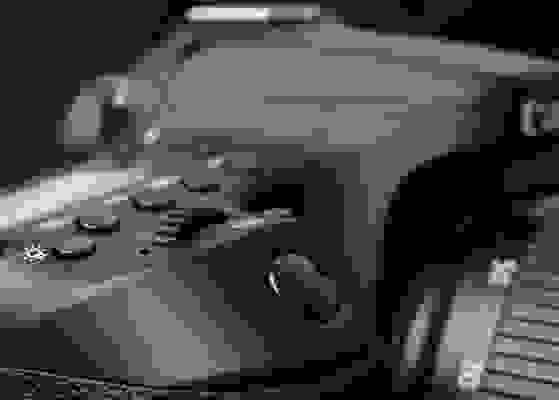 Unfortunately, stepping up to even the next model in Canon's line—the $1,899.99 full-frame 6D—doesn't solve this problem. It's not until you get all the way to Canon's $3,399.99 5D Mark III that you'll find a Canon DSLR with both a headphone and mic jack. It's worth noting that Nikon, by comparison, has included a headphone jack in every DSLR from the D7100 and up, while even Pentax—which has all but ignored video in its DSLRs to this point—included one on the new K-3. Even for the least cynical among us, it's hard to look at the omission as anything other than Canon forcing professional-level video shooters to needlessly step up to more expensive models just to get a simple headphone jack. But, hey: WiFi!
Performance
The Canon 70D has still got it where it counts.
In our labs, the Canon EOS 70D proved that it can still hang with the competition. The 70D excelled in our color accuracy and white balance tests, though it was merely average in our noise, dynamic range, and sharpness tests. Fears that the 70D's unique Dual Pixel CMOS structure would negatively impact image quality seem unfounded, when looking at our results. The 70D lags behind the competition from Sony, Nikon, and Pentax for dynamic range and high ISO performance, but this has been the case across Canon's product lineup recently, so it hardly seems like Dual Pixel AF is the villain here.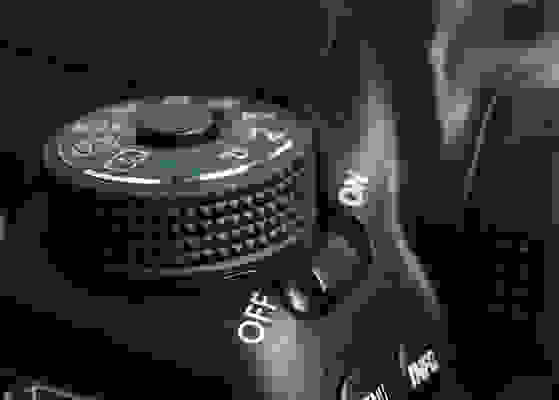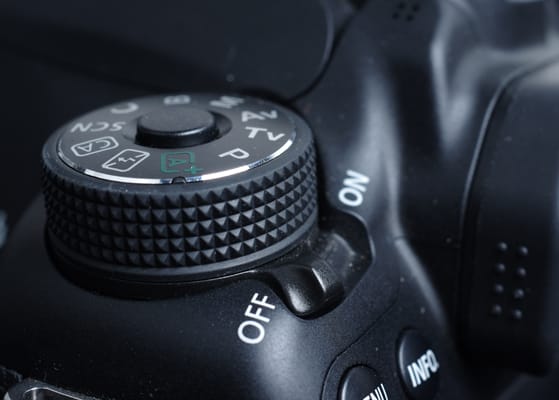 With the 70D also coming in at around $300 cheaper (body-only), there simply aren't many reasons to opt for the aging 7D
The 70D is also much snappier in general operation than we remember with the 60D, capable of a respectable 7.06 frames per second by our measurement, thanks to Canon's new Digic 5+ processor. That speed—not to mention the improved 19-point, all cross-type AF sensor—actually puts the 70D right alongside Canon's other high-end APS-C camera, the 8fps-capable EOS 7D. Announced in 2009, the 7D is ostensibly's Canon's leading APS-C camera, but it's by far the oldest model in Canon's stable, preceding even the 60D. With the 70D also coming in at around $300 cheaper (body-only), there simply aren't many reasons to opt for the aging 7D, with rumors of an update swirling for more than a year.
Of course, one of the main reasons to opt for the 70D is the superb video performance. The 70D offers full PASM exposure control, smooth 1080/30p recording, and the option of either IPB or ALL-I compression, similar to the Canon 5D Mark III. ALL-I has a slightly higher bitrate, compressing each frame individually; it takes up more space than IPB with only a marginal quality improvement, but it's easier to edit. For example, in our bright light motion testing, a 40 second ALL-I video shot at 1080/30p took up about 450MB, while a comparable 30-second IPB clip was just 110MB.
In our video tests we found the 70D's video to be sharp, smooth, and free of most kinds of artifacting. The 70D was also a strong performer in low light, requiring just 2 lux of light to produce a 50IRE image on a waveform monitor. Focus in video and live view was also excellent, thanks to the Dual Pixel AF technology. (Segue!)
Dual Pixel CMOS AF
Kind of a big deal
Without question, the real star of the show for the 70D is the new Dual Pixel autofocus, which turns the entire image sensor into one big phase-detect AF unit. As a primer, phase-detect AF works by taking the incoming image and splitting it, creating a parallax effect similar to how 3D glasses work. (You get a similar effect by closing one eye and then the other.) By sensing how different the two versions of the image are, the camera can figure out exactly how out of focus the subject is. Using that information, the camera can predict where the subject is and, more impressively, where it will be when the lens can catch up.
Most DSLRs—including the Canon 70D—primarily achieve PDAF when shooting still images by reflecting a small portion of the incoming light to a smaller, dedicated AF sensor. The issue there is that when you want to do things like engage live view or record video, you have to flip the DSLR's main mirror upwards, cutting the AF sensor off from precious light. This forces most cameras to rely on slower contrast-detect autofocus, which simply moves the lens in one direction until contrast (and thus focus) peaks and begins to fall, backtracking to the correct point.
In the DSLR video revolution, this is the storming of the Bastille.
Dual Pixel AF solves that issue at the silicon level, as Canon has designed every pixel to work for both focus and image capture. Millions of microlenses placed over the sensor gather light from all angles, with each lens splitting the incoming image over two pixels—hence the name Dual Pixel AF—with the camera computing the phase difference. It does this across the entire sensor, essentially creating a multi-million point phase-detect autofocus sensor. The result is silky-smooth AF that is accurate, can track motion, and can simply tell the lens where it needs to go or where the subject will likely be.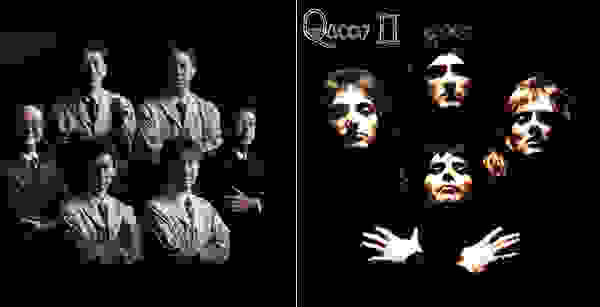 In short, Dual Pixel AF is a massive upgrade over previous DSLR video efforts. In the DSLR video revolution, this is the storming of the Bastille. Even cameras that offer integrated phase-detect on sensors aren't this smooth, as they only draw from maybe 100 points at most. For the 70D, having the entire sensor feeding autofocus information results in simple, accurate AF with none of the hitches that have tripped up previous DSLRs. Canon is clearly proud of the accomplishment, as they should be. The only thing that remains to be seen if Dual Pixel AF will make its way to Canon's entry-level Rebel line, where it will do the most good. Since Canon fabricates all of its own image sensors, it seems like a safe bet that Canon will re-use this particular image technology in everything going forward. We hope so, since it's clearly the biggest advancement in DSLR video we've seen since the D90.
By the Numbers
The Canon EOS 70D is the latest in a rather long line of high-performance APS-C DSLRs from the camera giant. With new Dual Pixel AF technology offering drastically improved autofocus, the 70D has plenty for the technically-minded among us to dig into. The camera blazed through our lab tests with few issues, improving on the 60D in almost every way.
Unfortunately, the areas where the 70D hasn't improved much—dynamic range and high ISO performance—are the same areas where most of the competition has improved by leaps and bounds. That said, we still feel that the 70D is the most complete all-around system camera in this part of the market. People who exclusively shoot stills will likely find competing options from Nikon and Pentax to be a better fit, but if video is part of your workflow then the 70D's new AF system is hard to beat.
Color Accuracy
The Canon EOS 70D managed one of the best color accuracy scores that we have recorded to date. In our standard color test the 70D's best mode (Faithful) had an average error (∆C00 saturation corrected) of just 1.88. Anything below 2.3 is excellent, and a ∆C00 of below 2 is truly superb. The only issue with the Faithful mode is that it is slightly undersaturated at around 92.5% of the ideal.
In the other color modes the 70D was also typically excellent, with some minor differences. The Auto, Neutral, Portrait, and Standard modes were all roughly the same, with a ∆C00 of around 2.5. Auto and Standard had near perfect 100% saturation, with Neutral falling to 93% and Portrait pushing things to around 105%. With all of these modes you can expect accurate colors, though they tend to emphasize certain colors over others depending on the scene.
The only mode on the 70D that had a large error was Landscape, with a ∆C00 of 3.98 and saturation around 115% of the ideal. This mode is for verdant vistas and it tends to push blues and greens to look more vibrant than what they are in real life. This often makes landscapes look much better than in other modes, but just be sure to switch out of it if you want to take a portrait or some other kind of shot.
Noise Performance
The Canon EOS 70D offers an ISO range that stretches from 100-25600, in both RAW and JPEG. If shooting JPEGs, you also have the option of applying noise reduction, which will use some math trickery to smooth out as much noise as possible. Noise reduction comes in three flavors: Low, Medium, and High, as well as the option to turn it off entirely.
With noise reduction off, the 70D returned around 0.72% noise at ISO 100. This is barely perceptible in most scenes, and most cameras do well here. If you have to ramp up the ISO to shoot in lower light, you can expect noise to rise quickly. Typically we don't recommend shooting at any ISO setting where noise rises above 2%, which happens at all settings above ISO 1600 with no noise reduction applied.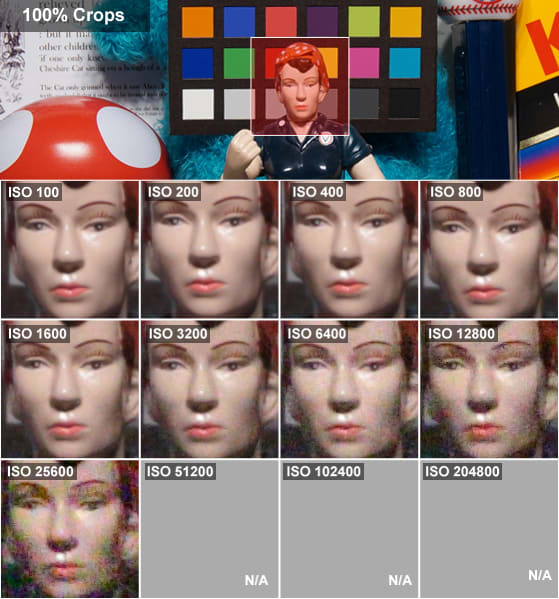 The 70D keeps noise below this 2% threshold through ISO 3200 with noise reduction set to Low, through ISO 12800 with noise reduction set to Medium, and essentially through the entire range with noise reduction set to High. While this sounds great, the tradeoff is that as you apply higher levels of noise reduction, you begin to lose fine detail in your final shot. As you can see in the crops above, image quality really starts to take a hit around ISO 3200, falling off quickly from there.
Dynamic Range
Canon's Dual Pixel CMOS AF technology is a ground-up rethinking of the way a camera focuses during video, but it potentially presents some new obstacles. By essentially splitting every pixel into two separate photodiodes, Canon's design does run the risk of limiting dynamic range; any extra circuitry required to manage the incoming information could reduce the area dedicated to capturing light, causing a hit to image quality.
Luckily, Canon seems to have already worked around these issues, as the 70D has better dynamic range than we saw with the 60D and is roughly on par with the rest of its DSLR lineup. At base ISO we were able to capture around 7.13 stops of "High" dynamic range, which we define as whole stops where the camera preserves a signal to noise ratio of greater than 10. This puts the 70D in some fine company and is about on par with most current mid-range DSLRs and mirrorless cameras.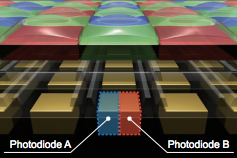 We recorded 6.87 stops of range at ISO 200, 5.36 stops at ISO 400, but unfortunately performance falls off soon thereafter. We saw just 3.22 stops at ISO 1600 and 2.28 stops at ISO 3200. From ISO 6400 and above the 70D didn't record a single stops of range that met this 10:1 SNR criteria. This matches up with our anecdotal ISO crops above, where image quality really takes a dive after ISO 3200. It's not terrible performance by any means, but it's only about on par with what we saw recently with the Panasonic GM1, which retails for just $749.99 body-only.
Is this the fault of Dual Pixel AF? It doesn't appear to be so. As far as we know, Canon fabricates all of its own DSLR sensors and this performance is right in line with what we've seen from other APS-C Canon DSLRs over the last few years. It does lag slightly behind what we've seen with Nikon and Pentax—both of which utilize third-party sensors from Sony, Aptina, or Toshiba—but the 70D is at least on par with other recent Canon cameras. It's possible that this is a new generation of sensor that would perform better were it not for the Dual Pixel construction, but we'd still call that a worthy tradeoff given the otherwise solid performance displayed here.
Video Quality
The 70D produces some of the best video we've seen from a still camera this year, lagging behind only a few other cameras we've recently tested. Paired with the 18-55mm STM kit lens, the 70D also displayed adequate sharpness, excellent low light sensitivity, and smooth autofocus thanks to the built-in stepping motor.
In our bright light sharpness test we recorded roughly 600 line pairs per picture height (LPPH) of sharpness horizontally and 700 LPPH vertically. In low light (60 lux) that fell to 575 LPPH horizontally, though the ALL-I compression type preserved 700 LPPH vertically despite the increased gain.
In our low light sensitivity test the 70D shined.
In our low light sensitivity test the 70D shined, requiring just 2 lux of light to produce an acceptably bright image. We consider "acceptably bright" to be anything that hits at least 50 IRE on a waveform monitor, which is a standard measure of brightness. The 70D could probably go even higher if you manually set the ISO speed to its maximum setting in video.
With our video motion rig the 70D's excellent 1080/30p footage held up very well. There was very little trailing visible in our test video, and practically no artifacting. There was slight frequency interference, but overall the 70D performs excellently despite some rolling shutter that is par for the course with DSLRs. The quality difference between ALL-I compression and IPB compression is minimal overall, though the ALL-I footage is considerably easier to edit while the IPB video takes up less space.
Continuous Shooting
The 70D managed a very respectable seven frames per second shooting in our continuous shooting test, in both RAW and JPEG. Capacity is a real limitation with the camera, though, as it could only manage around ten shots when shooting RAW and just five frames at that speed when shooting RAW+JPEG. JPEG alone was much better, with the camera capable of around 50 shots at full speed before slowing down.
These speeds are of course with autofocus and exposure locked on the first frame. You can shoot continuously with continuous autofocus enabled, but as the camera is tracking the subject, your speed will depend on the system's ability to keep a subject in focus. We found that subject tracking AF worked fairly well, tracking subjects around the frame with relative ease.
Canon 70D vs. Nikon D7100 vs. Pentax K-3
Canon's 70D lacks some of the hardware of its peers, but Dual Pixel CMOS AF is a major advantage.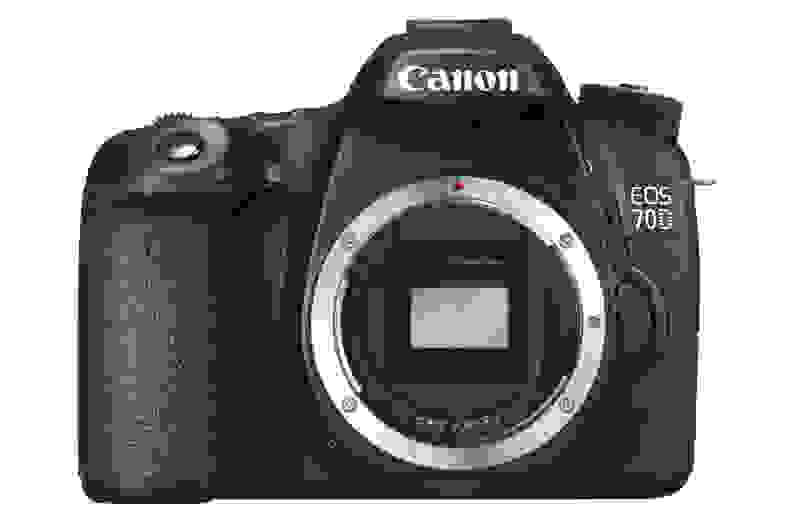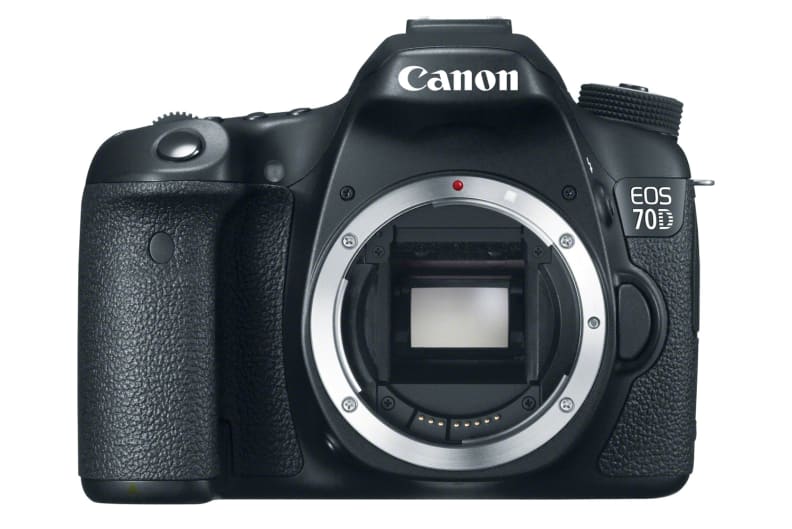 The two current models that the 70D most directly competes against are the Pentax K-3 and the Nikon D7100. All three models utilize APS-C size image sensors that are typical for a consumer-level DSLR but smaller than the full-frame 35mm sensors typically found in high-end prosumer or professional DSLRs. While that puts these cameras on the same level as your typical sub-$1,000 DSLR, they make up for it with added hardware, more durable construction, additional features, and superb handling.
All three models are fairly large, but put the extra real estate on the body to good use. For example, the Canon 70D, Nikon D7100, and Pentax K-3 all have secondary, low-power LCDs on the top of the camera that give you a quick readout of the camera's current settings. While to most amateurs this amalgamation of numbers and symbols won't make much sense, for a more advanced shooter it tells you everything you need to know about the current state of the camera. In addition, these LCDs usually have some sort of backlight that allows you to easily see what's going on without activating the rear LCD (draining the battery unnecessarily) or giving off too much light.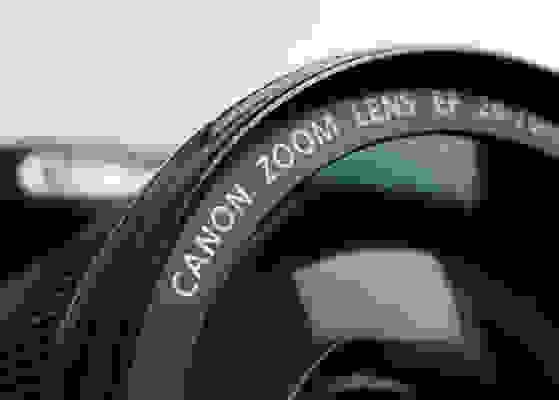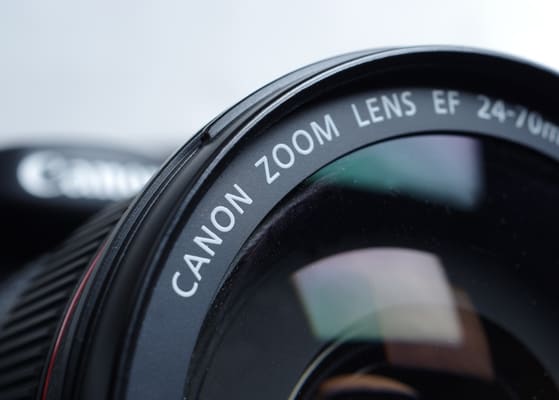 While we haven't yet tested the Pentax K-3 fully in our labs (our review will be out soon), the EOS 70D and Nikon D7100 both stack up well against one another. We found that the Nikon D7100 had slightly better performance in low light and at high ISO speeds, with impressive dynamic range and continuous shooting speeds. The D7100 also has the benefit of dual memory card slots and a much more comprehensive 39-point autofocus system, compared to the 70D which has just a single card slot and a 19-point cross-type autofocus sensor.
We were also very impressed with the D7100's video quality, something which is enhanced by the inclusion of a mic and headphone jack for more advanced video setups. The 70D has a 3.5mm mic jack, so you're not stuck with just the included stereo microphone, but without a headphone jack the only way to monitor what you're recording is with on-screen levels. That's a shame, because the 70D records excellent quality video that is easily among the best that we've seen from a DSLR to this point. The 70D also has the benefit of its Dual Pixel CMOS AF, which allows for vastly superior autofocus performance compared to other DSLRs. It's a major trump card for Canon in this comparison, and while the lack of a headphone jack seems like little more than cynical feature-gutting, you can add external audio solutions later, while Canon's competition can't add Dual Pixel AF with an aftermarket attachment.
The Canon EOS 70D is best for: Hobbyist-level photographers who want a do-everything, durable DSLR. Video shooters who are willing to overlook the lack of a headphone jack.
The Nikon D7100 is best for: Still shooters who only occasionally dabble in video. Nikon shooters who want to use non–AF-S lenses but want autofocus. Video shooters who want the best on-camera audio monitoring but are willing to live without Dual Pixel CMOS AF.
The Pentax K-3 (full review pending) is best for: Pentax shooters who want superb handling and drastically improved AF over the K-5 and K-5 II. Still shooters who don't really care for video, but want extreme weather-sealing and a better selection of compact, weather-proof lenses for APS-C cameras.
For Canon Shooters
The 70D is a far better value than the T5i, but can it compete with the 6D?
Within Canon's lineup the 70D sits just above the warmed over Rebel T5i and just below the EOS 6D. The 70D is a clear winner over the T5i (our review is pending), which we found to be nothing more than a simple rehash of the T4i in our testing. With the T5i going for over $1,000 with a kit lens, there's no question that users should either opt for a discounted T4i (or even T3i) or step up to the 70D.
For more advanced shooters who really know their way around a camera, the full-frame EOS 6D also deserves a look.
For more advanced shooters who really know their way around a camera, the full-frame EOS 6D also deserves a look. Canon's cheapest full-frame digital camera, the 6D is an enticing option for those looking for professional-quality images on a modest budget. The 6D is only a few hundred dollars more than the 70D (body-only), though as the 6D also doesn't have a mic jack, second card slot, or a much better AF system, you're paying almost entirely for the larger sensor and losing the Dual Pixel AF in the process.
But for those who have a little more room in their budget (for both the body and the kind of lenses that can take advantage of the larger sensor), the 6D is a compelling option that will give you the full frame aesthetic so many shoppers are after.
To check out all of our current top-ranked DSLRs, you can head right here.
The EOS 70D is best for: Canon shooters that don't want to upgrade to the size and cost of a full-frame body just yet.
The EOS 6D is best for: Canon shooters who want to get into full-frame shooting at a relative bargain.
The Rebel T5i is best for: Lovers of articulating screens? That or anyone who wants a simpler to use Canon DSLR but for some reason can't find a T4i or Rebel SL1.
Conclusion
Stuck between a Rebel and a hard place
The Canon EOS 70D sits at an interesting middle ground in Canon's lineup. It is unquestionably the company's flagship APS-C DSLR, far outstripping the company's entry-level Rebel series and rendering the pricier 7D practically obsolete. But with the advent of sub-$2,000 full-frame DSLRs like the Canon EOS 6D, the idea of a prosumer APS-C camera could be dying on the vine.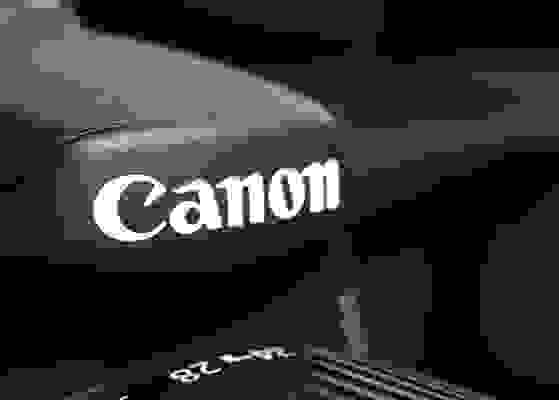 Still, while the price gap between the top-of-the-line APS-C DSLRs and the full-frame models is as narrow as it's ever been, it's still a gap. At $1,199.99 body-only, the 70D does represent significant savings over going with the $1,899.99 EOS 6D, with enough feature parity—and in some cases, unique advantages—to at least justify the 70D's existence.
Compared to its competition, the 70D also has some major points in its favor.
Compared to its competition, the 70D also has some major points in its favor. The 70D's video quality is as good as we've come to expect from Canon, and this is still the easiest menu system to use of any DSLR. Unfortunately, Canon's troubling trend of leaving out key hardware extras continues here, as the 70D lacks a second card slot, headphone jack, and its 19-point AF system lags behind what both the Pentax K-3 and Nikon D7100 offer.
Those who exclusively shoot stills will likely find the Nikon and Pentax models to be more compelling on paper. And even for those who are investigating the 70D purely as a video camera, the lack of a headphone jack also looks like a major oversight compared to the competition. The truly revolutionary Dual Pixel AF and generally excellent video quality preserves Canon's advantage with video DSLR shooters, but professional setups will once again have to figure out an off-camera audio solution.
Ultimately, this is still the best all-around DSLR in this price segment, pending our test of the Pentax K-3. The video quality is top notch, the still image quality only suffers in extreme low light, and Dual Pixel AF offers a usability advantage that nobody else can match. For a consumer-level shooter or hobbyist that wants a durable, control-laden DSLR that can do video and stills equally well, the 70D is the choice to beat. That said, the 70D still feels like a bit of a missed opportunity; had Canon simply matched their competition and included a headphone jack and a second card slot, this would be a slam dunk selection across the board. As it stands it's still an impressive update that improves on the 60D in many ways, but there's certainly room for future improvement.
Meet the tester TJ Donegan
Executive Editor
@TJDonegan
TJ is the Executive Editor of Reviewed.com. He is a Massachusetts native and has covered electronics, cameras, TVs, smartphones, parenting, and more for Reviewed. He is from the self-styled "Cranberry Capitol of the World," which is, in fact, a real thing.
Checking our work.
Our team is here for one purpose: to help you buy the best stuff and love what you own. Our writers, editors, and lab technicians obsess over the products we cover to make sure you're confident and satisfied. Have a different opinion about something we recommend? Email us and we'll compare notes.
Shoot us an email