The PowerShot A3100 IS, priced at $179.99, comes in red, silver, and the blue shown here, each with a silver panel on the side. The small dot above and to the left of the lens is the mono microphone; the larger dot is the self-timer indicator lamp.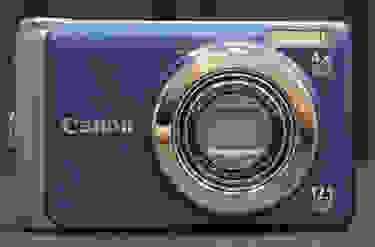 A colorful, conservative-looking camera
Back
The 2.7-inch 230,000-dot LCD is framed by a black bezel. The lens zoom toggle also controls zoom levels during playback. There's a dedicated button to start face detection mode while shooting (with the smiley icon), another to move into playback mode. Each leaf on the four-way controller also provides direct access to key camera functions, a useful strategy on a small camera body without a lot of room for extra controls. The DISP button toggles different screen display layouts.
Learn the four-way controller icons and gain direct access to key record and playback functions
Sides
The right side of the camera has a single port, covered by a tethered door, that's used for both data and AV connections, along with the connecting point for the wrist strap.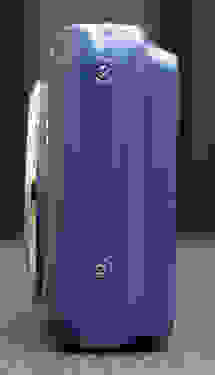 The unadorned left side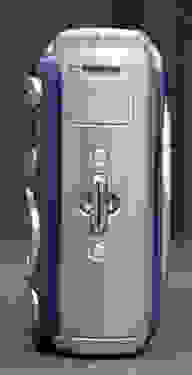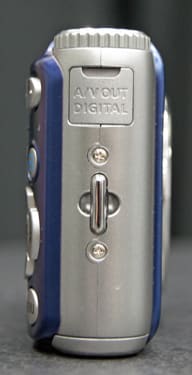 I/O port and wrist strap connector
Top
The top of the camera maintains the two-tone theme. It's concave in the center, which provides a nice little resting place for your left index finger. The small speaker (the line of three dots) is far enough from the edge so it won't be covered accidentally, and the shutter is placed well for convenient access. Having the mode dial on the far outer edge also works nicely, with a knurled outer edge that's makes it easy to turn with the side of yourfinger.

The camera top has a rounded indent.
Bottom
The latched battery / memory card compartment is on the left. The plastic tripod socket feels a bit flimsy: we'd be careful not to overtighten and strip the threads.

Beware the plastic tripod socket.
Viewfinder
There's only one holdout camera with optical viewfinder in Canon's A series (the A1100 IS) -- all the others, including the A3100 IS, are LCD-only.
LCD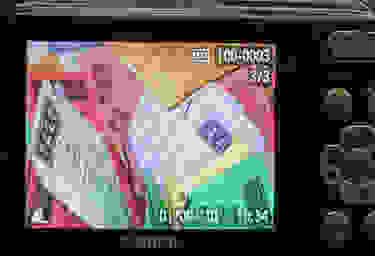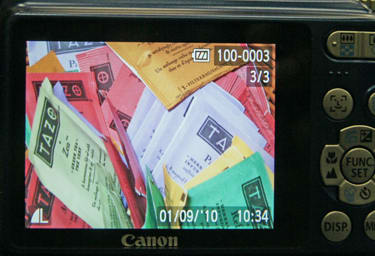 The 2.7-inch 230,000-dot LCD is serviceable if not exciting.You can adjust the brightness level, which is potentially useful when headed outdoors, though our testing was limited to the fluorescent illumination of a back meeting room.
While shooting, you can have a clean screen or a basic information overlay. During playback there are three options, including a clean screen, basic info or a detailed info display with a histogram.
Flash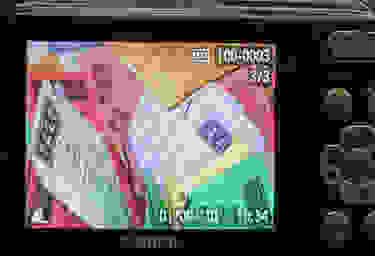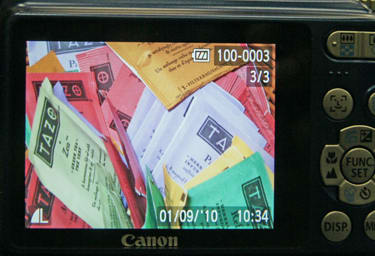 The A3100 IS flash is a bit wider than many others, which should provide broader coverage. The positioning is fine, about as far as you can get from the center of the lens without popping up from the body altogether, so red-eye in portrait shots won't be much of a problem.
The flash controls are surprisingly complete, including auto, red-eye reduction (pre-flash), auto red-eye correction (digtally removing red-eye), flash exposure lock, fill flash, slow sync (for capturing both subject and background when shooting in the dark) and smart flash (which automatically controls aperture, shutter speed, ISO and flash output level).
Canon gives the flash range as 12 inches to 6.6 feet at the widest lens setting, 12 inches to 13 feet at full zoom.
Lens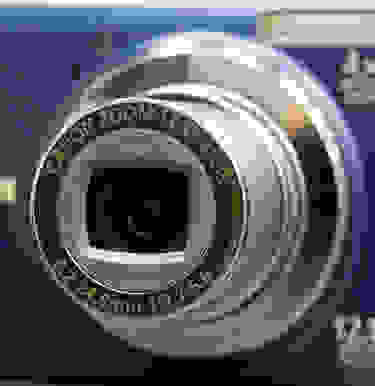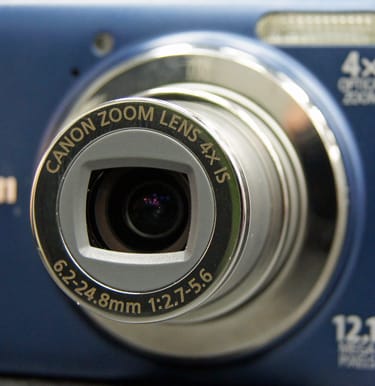 The 4x zoom lens is equivalent to a 35-140mm on a 35mm camera. That's not a lot of wide-angle coverage, which will affect both scenic photos and indoor group shots. At a maximum f/2.7, the lens is reasonably fast for low-light purposes. As for close-ups, macro mode can focus to about 1.2 inches from the lens, a nice tight shot.
Jacks, Ports & Plugs
A single port, located under a tethered plastic door on the right side of the camera, handles both USB 2.0 data (via an industry-standard connection) and video output, with mono audio.
Battery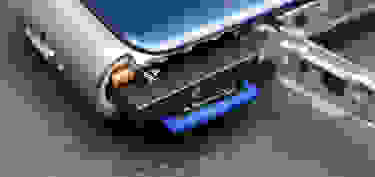 One of the big differences between the A3100IS and its predecessors in Canon's low-cost A series is the addition of a Lithium ion rechargeable battery, eliminating the need to keep buying AAs, or invest in rechargeable AAs plus charger (about $30). Canon rates the skinny NB-8L Lithium ion battery at 240 shots, which means you'd better pack the charger if you're planning a weekend away. On the other hand, fat AA batteries don't fit narrow chassis, and add weight to a camera.
Memory
Canon is breaking some ground here, as one of the first manufacturers to support the latest SDXC memory card format (in addition to the familiar SD and SDHC cards). These high-capacity XC cards are starting out expensive (Panasonic announced February shipment of a 64 gigabyte card for $600 and 48 gigabyte for $449), but history suggests those prices will plummet sooner rather than later.
Design & Appearance
---
Canon courts a broad audience with a fundamentally conservative design, using a two-tone color scheme that adds a welcome bit of visual flair. The edges are nicely curved, and there's a raised slope to the front of camera as the blue panel meets the silver section, but the overall feel is a bit retro.
Size & Handling
---
The 3100 IS measures 3.83 x 2.29 x 1.11 inches (97.2 x 58.2 x 28.1mm) and weighs about 5.47 oz.(155g) including battery and memory card. That makes it very portable if a bit thick: better in a jacket pocket than trying to stuff it into a pair of tight jeans.
As for handling, the camera is quite comfortable and maneuverable. There's enough available real estate to place your hands without covering anything vital, and the controls are conveniently placed. The top panel has a curved indentation on the top that gives you a little extra purchase with your left index finger, and a bit of a rise on the front right that provides some extra grip. The surfaces are fairly smooth, without much texture to hold onto, but the shape and size make the A3100 IS feel secure in your hands. 
Menu
---
There's a quick menu available while shooting, as shown below, that provides access to ISO, white balance, My Color, metering mode, drive mode and image size controls without accessing the main menu.
The main menu system is the classic Canon design: arranged in tabs across the top, with easy to read white text against a gray background. As you cursor through your menu options a caption appears at the bottom of the screen (the white against black type) to explain the item's function, a useful feature.
Ease of Use
---
There aren't a lot of ways you can go wrong with this simple camera. There are a few features that require a little cerebral activity to understand: the My Colors shooting customization settings, for example, won't be instinctively obvious to inexperienced photographers, and some of the scene modes are potentially confusing (lowering resolution to boost ISO, for instance). You don't have to use these features to take good pictures, though, and we're happy to see a little room to grow built into this point-and-shoot camera's controls.
Auto Mode
---
Smart Auto mode attempts to match the scene the camera's seeing with one of 18 shootings situations, and adjusts the exposure settings accordingly. The mode that was chosen appears on-screen when you review your shots. Since we were trying the camera at a trade show, lacking in scenic vistas and active sports opportunities, we can't tell how well the system works, but it recognized Macro close-ups and faces just fine. You can't use exposure compensation or change focus modes in Auto mode.
There is a second auto mode, called Easy and labeled with a heart on the mode dial, that locks out any user control, with the exception of turning the flash on and off. We're not quite sure why they decided to use the heart icon here. Is it an ironic comment on our lack of control when it comes to matters of the heart? A display of affection towards newbies unfamiliar with manual camera controls? Only Canon's engineers know for sure.
Movie Mode
---
Movie recording is strictly standard definition, in 640 x 480 or 320 x 240 resolution, stored in AVI files with MJPEG compression. There are two compression settings available for shooting at 640 x 480, though saving memory space seems less than mission-critical given current memory card sizes.
Drive/Burst Mode
---
There is, in fact, a burst (or at least, continuous shooting) mode, which Canon clocks at about 0.8 shots per second. Not wildly speedy, certainly, but you do get the convenience of keeping your finger mashed down on the shutter rather than repeatedly pumping if you want a series of shots.
There is also a self-timer, and it's pretty sophisticated. In addition to the standard 2-second an 10-second delays, you can also enter custom settings, with a delay anywhere from 1 to 30 seconds, with 1 to 10 shots taken when the timer expires. This degree of customization is rarely found even on more expensive cameras.
Playback Mode
---
The level of choice and information presentation in playback mode is quite complete. You can see your photo on a clean screen, overlay basic shooting info, or detailed info complete with a histogram. The image can be magnfied up to 10x by pressing the zoom switch in one direction, or displayed as thumbnails (as few as 4, as many as 140) by zooming out repeatedly. The slide show utility lets you decide how long each photo is shown, and whether you want one of two transition effects: nothing special, but it works.
If you have the time or inclination (we don't, but you may have more time on your hands) there's an in-depth photo categorization system that lets you tag photos as favorites or sort them into a variety of categories, which can then be used to browse selected images. As for editing, photos can be trimmed, resized or corrected for red-eye problems.
Custom Image Presets
---
Quite a few scene modes are available. The mode dial offers Portrait, Landscape, Night Snapshot, Kids & Pets and Indoor, along with a SCN setting to manage the remainder. These include several fairly standard offerings (Beach, Foliage, Snow, Fireworks) plus a few oddballs. Face Detection Self-Timer is included here: as the name implies, the camera waits until a face appears in the frame before snapping a shot. The Low Light mode is actually a renaming of the High ISO mode offered in previous cameras: it bumps the effective ISO up to 3200, but cranks the resolution down to 1600 x 1200. Newly introduced here are Super Vivid and Poster Effect. The former gives color and saturation a stratospheric burst that might be a fun transformation in certain situations. Poster Effect, which tones down the difference between colors to get a kind of flat posterized look, didn't strike us as particularly useful, but your aesthetic sense will be the final arbiter.
Manual Controls
---
Program mode lets you set ISO level, white balance, metering mode, and image size. My Color mode is available, which offers a few SLR-style color modes (Vivid, Neutral, Sepia and Black & White), which can be further tweaked for contrast, sharpness and saturation. Exposure compensation is available, and so is manual white balance. You can't directly control aperture or shutter speed, and there's no manual focus capability, but the level of image tone and color control is impressive.
Focus
---
There are three available focus settings: normal, macro and infinity.
ISO
---
Full-resolution ISO settings range from 80-1600. There's also a Low Light mode that boosts the ISO to 3200 while dropping resolution to 2 megapixels.
White Balance
---
In addition to the auto setting, there are five white balance presets (daylight, cloudy, tungsten and two fluorescent settings), and you can take a manual white balance reading.When using face detection, the white balance is set for the recognized face.
Metering
---
The A3100 IS offers evaluative, center-weighted and spot metering, and meters for recognized faces in Face Detection autofocus mode.
You can't directly set the aperture or shutter speed, but you can tweak the camera's reading using exposure compensation, with a ±2 EV range in 1/3 stop increments.
Shutter Speed
---
The shutter speed range in standard mode is 1/1600 second to 1 second. In Long Shutter mode, the maximum exposure can be stretched to 15 seconds.
Aperture
---
The maximum f/2.7 aperture is fast for an inexpensive camera, useful for shooting in low light and bumping up shutter speeds when capturing fast action.
Image Stabilization
---
Canon provides optical image stabilization to combat camera shake.
Picture Quality & Size Options
---
There are six file size settings: Large (4000 x 3000), Widescreen (4000 x 2248) Medium 1 (3264 x 2448), Medium 2 (2592 x 1944), Medium 3 (1600 x 1200) and Small (640 x 480). There's also a Low Light scene mode with 1600 x 1200 resolution.
RAW file shooting isn't available.
Picture Effects
---
Canon includes a fairly sophisticated image control system in its point-and-shoot My Colors feature. You can shoot with My Colors off, or select Vivid, Neutral, Sepia or Black & White. You can even customize the levels of contrast, sharpness and saturation for each mode. All in all, it's a useful type of hands-on control.
Meet the tester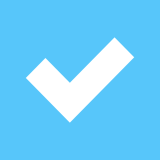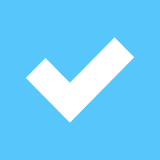 Steve Morgenstern
Editor
Steve Morgenstern is a valued contributor to the Reviewed.com family of sites.
Checking our work.
We use standardized and scientific testing methods to scrutinize every product and provide you with objectively accurate results. If you've found different results in your own research, email us and we'll compare notes. If it looks substantial, we'll gladly re-test a product to try and reproduce these results. After all, peer reviews are a critical part of any scientific process.
Shoot us an email