For much of the 2000s, Canon dominated the digital compact camera market with apparent ease. Its PowerShot models were the unquestioned champions of both value and performance, and for a long time it seemed as though no one could ever hope to catch up. But success breeds complacency, and that's how empires fall to ruin.
Canon may be far from ruined, but the premium point-and-shoot throne has passed to Sony. For more than a year, the Cyber-shot RX100 and then the RX100 II have been the cameras to beat. Other challengers have risen, too—the high-end compact field has grown more competitive than ever as camera manufacturers look for ways to get you to put down that smartphone.
Enter the PowerShot G1 X Mark II (MSRP $799.99), the challenger Canon hopes will win back its kingdom. As an update to the earlier, failed G1 X, it's impressive: a smaller body, a better lens, speedier operation, and improved autofocus. But as a competitor to the mighty RX100 II? We're not so sure.
Canon's champ slims down for the big fight.
First things first: The G1 X Mark II is smaller in every dimension than its predecessor, though the biggest size savings by far is in height. That's because the Mark II ditches the useless optical finder that has helped define the PowerShot G series as a whole. Die hard fans might despair at this change, but for us it's a move for the better. The OVF was demonstrably inferior to today's EVFs, as well as the G1 X Mark II's own rear LCD. Its absence should only be an issue in super-bright sunlight.
(Those who can't live without a viewfinder of some sort can pony up for the optional EVF-DC1 external EVF, which will cost $299.99.)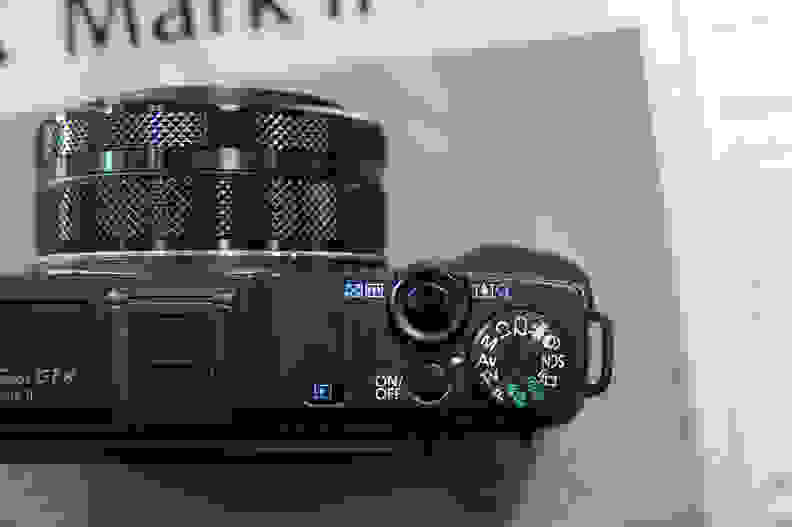 Elsewhere, the changes are more subtle. While several dials and buttons have gone missing—like the front e-dial, top-mounted exposure compensation dial, and metering mode selector—there are gains in other places. The lens, for instance, now has two control rings: one to control focus, and one that can be assigned to a vital shooting function like aperture control. Generally speaking, the rear and top controls are a little more cramped, but that's to be expected given the smaller overall body.
The rear screen isn't a particular standout—except for its range of motion. Where the original G1 X hinged out to the left and then rotated, the new one hinges straight back (to a surprising degree) and then up 180 degrees (for selfies) or down 45 degrees (for shots over crowds). We've seen similar screens on other compacts, but Canon's is among the sturdiest we've encountered. The Mark II's display is also a capacitive touch panel. That's great news, since Canon's touch UI is among the best on the market.
Ergonomically, the camera doesn't suffer much for its slimmer, shorter profile. The grip is actually a bit deeper and narrower, and the new faux-leather covering still provides plenty of traction. Around back, the thumb rest is actually more pronounced, making the Mark II feel more secure in your hand than the original G1 X.
A brand new lens steals the show.
The G1 X Mark II is a comprehensively better camera than the G1 X, but its new lens is by far its greatest improvement. Where the original made do with a 28-112mm (effective) zoom with a f/2.8–5.8 maximum aperture, the sequel sports a 24-120mm f/2–3.9 lens. The extra reach on both ends will be helpful, but it's the speedy aperture that really excites us. Combined with the camera's unusually large sensor, it makes for truly DSLR-like image quality, complete with nicely blurred backgrounds and fine high-ISO results.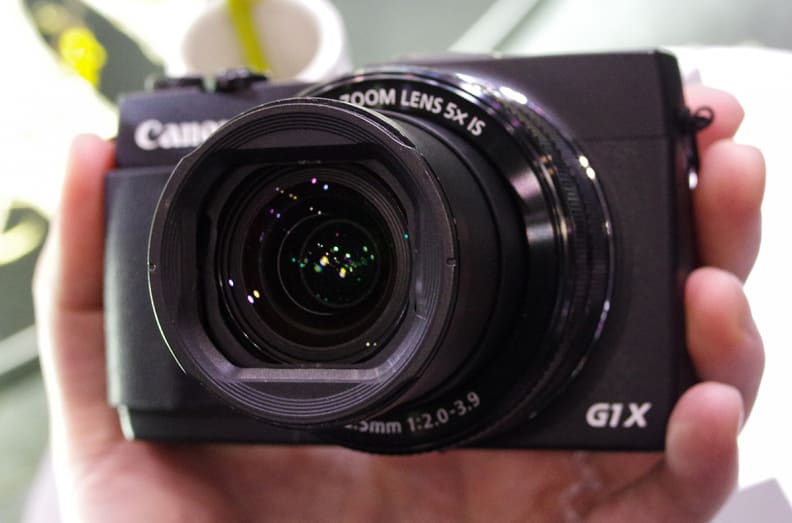 The sensor itself is a "new type" of 1.5-inch chip (larger than Micro Four Thirds, smaller than APS-C) that's actually slightly lower-res than its predecessor at just 12.8 megapixels. But it has one neat—and rare—party trick: The G1 X II allows you to shoot in either the 4:3 or 3:2 aspect ratio while retaining the same field of view. That's a feature we haven't seen since the Panasonic GH2's multi-aspect sensor, and one we'd like to see a lot more often.
The new AF system offers 31 focus points, compared to nine on the original G1 X. We definitely noticed a big improvement in AF responsiveness.
Autofocus has been significantly beefed up. The new system offers 31 AF points, compared to nine on the original G1 X. In our time with the camera on the CP+ show floor in Yokohama, we definitely noticed a big improvement in AF responsiveness. The camera locked on to subjects easily—even those with less than optimal contrast—in spite of the sensor's lack of phase detection pixels. Touch focusing also works extremely well, just like it has on other recent PowerShots.
Additional improvements include enhanced WiFi connectivity via NFC pairing, remote shooting functionality, 14-bit RAW recording, and an optional grip.
Though much improved, it still leaves us wondering... why?
The retooled Canon PowerShot G1 X Mark II is a clear shot at the Sony Cyber-shot RX100 II—a camera that currently enjoys an undisputed reign atop the pocket cam hierarchy. And in some key specs, the Canon is a superior offering. Its lens is both brighter and has more reach, and the sensor's a lot bigger, too. All of that ought to translate to higher image quality, especially in low light.
But the bigger, better lens and bigger, better sensor also result in a bigger, bulkier camera than the RX100 II. Like, seriously bigger and bulkier. The most appealing thing about the RX100 is how much imaging power it packs into such a small chassis, and Canon simply can't compete. Even many mirrorless cameras with collapsible lenses are as small or smaller.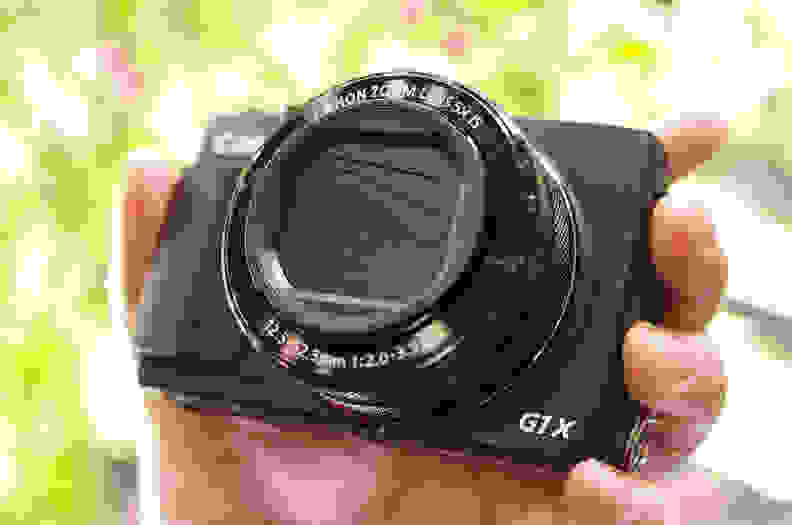 If you want the better lens and sensor offered by the G1 X II, compact size isn't the only thing you'll have to sacrifice: Canon's new offering is a full $100 more than Sony's current price on the RX100 II. Moving past Canon's rivalry with Sony, $799.99 is also $250 more expensive than Canon's own Rebel T5, the company's least expensive DSLR.
Like its predecessor, the G1 X Mark II is left in a no man's land between competing cameras. It's not as small as the RX100 II, not as powerful as the Rebel T5, and not as affordable as either one.
So if it's not competing in size or price, that means that the G1 X Mark II truly is all about image quality. On that score, you can rest assured that you will get plenty of great image quality from the new sensor and lens. But is the image quality worth the other sacrifices?
Like its predecessor, the G1 X Mark II is left in a no man's land between competing cameras. It's not as small as the RX100 II, not as powerful as the Rebel T5, and not as affordable as either one. Still, for the right user we get the feeling it could be a compelling choice. Be sure to keep an eye out for our full review, where we'll find out just how much performance Canon is able to wring out of this oddball point-and-shoot.
Meet the tester Ben Keough
Contributor
@ben_keough
Ben is an experienced industry journalist who formerly served as Senior Editor of News and Features at Reviewed. He now contributes as a freelance writer and editor. Most recently hailing from the vast wilds of the American southwest, he is an avid photographer who is deeply disturbed by the lack of wide open landscapes in Boston.
Checking our work.
Our team is here for one purpose: to help you buy the best stuff and love what you own. Our writers, editors, and lab technicians obsess over the products we cover to make sure you're confident and satisfied. Have a different opinion about something we recommend? Email us and we'll compare notes.
Shoot us an email