At the top of the heap is the new PowerShot G3 X, with its large body and powerful zoom lens. It's complemented on the opposite side by the entry-level, pocketable PowerShot G9 X. In the middle you'll find the PowerShot G7 X, which is something of an "inbetweener" that is a little bigger than the G9 X but offers more optical zoom.
The new PowerShot G5 X (MSRP $799) is also a bit of a middle child, squeezing in between the G3 X and G7 X while offering users enthusiast-level controls and an EVF—something no other G-series camera provides. The G5 X brings a mix of features, controls, performance, and price that stands out in the market. Complete with an EVF, hot shoe, lens-mounted control ring, and fully articulating LCD, the G5 X has all the toys enthusiasts love, with a reasonable, competitive price tag.
Design & Handling
Point-and-shoot performance, DSLR controls.
Right out of the box it's evident that the G5 X is quite different from most Canon PowerShot cameras. The pro-style layout and controls are much more advanced than either the G7 X or G9 X, giving users who crave control a compelling reason to spend a little more money despite the identical image sensor/processor combo inside.
×
Tour
This pro-style design philosophy is most notable on the top of the camera. Bulging from the middle of the camera is a hump that serves as a home for a 2.34m-dot EVF (electronic view finder), hot shoe, and built-in flash. The hot shoe and EVF are both features that are lacking from other G-series cameras–we're not counting the accessory EVF available for the G3 X here—and it gives this a distinctly DSLR-like flavor. The EVF makes shooting in bright light much easier, however, the screen can seem a bit small if you're use to optical viewfinders. It also tends to make images look punchier than they actually turn out to be at standard settings.
As expected, given the control layout, the G5 X handles very much like an entry-level DSLR.
The G5 X feels fairly dense for a relatively compact camera. It's not necessarily heavy, but it feels very sturdy. As expected, given the control layout, the G5 X handles very much like an entry-level DSLR. Unlike many so-called "advanced" cameras this one is actually not that hard to learn. There's still a learning curve, but like most Canon cameras it's easy enough to pick up with time.
The control layout clearly calls upon Canon's Rebel DSLRs for design inspiration, with a command dial on the front of the grip side. There's also an additional dial wrapped around the lens, providing on-the-fly control of shooting settings. On the top left of the camera you'll find a mode dial, with the power switch, zoom lever, shutter release, and exposure compensation living on the right side of the EVF. The rear of the camera has a standard DSLR command wheel, with all the controls you'd need and a dedicated video record button where your thumb rests.
We were delighted to find the back of the G5 X has an articulating rear LCD. It's actually the exact same touch-screen monitor as the G7 X and G9 X, but with a fully articulating hinge. The touchscreen is fairly responsive when using the menus, though if you prefer to use the command dial you can always just do that. Additionally, you can use touch-to-shoot for stills and touch-to-focus while shooting video–which are both extremely handy.
As someone that uses professional DSLRs on a regular basis, I found the G5 X to be quite easy to adjust to. I particularly found the command wheel around the lens a joy to use. It truly adds to the experience, and it has just enough resistance that you won't accidentally turn it while shooting. In general the G5 X felt instantly familiar to me, and it's close enough to other Canon point-and-shoot cameras that it should be an easy transition for anyone moving to this camera from another Canon.
Performance
There's a reason Canon keeps using this sensor.
Despite appearances, the G5 X is almost identical to the rest of the G-series in terms of performance. That's because the G9 X, G7 X, G5 X, and G3 X all share the same 1-inch, 20.2 megapixel sensor and Digic 6 processor. As a result, all four cameras have almost identical image quality, though the cameras do feature different lenses that will expand or limit your photographic options.
The 24-100mm (35mm equivalent) f/1.8-2.8 lens on the G5 X is actually the same as the G7 X. These are the fastest lenses in the line, making it the best-equipped for shooting in low light environments. While it doesn't have quite as much zoom as the G3 X, this lens does provide a very useful focal length and it complements the sensor beautifully, producing detailed photos across the zoom range.
×
Samples
Color and white balance accuracy on the G5 X are fairly pedestrian, though, even for a point-and-shoot. The "My Colors" setting, which can be used to give users a variety of looks and styles, is best left off if you're looking for the most accurate color results. Auto white balance can be trusted to perform well under most lighting conditions with the exception of the always tricky incandescent light.
Unfortunately, even with a 1-inch image sensor and a modern processor Canon hasn't opened up the video options much. While the G5 X is capable of capturing footage in 1080/60p, the G5 X simply can't compete in video quality with cameras that shoot 4K. The footage we captured in the lab was okay for a 1080p camera, but had a tendency to show moire and other discrepancies that lead to a less than desirable final product. It does, however, perform extremely well in low light, needing very little light to produce an acceptable image.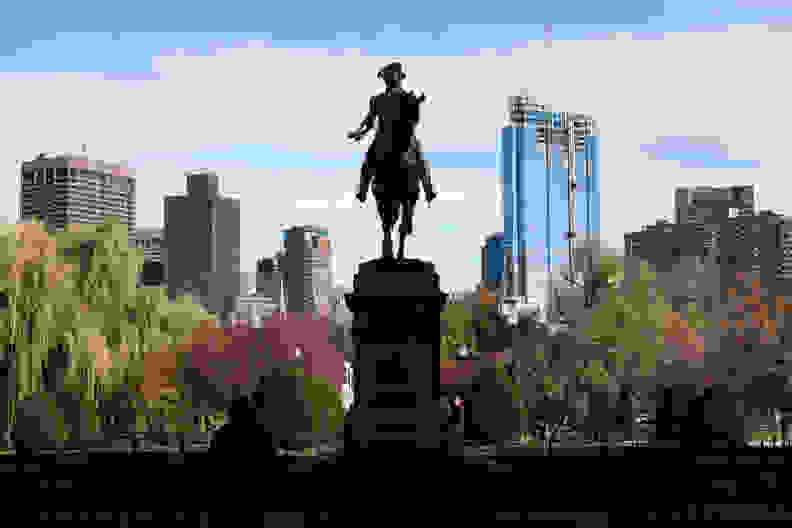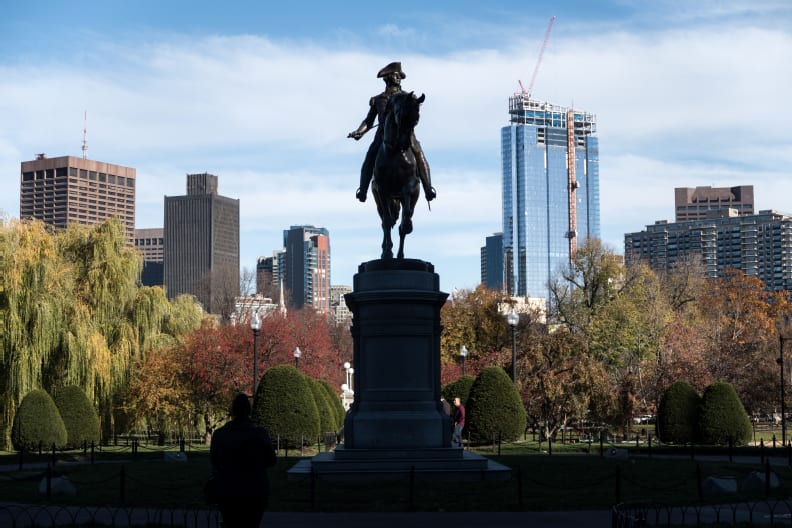 Probably the biggest deficiency of the G5 X is its poor battery life, however, as it's stuck with a tiny battery despite the need to power an EVF and a large image sensor. If you plan to shoot quite a bit, you would do well to pick up a pair of additional batteries. Disabling the rear LCD as a viewfinder will help extend the battery life, but you're still looking at around 200 shots per full charge according to Canon.
Conclusion
The G5 X makes for crowded lineup, but it complements the rest of the G Series perfectly.
With the G5 X, Canon now has four distinct—if not entirely different—options for people looking for a dedicated point-and-shoot camera. It's a bold move from the market leader, and it's one that we think customers will respond positively to. With the G3 X, G5 X, G7 X, and G9 X you can now pick the form factor that works for you and be assured of getting a high-quality camera. The only problem is deciding which one is right for you.
If you're looking for maximum portability, the $500 G9 X offers big performance at a reasonable price in a camera barely bigger than a deck of playing cards. You'll get only the most basic controls, but it's truly pocketable. If you want a little more control, but still need portability, the $600 G7 X is a fast, durable camera that can go with you anywhere. The big boy of the group is of course the $900 G3 X. It's ideal for users that need a big zoom and total control, but it sweetens the pot with weather sealing and the best battery life of the lot.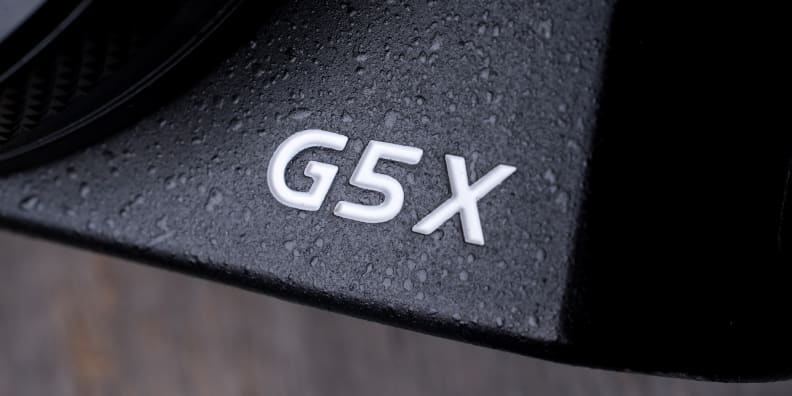 Then we have the G5 X. Falling between the G3 X and G7 X in terms of size, the G5 X is perhaps the most versatile of the group, including the same lens as the G7 X and pro-style controls that compare well to the G3 X. It also comes with a few unique bells and whistles, such as a fully articulating LCD, built-in EVF, and lens mounted command dial. That extra hardware drains the battery, but it's a worthwhile tradeoff to get a point-and-shoot that is this powerful and adaptable for under $800.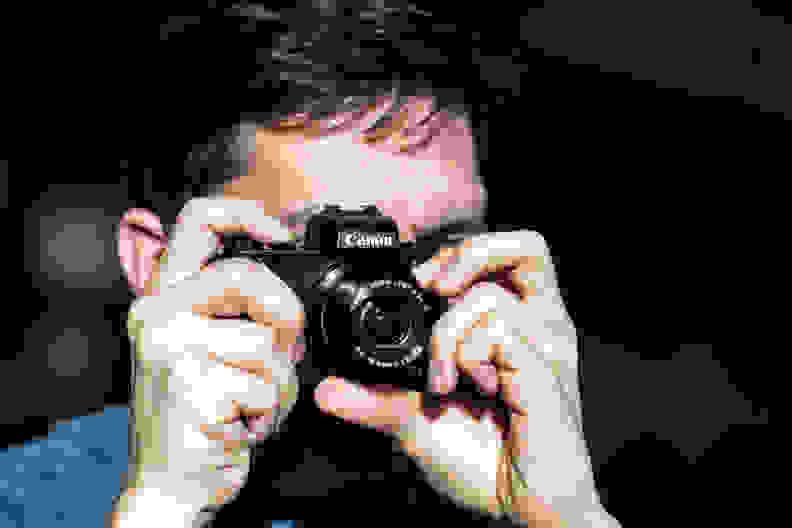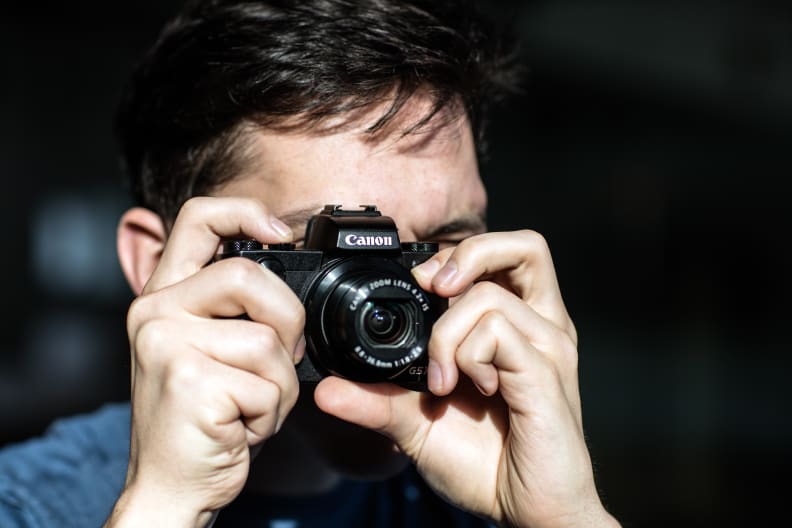 Even looking beyond Canon's borders, there just aren't many cameras like the G5 X. The closest is possibly the Olympus Stylus 1s, which has a similar control layout, but features a smaller 1/1.7" 12 megapixel sensor. Sony's older RX100 Mark III also makes a compelling case if you need something more compact, but the G5 X handles slightly better and is a bit easier to use.
Despite this, we still feel the G5 X is still a tough sell at $799 for anyone who doesn't own a camera already. Entry-level DSLRs and small mirrorless cameras like the Olympus OM-D E-M10 have all the controls an enthusiast could want, better performance, similar size, and actually cost quite a bit less on sale. It's also infinitely more adaptable because you always have the option to add a different lens.
If you can't be troubled with interchangeable lenses, the G5 X is not a bad buy.
But if you can't be troubled with interchangeable lenses, the G5 X is not a bad buy. It's compact, powerful and balances the needs of beginners and pros alike. It won't bring back the point-and-shoot's glory days, but it's proof the category at least isn't going quietly.
By the Numbers
The G5 X is the final piece to the G-series puzzle, giving enthusiast-style controls with point-and-shoot portability. It provides a huge step up in performance and control from a smartphone, but it isn't going to keep up with any DSLRs. That said, it's perfect for someone looking for a lot of control out of their point-and-shoot camera.
Color & White Balance
Color on the G5 X is fairly pedestrian, even for a point-and-shoot. In the near-perfect settings of our lab, we found that the most accurate color came when we simply left the "My Color" setting off. This produced a ∆C 00 (saturation corrected) error of 2.63 with an overall saturation of 102.5%.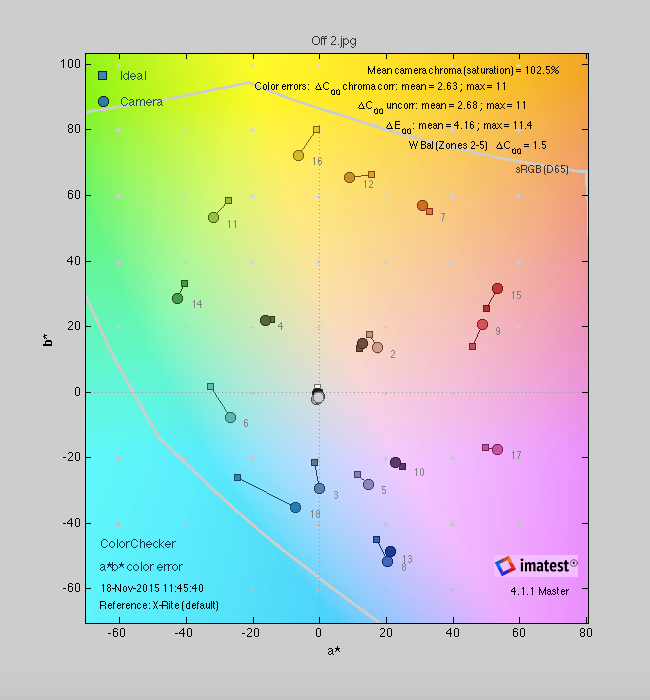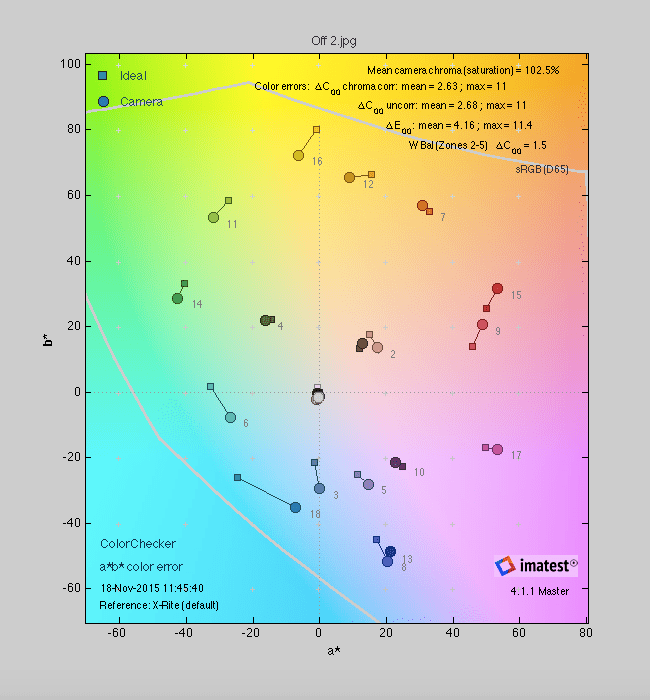 Auto white balance was slightly better, but struggled mightily with tungsten light. It would routinely miss the mark on tungsten by around 2000 kelvin, but daylight and fluorescent settings were usually never off by more than 200 kelvin.
This can be remedied by either shooting RAW images and fixing the white balance in post processing, or setting a custom white balance. The custom white balance wasn't much more accurate than its auto counterpart when shooting in daylight or fluorescent light, but worked much better for the always troublesome tungsten.
Sharpness
The combination of a 1-inch, 20.2 megapixel sensor and Digic 6 processor has been used throughout Canon's PowerShot lineup and has proved once again to be a winning team within the G5 X. The G5 X delivers an overall image quality that's fantastic for any point-and-shoot with an average sharpness of 2350 line widths per picture height.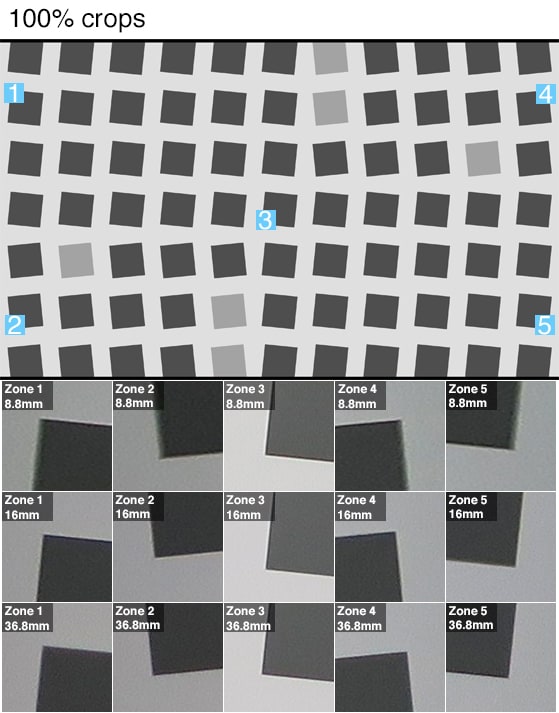 There is a touch of software correction that helps the G5 X attain it's score, but nothing really noticeable to people that aren't pixel peeping. Frankly, if you're pixel peeping on a point-and-shoot, you're going to see a lot of things that fall short when compared to just about any DSLR out there. As expected, the corners tend to fall off in sharpness–especially if you're shooting wide open. Though we never saw any moire or issues that were alarming.
Noise
Noise is something that small sensor cameras have always–and likely will always struggle with. The sensors simply aren't large enough to gather light at higher sensitivities. The G5 X is no different, but it does hold its own for a small sensor camera.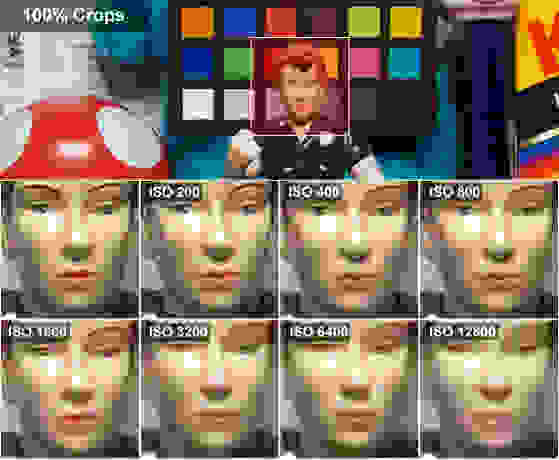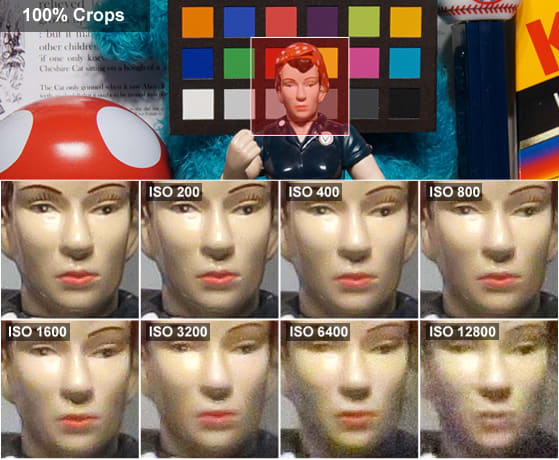 With about 0.95% color noise percent, the default NR (noise reduction) setting isn't extremely aggressive in limiting noise like some point-and-shoots. Our threshold for this test is 2% and the G5 X crosses that between ISO 1600 and ISO 3200. That said, try to keep it at or below ISO 1600 for best results.
Higher NR settings allow you to creep up to around ISO 6400, but it will cost you a bit of image quality in the process. We would recommend staying away from the highest settings unless it's absolutely necessary.
Video
Video quality isn't much better than average for a point-and-shoot with a 1-inch sensor. It can capture 1080/30p–which is a bit low in the framerate department for an $800 camera. There are quite a few cameras out there that will give you more bang for your buck in the video department.
In our perfect lab conditions, we observed around 500 line pairs per picture height in bright light and about 450 in low light (60 lux). Issues like trailing, artifacting, and frequency interference weren't too much of a problem, but there is a lot of moire in low light settings.
The most impressive part of the video testing was the low light sensitivity. With the fast f/1.8 lens, the G5 X was able to produce usable video footage with as little as 1 lux of light. The video didn't look amazing, but if you're in a pinch, it's good to know that the camera won't fail you in the darkest settings.
Meet the tester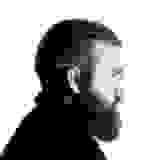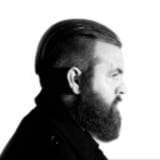 Jackson Ruckar
Photographer / Producer
@JacksonRuckar
As a photojournalist, Jackson has had stints working with bands, the military, and professional baseball teams before landing with Reviewed.com's camera team. Outside of Reviewed.com, he can be found looking for the next game to relieve his "Gamer ADD" or growing his beard.
Checking our work.
Our team is here for one purpose: to help you buy the best stuff and love what you own. Our writers, editors, and lab technicians obsess over the products we cover to make sure you're confident and satisfied. Have a different opinion about something we recommend? Email us and we'll compare notes.
Shoot us an email