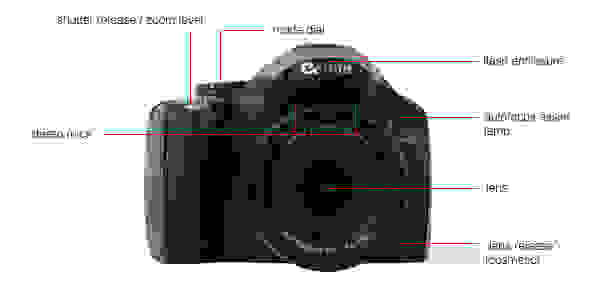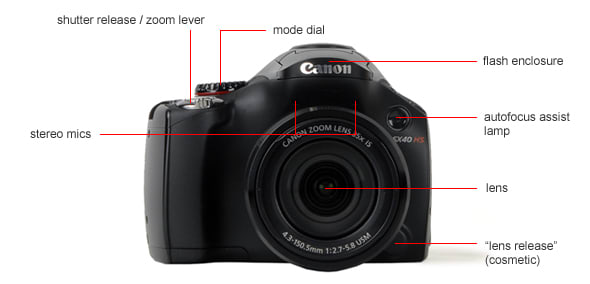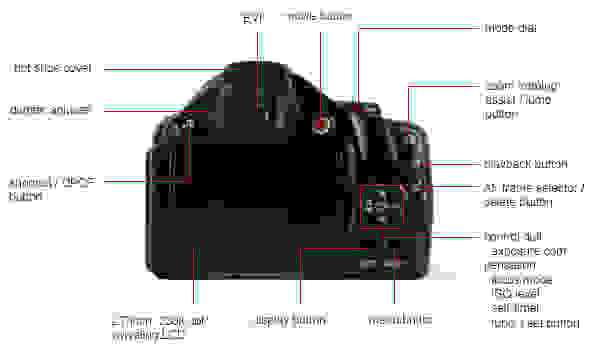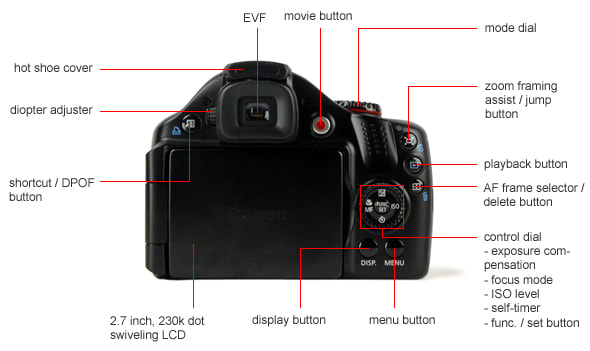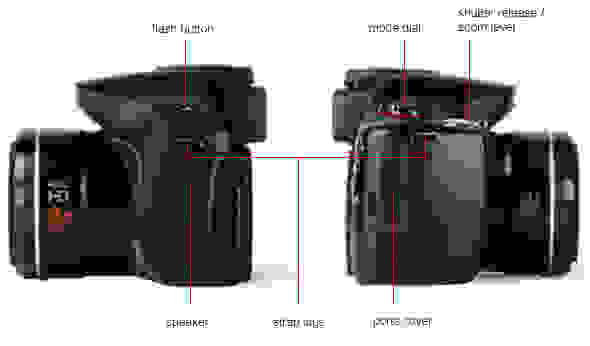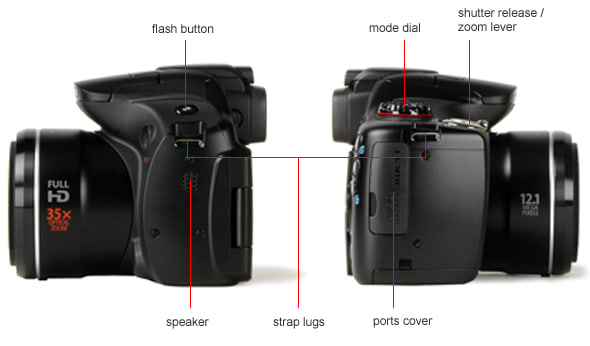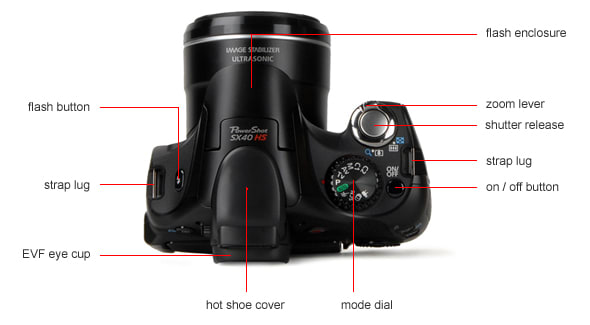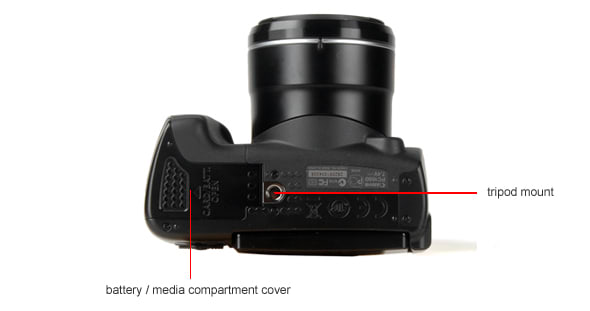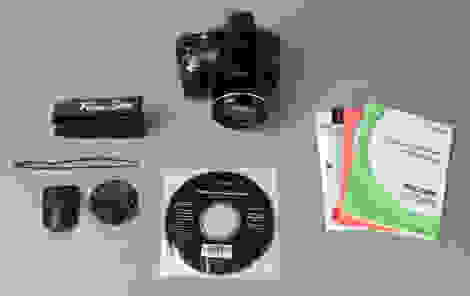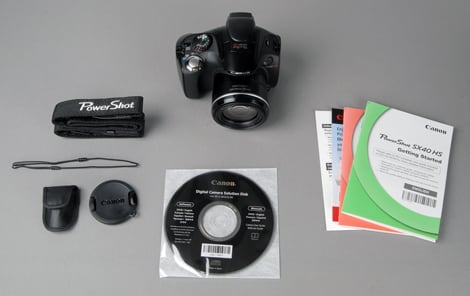 In the box:

• Canon PowerShot SX40 HS digital camera

• battery pack NB-10L with terminal cover (not pictured)

• wall socket battery charger CB-2LC (not pictured)

• lens cap with strap

• USB interface cable IFC-400PCU

• neck strap NS-DC11

• case for hot shoe cap

• Getting Started manual

• Canon Digital Camera Solution Disk CD-ROM

• warranty card
Canon is a company that takes color accuracy very seriously, especially when it comes to the top of their lineup. In this case however, the results are strictly decent. Many colors in the spectrum are relatively far off, especially bright yellows, reds, and blues. This is going to noticeably detract from the appearance of human subjects. Overall saturation is also off by about 7%. More on how we test color.
With a color error value of 3.15, the SX40 HS scores in the middle of our pack of comparison cameras, which include the excellent Panasonic Lumix FZ47, Nikon's P500, and this model's predecessor: the SX30 IS. We were hoping Canon's improved CMOS sensor would at least come close to the FZ47, but instead these results swung to the other direction.
Color modes are called "My Colors" in the Canon interface, and are accessible from the function menu while shooting. There are no less than 11 settings, including a custom one. Still, we found the most accurate option was to turn off color modes entirely. So for the most accurate spectrum, choose "My Colors Off" from the menu.
The SX40's noise performance is excellent across the board. Visual artifacting at ISO 100 is only 0.56% and increases steadily from there. A smoothing algorithm is likely at work here, but we prefer when the effect is applied with a light touch, rather than drastic dips in image quality at certain ISOs. The SX40's software is a great example of this. Noise maxes out at 1.23% at ISO 3200, which is still relatively low. More on how we test noise.
Performance is just as strong in low light. Although noise does increase slightly, it isn't enough to make a perceptible difference. Noise reduction software also behaves similarly in low light as well.
The SX40 HS offers the best noise performance of any camera in our comparison group, and it has certainly earned this title. In the faces below, notice that detail crops from the SX40 are not only the least noisy, but also the most visually appealing. On the other hand, the FZ47 smudges even at low ISOs, and shots from the P500 become grainy and lose saturation.
This camera's ISO range extends from 100 - 3200 at full resolution. That's standard for a $400 model, and plenty for shooting in just about every scenario. If that's still not enough, the Low Light scene mode enables ISO 6400, but limits resolution to 3 megapixels.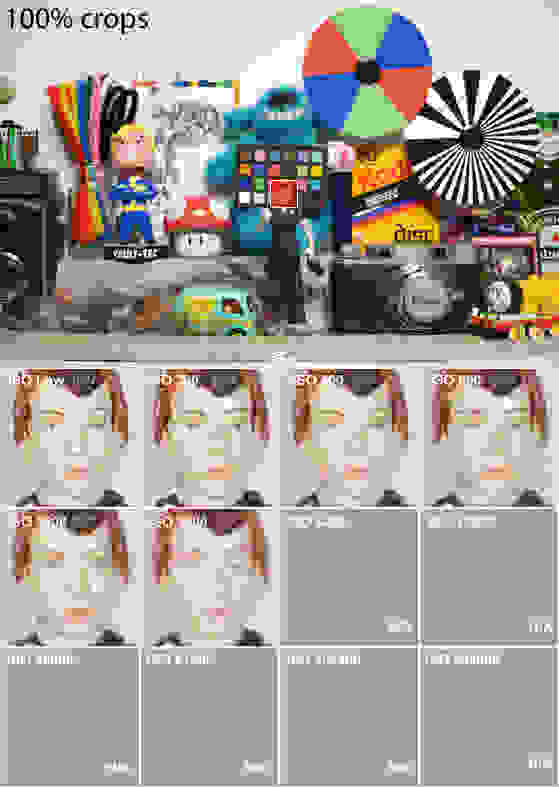 NOTE: The images above are not used in our testing or scoring, but are included here to show real-world examples of the differences between cameras at the various ISO settings.
Once again, our competing models are no match for the SX40 in resolution capabilities. This is especially impressive considering the lens appears to be identical to the one used for the SX30 IS. The drastic improvement must therefore be the result of this model's CMOS sensor. More on how we test resolution.
Distortion ()
Distortion is a simple fix in software, and the SX40 takes advantage. Although the widest focal length is victim to a -1.08% barrel effect, distortion drops off almost entirely at the middle and far end of the focal range.
Sharpness ()
Using a heavy dose of edge enhancement, Canon elevates this camera to a very high sharpness rating in our test. Whether this is actually an improvement to image quality is debatable however. Edge enhancement creates dark black lines on high contrast borders, and this is clearly visible in the crops below. This "feature" can't be turned off, but it's a drawback that's common to just about every fixed-lens camera.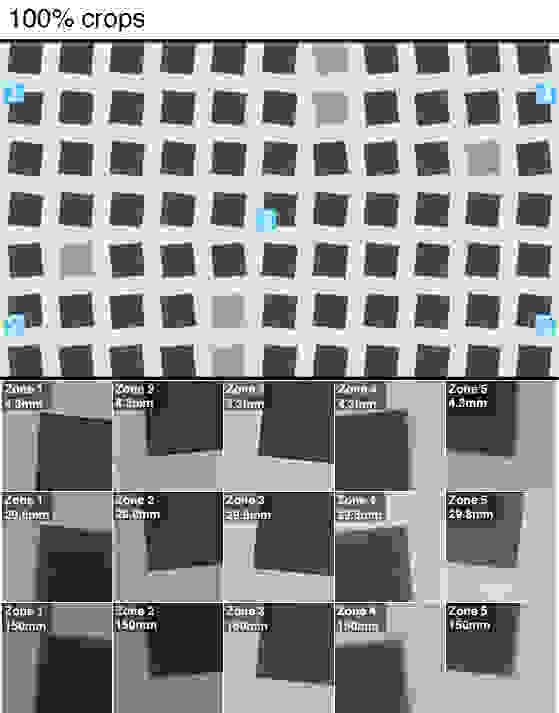 Chromatic Aberration ()
The SX40 is also the best handler of chromatic aberration in our group, just a hair behind the FZ47. Fringing is entirely absent from our lab shots, although we did notice some in real world sample photos, and even then only in very high contrast areas.
Four sizes in each of the four aspect ratios are available, for a total of sixteen shooting resolutions. 16:9, 3:2, 4:3, and 1:1 sizes may be used, and two compression quality settings are available in the same menu. Sadly, the SX40 does not have the ability to shoot in RAW mode.
Image stabilization is hit or miss when it comes to this segment of the market. While many models–including the SX40–are equipped with advanced lens-shift stabilizers, superzoom focal lengths make stability a challenge. This stabilizer improved image quality by approximately 12% in our shaker test, and this is better than most. Note the SX40 also features a setting called "Powered IS," which is intended to improve video capture with long zoom, but only further improved image quality by a fraction of a percent in the lab.
Stabilization is particularly effective for framing long zoom photos shot from the hand, and users will be able to quite literally feel the feature working. More on how we test image stabilization.
Both the FZ47 and the P500 use stabilizers that actually worsen image quality, so there's little competition from those two. On the other hand, we did measure the SX30's shake reduction slightly more effective than its successor, those this could simply be the result of our test's margin of error.
Unlike the SX30 before it, the SX40 HS is capable of capture 1080p video at 24 frames per second. That's the cherry on top of an already excellent video feature set. Both autofocus and optical zoom are enabled while shooting video, although zoom speed is reduced to cut down on noise. Still capture is also unlocked while a video is recording, but resolution is limited to nine megapixels. As an added bonus, the Super Slow Motion Movie mode captures lower resolution video at a whopping 240 frames per second, and is a fun diversion.
Color accuracy tends to drop off considerably while shooting video, but this isn't actually the case for our SX40. The error value increases to a worse but still respectable 4.24, with almost a perfect 100.0% saturation. The high score is partially due to the availability of custom white balance in the video mode. More on how we test video color.
Sharpness isn't quite as strong unfortunately, but at least improves on the SX30. The camera achieved 500 lw/ph of detail horizontally and 600 vertically in our test, placing it behind both the Panasonic FZ47 and Nikon P500. More on how we test video sharpness.
Some will call this playback interface "basic," or even "dated." But we just think it's free of useless junk. The interface is identical to the SX30's, with painless, intuitive navigation enabled by the zoom lever and rotating control dial. Shots can be reviewed in fullscreen with options for EXIF data display, as well as the same "picture in picture" fullscreen / zoom hybrid mode found in this model's predecessor. Zooming out reveals grid mode which displays images in arrays of various proportions. There's also a shuffle mode and slideshow mode, although calendar view is absent.
Movies may also be played back here, with options for slow motion, frame by frame, or fast forward. From the same menu, video editing is also available.
This is a serious camera aimed at a more experienced customer, so silly editing options like magic frame or paint are absent. We don't miss them, and this still leaves room for more useful features like, rotate, resize, crop, contrast correction, red-eye correction, and retroactive application of "My Color" modes.
Direct printing features are similar to–well–just about every modern camera on the market. These options get their own tab here, with settings single or group adjustment, date or number stamping, and print size specification. For printing at home, the PictBridge standard is supported.
The 202,000-dot electronic viewfinder is comfortable without the need for excessive squinting. Color accuracy is far too cool though, so the EVF's purpose is mainly framing. Diopter adjustment is accomplished via a small, just-stiff-enough dial on the left side of the eye cup, and ranges from -4.0 to +1.0m1.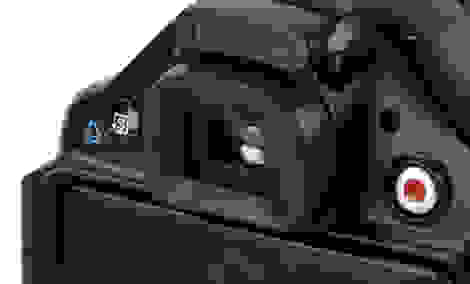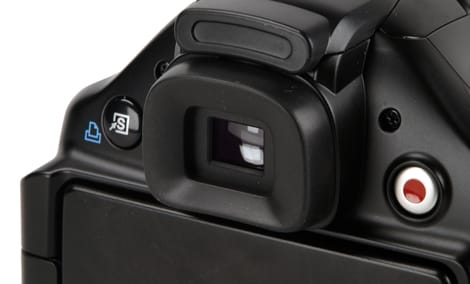 The swiveling LCD that dominates the SX40's rear panel swings out 180 degrees and rotates 270 degrees, meaning it can turn to face every useful direction for shooting. This makes a big difference when shooting video, but also helps in crowds and other overhead shooting situations.
Sadly the screen itself is fairly plain. Resolution is only 230,000 dots, size measures only 2.7 inches diagonally, and it rests inside a thick plastic bezel that makes the screen look even small than it is.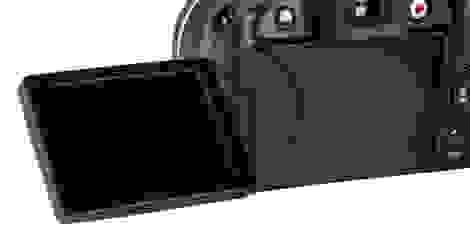 Like most ultrazooms and DSLRs, the flash enclosure rests at the peak of the chassis. This mechanism isn't spring-loaded, so you'll have to reach up and physically open it before using flash. Effective range also tops out at only 23 feet, a bit weaker than much of the competition. All flash settings, including the option for slow-synchro, are accessed with a button on the top left body panel.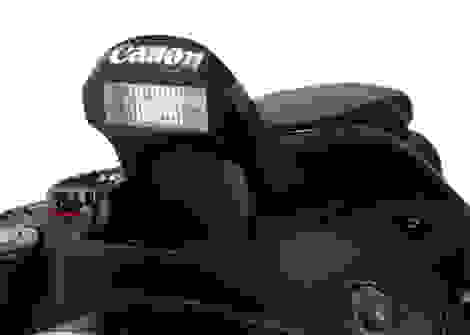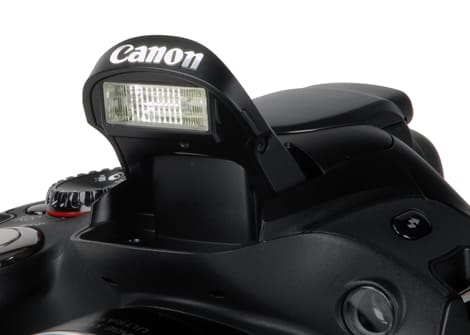 The f/2.7 lens captures more light than we're used to, and is slightly larger than most in this class. We're guessing this is the exact same glass as the SX30, and unfortunately the cumbersome lens cap also returns.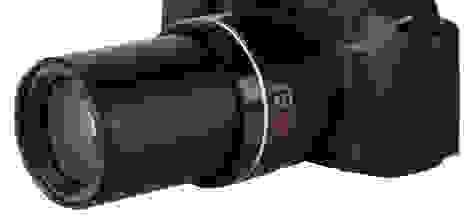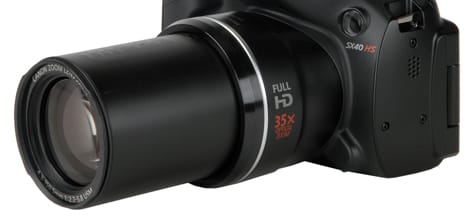 Zoom ratio has become an arms race industry-wide, and this model is one of the leaders. The lens hardware protrudes amusingly far from the rest of the body, and reaches an extreme 35x zoom factor. In the shots below you'll see just how far this actually gets you. We were able to capture detail from three or four blocks away.
The new NB-10L battery pack performs ever-so-slightly better than the SX30's NB-7L, and is CIPA rated at 400 shots or 380 with the LCD. Charging is accomplished outside of the camera via a wall socket adapter. In our time with this model, we found the performance claims accurate, and the battery was able to withstand almost all our tests on a single charge.
the SX40 has dropped support for atypical recording media such as MultiMediaCards, MMCplus, HC MMCplus, and Eye-Fi cards, in favor of industry-standard SD memory cards. SD, SDHC, and SDXC types are supported.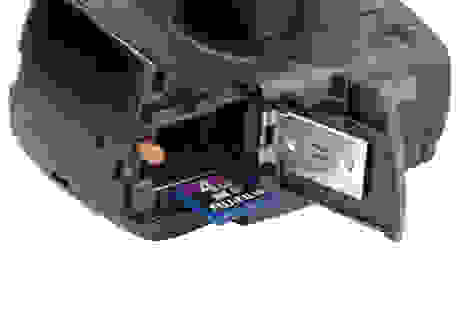 Concealed beneath a rubber cover on the right hand grip are two ports, a mini-USB and a mini-HDMI. We're happy to see Canon sticking with standard terminals instead of inconvenient proprietary solutions. The USB port is used for PC data transfer as well as analogue video and stereo options. The HDMI port allows painless output to a digital TV.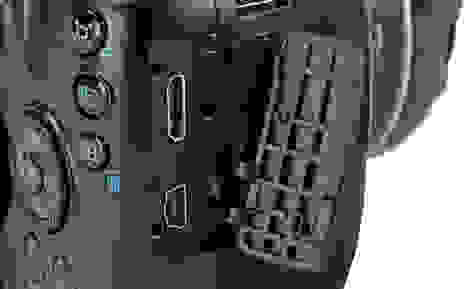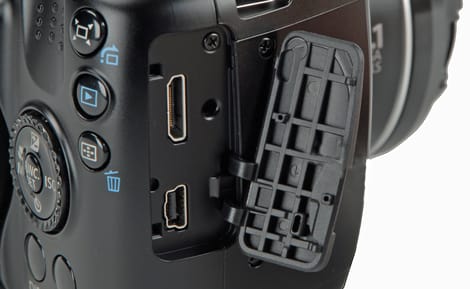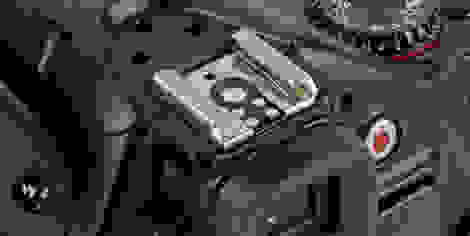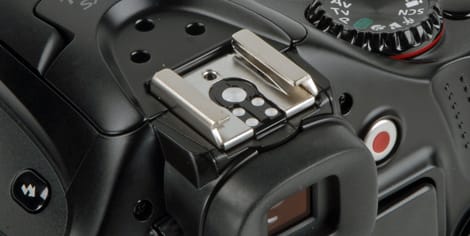 There's also a hot shoe mount above the EVF, though it's concealed by a removable rubber cover. This cover is difficult to pry off, but does separate from the body entirely, rather than hanging by a hinge. A tiny faux-leather pouch is included with the SX40 for storing the cover.
A hardware mode dial rests on the top right side of the body, next to the power switch and shutter release. This allows quick selection from a full suite of shooting modes including full auto, shutter priority, aperture priority, program, selections for scene modes and picture effects, a dedicated video mode, and two customizable settings. We did the vast majority of our shooting in program mode, and found it to be suitable for almost all scenarios. Program shift was a pain though, a required a few trips to and from the instruction manual.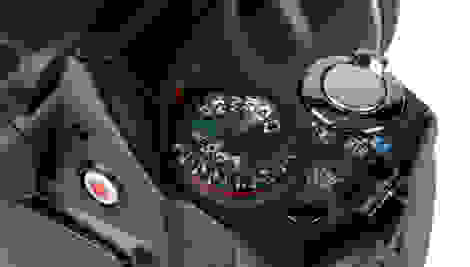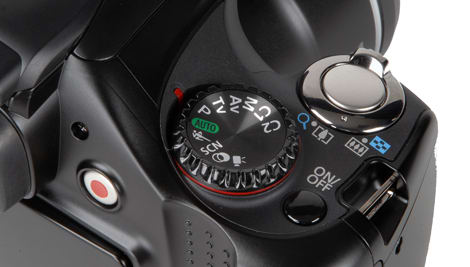 Scene Modes
12 scene modes are available from the SCN setting on the mode dial, plus a 13th, Sports, which gets its own stop on the dial due to its popularity and usefulness. Many of the same old options are there, including Beach, Snow, Fireworks, etc.
Our biggest complaint regarding scenes modes is that they seem to be hogging some of the most important settings. For example, ultra high-speed burst shooting in full resolution is only accessible using the High-speed Burst HQ mode. Why not simply include this in the continuous shooting menu? Why the extra step? Another one: extended ISO 6400 shooting is only available in the Low Light scene mode. Why not simply include this option in the ISO menu?
Picture effects get their own stop on the mode dial, represented–confusingly–by a set of two crossed circles which are apparently meant to signify lens filters. The selection is diverse but again we find the same problem as scene modes. Some useful settings are cannibalized for use as effects. Both monochrome and "super vivid" shooting get their own effect. Why aren't these simply "My Color" modes?
Canon made significant improvements to the SX40 HS' drive mode over the SX30 IS. Full resolution unlimited continuous shooting has been bumped up to over 2.6 frames per second, double the speed of its predecessor. We were also delighted to see the return of a fully customizable self-timer, which sped up our testing process considerably.
Shot to Shot ()
On the other hand, if you don't need an unlimited amount of shots, by far the fastest shooting method is the High-speed Burst HQ scene mode, which enables full resolution capture at precisely 10 frames per second. This ability only lasts for 8 shots though, so a bit of finesse will be required in the field.
We were generally satisfied with the ergonomics of the SX30 IS, although a few quirks left us eagerly awaiting Canon's next ultrazoom iteration. Well, here we are and...it's exactly the same.
Our conclusions are therefore the same too. We still don't love the plastic, cheap-feeling body. We wish the right hand had more rubber to grip. And we're still puzzled by the "pretend lens release" at the lower left corner of the lens enclosure (are people supposed to believe this is a DSLR?). C'est la vie. Perhaps we should be anticipating the next Canon ultrazoom design?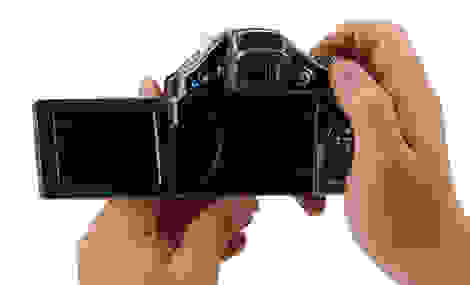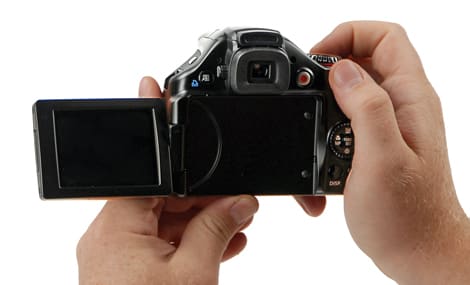 The SX40's control scheme is more of the exact same. Would it be plagiarism to copy our own work? Because most of the SX30's comments apply here too.
In fairness, the SX30's control layout was excellent, and so too is the SX40's. Most buttons have great tactility, and although the rotating dial has no such feedback, it's grooved for decent grip. The shutter release is especially confident, with a nice long stroke and precise click stages.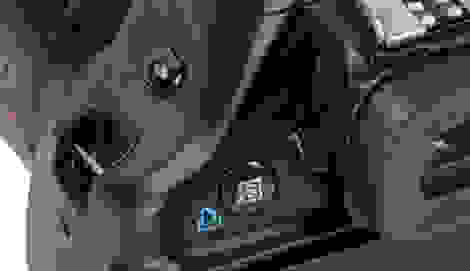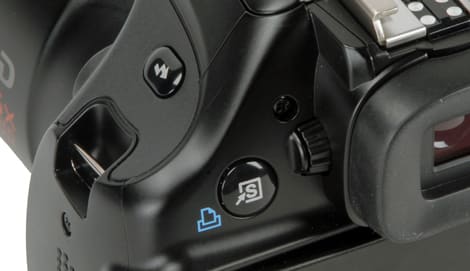 Déjà vu again. Canon even recycled the menu interface for use in the SX40 HS, though again, this isn't necessarily a bad thing. A combination of the zoom lever for navigating tabs, the rotating dial for highlighting options, and the raised func./set button to select choices is the best way to operate this very intuitive menu system. Even better, one press of func./set brings up the quick menu, a handy overlay that can be used to tweak just about every relevant shooting variable. Aging or not, this is an excellent interface.
This model's in-camera help is excellent, with tips and descriptions for nearly every available option. The printed "Getting Started" guide that ships with the SX40 leaves much to be desired, however the downloadable user guide is invaluable.
Panasonic's Lumix FZ47–as of this writing–is the closest ultrazoom to the SX40 HS in overall performance and feature set. Yet despite our similar test results, the Canon produced far more attractive images. Panasonic's aggressive smoothing software smudged the majority of shots, even those taken at the lowest ISO. The SX40 HS has no such drawback, and a slew of subtle improvements placed these two models in direct competition.
Sometimes a camera that produces photos pleasing to our eyes don't actually score well in our precise, yet very different lab tests. So it's gratifying, this time, to see the two "schools" of criticism line up perfectly. We recommend the Canon PowerShot SX40 HS over the Lumix FZ47, supplanting it as our number one fixed lens camera.
...for now.

/r:render
While many shoppers will be tempted by the Coolpix P500's 36x optical zoom, which is of course one whole entire "x" better than Canon's 35x zoom, wise buyers will stick to the SX40 HS instead. This Canon surpassed the Nikon in just about every test we have, and its image quality is much cleaner, especially in low light.
Performance-wise, there is no argument here. Only ancillary factors bring the P500 back into contention. Nikon's rubberized, knurled grip is better than Canon's plastic. Nikon's rear LCD is also much more attractive, though it cannot face front like an articulating type. The whole chassis is also much more beautiful than Canon's, with shining lens elements and an angular, more professional look.
Still, performance is king to us, and even though the race is closer than we expected, Canon's SX40 HS is the better camera.

/r:render
This is basically the exact same camera, save for a new sensor. Let's get that out of the way right up front. To call Canon's improvements "subtle" would be an understatement. Barely any alterations have been made to the body, control layout, or menu interface.
But what an interesting comparison this is regardless! How often do we get to compare CMOS to CCD in a true "apples to apples" sense? Barely ever. In this case, the difference is clear. Canon sacrificed a few megapixels for a major increase to performance. Sure the extra time spent bringing the SX40 to market helped quite a bit too, especially when it comes to software refinements like noise reduction. But overall, the SX40 is not only the better camera, but a testament to the real difference consumers can expect when they forget about megapixels, and instead educate themselves on what really makes a sensor better.

/r:render
Canon's strategy is clear. Start with the framework of the already-excellent PowerShot SX30 IS ultrazoom, swap the CCD sensor with a CMOS model, and ship it. Simple.
The experiment is a resounding success. The Canon PowerShot SX40 HS retains everything we loved about its predecessor, while boosting image quality to levels we've not yet seen from a fixed-lens camera. Supporting this is a rich feature set, versatile enough to handle any shooting scenario. The camera is equally comfortable in dim light, quick action scenarios, video applications, and of course extreme zoom magnifications; all controlled by an intuitive, masterfully designed menu interface that makes all this a breeze.
In fairness the model is not without its faults, many of which are inherited from the SX30. The exterior is still plastic and unprofessional, proper rubber grips are still missing, and color accuracy isn't quite what it should be. But none of these details detract severely enough to prevent us from offering our highest recommendation. If you're in the market for a multipurpose superzoom that offers simplicity when you need it and sophisticated features when you don't, look no further.
Meet the tester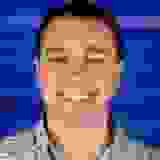 Christopher Snow
Managing Editor
@BlameSnow
Chris was born and raised less than ten miles from our editorial office, and even graduated from nearby Merrimack College. He came to Reviewed after covering the telecom industry, and has been moonlighting as a Boston area dining critic since 2008.
Checking our work.
Our team is here for one purpose: to help you buy the best stuff and love what you own. Our writers, editors, and lab technicians obsess over the products we cover to make sure you're confident and satisfied. Have a different opinion about something we recommend? Email us and we'll compare notes.
Shoot us an email