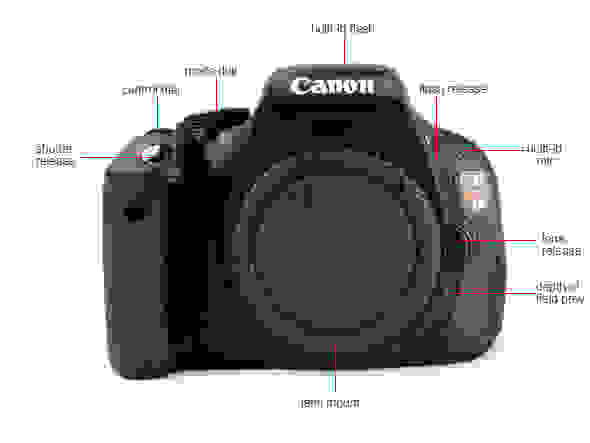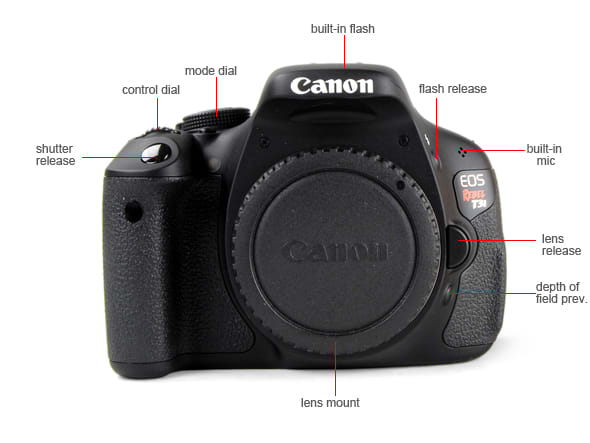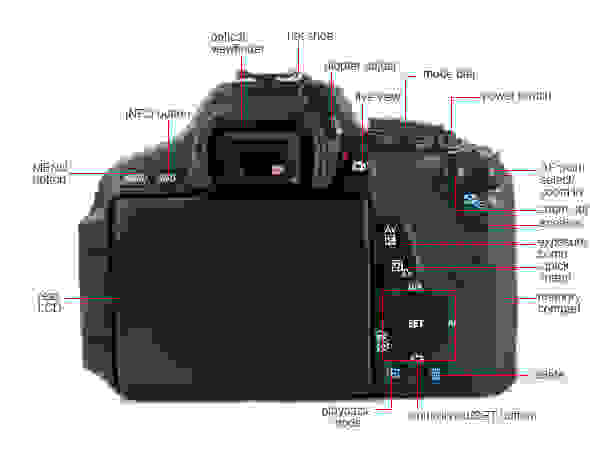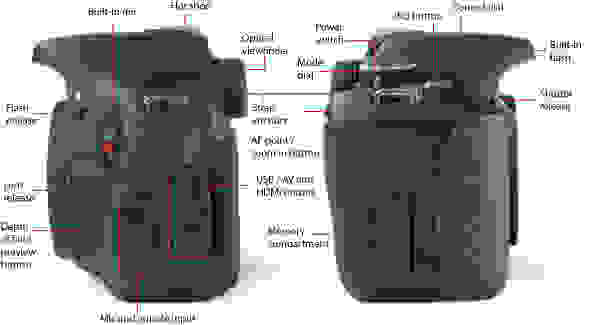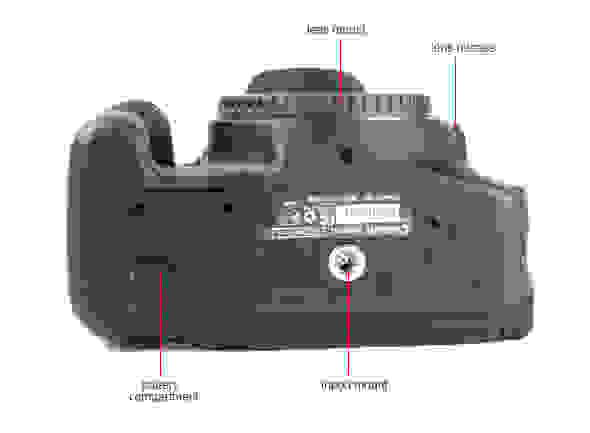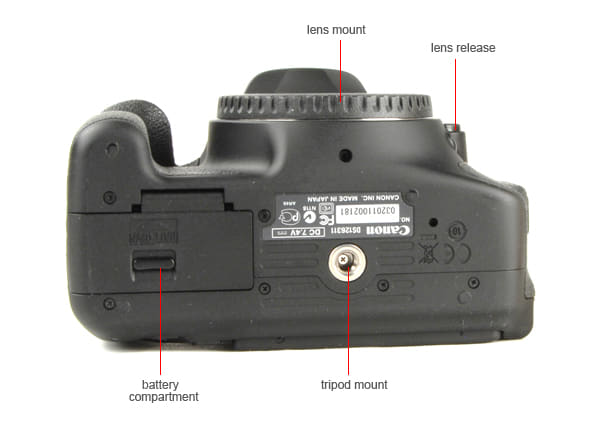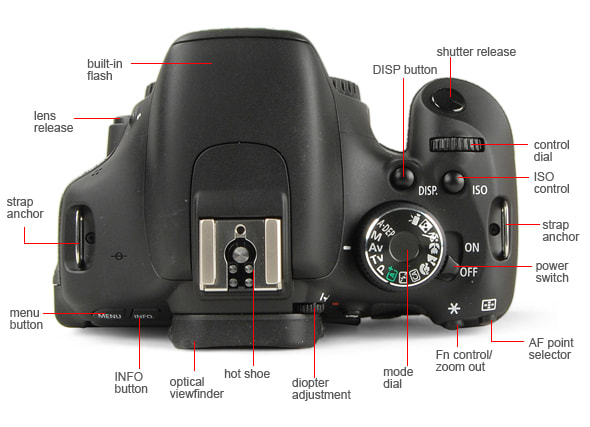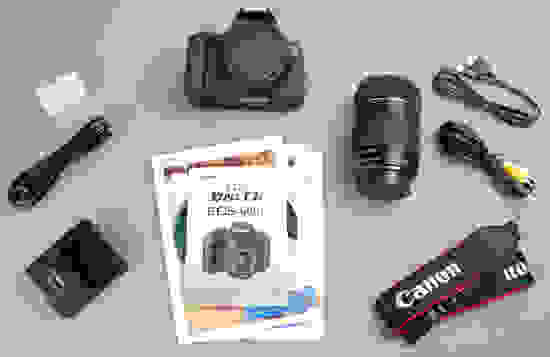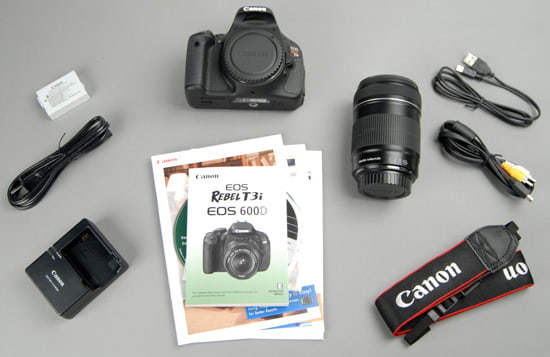 Included in the box with the Canon T3i:
*Battery pack LP-E8

*Battery charger LC-E8

*Wide neck strap

*Interface USB cable

*Stereo AV cable

*Software/Manuals
We found that the T3i reproduced colors accurately, though it generally favors slightly more vibrant colors rather than pure accuracy. The automatic mode was oversaturated a bit, with blues and yellows being the least accurate.
Click here for more on how we test color
If you're looking for as much accuracy as possible, the "faithful" picture style is the best choice, as it offers near-perfect saturation and good accuracy. The automatic and standard picture styles that are available enhance sharpness artificially and are not as accurate as the faithful mode. For that reason, we used the faithful picture style to offer the most accurate test results possible.
NOTE: Because of the way computer monitors reproduce colors, the images above do not exactly match the originals found on the chart or in the captured images. The chart should be used to judge the relative color shift, not the absolute captured colors.
The Canon T2i had the highest color accuracy score of our comparison group, with the D5000 scoring just behind it. The T3i and Sony A55V posted nearly identical scores that were just a shade worse than those cameras. The Samsung NX10 ended up with good scores overall, but happens to be the worst of this particular lot.
The Canon T3i comes with a number of different picture effects modes. We tested the accuracy of Auto, Standard, Portrait, Faithful, and Neutral modes. The faithful mode was not only the most accurate, but it also doesn't artificially enhance sharpness. Neutral also does not enhance sharpness, but renders very muted colors. The auto, standard, and portrait modes ultimately produce very similar images, with slight enhancement to color tone and sharpness.
NOTE: Because of the way computer monitors reproduce colors, the images above do not exactly match the originals found on the chart or in the captured images. The chart should be used to judge the relative color shift, not the absolute captured colors.
The T3i was able to keep noise and color error to a minimum during long exposures. As with the Canon T2i before it, the T3i's long exposure noise reduction feature did little to actually improve noise results. In our tests, noise reduction had no real effect on either color accuracy or noise.
Click here for more on how we test long exposure.
In our long exposure testing, the T3i produced images with an average color error of 3.6 in shots longer than one second. That error, while worse than we saw with shorter exposures, was fairly constant beyond one second, never rising above 3.8.
In long exposure testing, the Canon T3i produced noise of approximately 0.8% in shutter speeds ranging from one second to thirty. Noise was worst in the red and blue channels, while saturation was slightly higher than in shorter exposures.
The Canon T3i improved both color error and noise by significant margins over the T2i, though the scores still lagged behind the Samsung NX10 and Nikon D5000. The Sony A55V, which has suffered from concerns about overheating on long exposures, had the worst problems here, with noise rising significantly in shots longer than 15 seconds.
The T3i pushes the boundaries of its sensor with an ISO range expandable to 12800. With no noise reduction applied, noise spiked above 3% at ISO 6400—resulting in images that you probably won't want to show off. Images were generally printable up to ISO 3200, while still retaining a good measure of detail.
Click here for more on how we test noise.
The T3i comes with three levels of noise reduction: low, standard, and strong. We found the standard to be the most useful, as it applies less noise reduction at the low end of the ISO range (up to about ISO 800) and a greater amount beyond that. In total, standard mode keeps noise to a respectable level, with just about 2% at ISO 6400. If you really want to keep noise out, the maximum setting of noise reduction will drop that amount to 1.4% at ISO 6400, though at a greater penalty to fine detail.
Noise is most apparent in the red and blue channels of the images with the T3i, with yellow and green noise being less of a problem. Luma noise is barely perceptible at low ISOs, only becoming an issue above ISO 800. At ISO speeds 3200 and greater, noise spikes sharply upward without noise reduction activated.
The T3i showed some improvement over the T2i, despite the shared sensor and processor, with less noise at every ISO than its predecessor. The rest of the field outperformed the two Canon cameras in our comparison group, with the Nikon D5000, Sony A55V, and Samsung NX10 producing less noise with no noise reduction applied. This isn't a huge surprise, given that this is the smallest sensor in this group (by about 30 cm2) and has the most sensor sites. That creates inefficiencies and leaves less light per pixel to combat signal interference.
All the cameras in our comparison group scored well in our noise tests, with the Samsung NX10 and Sony A55V being the best overall. The Canon T3i improved slightly over the T2i, showing Canon is squeezing better performance out of similar equipment.
The Canon T3i comes with an ISO range of 100-6400 in its default settings, with an ISO expansion option that provides a "High" option equivalent to 12800 ISO. There is also an automatic ISO mode, with a menu option to limit the maximum ISO to 400, 800, 1600, 3200, or 6400. One note: if you turn on the highlight tone priority option, ISO 100 and 12800 are not available.
NOTE: The images above are not used in our testing or scoring, but are included here to show real-world examples of the differences between cameras at the various ISO settings.
We were provided with an 18-135mm lens for testing purposes and found the lens was not one of Canon's better efforts. It offers an attractive zoom range for wide angle and portraiture work, but the lens is not particularly sharp and doesn't do the camera much justice.
Click here for more on how we test resolution.
Distortion
We found that the 18-135mm IS lens that we used during testing was subject to heavy distortion across the zoom range. There is more than 3.5% barrel distortion at the wide angle, with pincushion distortion developing through the telephoto range with a maximum of about 1.6%. This distortion can be corrected in post-processing, but 3.5% distortion is poor—even for a lens that covers a large zoom range. When we tested with the 18-55mm lens, distortion was only noticeable at the wide angle, where there was a 2.39% pincushion distortion.
Chromatic Aberration ()
The Canon T3i exhibited little chromatic aberration in our tests using either the 18-55mm lens or the 18-135mm lens. There is noticeable blue/green fringing, but it's largely kept under control and is only visible at the periphery of the lens. In our sample photos we didn't notice it to be a distraction to any large degree.
Sharpness ()
The idea of "sharpness" in a lens is derived from its ability to keep distinct areas of contrast from blurring into one another—a natural occurrence when light passes through any lens. Neither kit lens from Canon offers much in the way of sharpness, but we found the 18-135mm to be particularly poor. It should be noted that we take our test shots using the "Faithful" color mode—the most accurate color mode that we found—which, unlike automatic mode, adds no sharpening to images.
Both the 18-55mm and 18-135mm kit lenses available for the Canon T3i / 600D are soft at the edges of the lens, especially at the wide angle and with the smallest apertures.
The sharpness scores for the T3i's two kit lenses improve as they move through the middle of the zoom range, though the scores are still not particularly great.
We found that both the 18-55mm and 18-135mm lenses were not particularly sharp, though they did much better at the telephoto end, particularly in the center of the frame.
The T3i's resolution scores lag behind our comparison cameras here, largely due to how soft the images were with the provided kit lenses. It fell dramatically behind the T2i, though that camera appears to apply a greater measure of sharpening to JPEGs. While we can still recommend the camera for its resolution performance overall, these scores show you'll definitely want to invest in some better glass to accompany your T3i if you want to get your money's worth.
The Canon T3i features an 18-megapixel CMOS image sensor, but provides options for also shooting images of 8, 4.5, 2.5, and 0.3 megapixel resolution. The T3i also features RAW support, with an option to shoot a full resolution RAW + JPEG image simultaneously.
The Canon T3i performed right on par with the T2i, which was expected given that they share the same sensor. Images from the T3i showed over six stops of range through ISO 800, with results quickly falling off thereafter. The T3i has several modes to help alleviate that, with both highlight tone priority and auto lighting optimizer options available—though not at the same time—to help keep detail in the brightest and darkest areas. Shooting in RAW also helps, as you can rescue some detail on either end through post-processing.
Click here for more on how we test dynamic range.
The Canon T3i, Nikon D5000, and Canon T2i performed very similarly in this test, as all were able to pull in well over seven stops of range. The Samsung NX10 had the worst scores of the lot, losing a lot of detail in the brightest and darkest areas. The best camera in our group was the Sony A55V, which was able to preserve more than 3 stops all the way to ISO 12800—also posting the best scores at a more practical ISO 3200.
The only comparison camera that really beat the T3i out in dynamic range was the Sony A55V, which scored very well on our test. The Nikon D5000 came in just a hair behind the T3i and T2i, with the Samsung NX10 putting up a disappointing score overall.
We found the image stabilization on the 18-135mm kit lens to be effective, especially during scenarios of high-shake, such as when walking. Image stabilization was best able to counteract motion at shutter speeds faster than 1/8th of a second—beyond that the shutter is simply open too long to register many sharp images on the T3i. Click here for more on how we test image stabilization.
When subjected to only moderate shake, the image stabilization in the 18-135mm lens did not show much improvement. At mid-range shutter speeds (slower than 1/500 second, faster than 1/8 second), there was a small improvement in average sharpness—though only about 7% overall.
In our high shake testing, the T3i's 18-135mm kit lens improved images very dramatically at the fastest shutter speeds, but was less effective when the shutter was open longer than 1/125 of a second. As we saw in the low shake test, the image stabilization improved the worst images slightly, but didn't result in crisper images on average.

Image Stabilization
/r:render
We found the 18-135mm lens' stabilization to be an improvement over what we saw with the 18-55mm lens tested on the Canon T2i. It still wasn't quite as good as the stabilization on the Nikon D5000, Samsung NX10, or the Sony A55V. The Sony A55, with its in-body image stabilization, showed the greatest improvement.
NOTE: As of May 2010 we have revised our image stabilization testing procedure to consider only horizontal stabilization. The scores shown here are up to date.
The Canon T3i, like most DSLRs, performs well in correcting for different temperatures of light. Most of the cameras in our comparison group did better, but the T3i's automatic setting was more than adequate in a variety of lighting conditions. The T3i is let down mostly by a custom function that is inaccurate in many situations and not well implemented from a user perspective.
Click here for more on how we test white balance.
Automatic White Balance ()
The automatic white balance on the Canon T3i actually outperformed the custom white balance in both compact white fluorescent and daylight, where it managed a lower average color error across the board. This did not hold true for tungsten light, where the Canon T3i had serious difficulty accounting for the color temperature in automatic. This is not uncommon, as tungsten filaments—typically used in home incandescent lightbulbs—tend to give cameras problems.
We found that the T3i produced an average color error of just 92.50 degrees kelvin in lab-simulated daytime lighting. That is impressive, considering taking the time to actually set a custom white balance resulted in a far less accurate color score.
Incandescent lighting generally causes havoc with automatic white balance settings on digital cameras. That was certainly the case here, as the T3i produced a strong warm color cast that resulted in an average color error of 1816.15 degrees kelvin.
We found the automatic white balance produced an average color error of 123 degrees kelvin under compact white fluorescent lighting. It again performed worse with a custom white balance, producing images with a color error of 211.50 degrees kelvin.
Custom White Balance ()
Setting a custom white balance on the Canon T3i is a pretty cumbersome affair. Quite simply, it's more difficult than it needs to be. In order to tell the camera what white is in a given lighting condition, you have to first take an image of a neutral subject and then go into the menu and tell the camera to reference that image as white. If you format the card and happen to change or wipe the custom setting, you then have to take a new image and repeat the process. Why doesn't Canon allow users to save multiple white balance settings, or at least leverage the camera's live view to make the process easier?
All the cameras in our comparison group performed well in white balance testing. The T3i is the lowest scoring of the comparison group, but only because its custom function didn't perform as well as it should have.
There are six preset white balance options available on the T3i, in addition to the custom and automatic options: daylight (5200 K), shade (7000 K), cloudy (6000 K), tungsten light (3200 K), white fluorescent light (4000 K), and a setting to correct for the built-in flash.
In addition to custom white balance, the T3i also allows for white balance bracketing and shifting. Bracketing will take multiple exposures with different levels of color bias, but will reduce the total number of pictures the user can take and slow down continuous shooting. White balance shifting allows users to alter the camera's white balance settings to match the scene if color temperature is known.
The Canon T3i allows users to view the photos on their memory card in a variety of ways. There are few surprises here, but there is a considerable amount of information at hand. You can look at a single image in totality, or in groups of four or nine. When looking at a single image you can press the info button to see all that camera's shooting data along with either a brightness or RGB histogram (selectable by the user). Pressing the info button again brings up both histograms for that image.
The playback menu is mostly designed around making it easier to navigate large groups of pictures, with options to swing between one, 10, or 100 images using the control wheel. You can also choose to view only videos, images by date, or by folder. There is also a slideshow option that allows you to pair a group of images with music saved to the memory card.
The Canon T3i comes with a copy of its instruction manual on one disc and a second software solution disk. The solution disk includes Digital Photo Professional 3.10, ImageBrowser 6.7, EOS Utility 2.10, PhotoStitch 3.2, Picture Style Editor 1.9, and EOS sample music to pair with your slideshows.
The software is mostly standard stuff, though Digital Photo Professional 3.10 is the most useful of the lot. It will allow you to make slight edits and convert the T3i's RAW images. There are obviously more robust options out there, but few that are free and this useful.
The Canon Rebel T3i is compatible with Direct Print Ordering Form 1.1 and all PictBridge-enabled printers. It will work with just about any printer currently on the market.
The Canon T3i utilizes the same 18MP APS-C CMOS sensor that has been seen in the Canon 7D, T2i, and 60D. As its fourth go-round, this sensor doesn't have any surprises in store. It is packed with pixels, with the highest pixel density of any of the cameras in our comparison group. As such, it offers a ton of resolution, but generally at the expense of increased noise.
Convergence areas of different sensor sizes compared
Quite simply, you can do a lot with 18 megapixels. If your goal is to print A4-size images and smaller, you can effectively crop out half your image and still get reasonable results. That kind of flexibility is great when you're shooting in situations you can't control, such as on vacation or with family. If you are a person that likes to crop and print to large sizes, you'll definitely want a sharper lens than comes kitted with the T3i, however.
The T3i uses an optical viewfinder that covers about 95% of the frame, with approximately 0.85% magnification and -3.0 to +1.0 m-1 (dpt) correction range. If you need further correction for your eyes and hate contact lenses, there are other dioptric correction eyepieces that can be purchased.
The T3i features the same swivel-LCD that made its debut on the Canon 60D. It's a 3-inch screen with approximately 1040k dots of resolution. It's not particularly visible in direct sunlight, but that's why you have an optical viewfinder.
Much like on Canon's other DSLRs, the LCD provides a great deal of information without feeling cluttered. You can overlay grids to assist with framing and leveling, or utilize a live histogram to better judge exposure or color temperature.
LCD Control Panel
The ability to twist the LCD offers the kind of flexibility that really is needed if your aim is to record video with the Canon T3i. Complemented by the screen's 170-degree viewing angle, the LCD offers shooters a view of their recording at just about any angle. With DSLRs becoming a more serious option for videography, swivel screens should be here to stay.
The T3i has the same built-in flash as the T2i before it. It has an effective range of about 3.7 meters (12.1 feet) at ISO 100. Like most built-in flashes, it tends to be far too harsh within 15-20 feet at moderate to high ISO speeds, resulting in washed out colors and darkened backgrounds. The T3i does also inherit the 60D's ability to control flashes wirelessly, adjusting power and balance between the built-in flash and the external wireless strobe.
The flash on the T3i can be set to fire automatically or be turned off completely. It has a maximum sync speed of 1/200, though this is adjustable to slower settings. In the menu, you can set the camera to meter required flash power to either evaluative or average modes, while also setting a compensation of +/- 2 stops to however the camera meters the scene.
The T3i uses Canon's EF mount, capable of utilizing either Canon EF or EF-S lenses. There are about 60 current lenses that will work fine with the Canon T3i, ranging from $100 up to several thousand dollars. The 18-135mm lens that we tested with is not the highest quality lens, however, and we'd recommend opting for either the 18-55mm kit or buying just the body and picking better lenses that fit your needs.
The Canon T3i uses the same LP-E8 battery as the Canon T2i. There's not much about the T3i to justify upgrading if you own a perfectly functional T2i, but if you have a spare LP-E8 lying around they'll share that at least.
The T3i can utilize SD/SDHC/SDXC memory cards. There is no listed maximum card size. Memory cards slot into a small compartment on the right side of the camera and are easily removable, even with the T3i on a tripod.
The Canon T3i features a mini-HDMI output and combined USB/AV output hidden behind a rubber flap on the left side of the camera. There is also a remote release and stereo mic input behind a second flap. On the right side of the camera is the memory card port, which hides behind a solid plastic piece that slides out, just like on the T2i.
The T3i comes with a variety of common shooting modes available on its dial, ranging from full manual control to more creative options. If you've used the T2i, then the shooting dial on the T3i will look remarkably familiar. The only change between the two cameras has seen the full automatic mode become Scene Intelligent Auto, which has the camera try to adjust exposure, focus, and color settings based on what scene it thinks it is pointed at.
The live view mode is especially useful on the T3i, due to its high-resolution (1000k+ dots), swiveling LCD. It has a solid viewing angle of 170 degrees, also, so it's hard to find a spot relative to the camera that the screen isn't visible from. There is also a digital zoom function (5x and 10x options available) in live view that lets users use the LCD to ensure correct focus, though autofocus in this mode is slow.
The main drawback to using live view is autofocus. It's a contrast-based detection system, utilizing software to find where contrast is highest (and thus, when something is in focus). It works well, but it's significantly slower than the normal autofocus system and is bettered by other cameras in the market for speed.
There aren't many specific scene modes on the T3i, as it has settings on the dial for the most common five: portrait, landscape, macro, sports, and night portrait. There is a creative auto mode, and a number of effects that can be applied to alter a shot, but the scene modes themselves are somewhat limited compared to high-end point-and-shoot cameras.
There are several picture effects available in the automatic modes and scene modes. These fall under "ambience" settings and make slight adjustments to the way a scene is interpreted. There are settings for vivid, soft, warm, cool, brighter, darker, monochrome (with black and white, blue, and sepia), and intense effects. Each of these effects can be given a strength of low, medium, or high.
There are several picture filters available through the T3i's playback menu. These will take a photo on the card and apply either a grainy B/W effect, soft focus blur, fish-eye distortion, a vignette like a toy camera, or selective blurring to make an object appear smaller. When these filters are applied a new image is created, preserving the original.
The Canon T3i utilizes a nine-point autofocus system with a single cross-type center point. We found that system to be snappy in use for most everyday snapshots, though not always perfectly accurate. In live view the camera reverts to its contrast detection system, which is not nearly as fast or accurate. When using live view the zoom button allows for a 5x or 10x magnification, which helps with manual focus.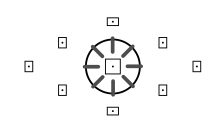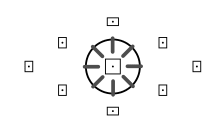 The Canon Rebel T3i allows users to select individual points or to utilize the entire array automatically. Focus area settings are easy to change, with a button just above the thumb rest allowing quick access to the feature.
The T3i is capable of exposure compensation of +/- 5 stops for a single shot. If you're making use of auto exposure bracketing, one of the shots can be pushed all the way to +/- 7 stops, with a maximum range of +/- 2 stops for the bracket. The camera has a total EV range of 1.0-20.0, according to Canon. The camera features the typical manual and priority exposure modes, with the ability to shift program mode depending on the shooter's preferences.
The T3i shoots at approximately 3.7 frames per second, exactly as advertised by Canon. It does not seem to be limited by any buffer, as it is able to hold that pace through plenty of shots. When shooting RAW photos, however, you are generally limited to no more than six shots in succession.
Shot to Shot ()
The Canon T3i shoots at a speed of 3.7 frames per second that is exactly as advertised—not exactly a common occurrence. It's plenty fast to capture good action. In shooting two rugby games we found the camera rarely missed critical moments, though it might've been a fraction off of perfect.
Drive/Burst Mode ()
There aren't many burst options on the Canon T3i. There is a useful self-timer that will fire off up to 10 shots after a 10-second delay, but there are no interval timing or time lapse options built into the camera to begin with.
The T3i has a depth of field preview button just beneath the lens release on the front of the camera. Puzzlingly, the button is unlabeled, camouflaged into the rest of the body.
The T3i features the same 63-zone metering system handed down from the T2i, with options for evaluative, center-weighted, spot, and partial metering. Evaluative metering is linkable to all nine focus points on the camera, while spot and partial metering both meter using the center of the frame and a certain percentage surrounding it. Metering is generally accurate, with a tendency to underexpose shots in average light.
The T3i is capable of shutter speeds ranging from 30 seconds up to 1/4000 of a second. There is a bulb mode available, as well, though it's only accessible in manual mode. The camera syncs with flashes at shutter speeds as fast as 1/200 of a second. Shutter speed is electronically controlled with a vertical-travel focal plane shutter.
There's a full suite of self-timer and remote options on the Canon T3i. There's a two second self-timer, 10 second with remote control, and custom self-timer that will fire a user-selected amount of shots (maximum of 10) after a 10-second wait. The T3i will work with Canon's RC-6, RC-1, and RC-5 remote controls.
Creative Auto Mode
The creative auto mode is the same as the scene recognition auto mode, but it allows for some adjustments to things such as background detail, image tone, drive mode, and flash mode. It does these in a simple-to-understand layout that allows for a surprising amount of fine control without needing to know terms such as aperture.
The T3i handles almost precisely like the T2i that came before it. The articulating LCD is a great addition if you like shooting video or shooting in live view. We found the grip to be a great size, allowing a secure level of control with just a single hand, even for those with large hands.
The body is made mostly of plastic and aluminum, as with other Rebel series DSLRS. It feels a bit cheaper compared to a magnesium Canon 60D or 7D—not a surprise since it is quite cheaper—but there is also considerably less weight with the T3i. That's important if you're lugging the camera around on any extended shooting trips. The buttons have a satisfying stroke to them, offering an audible click with every press.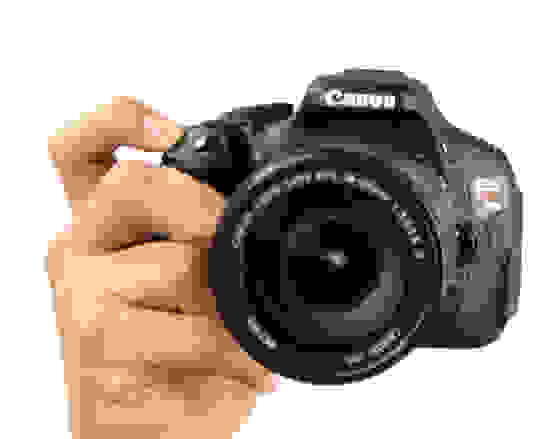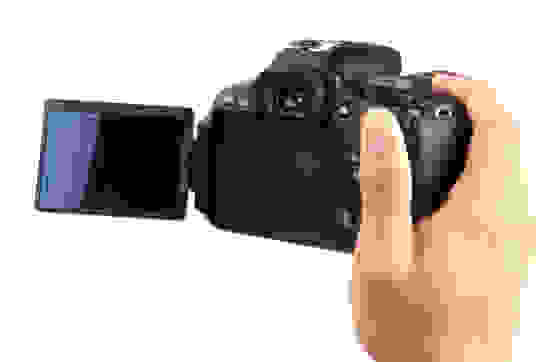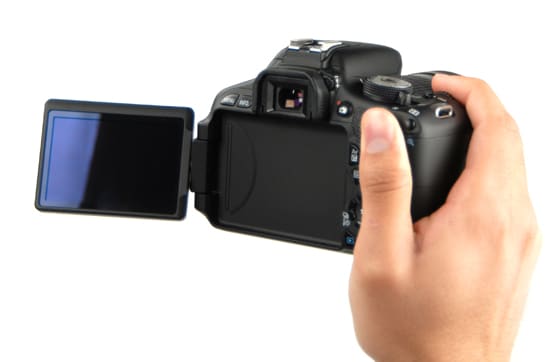 The Canon T3i has a fairly typical layout compared to other Rebel SLRs. It has a mode dial, power switch, display button and ISO button on top of the camera. There is also the shutter release button just where your index finger comes to rest above the grip.
On the rear of the camera is the articulating LCD, with menu and info buttons above and to the left of the viewfinder. On the right side of the rear of the camera is a four-way control pad—eschewing the more functional control wheel of the Canon 60D—with playback keys beneath. Above the control pad are buttons to access the quick menu and exposure compensation functions. The Quick menu gives access to a number of settings while in live view, and also allows users to change the "ambience" of a scene mode to emphasize certain colors and tones.
There is also a dedicated live view button to the right of the viewfinder, as well as buttons for focus/exposure lock and focus assistance. The focus assistance button selects your AF point in normal shooting and zooms in digitally up to 10x during live view to make focusing easier. These buttons work to zoom in and out while in playback mode.
The menu on the T3i is precisely what you have seen on previous Canon Rebels: it is separated into several tabs from left to right, with shooting settings on the left in red, playback settings in blue, and camera settings and custom functions in yellow. There is also a customizable menu tab in green.
The menu is legible and laid out so that you don't have to ever scroll down to see more options. However, the placement of some functions is a cause for concern. The custom function settings are stashed in a secondary menu, next to copyright information and LCD settings. These include near-essential menu items like noise reduction, ISO expansion, highlight tone priority, and exposure level increments. If there were custom modes on the dial that these settings allied with, I could see the need for differentiation. That isn't the case here and it only works to further complicate the menu.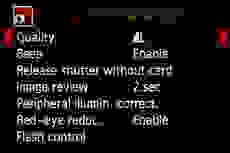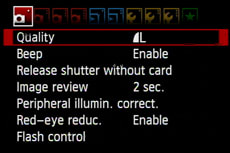 The T3i comes with a very substantial manual in both English and Spanish that tops out at 323 pages. There are a ton of features on the T3i and the manual does a good job at explaining them. The diagrams are clearly laid out, very legible, and organized in a thoughtful manner. The manual itself isn't necessarily geared toward beginners, but the camera comes with three small guides that provide very useful tips for amateurs. These books are definitely an extended sales pitch to buy things like macro lenses and external flashes, but they explain the benefits well and go over some key basics that will serve a beginner well.
The Canon T3i had slightly lower color error than the T2i, with an average error of just 3.94 in our testing under bright lighting conditions. Colors were undersaturated and gave videos a muted look, but other shooting modes would enhance that. [Click here for more on how CamcorderInfo.com tests color performance.](/content/How-we-test-digital-cameras-20069.htm#videocolor)
The color modes in video mode are the same as for still shooting with the T3i: auto, standard, portrait, landscape, neutral, faithful, monchrome, and three custom settings. All these modes have slight adjustments that can be made to alter color tone, sharpness, contrast, and saturation. We shoot our tests in the faithful mode, as this was the most accurate for colors and does not enhance sharpness, contrast, or saturation artificially.
We found that the T3i was more accurate overall than its predecessor, the T2i. It also posted an average color error lower than the Nikon D5000. The Sony A55V and Samsung NX10 were more accurate, with the Samsung the best of the group. The Sony was spot on with saturation, though, while the NX10 was very muted.
We found that the majority of the color modes (auto, neutral, standard, and faithful) did not have a major impact on color tone. Standard was the most vivid of the four, faithful was the most accurate, neutral was accurate but undersaturated, and auto was oversaturated and less accurate than faithful.
All our comparison cameras scored well for color and noise, with the T3i scoring just ahead of the Nikon D5000, but behind the Sony A55V and Samsung NX10. The Samsung had the best color score, though its undersaturated colors don't necessarily make for the most appealing videos. All our comparison cameras, by virtue of their APS-C-sized sensors, performed well in our noise tests in bright light. We found that all the cameras had less than 0.6% of visible noise in their videos when light was plentiful. With image sensors as large as these cameras have, these kind of results are pleasing, if not exactly a surprise. [Click here for more on how CamcorderInfo.com tests noise performance.](/content/How-we-test-digital-cameras-20069.htm#videonoise)
The T3i came in last in terms of noise scoring here—though with less than 0.6% noise in its videos, you'd be hard-pressed to call it a poor result. The other cameras simply performed better. At this low level of noise we are really just splitting hairs and the noise performance of all these cameras would be categorized as excellent. There was a fair amount of artifacting and ghosting with the T3i in video capture. We found that generally the resulting videos were appealingly smooth, though if the camera panned to either direction there is a noticeable rolling shutter effect. Exposure is fully adjustable on the camera, though, so you can adjust shutter speeds to fine-tune motion performance to your liking. [Click here for more on how CamcorderInfo.com tests motion.](/content/How-we-test-digital-cameras-20069.htm#videomotion)
We found that the T3i with the 18-135mm kit lens produced fairly sharp results in video recording. In our test we found that the T3i was able to resolve approximately 750 lw/ph of vertical sharpness, though just 600 lw/ph of horizontal sharpness. This is an improvement over the T2i (tested with the 18-55mm lens) and is slightly sharper than what we have seen from other video-capable DSLRs. [Click here for more on how CamcorderInfo.com tests video sharpness.](/content/How-we-test-digital-cameras-20069.htm#videosharpness) We tested the Canon T3i to see how sensitive it was to light and found that it took just 8 lux of light on a lab chart to reproduce an image that reached 50 IRE on a waveform monitor. This is a fairly acceptable image that, while dark, is still visible with some degree of detail. [Click here for more on how CamcorderInfo.com tests low light sensitivity.](https://www.reviewed.com/cameras/content/How-we-test-digital-cameras-20069.htm#videollsensitivity)
We found the Canon T3i to be capable of producing very accurate colors in videos taken under low lighting conditions. We found the camera had an average color error of 3.50, which was among the better scores we've seen for a DSLR. We found that in low light the images were still undersaturated, with greens and purples suffering from the greatest errors. [Click here for more on how CamcorderInfo.com tests low light color performance. ](/content/How-we-test-digital-cameras-20069.htm#videollcolor)
In our comparison group the Canon T3i was the most sensitive to light, able to produce a visible image with just 8 lux of light. The Canon T2i and Nikon D5000 require 11 lux to reach 50 IRE while the Samsung NX10—while having better color accuracy at 60 lux—required 19 lux in the same test.
We found the Canon T3i produced an average noise percentage of just 0.95%, which was quite good, but lagged slightly behind the Nikon D5000 and Sony A55V. It was better than the Samsung NX10, which produced just over 1.1% of noise in its videos. [Click here for more on how CamcorderInfo.com tests low light noise performance.](/content/How-we-test-digital-cameras-20069.htm#videollnoise)
The Sony A55V and Nikon D5000 were the winners here, with both producing less than 0.7% noise in our low light testing. The D5000 was slightly better here according to the test results, but the noise totals are practically indistinguishable. The Canon T3i and Samsung NX10 performed slightly worse, as the videos from those cameras contained more noise. The T3i features H.264 compression utilizing the .MOV container. It also allows videos to be recorded at 1080p in 30, 25, or 24fps, 720p at 60 or 50fps, and 480p at 30 or 25fps.
The Canon T3i allows for full manual control over aperture, shutter speed, and ISO during video recording. This is accomplished via the control wheel and can be changed on the fly, though you are restricted from some options depending on what frame rate the camera is set to shoot in. #### Auto Mode The T3i does a serviceable job in automatic mode, though like in still mode it does tend to underexpose by about a full stop. Unlike still shooting, however, it's a little more of a process to rescue that shadow detail in post-processing. #### Zoom Controls and Zoom Ratio One great addition to the T3i is the ability to utilize a cropped portion of the sensor to zoom in during video recording. This is accomplished by turning the feature on in the movie record size menu. When activated, a 3x digital zoom is enabled by default, but the T3i will smoothly magnify the image up to 10x by holding down the DISP. and zoom in buttons. Still photo shooting is not enabled while using digital zoom in movie record mode. #### Focus Focus during live view and video recording is simply not the strong suit of the Canon DSLRs, and they lag behind Sony and Nikon in this regard. The microphone input alleviates some issues with the focusing motor being audible during video recording, but the T3i does not feature the most alacritous of auto focus systems. Focusing while in video shooting requires holding down either the shutter button or setting another button for this function. There is a quick AF and face-detection AF feature available, but they're not as useful as the live AF found in competing video-capable DSLRs. #### Exposure, Aperture and Shutter Speed The T3i allows for a full range of manual control over aperture and shutter speed while in video recording. You will have to change the movie exposure setting to manual in the menu before this is allowed, but from there it's a simple matter of utilizing the control wheel to get the desired exposure. #### ISO and Other Controls There is also a full range of ISO settings on the T3i during video recording. These allow the T3i to shoot in very low light conditions. The T3i features a built-in monaural microphone, but has a handy stereo microphone input on the side beneath a small rubber flap. These are becoming increasingly common on video-capable DSLRs and its an absolute must if you want to record clean audio. The T3i features some manual control over audio input by the the "sound recording" screen in the menu. It doesn't display levels while recording, but you can check them beforehand using this screen. The T3i also gives you the ability to set a maximum recording level and a wind filter.
The T2i was one of the most popular sub-$1000 DSLRs on the market specifically because it offered 1080/30p video recording. However, the T2i was never designed to be handled much like a video camera. The T3i changes that somewhat with the addition of the same swivel LCD that is found on the Canon 60D—and soon the Nikon D5100—that makes shooting video an absolute breeze on the T3i.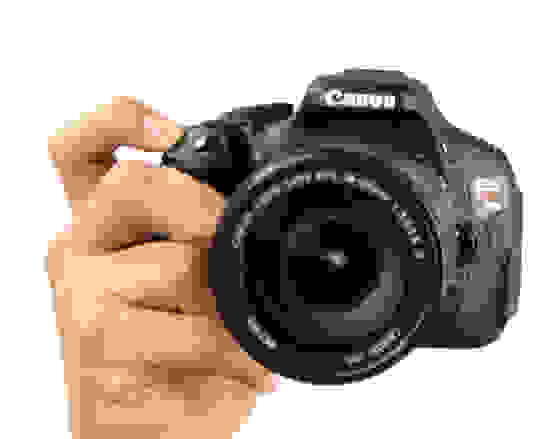 The 60D has been well-received by many DSLR filmmakers because of its combination of manual control and articulated LCD screen. The T3i has both of those things, but in the lightweight plastic and aluminum body of a Rebel-series camera. While it lacks the durability and some of the extra features of the 60D, the T3i does present a nice alternative for those looking to get both a camera and lens for under $1000.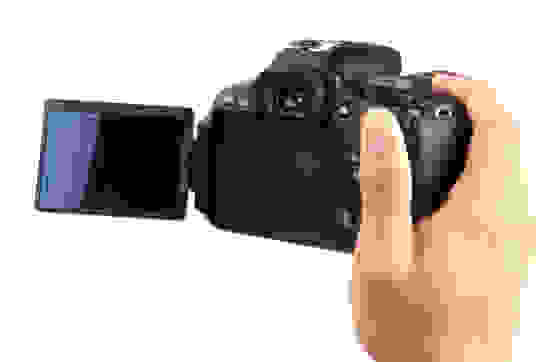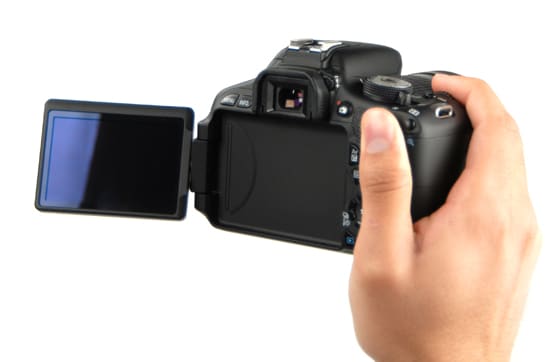 In terms of performance, we found that the T2i put up slightly higher scores than its successor, with the only exceptions being long exposures, noise, and shot-to-shot speed. The T2i remained the top dog in our tests for color accuracy for stills and videos, white balance, resolution, and dynamic range. Many of those sub-par scores came down to the change in lens used in testing. We found the 18-135mm lens we used with the T3i to be inferior to the 18-55mm lens tested on the T2i.
Performance:
In general, the two cameras perform at nearly identical levels. This is really not a surprise at all—these are essentially the same cameras—but it makes a direct comparison more difficult. In the terms of the images that they produce, you'd be hard pressed to pick one over the other.
Components:
The T3i has the slightly better hardware than the T2i, given its minor upgrades to grip and its articulating LCD. Other than that, they share the same battery, sensor, lens mount, and built-in flash. The T3i is also the better option if you plan to use wireless flashes, as the T3i can control them in-camera.
Handling:
The Canon T3i simply handles better than the T2i. The articulating LCD makes difficult shots far easier to get, especially if you're picking up this camera for the summer. The LCD will get washed out in direct sunlight, making a tilting screen even more valuable.
Controls:
The T3i controls just like its predecessor. The buttons have a satisfying stroke and the LCD feels secure, even when it's swinging away from the body. There are a few quirks–the lack of a custom dial mode and the convoluted custom white balance process, to name two—but the T3i and T2i are both easy to use and have good button layouts that are simple yet customizable.
NOTE: The images above are not used in our testing or scoring, but are included here to show real-world examples of the differences between cameras at the various ISO settings.
The Nikon D5000, despite its age, outperformed the Canon T3i in our tests in most categories. We found it had better resolution, color accuracy, noise performance, long exposure performance, and white balance performance. The T3i had better dynamic range and shoots higher resolution images, but the Nikon does outperform it slightly in almost every other category.
Performance:
Generally speaking, the two cameras are capable of performing well in most lighting conditions. Neither camera features a particularly amazing autofocus system, though the imminent D5100 should remedy that in Nikon's favor during live view. The T3i features better video quality, shooting at full 1080/30p resolution against the D5000's 720/24p.
Components:
Both cameras feature similar systems, though the Nikon D5000 lacks a focus drive motor in the body so you will generally have to use AF-S or AF-I lenses to get comparable functionality out of your lenses. The Canon T3i can make use of the EF and EF-S lenses, so there's a wider selection to choose from.
Handling:
Between the two cameras, the Nikon D5000 is a little heavier and has an LCD screen that only articulates vertically. Nikon clearly sees this to be a design flaw, as they've re-designed the screen on the D5100 to swing exactly how the screen on the T3i does. The T3i is easier to control with a single hand, with most of the controls available within thumb's reach on the right of the camera. The control wheel is also adjusted using the index finger—on the Nikon you use your thumb—which is a more stable grip with a single hand.
Controls:
Disappointingly, both cameras sport a four-way control pad instead of a control dial, slowing down menu navigation. Both feature a dedicated live view button, but the Canon has to be in its movie mode to record video. The D5000 does not feature exposure control in video recording like the T3i, though in still recording both have a very similar amount of manual control.
NOTE: The images above are not used in our testing or scoring, but are included here to show real-world examples of the differences between cameras at the various ISO settings.
The T3i had better scores for color accuracy, design, video performance, and dynamic range. The Samsung, perhaps surprisingly, posted better scores for white balance, noise, and resolution though the T3i was hampered by testing with a particularly soft 18-135mm lens.
Performance:
For pure image performance, the T3i is the better option. It's not quite as sharp as the NX10, but the images have greater resolution, better color accuracy, and autofocus is quite a bit faster—when shooting without live view enabled. The Samsung NX10 does have less noise in its images, but a lack of dynamic range gives images a flat appearance, with nearly a two stop gap between the NX10 and the rest of the cameras in our comparison group.
Components:
The T3i, by virtue of having Canon's EF mount, has access to a far wider library of lenses than the fledgling Samsung NX system. Samsung is developing their brand here, but they have a long way to go to match quality or breadth of the nearly 60 lenses that the Canon T3i can take advantage of. This simply isn't a fair fight for the Samsung.
Handling:
Between these two cameras, it simply comes down to how small of a camera you desire. The Canon T3i with a lens and its large grip is lightweight compared to full-size DSLRs, but is considerably larger than the skinny Samsung NX10. If getting the smallest camera possible isn't paramount, then the Canon T3i is a good option as it handled very well in a variety of situations with its articulating LCD screen.
Controls:
Both the Canon Rebel T3i and the Samsung NX10 feature a legible, clean layout that fits a lot into a small area without feeling intimidating or cramped. The Samsung has a few buttons that are more awkwardly placed, but the button layouts are actually quite similar, with an equal measure of customization available with either camera.
NOTE: The images above are not used in our testing or scoring, but are included here to show real-world examples of the differences between cameras at the various ISO settings.
In most of our tests the Canon T3i and Sony A55v came up just about even. Both cameras posted excellent scores for color accuracy, noise performance, long exposure shooting, dynamic range, and white balance accuracy. The Sony had far superior resolution and better image stabilization, though both these scores would be improved for the Canon with a better lens than the 18-135mm we tested with.
Performance:
Both of these cameras perform incredibly well, with fast autofocus. The Sony makes use of a pellicle mirror design that allows autofocus constantly, using phase detection whether using the rear LCD or electronic viewfinder. The Canon T3i features a more common mirrorbox design, so it can only utilize phase detection AF when not using live view.
The Sony otherwise performs slightly better, with up to 10 FPS still shooting and the ability to use that same AF during video recording. If you're just discussing image performance then the cameras are generally equals, with nearly identical color accuracy, noise performance, and dynamic range in our testing.
Components:
If you plan on investing in a wide variety of prime, telephoto, and macro lenses, then the Canon system is going to be your better option. The Canon lenses tend to resolve fine detail better than the Sony counterparts, especially their 50mm f/1.8, 18-55mm IS II, and 85mm f/1.8 lenses. The Sony Alpha system has arguably the better 100mm f/2.8 macro lens, and can match Canon for most of their 18-200mm and 70-300mm lenses for price and quality, though. If, like most people, you plan on getting a kit lens and maybe one long telephoto lens then either system is fine.
Handling:
The Sony A55V and Canon T3i are very nearly identical in size and shape, though the Canon has the benefit of a side-swiveling articulating LCD and a slightly more comfortable eyepiece. The Sony A55V has an LCD that flips out, but to the bottom like the Nikon D5000. That type of screen design is fine when handheld, but more likely to be blocked by a rogue tripod handle. If you will need to make single-handed mode adjustments on the fly, the T3i is the better option as the Sony A55 has its mode dial on the left side of the camera, requiring a second hand.
Controls:
The Canon T3i has a button layout that is a little more robust, but it takes a little more understanding. The Sony A55v's button configuration is certainly aimed to be as simple and inviting as possible, with clear text and just a four-way control pad and function key on the back of the camera. The Sony has the big benefit of a dedicated movie record button, so it's easy to start taking a video in any shooting mode.
NOTE: The images above are not used in our testing or scoring, but are included here to show real-world examples of the differences between cameras at the various ISO settings.
One word comes to mind when discussing the Canon Rebel T3i: safe. Canon certainly found a very appealing formula with the T2i and is not looking to spoil the recipe by changing too much. While Canon's certainly still the name to beat in the entry-level DSLR market, the T3i has some competition that the T2i did not.
There's little new to brag about on the T3i. Its major enhancement is its articulated LCD screen and ability to control wireless flashes directly from the camera. The fact is, shooters will have to decide if those features are worth the extra money. If you already own a T1i or T2i, then the 60D is likely the more appealing upgrade here. If you're a beginner looking for a lightweight DSLR with solid video credentials, then the T3i is a fine choice. It is an easy camera to pick up and grow with—though you'll want to invest in some better lenses to go with it.
We definitely can recommend the T3i for its video quality, solid handling, access to the EOS EF lens library, and image quality. There are some issues with menu organization, slow live view autofocus, and the quality of the 18-135mm kit lens, but these don't necessarily outweigh the positives of shooting with the T3i.
Performance
With three other cameras in the Canon family that feature this same 18MP APS-C sensor system, there really isn't a lot that surprised us about the T3i. It showed incremental improvements in its ability to handle noise in still images and video, with slightly improved dynamic range. We found in long exposures, Canon has found a way to improve color accuracy and reduce noise—likely by more effectively dissipating heat from the sensor to reduce interference.
Video Performance
The T3i features 1080/30p video recording, with solid sharpness results and attractively rendered motion. There is slightly less chromatic aberration than with comparable cameras on the market, but autofocus remains painfully slow in both video recording and live view. Poor live view autofocus is becoming a trend with Canon DSLRs, and it's interesting that both Sony and Nikon have brought more effective full-time AF in live view to the market.
Components
The Canon EOS system is arguably the most beginner-friendly lens system on the market, with dozens of lenses that will autofocus on Rebel-series cameras at a range of price points. There are plenty of gems in the Canon lineup of lenses, though the 18-135mm lens isn't one of them. Canon's 28-105mm lens, while it doesn't have the same range, is a sharper option that lets in more light for less money.
Handling:
The T3i is enjoyable to shoot with due to its light weight and robust grip, with ample body space left to accommodate the shooter's hands. The plastic and aluminum body does feel slightly cheap compared to models like the Canon 60D, however. The articulated LCD screen is phenomenal, especially if you're shooting video or looking to get a shot at a new and different angle. (There's a good example of this in our sample photo section.) Between the spacious design and poor live view AF performance, your best bet is to shoot utilizing the optical viewfinder.
Controls:
The control layout on the Canon T3i is just complex enough to offer a challenge to beginners without feeling intimidating. Controls are well-labeled and placed in convenient locations that rarely require a second hand to operate. The menu design could be less convoluted, with several key shooting options stashed deep in the menu. Overall, the T3i is an attractive blend of ease-of-use and fine control.
Meet the tester TJ Donegan
Executive Editor
@TJDonegan
TJ is the Executive Editor of Reviewed.com. He is a Massachusetts native and has covered electronics, cameras, TVs, smartphones, parenting, and more for Reviewed. He is from the self-styled "Cranberry Capitol of the World," which is, in fact, a real thing.
Checking our work.
We use standardized and scientific testing methods to scrutinize every product and provide you with objectively accurate results. If you've found different results in your own research, email us and we'll compare notes. If it looks substantial, we'll gladly re-test a product to try and reproduce these results. After all, peer reviews are a critical part of any scientific process.
Shoot us an email