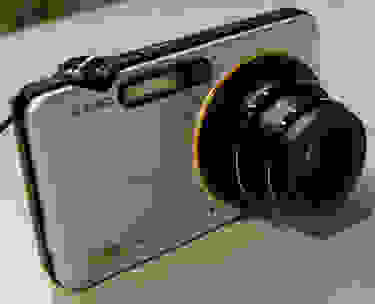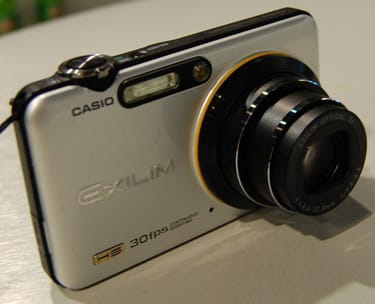 Front
The front of the camera offers your basic lens, auto focus assist light and flash, plus a small microphone to the left of the lens.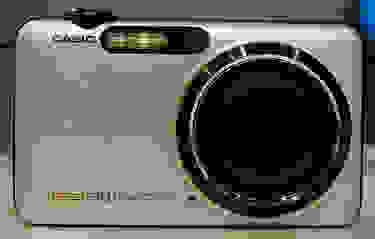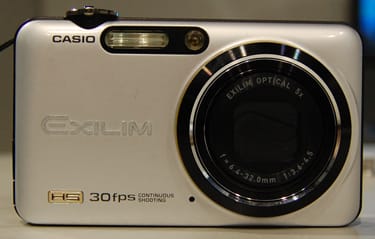 The front of the camera is quite plain
Back
On the back of the camera are the majority of controls. In the top right, there's a red button which starts recording movies, surrounded by a switch which can be set to either high speed or normal. Most menu interactions are carried out via a four-way pad with a Set button in the middle. Up also serves to change display information, Down adjusts flash, and left and right can be set to adjust metering, self-timer or face detection. There are four buttons around the pad, on the top left is playback, top right is shooting, bottom left is menu and bottom right is BS (best shot, or scene modes).
The red button on the top right is used for video recording.
Sides
At the top of both the left and right sides are small loops for wrist straps, so you can use whichever you choose. The right side also houses the sole proprietary I/O port, about three-quarters of the way down the body.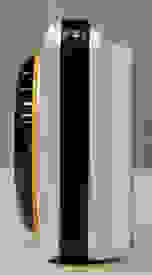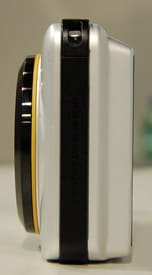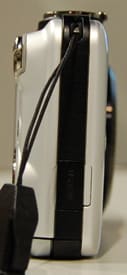 The left and right side of the camera.
Top
In addition to the standard top controls for power, zoom and shutter, the FC100 has added two more buttons to the top of the camera. On the left side, very close to the LCD is the slow motion button, which stores a couple of seconds of shots at high speed, then plays them back in slow motion, after which you can decide which one you want to keep. Just behind the power button is the high speed control, which puts the camera in the mode that lets you take photographs at up to 30 frames per second.

The two extra buttons are for special modes.
Bottom
On the bottom of the camera has the speaker, tripod mount, and a door to the area where the memory card and battery are housed.

The tripod mount didn't strike us as especially resilient.
LCD Screen
The LCD measures 2.7 inches with 230,000-pixel resolution. It seemed pretty bright, with almost no solarization. The up button on the four way pad changes the amount of information on display. It shows a clear screen current settings or settings plus histogram.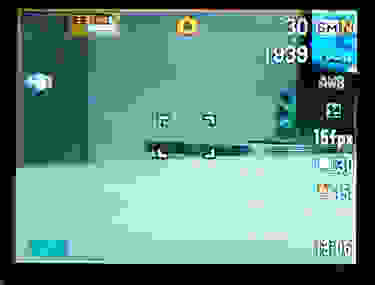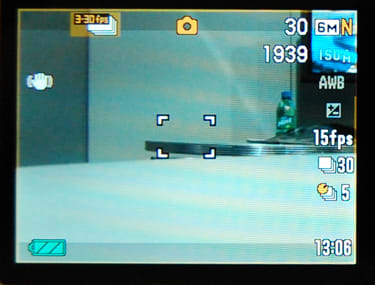 * The LCD is unremarkable.*   **Flash** The flash can be set to Auto, Flash off, Flash on, and Red-eye reduction, and is rated up to 10 feet (3.1 meters). The brightness of the strobe can also be set to five different levels.** **


The flash is quite small.
Lens
The lens has a pretty decent 5x zoom, but is a bit slow, with a maximum aperture of f/3.6 wide and f/5.1 tele.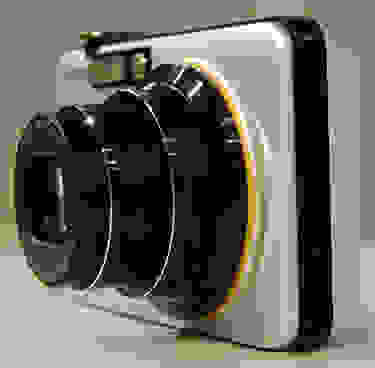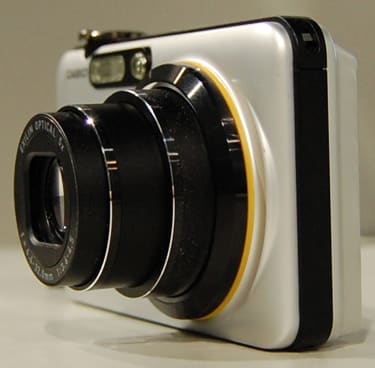 The lens, in all its glory.
Connections
The FC100 uses a single proprietary port, which is a problem if you ever lose a cable, because they are often expensive and a hassle to replace.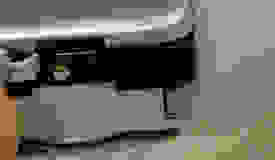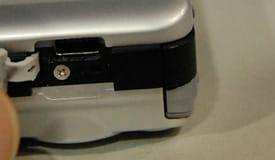 It's a bit hard to see, but there's a port in there
Battery
The Casio uses a rechargeable lithium ion battery. We'll have a better idea how long it lasts once we get one into our labs.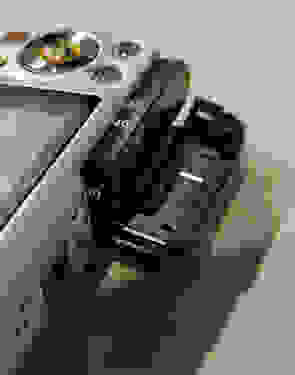 The battery and memory card
Memory
This camera takes affordable, easy-to-find SD and SDHC cards, which have a maximum capacity of 32GB.
Model Design / Appearance
The design of the Casio Exilim EX-FC100 is quite pedestrian. That's not always a bad thing: it's functional and a good use of the allocated space on the compact camera.
Size and Handling
The FC100 is quite small, but not minuscule. It's 3.9' wide x 2.3' high x 0.89' deep (99.8 x58.5 x 22.6 mm) and weighs 5.2oz (148g). It's definitely small enough to fit into your pocket, and it's easy to handle, though it doesn't have any sort of grip area.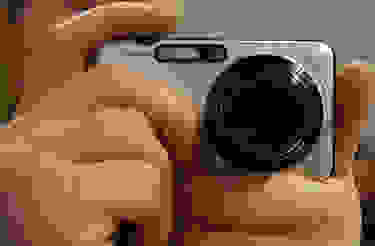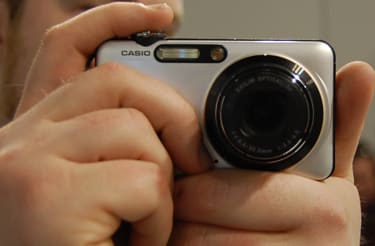 The FC100 is quite easy to hold.
Menu
If you've used a Casio camera in the last few years, you'll know the menu system. Most of the shooting controls are accessed via the Set button in the middle of the four-way pad, which changes ISO, white balance, shooting speed in high speed modes, and so on. If you press the Menu button you get to the deeper menu settings, where you can change focus mode, image quality, self-timers, anti-shake controls and an interesting utility called Quick Shutter which reduces the time spent focusing, in exchange for taking the photograph slightly faster. The one problem we have with Casio's menu system is that you can't press the shutter button to exit the menu and return to shooting mode. In just about every other camera on the market you can do this, but Casio insists that you press the Shooting button instead.
Ease of Use
Once you're comfortable with the Casio way of doing things, which involves using separate buttons for features that most manufacturers would assign menu choices, it's a very easy system to use.
Auto Mode
The Casio Exilim EX-FC100 doesn't have a manual mode, but ratherrelies on a variant of the typical Program mode, where shooting options can be manually set or set on auto individually.
Movie Mode
The Movie mode on the FC100 is a place where the camera really shines. Oddly, rather than shifting into movie mode via a dial or switch of some sort, the camera has a Film button on the top right of the camera's rear, which will start filming video instantly. It also has a small dial around this button which lets you chose between standard and high-speed modes. In standard, you can shoot 640x480 or 720p. In high speed mode, you can shoot up to 210fps at 480x360 resolution, 420fps at 224x168 and an impressive 1000fps at 224x56. At the highest speed, this is barely a sliver of screen, but it's still damned fast. You will need a really strong light source to get a decent exposure when filming this fast.
Drive / Burst Mode
The other major selling point of this Casio is the way they've squeezed the extreme photography speeds of the much larger EX-F1 and EX-FH20 into a much smaller form factor. To access these ultra-fast modes, you press a button on the top of the camera marked with an icon for 30fps, and from here can chose just how fast you want to shoot. Shutter speeds run from 3 to 30 frames per second, but at reduced 6MP resolution instead of full 9MP. You can also limit the number of photos the camera takes with one press of the button to any number between five and 30.
Casio has taken this ludicrous speed, and instituted a number of features to take advantage of it. Firstly, there's a button on the top of the camera that throws it into Slow Motion mode, which records one, two or three seconds of high-speed photography, plays it back in slow motion, and lets you choose which image you want to keep. Casio also implements a pre-recording scheme, which it combines with this high speed to good effect. You can have the camera continuously pre-record anywhere from 3-30 seconds of video, or pre-record 0.1, 0.2 or 0.3 seconds of photography to prevent the delay when you press the shutter button from stopping you getting that perfect shot.
Playback Mode
In Playback mode you can zoom into an image up to 8x, and pull back out to 25 thumbnails. For editing controls, you can rotate, resize, trim, alter the brightness, white balance (even after you've taken the image), or make a motion print (a single image made from combining a series of stills from a video).
Custom Image Presets
On Casio cameras, these are called Best Shot modes (helpfully labeled with a button with the large letters BS), and the FC100 has a good array of them. There's Auto, Portrait, Scenery, Portrait and Scenery, Children, Sports, Pet, Flower, Natural Green, Autumn Leaves, Sundown, High Speed Night Scene, Night Scene Portrait, Fireworks, High Speed Antishake, Multimotion Image (combines areas of different photos of a single object to portray it as being in motion), High Speed Best Selection (takes a slew of pictures and lets you choose the best one), Move Out CS (photographs a target as soon as it moves out of frame), Move In CS (photographs a target as soon as it moves into frame), Prerecord Movie and YouTube
Manual Control Options
The EX-FC100 doesn't have many manual controls apart from manual focus, and the option to customize the left and right key to control metering, self-timer or face detection.
Focus**

***Manual Focus

*The manual focus can be enabled on this camera through the menu system, and is controlled with left and right on the four-way pad, and the camera enlarges the center of the frame to make focusing more accurate.
Auto Focus
The available modes are auto focus, macro, pan focus (for moving objects) and infinity. The auto focus area can also be set to spot, free or tracking.
ISO
The run of ISOs goes from 100 to 1600, with the ever popular Auto also included if you don't want to handle it manually.
White Balance
For white balance you can chose from auto, sunlight, cloud, shade, fluorescent N, fluorescent D, tungsten or manual.
Metering
The metering modes available are multi, center weighted and spot.
Shutter Speed
Apart from the ludicrous speeds afforded to the camera in its high-speed mode (as discussed above in the drive/burst mode section) the camera has an officially stated shutter speed range of 1/1000 to four seconds. The shutter speed, unfortunately, cannot be set manually.
Aperture
The lens is rated at f/3.6 wide to f/4.5 tele. This is pretty slow, but we'll have a better idea of what sort of aperture range you'll get in common shooting situations once we have a unit in house.
**Image Stabilization

**This camera has a sensor shift stabilizer, which will help with the rather slow lens.
Picture Quality / Size Options

The image resolutions available are: 3456x2592 (9MP), 3456x2304 (3:2), 3456x1944 (16:9), 2816x2112 (6MP), 2304x1728 (4MP), 1600x1200 (2MP) and 640x480 (VGA), and it can be set to fine, normal or economy image quality.
Picture Effects Mode
You can shoot with a number of color filters: black and white, sepia, red, green, blue, cyan, yellow, magenta and pink. You can also alter sharpness, saturation and contrast in five steps.
**

Conclusion**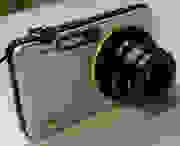 The EX-FC100 from Casio wowed us with the impressive speed under its belt, as well as some of the interesting new features, like slow motion, but we'll have to get the camera in our lab to judge how well these tools actually perform when it comes to churning out high-quality images. Apart from the amazing shutter speeds, the maximum aperture is a bit low, and Casio seems to have opted to stick buttons all over the camera rather than let you change modes through a menu system. We'll know more, and have some firmer opinions once we get a review unit, and can properly put it through the wringer.
**Specs Table

**
Meet the tester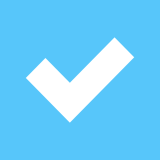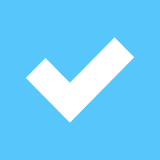 Tim Barribeau
Contributor
@
Tim Barribeau is a valued contributor to the Reviewed.com family of sites.
Checking our work.
We use standardized and scientific testing methods to scrutinize every product and provide you with objectively accurate results. If you've found different results in your own research, email us and we'll compare notes. If it looks substantial, we'll gladly re-test a product to try and reproduce these results. After all, peer reviews are a critical part of any scientific process.
Shoot us an email